Business Spotlight – Calgary Restaurant And Brewery Prepare For Stage One
The Alberta relaunch strategy; a breath of fresh air for us Calgarians. We have done our part as members of the community and now as we begin to take those two steps forward from one step back, we cheer with concern as details of the relaunch strategy begin to take effect as early as May 14th. The launch of 'Stage 1' of the strategy is to have multiple businesses begin to re-emerge from their COVID-19 hibernation with lifted restrictions on cafes, restaurants and bars. They can reopen for public seating at 50% capacity, but people will not be able to go to the bar to order drinks, they will need to be served at the table.
Businesses that continue to operate through this crisis are seeing the dust begin to settle. One local Calgary company Paddy's Barbecue and Brewery traditionally would see customers served their locally brewed beer at the bar and enjoying their rotisserie barbecue cuisine in house. Safe to say since the state of local emergency was declared on March 15th, every restaurant and bar in the city was left with a choice, close shop to weather the storm, or adapt to the situation early and move their offerings online.
Kerry & Jordan are the owners of Paddy's Barbecue and Brewery, the concept was the brainchild of their son Paddy. Kerry from Ontario and Jordan spending his youth in Calgary, met in London Ontario, and moved back to Calgary in the 1980s. Their specialty with Paddy's is a wide menu of smoked meats, sandwiches and their own in-house brewed beer. With the experience behind their brewmaster, Dan Lake, their beers won multiple awards in the 2020 Alberta Beer Awards.
Let's take it back to March 15th. Jordan and Kerry, immediately shut their doors to the public to focus solely on the well being of their team and their customers. Quick to react, by March 17th they had moved their menu online for pickup so they could continue to serve their customers. Seeing so much support from the community for local businesses, they welcome anyone who would like to visit their location to pick up their order and explore their range of bottled and canned beer. Thankful for support from the community, Jordan mentions:
"…Calgarians are rallying behind local merchants that are still open. They are visiting us and buying gift cards. They're coming in with smiles on their faces. I will say that Calgarians are just wonderful…"
Most of us by now have made ourselves aware of the Alberta Relaunch Strategy. Currently, we remain with the strongest guidelines in place with some relief for recreation like golf courses and skateparks across Alberta. Focusing on stage 1, Paddy's are not alone in balancing precaution with normality moving towards May 14th. Some of the larger concerns in the community are related to a possible second wave of COVID-19, how to offer the highest level of precaution for this industry to allow in-house seating and how will we as individuals feel safe returning to our favorite restaurants.
If we remind ourselves of the regulations that any restaurant has to adhere to generally operate and to handle the food we eat. They are uniquely poised and trained to adhere to health and safety regulations put forward by the Alberta Health Services. Paddy's have been actively sanitizing all areas of their restaurant to reduce any risk of contamination and will continue to follow recommendations from regulatory bodies. In regards to reopening, they are taking a cautious approach. Some of the guidelines for Stage 1 consist of restaurants to operate with a 50% reduction for in house seating and to continue with a two-meter distance from individual customers. Paddy's would traditionally have a 70 person capacity and will work to operate with this reduction with the addition of new outdoor seating. Moving forward, Jordan and Kerry are eager to listen to their customers for what they want in terms of precaution in the wake of reopening.
This is a time where we are reminded of what are the more important things in life. It has also allowed us to miss a lot of smaller things. We are looking forward to the other end of this pandemic as a community hurting. Jordan is particularly looking forward to socializing again at some of his favorite bars and restaurants.
He believes that the cancellations of events like sports games and festivals can have a silver lining. His optimism is based on the energy and positivity of the people in our community:
"…we are going to spend more time with family, we're going to have more time to be creative, more time to make Calgary a vibrant city"
We wish Paddy's Barbecue and Brewery the best of success with re-opening moving towards May 14th. If you would like to learn more about Jordan and Kerry or to support them by ordering from their takeaway menu, visit their social media below or website here.
For more stories, visit Todayville Calgary
Liberal budget bill passes in House of Commons after Conservative filibuster attempt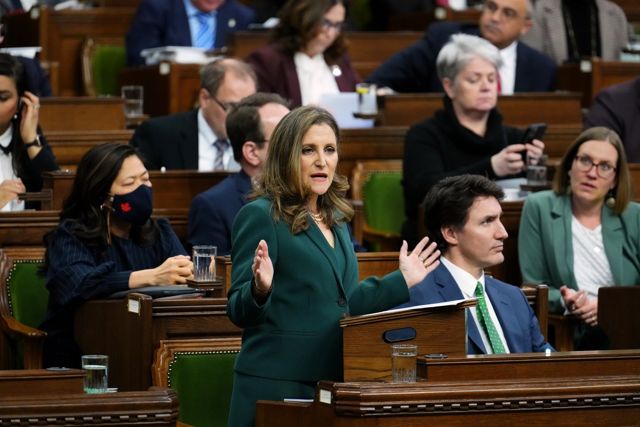 Parliamentarians passed the Liberal government's budget bill today, rolling out new incentives for Canadians and support for Ukraine, while trumping the Conservatives attempt to block it all. Deputy Prime Minister and Minister of Finance Chrystia Freeland delivers the federal budget in the House of Commons on Parliament Hill in Ottawa, Tuesday, March 28, 2023. THE CANADIAN PRESS/Sean Kilpatrick
Ottawa
The House of Commons passed the Liberal government's budget bill today, which seeks to roll out vast new incentives for clean energy and expending dental care subsidies — despite a Conservative attempt to hold it up.
The bill passed 177 to 146 with the support of Liberals and New Democrats, while the Tories and Bloc Québécois voted against it.
The bill includes a new anti-flipping tax for residential properties, a doubling of tradespeople's tools deduction and an enhancement to the Canada workers benefit, a refundable tax credit to help low income workers.
It also codifies sanctions on Russia following its invasion of Ukraine, and raises tariffs on Russia and Belarus.
The Conservatives attempted earlier this week to delete much of the bill by introducing amendments eliminating 900 of its clauses, saying they want a plan to balance the budget amid projections that show no end to federal deficits in sight.
The Senate must also pass the budget bill before it can become law, and senators have already been devoting hours study to its provisions.
This report by The Canadian Press was first published June 8, 2023.
Stretched thin, parents have swath of options to save for children's education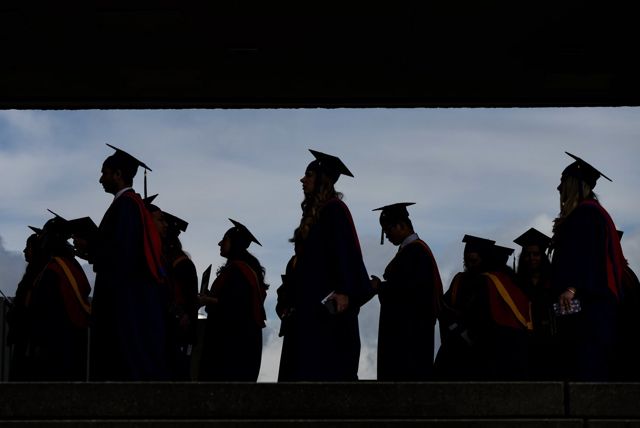 The rising cost of living has ramped up pressure on parents, who say it's tougher than ever to save for their children's post-secondary education, a new survey found. Graduates are silhouetted as they line up for a convocation ceremony at Simon Fraser University, in Burnaby, B.C., on Friday, May 6, 2022. THE CANADIAN PRESS/Darryl Dyck
By Christopher Reynolds in Montreal
Parents are finding it tougher than ever to save for their children's post-secondary education as the rising cost of living ramps up financial pressures.
But the mainstays of post-secondary saving — RESPs, especially — remain key tools, as do clear goals and plenty of planning.
Julie Petrera, a senior strategist for client needs at Edward Jones, said the first step is getting a handle on cost estimates, which can range from thousands to hundreds of thousands of dollars, depending on the type and length of schooling and whether the child is leaving home.
Other considerations include whether family members, such as a grandparent or the child themself, will contribute and where education ranks on parents' list of savings priorities.
"Are they paying for post-secondary education and saving for their own retirement and funding other expenses, like renovations and vacations?" Petrera asked.
According to an online survey of 1,000 parents with at least one child under 18 by Embark, a company specializing in education savings, some 73 per cent of parents said saving for college and university has been harder recently.
The survey also found just over half of respondents said they would go into debt to pay for their child's education.
The Registered Education Savings Plan (RESP) offers a tax-deferred investment account that has been used by millions. More than 481,000 students withdrew funds from an RESP in 2021, according to Employment and Social Development Canada.
Ottawa matches 20 per cent on the first $2,500 put toward an RESP each year, via the Canada Education Savings Grant (CESG), for a total of $500 per year, with higher rates available to lower income families. The lifetime maximum grant amount is capped at $7,200, while total contributions to RESP accounts are limited to $50,000 per beneficiary.
Low income families may also be eligible for the Canadian Learning Bond, which does not require RESP contributions.
RESP beneficiaries in British Columbia may be eligible for an additional one‑time $1,200 grant, while those in Quebec can enjoy a refundable tax credit with a lifetime maximum of $3,600.
"The RESP is great. It is designed to help with affordability," Petrera said. "But on the flip side there are some restrictions on these plans … on who can withdraw the funds, when they can withdraw them and why."
RESPs can comprise a major part of a family's education funding, but should not be viewed as a "standalone" plan, Petrera said. Non-registered investment accounts offer a supplementary option.
"There are no grants associated, they are fully taxable, but they have no restrictions. You can put money in up to any amount and withdraw at any time for any reason," she said.
A tax-free savings account provides another vehicle. Students themselves can't open one until they reach 18, but parents or grandparents can use their accounts to help save.
"My advice on that would be to work with an adviser or work with a professional that understands the pros and cons and the ins and outs of all of these plans to determine what is the best mix to maximize what the client's objective is," Petrera said.
Automatic contributions toward a plan are a simple, effective way to build a nest egg.
"We think that if each pair can make 50 bucks a month (per person) of contributions, they'll get $37,000 by the time their kids hit 18 and go to post-secondary school," Embark CEO Andrew Lo said.
He stressed that parents should educate themselves about education. One in three polled by the company did "not know enough to even guess" how much post-secondary schooling costs.
Erika Shaker, director of the national office of the Canadian Centre for Policy Alternatives, said costs are going up and everything's getting more expensive.
She pointed to a shift in education funding from Ottawa a couple decades ago that prompted most provinces to download more of the cost onto students or, in the case of Quebec, "two-tiering" the price between in-province and out-of-province pupils.
The labyrinth of funding programs and rules sometimes acts as more of a barrier than a relief, she added.
"Student assistance programs are a patchwork, they're messy, they're opaque. They're actually quite difficult to navigate and they can change midway through a degree," Shaker said.
"We have gone to a user-pay model that disproportionately impacts — negatively — students who have to borrow, unfortunately, to pay for post-secondary education."
This report by The Canadian Press was first published June 8, 2023.