"The Battery of Choice" – Does the Future of Energy lie in Lithium Tech?
At the crossroads of technological development and clean energy innovation, interest in the lithium battery continues to gain traction across the global market. Using the lightest metal on the periodic table, lithium batteries have massive potential in the fields of green technology and power generation and storage. With a large charging capacity and extended lifetime, lithium batteries have been increasingly regarded as a game-changing technology for a number of industries.
The University of Washington Clean Energy Institute identified Li-ion batteries as the "market leader in portable electronic devices". The CEI also highlighted the importance of Li-ion tech in the clean energy conversation, as "much of the promise of Li-ion technology comes from their potential applications in battery-powered cars."
E3 Metals Corp, an innovative energy company founded in 1998, believes lithium is the future. "When you have a mobile application, a phone, a car, a power tool," says Chris Doornbos, President & CEO of E3 Metals Corp, "lithium is it. It's light, its high energy density. It is the battery of choice."
E3 Metals operates a major reservoir located in Leduc, referring to the province's favourable permit processes and industry-friendly regulations as the "Alberta Advantage". The company's ultimate goal is to produce "battery-grade lithium hydroxide that can be used directly within lithium-ion batteries."
Using their own lithium extraction technology, E3 Metals is able to extract lithium from brine in the Leduc reservoir with a high level of accuracy, producing a lithium-rich solution virtually free of impurities. The company is currently pursuing the commercialization of this tech, which would allow for even greater expansion into this Alberta rich resource.
The Alberta Advantage also refers to the opportunity E3 Metals Corp has to repurpose existing oil and gas infrastructure for use in the extraction and production of battery-grade lithium hydroxide. According to Doornbos, Alberta is in the position to diversify and fill existing gaps in the economy by transitioning to lithium production alongside oil and gas, while utilizing the existing workforce. "Alberta can produce both, and we will produce both for a long time," he says, "and that means that we'll have a stronger, healthier economy, without having to retool the entire workforce."
E3 Metals believes 2020 will be a year of lithium stories, characterized by the further expansion and development of Alberta's lithium resources. Doornbos looks forward to the continued growth of E3 Metals Corp and working with other industry leaders who believe that lithium-ion batteries have an important role to play in our future.
For more information on E3 Metals Corp and lithium extraction and production in Alberta, visit https://www.e3metalscorp.com.
For more stories, visit Todayville Calgary
Moneris confirms credit and debit card processing outage, but offers few details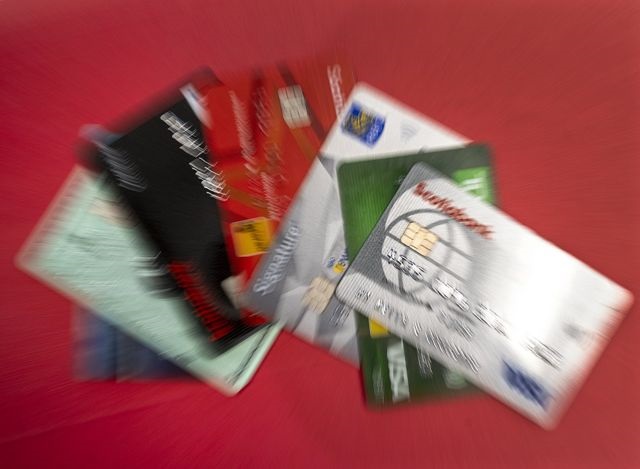 Toronto
The Canadian payment processing firm Moneris confirmed Saturday that credit and debit card transactions were interrupted by a network outage earlier in the day.
The Toronto-based technology company issued a statement saying there was nothing to suggest the outage was related to a cyber attack.
Complaints about outages started rolling in to the Downdetector.ca website before noon eastern time, but Moneris did not say when the outage started.
About three hours later, Moneris posted a message on X — the social media site formerly known as Twitter — saying it had resolved the network problem.
It remains unclear how many businesses and transactions were affected, but data provided by Downdetector.ca indicated complaints had come in from across the country.
In a statement provided to The Canadian Press, the company said the outage lasted about 90 minutes.
"We have resolved the network outage and returned transaction processing to normal," the statement said. "We continue to investigate the root cause of the issue. There are no indications this appears to be cyber-attack related and all transaction systems are functioning normally again."
The company, a joint venture between Royal Bank and BMO Bank of Montreal, said transaction processing could be slow as its systems catch up with the backlog.
Moneris says it supports more than 325,000 merchant locations across Canada.
This report by The Canadian Press was first published Sept. 23, 2024.
Smith says despite difficulty with Ottawa, Alberta has allies in Trudeau cabinet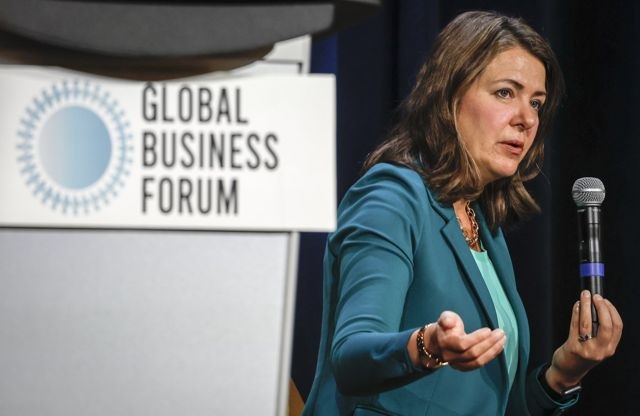 Alberta Premier Danielle Smith speaks to business leaders at the Global Business Forum in Banff, Alta., Friday, Sept. 22, 2023. Smith told the conference that despite her concerns with the federal Liberal government there was some cabinet ministers she can work with. THE CANADIAN PRESS/Jeff McIntosh
By Bill Graveland in Banff
Alberta Premier Danielle Smith told a business conference on Friday that despite her concerns with the federal Liberal government, there are some cabinet ministers she can work with.
Smith has been at odds with federal Environment Minister Steven Guilbeault and Natural Resources Minister Jonathan Wilkinson amid concerns over Ottawa's climate-change policies and transition plan for a net-zero emissions economy.
Guilbeault intends to publish draft regulations this fall to cap emissions from oil and gas, then force them downward overtime. Ottawa has also set a target to have the electricity grid be net-zero by 2035, but Alberta says it's unrealistic.
Smith says Alberta won't implement the emissions cap, nor will it follow the 2035 target.
The premier told delegates at the Global Business Forum in Banff, Alta., that Wilkinson needs to answer for comments he made earlier this week at the World Petroleum Congress in Calgary.
Wilkinson's call for the industry to work aggressively to get to net-zero was basically telling them to "pack it up, because the oil and gas industry is winding down," said Smith.
"You could just feel the energy leave the room and you could just feel the investment dollars leave the room."
Smith said energy producing provinces such as Alberta, Saskatchewan and Newfoundland and Labrador, can't trust the Trudeau government to look out for their interests at international conferences.
"After hearing how the natural resources minister talks about our industry, after hearing how the federal environment minister talks about our industry, we can't afford to let them carry our message," Smith said.
"We can't afford not to be there."
Smith said she has been in discussions with Saskatchewan Premier Scott Moe and intends to talk to Newfoundland and Labrador Premier Andrew Furey about joint presentations at conferences in the future.
Despite her disappointment with Wilkinson and Guilbeault, Smith said it's not all bad.
Finance Minister Chrystia Freeland among the top allies, she said.
"Let's give her credit for shepherding through all of the constant need to give more debt financing to Trans Mountain pipeline to get that to the finish line. That has not been easy," Smith said.
She also praised Innovation Minister Francois-Philippe Champagne, Public Safety Minister Dominic LeBlanc, Labour Minister Seamus O'Regan and Employment Minister Randy Boissonnault.
"I would say it's not uniformly negative in the Liberal caucus. But for some reason they're allowing Stephen Guilbeault to be a maverick and a renegade and quite offensive to those of who are trying to be reasonable and adult about this," Smith said.
Smith said it's time for the federal government to back away from setting "aggressive targets" in dealing with the provinces.
"Aggressive targets are not helpful. They're not helpful to us. They're not helpful to investors."
This report by The Canadian Press was first published Sept. 22, 2023.