Raising the Bar and Drawing the Line – Men for the Eradication of Violence Against Women

On December 6, 1989, 14 women were brutally murdered in a gender-based attack on a mechanical engineering classroom at Montreal's École Polytechnique institution. In an event now widely known as the "Montreal Massacre", a man entered the classroom armed with a semi-automatic weapon and shouted, "you are all feminists," while proceeding to open fire on the students.
The tragedy at École Polytechnique sent shockwaves around the world. The horrific event gave rise to a global dialogue regarding the deeply entrenched issue of gender-based violence and its many forms in modern society.
In 1991, the White Ribbon Campaign was established in Toronto in honor of the 14 women who lost their lives in the Montreal Massacre. White Ribbon is now the largest global movement of men and boys working to "end violence against women and girls, promote gender equity, healthy relationships and a new vision of masculinity."
With a focus on intersectionality, the organization aims to understand and be an ally to all those who experience gender-based violence and discrimination in a multitude of ways. This means educating the public on and standing up against violence, racism, homophobia, transphobia, misogyny and more.
The White Ribbon itself is a historical reference to breaking the silence, and represents a pledge to never commit, condone or remain silent about any form of gender-based violence.
In the era of MeToo, harmful narratives often emerge in response to discussions of gender-based violence, particularly on the Internet. These include statements such as "not all men" and "men experience violence too" in response to shared experiences of violence perpetrated against women.
White Ribbon aims to increase education and understanding of disproportionate struggle by highlighting how the affirmation of struggle and suffering experienced by women is not the negation of male struggles in a similar arena. "Absolutely not all men have used violence," states Humberto Carolo, Executive Director at White Ribbon "but all men have to be a part of the solution."
"We have to change our responses. Instead of saying not all men, we need to say YES, all men need to step up, speak out, challenge their own behaviors, intervene when they can, and learn about these issues and how they affect women in their communities and around the world."
Carolo has been on the front lines of gender-based violence prevention for his entire career, including 16 years with White Ribbon. According to him, his commitment to eradicate gender-based violence is both personal and professional. Being raised in a home where he and his family experienced violence has contributed to a deep conviction that men can – and must – be a part of the solution.
"I am a dad," he says, "I have 3 sons. I promised myself I would do everything in my power to raise the next generation so they would not go through the things I went through, and the women in their lives would never experience the things the women in my family, and community, did."
Raising sons to understand the complexities of gender-based violence, while teaching them how to be a part of the solution is a monumental – and absolutely essential – task, rooted specifically in education, discussion, information, and practice.
"The existing process of socialization teaches men and boys in our society to be tough, to be strong, not to cry, to always be in control and always fight back," says Carolo. "If we as men cannot deal with our feelings and emotions in a healthy way, it results in the extremely toxic use of violence, anger and control that is very harmful to those around us – particularly women and girls."
To introduce solutions to a centuries old crisis, tailored educational initiatives are required, according to Carolo. Specifically, teaching men and boys to witness, notice, and accept that what is happening is problematic, while providing them with the tools and knowledge to address the issues and intervene wherever it is possible, and safe, to do so.
White Ribbon's Draw the Line Campaign provides a series of potential situations and next steps designed to educate students, parents and teachers on the safe and appropriate actions to take in instances of sexual violence. This includes why, when, and how to draw the line.
Ways to Draw the Line
Communicating with a friend to let them know their behavior is not okay

Alerting others to a potentially dangerous situation
Reporting the situation to someone you trust
Calling 911 in situations of immediate danger
Supporting the individual who has been affected by the violent actions
In the 30 years since the launch of the White Ribbon Campaign, the organization and its allies have grown and evolved alongside the changing times. Particularly in response to movements such as MeToo and Black Lives Matter, White Ribbon has continued to develop educational tools, campaigns, and resources to increase awareness, understanding and accessibility. The original call to action, which encourages men and boys to wear white ribbons and sign onto the pledge, remains in place, but is now supplemented by multi-dimensional approaches designed to address systemic factors of violence at their roots.
The White Ribbon website provides a host of resources for learning how to be an ally, how to respond to ongoing movements for women's safety and equality in a productive way, how to understand and talk about consent, and so many more. For more information on White Ribbon and how to join the movement against gender-based violence, visit https://www.whiteribbon.ca
For more stories, visit Todayville Calgary.
Reducing funding for RCMP on the table for Saskatchewan amid firearm buyback debate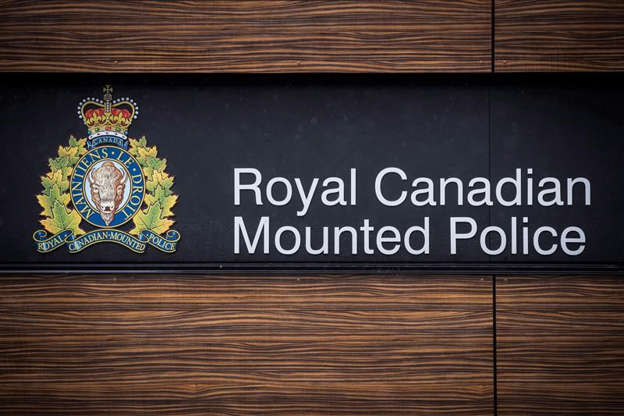 REGINA — Saskatchewan says it would consider reducing its funding for the RCMP if the force was to help the federal government with its proposed firearms buyback program.
Public Safety Minister Christine Tell says all options are on the table, signalling the province will not help Ottawa collect guns it has banned.
"We as a province fund the RCMP to a tune of 70 per cent, so it could even get more interesting," Tell said Thursday.
The Saskatchewan Party government said it is pushing back to protect law-abiding firearms owners from what it views as federal intrusion on its provincial autonomy.
Under Ottawa's proposed firearms buyback program, it would be mandatory for people to have their assault-style firearms rendered inoperable or have them discarded. That could also include centrefire semi-automatic rifles or shotguns designed to accept a detachable magazine that can hold more than five cartridges.
In response, Saskatchewan has introduced its own firearms act to forbid municipalities and police services from receiving federal money to help confiscate firearms.
The proposed law says a municipality, police service or board would have to get written approval from the province's public safety minister before agreeing to support the federal buyback program.
It also states that Saskatchewan's chief firearms officer would enforce which federal agent can or cannot confiscate firearms in the province.
"These legal firearm owners are not the ones committing the crimes," Tell said.
The legislation was tabled Thursday, months after Tell wrote a letter to Assistant Commissioner Rhonda Blackmore, the head of Saskatchewan's RCMP. It stated that the province would not support the Mounties using provincially funded resources to help confiscate firearms.
Alberta, Manitoba and New Brunswick have sent similar letters to their RCMP forces. They have joined Saskatchewan in asking Ottawa to not use up "scarce RCMP and municipal resources" for its buyback program.
In October, Blackmore said Mounties are service providers, not decision-makers, and any decisions over the buyback program are between the federal and provincial governments.
"As the service provider, we would be the individuals that get our information from them," Blackmore told The Canadian Press.
That includes if additional resources would be needed by RCMP once the buyback program rolls out.
"It would depend on the level of expectation, and what that looks like, and what the involvement is if there are additional resources," Blackmore said.
The specific role of the RCMP and the details surrounding the buyback program have not been determined.
On Friday, the Saskatchewan RCMP said it will continue to prioritize front-line services and the safety of communities is its highest priority.
The Saskatchewan Firearms Act also calls for helping firearm owners get fair market value for guns collected through the buyback program and would require all seized firearms to go through forensic and ballistic testing.
The Saskatchewan Wildlife Federation, which advocates for hunters and the protection of the province's hunting heritage, praised the proposed act, saying it would mitigate the "draconian" federal legislation.
There are approximately 115,000 licensed firearms owners in Saskatchewan, 75,000 of whom may be penalized under the federal government's policy. That's about 10 per cent of Saskatchewan's adult population, the province said.
Saskatchewan's NDP Opposition has stood united with the government to denounce the program.
"It does not strike the right balance for Saskatchewan," justice critic Nicole Sarauer said last week in the legislature.
"These amendments are overbroad and capture rifles that have legitimate uses for both hunters and producers in Saskatchewan."
This report by The Canadian Press was first published Dec. 2, 2022.
Mickey Djuric, The Canadian Press
Premier Smith goes on the attack against NDP opposition to the Alberta Sovereignty Act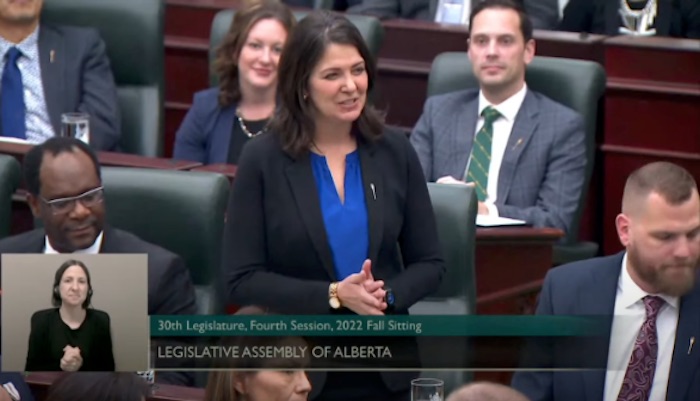 It appears Premier Danielle Smith has had enough of playing defence. In the days since introducing the Alberta Sovereignty Act in the Alberta Legislature this week, Smith has found herself explaining and re-explaining how the Act will survive scrutiny and serve the province well in ongoing battles over issues of contention with Ottawa. Peppered by the media and by the Official Opposition NDP inside and outside the legislature, Smith and her team decided to turn the tables.
The media and the official opposition claim the Sovereignty Act allows laws to be crafted by cabinet members "behind closed doors" after the legislature has declared a federal overreach into provincial jurisdiction.
However that appears to be a confusing opposition tactic since the Sovereignty Act does not require the passing of new laws. Rather, the Province will simply provide reasons for declining to enforce federal laws which (i) intrudes into provincial legislation jurisdiction, (ii) violates the rights and freedoms of Albertans under the Canadian Charter of Rights and Freedoms, or (iii) causes or is anticipated to cause harm to Albertans.
Thursday, Premier Smith took the opportunity during Ministerial Statements to lash out at the opposition leader Rachel Notley for siding with Ottawa instead of Alberta in the struggle to defend provincial rights.