Violence Against Women is a Crisis in Every Single City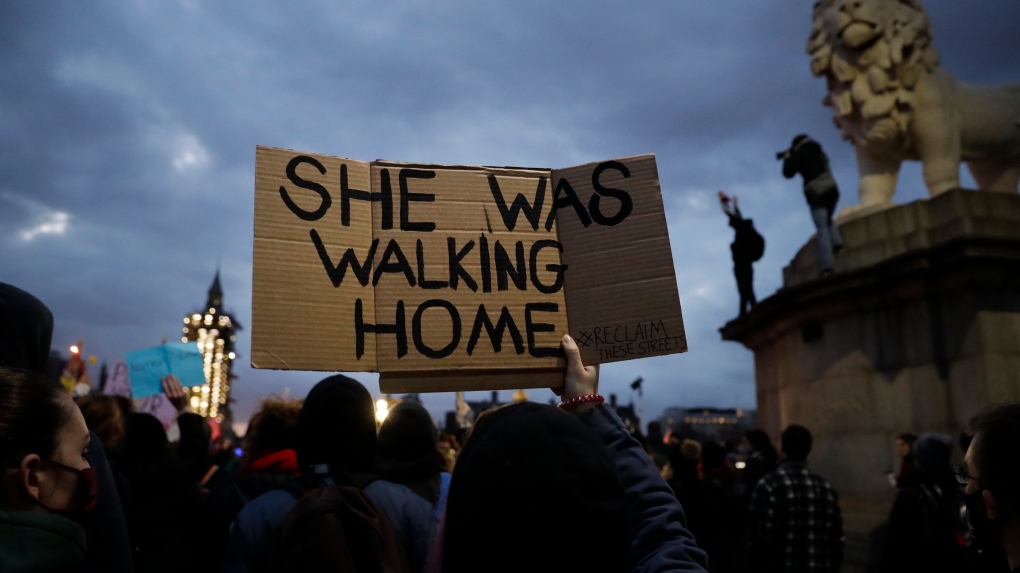 The City of Calgary remains on edge following several reports of assault and harassment against women in the last two weeks.  
One woman reported being targeted while in her car, when four men on foot surrounded her vehicle while it was stopped at a streetlight on Glenmore Trail as she was driving home. It was close to midnight and the roads were relatively quiet, and the woman reported the men pulled on all four door handles but were unable to enter the vehicle, as the doors were locked while she was driving – a simple action she believes may have saved her life.
Another woman was assaulted on the Calgary Beltline on March 18th while reportedly walking to work on 5th Street between 11th and 12th Avenue. Two men pulled her from the street into an alley where they proceeded to violently physically and sexually assault her. The incident was captured by security cameras on a nearby building. 
These frightening attacks occurred in Calgary just as the devastating news of Sarah Everard's murder being circulating in the UK. On the evening of March 3rd, Everard was walking home from a friend's house in south London when she went missing. The body of the 33-year-old was found on the evening of March 10th, more than 50 miles from where she was last seen. British police officer Wayne Couzens has since been charged with the kidnapping and murder of Sarah Everard.
The tragic UK story has struck chords all across the globe, and thousands of women have come forward to share their own lived experiences with physical and sexual assault. In recognition of Sarah and in solidarity with the countless women who suffer physical and sexual assault on a daily basis, women's marches have broken out around the world. Statements such as #SheWasJustWalkingHome, #EveryWomanYouKnow and #TextMeWhenYouGetHome are now also trending online. 
For many – if not all – women, the fear for personal safety is never far from mind. The extensive list of personal protection devices, such as pepper spray, pocket sirens, rape whistles, key-chains designed to smash windows from the inside, and so many more, offer just a glimpse into the lived reality of ongoing fear for women everywhere. Simply put, violence against women represents a crisis in every single city.  
An analysis conducted in 2018 by the World Health Organization on violence against women, featuring data from across 161 countries and areas from 2000 – 2018 found that nearly 1 in 3 women have been subjected to physical and/or sexual violence by an intimate partner or non-partner sexual violence or both.

According to the Assaulted Women's Helpline, over half of all Canadian women have experienced at least one incident of physical or sexual violence since the age of 16.
The movement to end violence against women is not new, and it is still far from over. In addressing the complex structural factors that contribute to the continued perpetuation of violence against women, conversation is key. 
Listening to the woman who has spent countless years holding keys between her fingers as a make-shift weapon while she walks home from work, or made pretend phone-calls to friends or family so she wouldn't be perceived as alone. Understanding the fears of the girl who learned at an early age to never wear headphones in public and never be caught walking alone after dark – or even in the daytime, if it can be helped. 
These women are our daughters, mothers, sisters and friends, and far too many of them have stories like this. 
If you or someone you know is struggling with violence, assault or harassment, visit https://crcvc.ca/links/ – Support for Women for an extensive list of available resources including helplines, counseling and support centres, and a number of activism groups focused on ending violence against women in Canada and around the world.
For more stories, visit Todayville Calgary.
RCMP say competitor in Ironman is dead after volunteers pulled him from the water
CALGARY — RCMP say a competitor in an Ironman triathlon west of Calgary has died.
Police say they received a complaint of a drowning at Harmony Lake in Rocky View County on Sunday morning.
They say a 47-year-old Ontario man was located by Ironman race volunteers in the water.
The volunteers pulled him out, began CPR, and called EMS, but police say he died at the scene.
RCMP say they have contacted the medical examiner who will be assisting in determining a cause.
They say the man's family has been notified.
This report by The Canadian Press was first published Aug. 1, 2021.
The Canadian Press
FC Edmonton roll to 3-1 win over No. 1 Valour FC in CPL action
EDMONTON — FC Edmonton struck early and refused to relent Saturday as it rolled to a 3-1 victory over Valour FC in Canadian Premier League action.
Easton Ongaro put Edmonton (3-4-2) up 1-0 just 13 minutes in.
Tobias Warschewski added a goal for the home side in the 55th minute and eight minutes later, Amer Didic scored to give Edmonton the 3-0 lead.
Andy Baquero Ruiz clawed back a goal for Valour (6-3-0) in the 88th minute.
Edmonton outshot Valour 12-9, with six of its shots on target. Valour had three shots on goal.
Despite the result, Valour continues to sit atop the league with 17 points, one ahead of Pacific FC.
This report by The Canadian Press was first published July 31, 2021.
The Canadian Press