This is how a Local Musician is giving back to her Community
Kate Stevens is a local Calgarian and Bishop Carroll High School Alumni making a splash in the Canadian music industry with her original music and community investment initiatives. A talented singer-songwriter, she plays the ukulele, piano and guitar and writes all of her own music.
Growing up in a musical household, Kate's passion for music began at an early age and stayed with her all through her school years, eventually landing her in the music program at Bishop Carroll High School in Southwest Calgary. The education structure at BCHS allowed Kate to focus strongly on her love of music and develop as a young artist, impressively recording an entire studio album during her senior year. She also sang in choir and vocal jazz groups, building lasting connections within her high school and across the Calgary music community.
Just 20 years old, Kate graduated from BCHS in 2017, the same year she released her debut EP, Handmade Rumors. Since graduation, things have been crazy for Kate. From bringing home YYC Music Awards Female Artist of the Year in 2018 to 4 nominations at the 2019 YYC Music Awards, releasing another single and launching the Youth Musicians of Music Mile Alliance (YOMOMMA) to help nurture young musicians in Calgary, busy is an understatement. However, despite her exciting rise and packed schedule, Kate remains deeply invested in her community, and recently launched a new initiative to give back to the BCHS program that helped her get her own start. Using funds from a recent licensing agreement for one of her songs, she has elected to sponsor an annual scholarship for a BCHS vocal student in their final year.
"I was lucky to attend Bishop Carroll High School, "says Kate, "the incredible music program there helped me to develop as an artist, and I would like to give financial support to future musicians." At $250 dollars a year, the scholarship will be awarded by the BCHS Choir Director to a student who shows exemplary leadership skills and wants to pursue music after graduation. Having been on the receiving end of scholarships throughout her own high school career, Kate is aware of the positive impact these types of grants can have on the lives of developing youth, and wanted to be a part of the process that helps young musicians chase their dreams. "If I can support someone in this industry and really encourage the idea that music is important, then I've done my job."
Currently, all of Kate's upcoming performances have been cancelled as a result of COVID-19. Although she misses interacting with crowds and performing on stage, she remains optimistic and excited for the future. To hear her music and read more about her story, visit https://www.katestevensmusic.com.
Check out WeMaple video in partnership with Calgary Arts Development featuring Kate Stevens here.
For more stories, visit Todayville Calgary.
Alberta to bring in another five million bottles of children's pain medication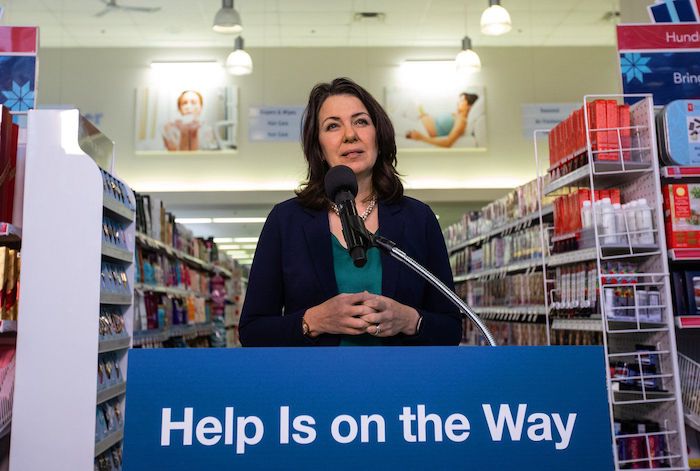 The Alberta government says it has secured another five million bottles of children's medication to manage fever and pain.
Premier Danielle Smith says the government is working with Alberta Health Services and Health Canada to bring in the pediatric acetaminophen and ibuprofen.
Parents across Canada have been scrambling to manage their children's fever and pain as rates of respiratory syncytial virus, or RSV, and influenza skyrocket amid a dire shortage of the medications.
Smith says overwhelmed parents can feel confident the government is moving as quickly as it can to bring in the medication and get it to pharmacies across the province.
The federal government also imported one million units of children's acetaminophen — commonly known as Tylenol — across the country late last month.
Health Canada has distributed the children's Tylenol to retailers and has also sent children's ibuprofen — commonly known as Advil — to hospitals.
This report by The Canadian Press was first published Dec. 6, 2022.
CannTrust CEO was warned over illicit pot growing: former compliance worker
TORONTO — A former director of quality and compliance at CannTrust Holdings Inc. says he warned the company's chief executive that Health Canada could levy penalties if the firm grew pot in unlicensed rooms at its Niagara, Ont. facility.
In the months leading up to Health Canada finding pot growing in unlicensed rooms, Graham Lee said Tuesday that he told Peter Aceto he couldn't say what the exact consequences could be, but knew the government regulator had previously issued warning letters and handed out penalties.
For example, Lee said Health Canada reviewed CannTrust's inventory more extensively after it discovered the company using a storage facility at its Vaughan, Ont. location contrary to licensing.
"In general, Health Canada was there every day checking up on the inventory," Lee recalled.
His comments were made at the Old City Hall courthouse in Toronto in response to questioning from Dihim Emami, a lawyer representing the Ontario Securities Commission (OSC) in a case aiming to prove Aceto and other former CannTrust executives are guilty of several offences related to unlicensed growing at the Niagara facility.
Aceto, former CannTrust chairman Eric Paul and former vice-chairman Mark Litwin have pleaded not guilty to fraud and authorizing, permitting or acquiescing in the commission of an offence.
Litwin and Paul are also facing insider trading charges, and Litwin and Aceto are charged with making a false prospectus and false preliminary prospectus.
The OSC and Royal Canadian Mounted Police allege Litwin, Aceto and Paul did not disclose to investors that about 50 per cent of the growing space at CannTrust's Pelham, Ont. facility in the Niagara area was not licensed by Health Canada. They say the men used corporate disclosures to assert that they were compliant with regulatory approvals.
They also allege that Litwin and Aceto signed off on prospectuses used to raise money in the U.S., which stated that CannTrust was fully licensed and compliant with regulatory requirements, and that Litwin and Paul traded shares of CannTrust while in possession of material, undisclosed information regarding the unlicensed growing.
The men no longer work for CannTrust and their lawyers are arguing their clients are all innocent.
Frank Addario, Aceto's lawyer, previously told The Canadian Press his client was hired because of his financial acumen and track record. Before his time at CannTrust, Aceto was the president and chief executive of ING Direct Canada.
Addario also pointed out that CannTrust was subject to inspections and financial audits that uncovered no material issues.
"The evidence will show Peter Aceto behaved legally and with integrity during his time at CannTrust," Addario said in an email.
However, Lee testified Monday that the growth of cannabis in unlicensed rooms was "very openly discussed" at the pot company.
"There was no hiding this. There was no denial of this," he said.
On Tuesday, he reinforced those allegations, describing how he brought up his concerns about unlicensed activity during at least one meeting in winter 2019 that he recalled Aceto attended.
"I noticed that no one in the room was referring to or cognizant of the fact that these were unlicensed areas, so I reminded them," Lee said.
This report by The Canadian Press was first published Dec. 6, 2022.
Tara Deschamps, The Canadian Press