This is how a Local Musician is giving back to her Community
Kate Stevens is a local Calgarian and Bishop Carroll High School Alumni making a splash in the Canadian music industry with her original music and community investment initiatives. A talented singer-songwriter, she plays the ukulele, piano and guitar and writes all of her own music. 
Growing up in a musical household, Kate's passion for music began at an early age and stayed with her all through her school years, eventually landing her in the music program at Bishop Carroll High School in Southwest Calgary. The education structure at BCHS allowed Kate to focus strongly on her love of music and develop as a young artist, impressively recording an entire studio album during her senior year. She also sang in choir and vocal jazz groups, building lasting connections within her high school and across the Calgary music community. 
Just 20 years old, Kate graduated from BCHS in 2017, the same year she released her debut EP, Handmade Rumors. Since graduation, things have been crazy for Kate. From bringing home YYC Music Awards Female Artist of the Year in 2018 to 4 nominations at the 2019 YYC Music Awards, releasing another single and launching the Youth Musicians of Music Mile Alliance (YOMOMMA) to help nurture young musicians in Calgary, busy is an understatement. However, despite her exciting rise and packed schedule, Kate remains deeply invested in her community, and recently launched a new initiative to give back to the BCHS program that helped her get her own start. Using funds from a recent licensing agreement for one of her songs, she has elected to sponsor an annual scholarship for a BCHS vocal student in their final year. 
"I was lucky to attend Bishop Carroll High School, "says Kate, "the incredible music program there helped me to develop as an artist, and I would like to give financial support to future musicians." At $250 dollars a year, the scholarship will be awarded by the BCHS Choir Director to a student who shows exemplary leadership skills and wants to pursue music after graduation. Having been on the receiving end of scholarships throughout her own high school career, Kate is aware of the positive impact these types of grants can have on the lives of developing youth, and wanted to be a part of the process that helps young musicians chase their dreams. "If I can support someone in this industry and really encourage the idea that music is important, then I've done my job." 
Currently, all of Kate's upcoming performances have been cancelled as a result of COVID-19. Although she misses interacting with crowds and performing on stage, she remains optimistic and excited for the future. To hear her music and read more about her story, visit https://www.katestevensmusic.com.
Check out WeMaple video in partnership with Calgary Arts Development featuring Kate Stevens here.
For more stories, visit Todayville Calgary.
Whistle Stop Cafe owner challenging lockdown and authorities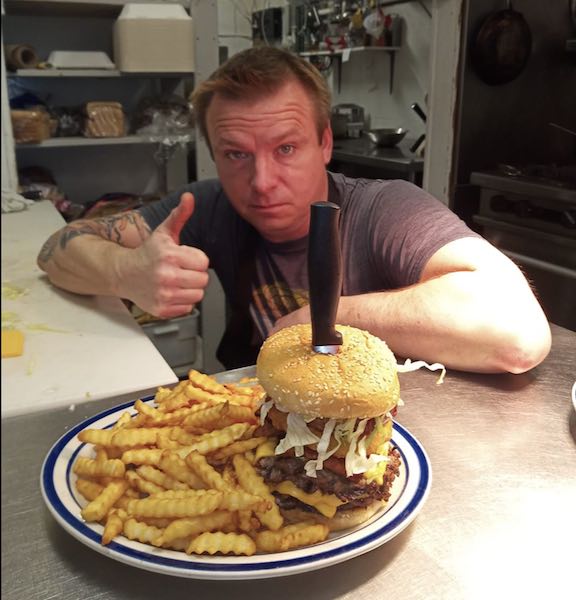 Just a few months ago Mirror, Alberta might have been referred to as UCP heartland.  But things seem to be changing quickly.  One of the hottest spots in the area is Chris Scott's Whistle Stop Cafe.  The owner, Chris Scott opened The Whistle Stop in the middle of Alberta's second lockdown back in January.  Still facing legal action from that lockdown, Chris didn't hesitate to announce he would also be defying Alberta's third lockdown of indoor dining as soon as that was announced.  Hundreds of supporters showed up on the weekend.  They were treated to music, a beer garden, as well as both outdoor patio, and indoor dining options.
As expected The Whistle Stop was visited by an AHS inspector and RCMP members who noted the violations and informed Mr. Scott of impending legal actions against The Whistle Stop Cafe.  All this hasn't slowed Scott down one bit.  As of Tuesday morning, the cafe is open and serving customers (who are warned by staff they could be charged for violating indoor dining restrictions) and Chris Scott is planning for another busy weekend.  Scott addresses his massive social media following daily.  His Tuesday morning address shows just how committed he remains despite the obvious impending showdown sure to take place in the coming days between Scott and AHS as well as the RCMP.
In his facebook post, the owner of The Whistle Stop Cafe almost seems to be daring Premier Jason Kenney to make a move:
Good morning everyone! It's been a busy, stressful couple days for us here. I'm not going into details as they're irrelevant to our vision of serving delicious food, to beautiful people
today could be a very big day for us here at the Whistle Stop Cafe in Mirror, Alberta. We've got a lot on the go including planning this coming weekends festivities here. Live music, karaoke, and wonderful food prepared with care and attention to detail. All of us here believe strongly in taking every precaution with the way we handle food. As a food "service," provider our number one priority is ensuring that what we serve its fresh and safe. We also believe in your choice to either venture out in this dangerous world or stay home and limit your exposure to the thousands of risks we encounter every day. Nobody here will ever judge you for making your own choice. As most of you know, Alberta Health Services suspended our food handling permit yesterday, via EMAIL. Now I could have ignored the email and said I didn't recieved it and made them come out here and deliver themselves, but I didn't. AHS inspectors are not well received these days. And I'm happy to consider them as human beings and keep them out of situations where they may be subject to abusive language and threats. So I accepted the email as it was written and acknowledge the suspension of my permit. However, as a man and a human being I have the right to engage in commerce. I have the right to Life, Liberty and security. These rights are not conditional on any agency "permitting," them. We continue to follow best practices in regards to purchase, storage, and preparation of our food. And we continue to maintain a clean environment in which to serve or consume said food. We will not continue to be bullied into submitting to garbage, harmful, baseless restrictions forced on the people of Alberta by those who will never suffer the consequences of their own actions. We are OPEN for business. And we have some great specials today!
Breakfast- Eggs Kenney served with a side of disobedience. 2 eggs poached one way, then changed to whatever we feel like making up at the time. We will give you ham, sausage, and bacon with your eggs Kenney but then we're going to take back half of it and tell you is for your own good. Comes with hashbrowns on the side, but only if you submit to our stupid rule of clapping three times and saying the word, "knee," (as in the Knights who say, knee. Because it's ridiculous and changes nothing.) $5.00 plus a fee of $7.95 for the permit to eat.
Lunch special today is a UCP burger. Our delicious classic burger! But like our government it will be served open and two-faced with an egg on its face. Comes with delicious freedom fries! $11.95
Soup today is Hinshaw chicken noodle. Chicken soup is good for you! And since Dr. Hinshaw seems to think she's the only person who knows what's good for us I figured it was an appropriate name.
Supper special is whatever you want. We will prepare you anything you like! Because what you put in your body, and where you choose to eat and do business is YOUR CHOICE!!! Keep in mind our kitchen is small so please don't go crazy
our supper special is FREE! And if you feel like donating to our cause we would be very happy to accept it. I heard something about "plague rats," so all donations will go towards cleaning supplies and a consultation with an exterminator because we want ALBERTA TO REMAIN RAT FREE!!!
We're looking forward to seeing you today!! We NEED YOU HERE. We need your support! We need to push back as hard as we can, knowing that we may get sick but doing OF OUR OWN ACCORD!!
Sending love and freedom from the Whistle Stop Cafe in Mirror
There's Resistance Everywhere To Building Anything. We Need Government Help
For more videos, see WeMaple.