Hundreds of young athletes grow more anxious by the day – ACAC season a series of "options"
While addicts ponder cross their fingers at every hint the National Hockey League's big-money dance toward a playoff schedule and perhaps a Stanley Cup final sometime this year might be successful, hundreds of young athletes grow more anxious day by day, hoping they get to play at least part of their schedules in various college sports.
And money is close to the least of the concerns for these kids.
The five-day annual spring meeting of Alberta College Athletic Conference institutions ended a week ago with little clarity on the issue although CEO Mark Kosak and various other officials in the 18-team league came away – mostly – with a positive outlook.
As expected, a wide series of "options and alternate start dates" was devised and analyzed, he said.
A committee established to evaluate likely effects of the coronavirus pandemic will meet at least once a week in preparation for "a really big and important meeting dealing with massive variables" on June 25. Many essential details applying to all sports – when to start a season, length of schedule, possible change of regular play into tournament-style competition – will be put on the table.
Progressively, Aug. 1, a date in September and others in January have been debated in depth.
All options remain open, Kosak said, pointing out that safety of athletes, students, spectators and staff remains as the dominant factor in every discussion. Principals at some institutions have made it clear they do not expect any sports to be played in what normally is the ACAC fall season. Close to 50 per cent of the principals have made clear their concern that moving too quickly in one sport or one schedule might destroy all the good that the current cautious program may achieve. If necessary, all games would have to be sacrificed.
The veteran administrator posed one conservative, hypothetical and frightening prospect: A school from a difficult place (where control of COVID-19 might not be at the ideal level) when it goes to play a road game in a safer area. Then, say, one player on the home team comes down with the virus.
"What options are open if that happens?" Obviously, no organization could possibly benefit from such an occurrence. "I understand fully what those presidents are concerned about. At this point, they're all justified to be worried about the potential for an outbreak on campus."
Fortunately, Kosak said, all of the presidents recognize the value of college sports, mentioning the appeal of an athletic event, additional enrolment and potential gate receipts. He did not mention students' enthusiam when they support a successful individual or team, but that element has been demonstrated for as long as athletes have competed at any level of education.
Cost of operation has prompted some ACAC schools to make deep cuts in athletic expenses. "We all have a similar problem" said Kosak. "Each school deals with it as best they can."
Hockey budgets have been questioned most severely. A few weeks ago, NAIT Ooks head coach Tim Fragle accepted an offer to become head coach and general manager of the Trail Smoke Eaters in the Junior A British Columbia Hockey League.
They are not, of course, the fabled senior Smoke Eaters who won the World Hockey Championship for Canada in 1961, but Fragle treats the switch as a sort of homecoming. He is a former Smoke Eater captain, having played there after his career with the Sherwood Park Crusaders. Fragle was named coach of the year three times for NAIT.
Former Ooks standout Scott Fellnermayr moves up from the assistant's job to replace Fragle as head coach.
WCBL season cancelled ending the Edmonton Prospects run at Re/Max Field
Calgary police identify 15-year-old girl killed in shooting, investigation continues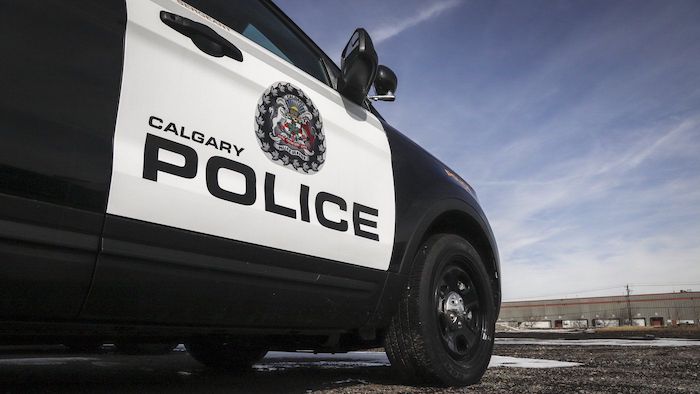 Calgary (CP) – Calgary police have identified a 15-year-old girl who was fatally shot this week as investigators try to determine whether she was the intended target or if it was a case of mistaken identity.
Officers responded to reports of a shooting in an alley in the Martindale neighbourhood early Tuesday morning.
They say the teenager was a passenger in a vehicle when she was shot and that the driver, who was not injured, immediately fled the scene before pulling over to call police.
Police say investigators have received several tips from the public.
They say evidence from the scene leads police to believe it was targeted, but investigators haven't determined whether the occupants of the vehicle were the intended targets.
The girl has been identified as Sarah Alexis Jorquera of Calgary.
"This was a senseless act of violence that took the life of a young girl," Staff Sgt. Martin Schiavetta of the homicide unit said in a statement Wednesday.
"At this point, we have more questions than answers and are working around the clock to hold those responsible accountable. Losing a 15-year-old is a tragic loss for our community, her school, her friends and, most importantly, her family."
Police ask anyone with any information about the shooting to call investigators.
This report by The Canadian Press was first published March 29, 2023.
'A crisis': Calgary charity seeks one-month homes for Ukrainian refugees after influx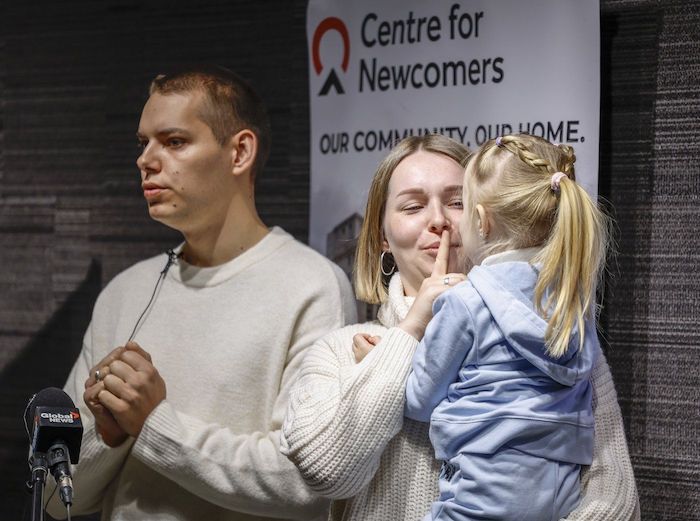 Ukrainian evacuees Dmytro Syrman, left, his wife, Anastasiia, centre, and their four-year-old daughter Varvara attend a news conference highlighting the need for temporary housing in Calgary on Wednesday, March 29, 2023. THE CANADIAN PRESS/Jeff McIntosh
By Bill Graveland in Calgary
After six months under Russian occupation, Dmytro Syrman and his family decided to flee Ukraine for a safer life abroad and are now in Calgary.
The family lived in Dniprorudne, a mining city of 17,000 in southern Ukraine. Syrman worked as a human resources manager at an iron factory.
In August, Syrman, his wife, Anastasiia, and four-year-old daughter Varvara embarked on a six-day, 3,000-kilometre drive to Poland.
"On the 24 of February, when the Russian army attacked Ukraine and occupied our city in March 2022, we lost everything," Syrman said Wednesday.
He said they began planning their escape when they realized Russian soldiers weren't leaving their city.
"We started all of this because we were scared for Varvara," he said. "When Russian bombs were falling near our city it was really scary."
Their home is still under Russian occupation.
For the past year the family stayed in Poland, sent in their paperwork to come to Canada, and two weeks ago arrived in Calgary.
They're now staying with a host family for a month while they look for long-term accommodation and to find jobs.
"We are here and starting a new life. We can't believe about people who don't know us and many helped us. We're really shocked," Syrman said.
The Syrmans were helped by Calgary's Centre for Newcomers, which started a campaign to find 100 hosts for Ukrainian families or individuals for a month while they find housing of their own.
Kelly Ernst, chief program officer with the centre, said there has been a flood of Ukrainians trying to take advantage of a federal program that allows them to temporarily resettle in Canada.
The Canada-Ukraine Authorization for Emergency Travel program has been extended until July and Ernst said he expects people will continue to flee the war-torn country.
"We're in a desperate, dire need at the moment for host homes to try to accommodate the evacuees coming from Ukraine. It's reaching the proportions of being a crisis moment," said Ernst.
He said people arriving elsewhere in Canada are migrating to Calgary because the rents are lower than in larger cities such as Toronto and Vancouver.
Ernst said approximately 450 people have been arriving in Calgary every week from Ukraine and his organization has helped people staying nights in the airport, off the street and at homeless shelters.
Natalia Shem, who is the manager of housing for the Ukrainian evacuees, said it's difficult for the newcomers to find somewhere to live before arriving.
"It's almost impossible to find long-term rent being outside of Canada and people who come here need one month of stay," Shem said. "It's an average time a family can find long-term rent, job and settle down here in Canada."
This report by The Canadian Press was first published March 29, 2023.