Alberta's Distinguished Artist Award Recipients Announced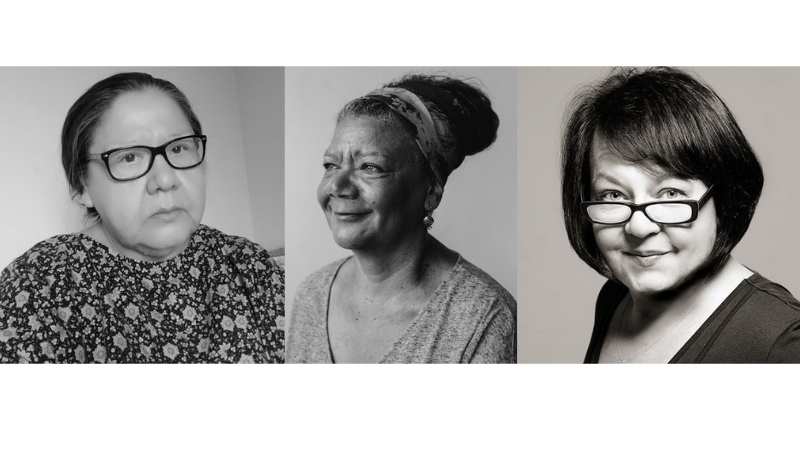 June 16, 2021
Alberta's Distinguished Artist Award Recipients Announced
(Calgary, AB) The Lieutenant Governor of Alberta Arts Awards Foundation is pleased to announce that artist Faye HeavyShield (Blood Reserve, Kainaiwa Nation, AB), writer and filmmaker Cheryl Foggo (Calgary, AB), and dance choreographer Vicki Adams Willis (Calgary, AB), have been selected to receive the 2021 Lieutenant Governor of Alberta Distinguished Artist Award.
Arlene Strom, chair of the Lieutenant Governor of Alberta Arts Awards Foundation said, "Albertans can be proud of these three whose contributions have pushed the boundaries of art to reflect Indigenous identity and expression; present a more inclusive and diverse view of Alberta's history; and define the province as a beacon for jazz dance artists. Each has contributed immeasurably to the development of the province's artists, arts communities and expanding art disciplines."
Faye HeavyShield, Visual Arts
Over the past 30 years, Faye HeavyShield has been one of Canada's pre- eminent artists within Alberta and the Blackfoot Confederacy. Currently living on the Blood Reserve in southwestern Alberta, Faye studied at Alberta University for the Arts in Calgary.
Honouring her Kainaiwa (Blood) Nation, the striking landscape they dwell within and the Blackfoot language which she speaks, Faye HeavyShield's legacy of three-dimensional art and sculpture including recent installations incorporating photography and delicately constructed paper figures make her a senior figure in the artistic and cultural renaissance of Indigenous nations in the country.
"…My art is a reflection of my environment and personal history as lived in the physical geography of southern Alberta with its prairie grass, river coulees, and wind and an upbringing in the Kainaiwa community. I would say the environment is an extension of myself because it's always been there, from the time I was a child. It was one of the first things that I saw and smelled. I consider it a part of me. The landscape is an extension of the body because we're dependent on it, and to flip that, the landscape is dependent on us…" Faye Heavyshield
Beyond her personal practice, Faye is actively involved with her community by working with youth through art programming and creating cultural connections for children in care.
Cheryl Foggo, Playwright, screenwriter, film maker, author
Creating a more inclusive and diverse view of Alberta's history through her plays, films, books, articles and multi-media presentations has been Cheryl Foggo's life work. Profiled in Who's Who in Black Canada and the recipient of the 2008 national Harry Jerome Award for The Arts, Foggo has applied her talent as a researcher and writer to uncovering the compelling but overlooked stories of Alberta's Black settlers and
cowboys. Most recently, the award winning National Film Board feature- length documentary, John Ware Reclaimed (2020), highlighted an earlier thriving Black community in the province often left out of the history books.
Her seminal, autobiographical book, Pourin' Down Rain: A Black Woman Claims Her Place In The Canadian West, is a powerful narrative of Foggo's ancestors' journey from enslavement in the United States to Western Canada. The book, first published in 1990, received the distinction of a special 30th anniversary reprint in 2020. Her books for young people: Dear Baobab, I Have Been in Danger and One Thing That's True have garnered many commendations between them, including One Thing That's True being short-listed for the Governor General's Award. In addition to her books, Cheryl Foggo has published prose in more than 40 journals and anthologies.
Two new productions of Foggo's plays are scheduled in 2021 with the Citadel Theatre in Edmonton and the Urgency Collective in Calgary, and her short play The Sender is currently available through Toronto's Obsidian Company's 21 Black Futures Project. As a cultural activist, mentor and volunteer she advocates for writers and Black artists.
Vicki Adams Willis Performing Arts: Dance
Vicki Adams Willis has changed the face of jazz dance in Alberta and Canada. A co-founder nearly 40 years ago of Decidedly Jazz Danceworks (DJD), she is foremost a teacher and choreographer of more than 35 original productions. She is recognized as a true leader in the world of jazz; an acclaimed ground-breaking choreographer who created one of the most unique jazz dance companies in the world, and the key person to ensure Calgary, Alberta as a viable dance centre for serious jazz artists. She has helped to change the very course of the jazz dance art form by influencing students, dancers, musicians and audiences with her strongly researched and brilliantly creative work.
Jazz dance is a misunderstood art form. Born of African parents and of the Black American experience, Vicki Adams Willis acknowledges herself as a guest in this form and has demonstrated her deep understanding of, and utter respect for, the authentic roots and history of jazz through her research, teaching and choreography. The company she co-created in 1984 – Decidedly Jazz Danceworks (DJD) has gained international recognition. It has been referenced in articles, dissertations, anthologies and, most recently, in an award-winning international film: Uprooted–The Journey of Jazz Dance, which had its Canadian premiere at the 2021 Toronto Black Film Festival.
"..These three ground-breaking women have offered important contributions to the arts in Canada. Their creativity has brought new light to their respective disciplines and created countless opportunities for us all to learn, grow and explore fresh ideas. Artists like this are essential to the vibrancy of our communities and we are truly fortunate to have them as cultural leaders in our province and country as a whole…"
Her Honour, the Honourable Salma Lakhani, Lieutenant Governor of Alberta
The laureates will each receive a handcrafted medal, a $30,000 award and a two-week residency at the Banff Centre's Leighton Artist Studios. The awards patron, the Honourable Salma Lakhani Lieutenant Governor of Alberta, will present the awards at a celebration hosted by the Community of Lac La Biche and Portage College, Lac La Biche campus, at an awards event June 10 and 11, 2022.
The awards are funded through an endowment established with private donations and gifts from the Province of Alberta and Government of Canada. The Lieutenant Governor of Alberta serves as honorary patron of the awards. Since its inception, 23 Distinguished Artists and 63 Emerging Artists have been recognized across Alberta with this significant honour. See details at artsawards.ca
The 2021 Distinguished Artists were chosen from nominations received and reviewed by a jury of experts overseen by the Banff Centre for Arts and Creativity. Jurors for the 2021 Distinguished Artist Awards were Mary-Beth Laviolette, visual arts curator and author; John Estacio, 2017 Distinguished Artist and JUNO nominated composer; Seika Boye, scholar, writer, artist and Assistant Professor, University of Toronto, Centre for Drama, Theatre & Performance Studies; Jordan Abel, Nisga'a writer from Vancouver and Assistant Professor in the Department of English and Film Studies at the University of Alberta teaching Indigenous Literatures and Creative Writing.
Click to learn more about the Lieutenant Governor of Alberta Arts Awards Foundation.
Read more on Todayville.com.
'Tragic accident' blamed for recent death of giraffe at Calgary Zoo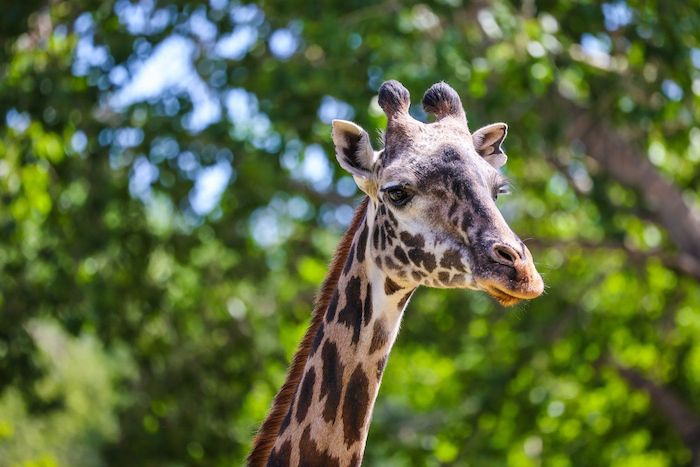 The Wilder Institute/Calgary Zoo says a "tragic accident" led to the recent death of an adult Masai giraffe. A statement from the zoo says the female giraffe named Emara died May 19 after tangling one of her horns on a cable surrounding her enclosure. THE CANADIAN PRESS/HO-Wilder Institute/Calgary Zoo-Sergei Belskey
Calgary
The Calgary Zoo says a "tragic accident" led to the recent death of one of its adult Masai giraffes.
A statement from the zoo says a female giraffe named Emara died May 19 after tangling one of her horns in a cable surrounding her enclosure.
The statement says a necropsy revealed Emara fell against the enclosure fence and died almost instantly of a broken neck.
Emara, who had just turned 12, came to Calgary from the San Diego Zoo in 2016.
The statement says she was a treasured member at the zoo and was known for her cautious yet curious personality and gentle nature.
The zoo says it is checking fencing within its African Savannah Yard enclosure to see if changes are needed to better protect the other giraffes and animals that share the space.
Doug Whiteside, interim associate director of animal care and welfare at the zoo, said Emara was in her prime and was in excellent health when she died.
"Major life changes such as this not only affect our people but can affect our animal residents as well," Whiteside said in the statement Monday.
He said the zoo's remaining giraffes, Nabo and Moshi, are doing well.
Grief counsellors are being made available to Emara's caregivers and other zoo staff.
This report by The Canadian Press was first published May 29, 2023.
Some of the memorable comments made during Alberta election campaign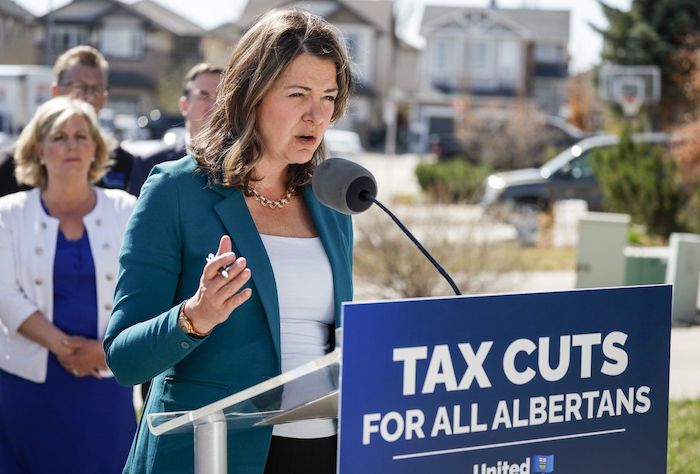 United Conservative Party leader Danielle Smith makes an election campaign announcement in Calgary on Monday, May 1, 2023.THE CANADIAN PRESS/Jeff McIntosh
Candidates for both the United Conservative Party and New Democrats have been campaigning over the last four weeks for their party to form the next Alberta government. Election day is Monday.
Here are some memorable quotes from the campaign:
"(The NDP) devastated the Alberta economy. They created policies that drove investment out, drove jobs out, and we had to reverse all of that," UCP Leader Danielle Smith said on May 1, the day the writ was dropped. "The choice in this election couldn't be clearer. It's a choice between a UCP government that will cut your taxes and make life more affordable or an NDP government that will make you pay more across the board."
—
"Over the past four years, our health care has been thrown into chaos by the UCP," NDP Leader Rachel Notley said during the first week of the campaign. "They'll tell you they fixed it, but Albertans aren't feeling it and they're not buying it … our (emergency rooms) are still full, our ambulances are still delayed and many (patients) are waiting months and months for critical tests and surgeries."
—
"I am satisfied Mr. Pawlowski intended to incite the audience to continue the blockade — intended to incite protesters to commit mischief," Justice Gordon Krinke said in Lethbridge, Alta., on May 2, when he found Calgary pastor Artur Pawlowski guilty of charges related to his role in protests against COVID-19 public health measures. In a leaked phone call between Smith and Pawlowski, before his trial, Smith told Pawlowski the charges against him were politically motivated and she would make inquiries on his behalf and report back.
—
"(Smith) has a policy of not speaking publicly on matters before the courts, except when she's talking to the person who's before the courts about how she's going to interfere with the matter before the courts," Notley said when asked to comment on Smith's no comment on the Pawlowski case. "That is the most ridiculous thing I've ever heard from her. OK, maybe it's not the most ridiculous, because there's a lot of ridiculous."
—
"COVID was a really difficult and frustrating time for everyone, including me, and I don't think that there is a single one of us that wasn't deeply impacted in some way," Smith said on May 9, after past comments surfaced in which she equated those vaccinated against COVID-19 to Nazi supporters and said she would not wear a Remembrance Day poppy out of disgust for pandemic restrictions imposed by political leaders. "Sometimes I let my frustrations get to me during that time. I clearly shouldn't have."
—
"That little bit of poop is what wrecks it … it does not matter that we're in the top three per cent in the world,'" said Jennifer Johnson, UCP candidate for Lacombe-Ponoka. In a tape from September, she said Alberta's high-ranking education system counts for little when set against the issue of transgender students and compared their presence to a batch of cookies laced with feces.
—
"(Judicial independence) is a fundamental pillar of our democracy. The premier breached this principle by discussing the accused's case," ethics commissioner Marguerite Trussler said in her report released May 18 into Smith's actions as premier when she called her justice minister about Pawlowski's case.
—
"I've asked the ethics commissioner to give advice," Smith said May 19. "I am a non-lawyer. As premier, I do need to be able to get advice from my top official, my top legal adviser. If she has recommendations on how to do that better next time, I will absolutely accept them."
—
"More and more conservatives are coming to me saying, 'I'm a lifelong conservative voter, but what I see in Danielle Smith and this new UCP is not my values,'" Notley said on May 23."They often say that they're going to lend us their vote, and I say that's just great. Because, quite frankly, I think all Albertans should always only ever lend their vote because leadership has to earn it."
—
"(The phone call) was always about the charges, from the very beginning. I had nothing really else to say," Pawlowski told reporters at the legislature in the final week of the campaign. "This phone call was always about the same thing: when are you going to introduce what you promised, the amnesty bill for people like me and thousands of other Albertans."
—
This report by The Canadian Press was first published May 28, 2023.