Practice Sustainable Fashion at Calgary ReLove Market
On Sunday, November 15, 2020, The Pioneer on Stephen Ave will be hosting the ReLove Market, a premier consignment and vintage pop-up featuring 20 unique vendors and a beautiful selection of preloved garments. 
This will be ReLove's 12th feature pop-up market in the city since their original launch in March of 2019, and while it is a fun way to connect with the community and find up-scale affordable clothing, it is much bigger than that. ReLove Generation is a part of the global movement for sustainable fashion, promoting the repair, reuse, repurpose and recycling of preloved clothing to encourage waste reduction and ethical practices in one of the world's largest and most wasteful industries.
"We are bringing local awareness to a global movement." Says Sarah Little, Founder of ReLove Generation, "By shining a light on sustainability, human rights and environmental rights, ReLove is a platform that helps local people change the world."  
Sustainable fashion is an ongoing global movement dedicated to educating the public on the damaging environmental and social impacts of "fast fashion", and encouraging the transition towards ethical and sustainable alternatives. Fast fashion refers to the rapid mass production of inexpensive clothing in line with constantly changing industry trends by major corporations. In order to maintain low costs and rapid turnover, the fast fashion business model is built on the exploitation of cheap labour and use of environmentally damaging materials that produce excess amounts of waste and pollution. 
According to The World Bank, the fashion industry uses 93 billion cubic meters of water every year, and is responsible for 10% of annual global carbon emissions. Only 15% of secondhand clothing and garments are recycled or donated, with the remainder being incinerated or ending up in landfills, where their synthetic fibers can take up to 200 years to decompose (1).
In addition to inflicting large-scale, harmful impacts on the environment, the fashion industry is also guilty of exploiting workers and violating human rights for their products. A transparency survey by fashionchecker.org revealed that 93% of surveyed brands do not pay their garment workers a living wage. 
The sustainable fashion movement, also known as slow fashion or eco fashion, is working to combat the damaging social and environmental impacts of fast fashion by promoting ethically sourced clothing and sustainable practices, such as repairing, reusing, repurposing and recycling clothing. By consuming less, donating old clothing and purchasing second-hand or preloved alternatives, shoppers contribute to the creation of a far more sustainable and significantly less wasteful circular economy.
The ReLove Generation's pop-up markets represent just one method in an ongoing, multi-level approach towards ethical, sustainable and environmentally sound fashion practices gaining momentum around the world. "Everyone can do their part," says Little, "there are so many different ways to recycle and repurpose clothing so it doesn't end up in the landfill. Every contribution counts."
Visit the ReLove pop-up market at The Pioneer this Sunday to learn more about sustainable fashion and how to be a part of the change! The event is free for all to attend, but does require patrons to sign-up and book a time slot on the ReLove Eventbrite page. For more information, visit https://relovegeneration.com
For more stories, visit Todayville Calgary.
Calgary man faces 17 charges for alleged domestic abuse of multiple partners
CALGARY — Police in Calgary have laid 17 domestic-violence-related charges against a man involved with multiple partners over a 10-year period.
Investigators say a woman came forward in May to report serious violence from a previous relationship.
Police say she provided the names of two other women, who she believed had also been abused by the same man.
It is alleged the accused physically and sexually assaulted the women during those relationships.
Police say the violence was substantial and led to permanent physical ailments.
Daniel Walders, who is 39, has been charged with 11 counts of assault, four counts of sexual assault and two of uttering threats.
"The level of violence exhibited by the alleged offender is significant," said Staff Sgt. Vince Hancott with the Calgary Police Service's domestic conflict unit.
"Alberta has one of the highest rates of domestic violence in Canada, but help is available."
This report by The Canadian Press was first published July 23, 2021.
The Canadian Press
Major drug haul; ALERT seizes $3 million in drugs and cash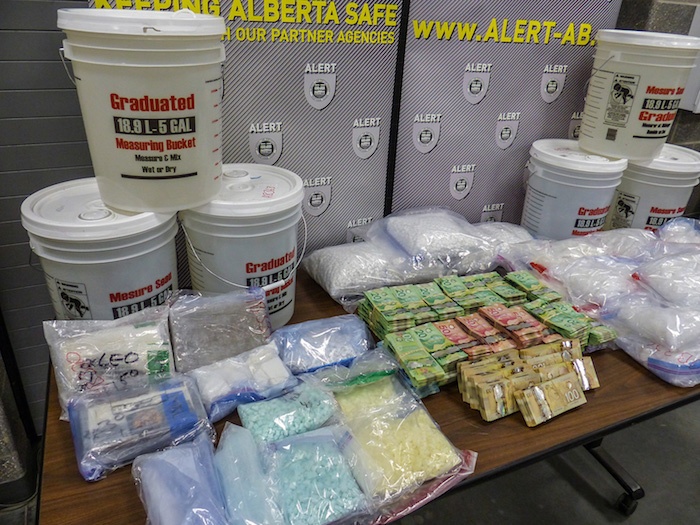 Post submitted by Alberta Law Enforcement Response Team (ALERT)
Three million dollars' worth of drugs and cash was seized from two Calgary homes, including what is believed to be the province's largest seizure of gamma-hydroxybutyrate (GHB).
On April 27, 2021 ALERT Calgary's organized crime and gang team concluded a short-term investigation with a record drug haul. ALERT seized enough methamphetamine, fentanyl, cocaine, and GHB to equal an estimated 100,000 doses.
The GHB seizure of 113.5 litres is believed to be the largest seizure of its kind in Alberta.
Meanwhile, the amount of methamphetamine and fentanyl pills seized ranks amongst ALERT Calgary's biggest busts.
"The totality of what was seized is staggering, and represents a high degree of community harm. Behind so many doses are crimes committed to feed that addiction; be it property crimes, thefts, frauds, and robberies, and all feeding into social disorder," said Supt. Dwayne Lakusta, ALERT CEO.
In total, ALERT seized roughly $3 million worth of drugs and cash:
113.5 litres of GHB;
22.3 kilograms of methamphetamine;
18,000 fentanyl pills;
1.5 kilograms of fentanyl;
4.1 kilograms of cocaine; and
$386,220 cash.
GHB is colourless and odourless, and is commonly referred to as the "date-rape drug" but is usually abused as a club drug. In July 2013 Edmonton Police Service seized 106 litres of GHB, which at the time, was believed to be Alberta's largest seizure.
ALERT's investigation is ongoing and additional charges are being contemplated. To date, 14 drug-related charges have been laid against three suspects:
Ashley Stanway, 30-year old from Calgary;
Rayann Blackmore, 22-year old from Calgary; and
Harmandeep Tiwana, 28-year old from Calgary.
ALERT began its investigation just a month prior after receiving information about suspected drug trafficking activity in the Calgary region.
Members of the public who suspect drug or gang activity in their community can call local police, or contact Crime Stoppers at 1-800-222-TIPS (8477). Crime Stoppers is always anonymous.
ALERT was established and is funded by the Alberta Government and is a compilation of the province's most sophisticated law enforcement resources committed to tackling serious and organized crime.