Indigenous Clean Energy (ICE) promotes collaborative frameworks for renewable energy, energy efficiency, advanced energy systems and green energy infrastructure
Indigenous communities across the country have a growing capacity to deliver energy projects that deliver clean, affordable and reliable power to their communities, and into the grid, thus generating jobs and revenue.
Indigenous Clean Energy (ICE) is the national platform for Indigenous communities to promote collaborative frameworks for renewable energy, energy efficiency, advanced energy systems and green energy infrastructure. ICE has cross-Canada relationships amongst Indigenous communities, along with a demonstrated track record of accomplishment in capacity-building, project/organizational collaboration, and clean energy cooperation.
Initiatives, such as the Indigenous Energy Across Canada Compendium demonstrates how the relationships have evolved in the last decade between industry, and the Indigenous People in Canada.
Indigenous communities are already major participants and owners of clean energy projects and businesses comprised of 184 medium-large scale projects in hydro, wind, solar, or biomass, and over 2,300 small renewable energy projects. Projects owned, or co-owned, by Indigenous communities, or with a defined financial benefit agreement represent a total of 18% of Canada's electricity generating capacity, which is approximately one of sixth of the electrons consumed in Canada.
While the energy sector is broad and shifting towards more innovation in energy transition, there is still much to do in terms of sharing opportunities and building capacity for Indigenous communities. Capacity building programs include the award winning 20/20 Catalysts Program, which has an alumni of 82 Catalysts and has empowered First Nation, Inuit and Métis communities to drive forward clean energy projects and initiatives in their communities. Working collaboratively with the guidance of Indigenous leaders and clean energy practitioners from across the country, catalysts gain the skills and tools needed to maximize the social and economic benefits communities gain through clean energy initiatives. A result of ongoing dialogue with communities the need to act on housing and community energy efficiency to make energy more affordable, improve health conditions, and establish new and ongoing jobs. ICE has responded to this by creating a new program Bringing it Home. (BiH) The premise of BiH is that 'Healthy Energy Living' in Indigenous communities can be unlocked through synergy between clean energy and sustainable investment to ensure that homes: a) last longer, b) are more durable and healthier, and c) are cheaper to operate over the short and longer term.
Platforms such as the icenet.work allow the growing community of Indigenous clean energy leaders, to further collaborate with clean energy industry and governments on clean energy projects, access to financial capital for clean energy infrastructure, and share project and business experiences internationally.
Indigenous inclusion in Canada's growing clean energy, and clean growth economy is a force for change, and partnering with First Nations, Inuit and Métis is the way forward.
By Terri Lynn Morrison, Director of Strategic Partnerships and Communications, Indigenous Clean Energy
Thanks to Todayville for helping us bring our members' stories of collaboration and innovation to the public.
Click to read a foreward from JP Gladu, Chief Development and Relations Officer, Steel River Group; Former President and CEO, Canadian Council for Aboriginal Business.
Hydro-Québec takes partnerships, environmental measures and sharing of wealth to new levels
Biden offshore drilling proposal would allow up to 11 sales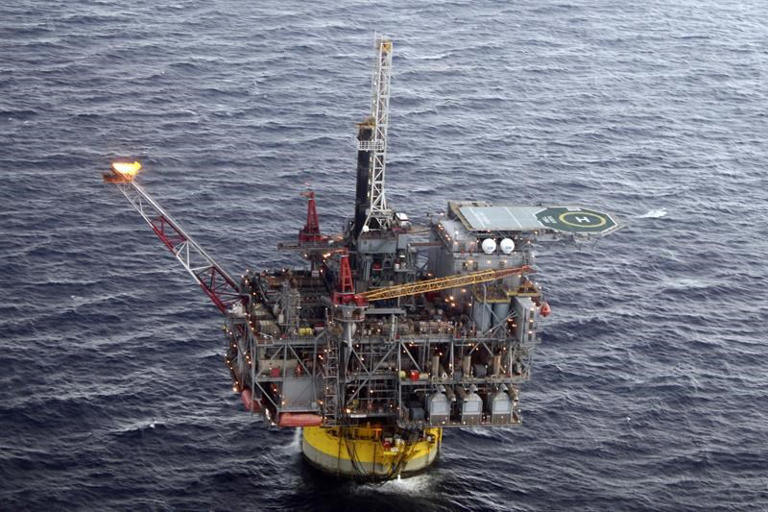 NEW ORLEANS (AP) — President Joe Biden's administration on Friday proposed up to 10 oil and gas lease sales in the Gulf of Mexico and one off the Alaska coast over the next five years — going against the Democrat's climate promises but scaling back a Trump-era plan that called for dozens of offshore drilling opportunities including in undeveloped areas.
Interior Secretary Deb Haaland said fewer than 11 lease sales — or even no lease sales at all — could occur, with a final decision not due for months. New drilling off the Atlantic and Pacific coasts would be blocked, after being considered under Trump.
"President Biden and I have made clear our commitment to transition to a clean energy economy. Today, we put forward an opportunity for the American people to … provide input on the future of offshore oil and gas leasing,″ said Haaland, whose agency oversees drilling on federal lands and waters.
The proposal brought immediate backlash from both environmentalists — who accused Biden of betraying the climate cause — and oil industry officials and allies, who said it would do little to help counter high energy prices. Gasoline prices averaged $4.84 a gallon on Friday, a strain on commuters and a political albatross for Biden's fellow Democrats going into the midterm elections. That has left the White House scrambling for solutions, including Biden's call last week for suspension of the 18.4 cents a gallon federal gas tax.
The Interior Department had suspended lease sales in late January because of climate concerns but was forced to resume them by a U.S. district judge in Louisiana.
The Biden administration cited conflicting court rulings about that decision when it canceled the last scheduled lease sales in the Gulf and Alaska during the previous offshore leasing cycle. That prior five-year cycle, a program adopted under former President Barack Obama, expired on Thursday.
There will be a months-long gap before a new plan can be put in place. The oil industry and its allies say the delay could cause problems in planning new drilling and potentially lead to decreased oil production.
There's unlikely to be an offshore lease sale until well into next year, said Frank Macchiarola, senior vice president of the American Petroleum Institute, the industry's top lobbying group.
And, he said, administration officials "went out of their way to say" there might not be any lease sales at all.
"It's very important for the administration to send a signal to the global oil markets that the United States is serious about increasing supply … for the long term," he said, repeating a longtime claim by industry officials and Republicans that ties uncertainty over oil supply to high prices.
Biden in recent weeks has criticized oil producers and refiners for maximizing profits and making "more money than God," rather than increasing production in response to higher prices as the economy recovers from the pandemic and feels the effects of Russia's invasion of Ukraine.
The leasing announcement was a bitter disappointment to environmentalists and some Democrats who rallied around then-candidate Biden when he promised to end new drilling in federal lands and waters.
The proposal comes a day after the administration held its first onshore lease sales, drawing $22 million in an auction that gives energy companies drilling rights on about 110 square miles (285 square kilometers) in seven western states. The sales came despite the administration's own findings that burning oil and gas from the parcels could cause billions of dollars in potential future climate damages.
"Our public lands and waters are already responsible for nearly a quarter of the country's carbon pollution each year. Adding any new lease sales to that equation while the climate crisis is unfolding all around us is nonsensical," said House Natural Resources Committee Chairman Raul Grijalva, D-Arizona.
Cynthia Sartou, executive director of the environmental nonprofit Healthy Gulf, called the lease-sale plan "a huge loss for Gulf residents, American energy policy and the global climate."
Moderate Democrat Joe Manchin, who chairs the Senate energy committee, welcomed the proposal as a chance "to get our leasing program back on track."
"While Americans everywhere are suffering from record high gas prices and disruptions in the global oil market caused by (Russian leader Vladimir) Putin's senseless war in Ukraine, the Department of the Interior hasn't held any successful offshore lease sales since November 2020," the West Virginia lawmaker said.
Under the Trump administration, Interior officials had proposed 47 sales, including 12 in the Gulf of Mexico, 19 in Alaska and nine off the Atlantic coast that were later withdrawn. Trump lost the 2020 election before the proposal was finalized.
The current format of holding Gulf-wide sales was put in place under Obama because of dwindling interest in offshore leases. Prior to that there had been decades of regional sales.
Friday's announcement opens a 90-day public comment period, then a final plan must be submitted 60 days before it goes into effect.
The government held an offshore lease auction in the Gulf of Mexico in November that brought $192 million in bids. A court canceled that sale before the leases were issued.
Haaland has said previously that the industry is "set" with the amount of drilling permits stockpiled and at its disposal. She testified during a House hearing in April that the industry has about 9,000 permits that have been approved but are not being used.
Oil production has increased as the economy recovers from the coronavirus slowdown, but it's still below pre-pandemic levels. Energy companies have been reluctant to ramp up production further, citing a shortage of workers and restraints from investors wary that today's high prices won't last.
Major oil companies reported surging profits in the first quarter and sent tens of billions of dollars in dividends to shareholders.
Athan Manuel of the Sierra Club said delaying offshore sales until next year "is an important step toward protecting communities and climate, and we urge the administration to finalize a plan that commits to no new offshore drilling leases, period."
__
Brown reported from Billings, Mont. Associated Press writer Matthew Daly in Washington contributed to this story.
Janet Mcconnaughey And Matthew Brown, The Associated Press
Biden administration holding its first onshore oil sales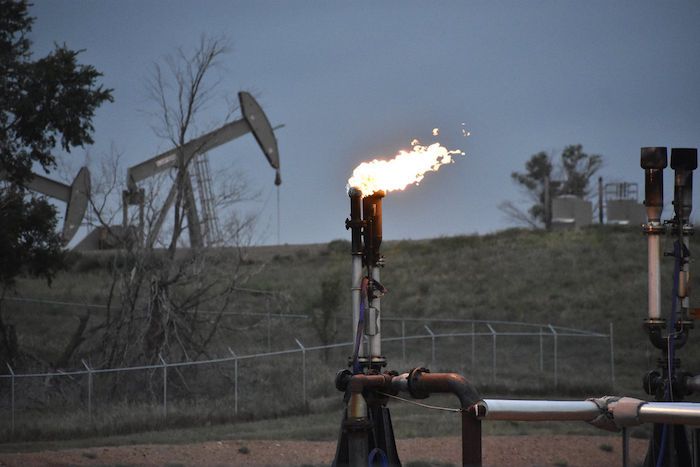 BILLINGS, Mont. (AP) — The U.S. government this week is holding its first onshore oil and natural gas drilling lease auctions since President Joe Biden took office after a federal court blocked the administration's attempt to suspend such sales because of climate change worries.
The online auctions start Wednesday and conclude Thursday. About 200 square miles (518 square kilometers) of federal lands were offered for lease in eight western states. Most of the parcels are in Wyoming.
The sales come as federal officials try to balance efforts to fight climate change against pressure to bring down high gas prices.
Republicans want Biden to expand U.S. crude production. He faces calls from within his own party to do more to curb fossil fuel emissions that are heating the planet.
Oil production increased in the U.S. in recent months, but it's still well below pre-pandemic levels. Companies have been hesitant to expand too quickly because of uncertainty over how long high prices will continue.
A coalition of 10 environmental groups said in a lawsuit filed before the sales even began that they were illegal because officials acknowledged the climate change impacts but proceeded anyway.
An immediate ruling was not expected. Interior Department spokesperson Melissa Schwartz said the agency did not have comment on the litigation.
Beginning with this week's sales the royalty rate for oil produced from new federal leases is increasing to 18.75% from 12.5%. That's a 50% jump and marks the first increase since the 1920s.
Parcels also are being offered in Colorado, Utah, New Mexico, Montana, Nevada, North Dakota and Oklahoma.
Hundreds of parcels of public land that companies nominated for leasing had been previously dropped by the administration because of concerns over wildlife being harmed by drilling rigs. More parcels covering about 19 square miles (49 square kilometers) were dropped at the last minute in Wyoming because of potential impacts on wilderness, officials said.
But attorney Melissa Hornbein with the Western Environmental Law Center said the reductions in the size of the sales were not enough.
"They are hoping that by choosing to hold sales on a smaller amount of acreage they are threading the needle. But from our perspective, the climate science is the one thing that doesn't lie," Hornbein said.
Oil industry representative Kathleen Sgamma said the environmentalists' lawsuit ignores the fact that lease sales from U.S. lands are required under federal law.
"Public lands are managed in a balanced manner. Balance is a word these groups don't understand," said Sgamma, president of the Denver-based Western Energy Alliance, which represents oil and gas companies.
Fossil fuels extracted from public lands account for about 20% of energy-related U.S. greenhouse gas emissions, making them a prime target for climate activists who want to shut down leasing.
Biden suspended new leasing just a week after taking office in January 2021. A federal judge in Louisiana ordered the sales to resume, saying Interior officials had offered no "rational explanation" for canceling them and only Congress could do so.
The government held an offshore lease auction in the Gulf of Mexico in November, although a court later blocked that salebefore the leases were issued.
___
Follow Matthew Brown on Twitter: @matthewbrownAP