Indigenous Clean Energy (ICE) promotes collaborative frameworks for renewable energy, energy efficiency, advanced energy systems and green energy infrastructure
Indigenous communities across the country have a growing capacity to deliver energy projects that deliver clean, affordable and reliable power to their communities, and into the grid, thus generating jobs and revenue.
Indigenous Clean Energy (ICE) is the national platform for Indigenous communities to promote collaborative frameworks for renewable energy, energy efficiency, advanced energy systems and green energy infrastructure. ICE has cross-Canada relationships amongst Indigenous communities, along with a demonstrated track record of accomplishment in capacity-building, project/organizational collaboration, and clean energy cooperation.
Initiatives, such as the Indigenous Energy Across Canada Compendium demonstrates how the relationships have evolved in the last decade between industry, and the Indigenous People in Canada.
Indigenous communities are already major participants and owners of clean energy projects and businesses comprised of 184 medium-large scale projects in hydro, wind, solar, or biomass, and over 2,300 small renewable energy projects. Projects owned, or co-owned, by Indigenous communities, or with a defined financial benefit agreement represent a total of 18% of Canada's electricity generating capacity, which is approximately one of sixth of the electrons consumed in Canada.
While the energy sector is broad and shifting towards more innovation in energy transition, there is still much to do in terms of sharing opportunities and building capacity for Indigenous communities. Capacity building programs include the award winning 20/20 Catalysts Program, which has an alumni of 82 Catalysts and has empowered First Nation, Inuit and Métis communities to drive forward clean energy projects and initiatives in their communities. Working collaboratively with the guidance of Indigenous leaders and clean energy practitioners from across the country, catalysts gain the skills and tools needed to maximize the social and economic benefits communities gain through clean energy initiatives. A result of ongoing dialogue with communities the need to act on housing and community energy efficiency to make energy more affordable, improve health conditions, and establish new and ongoing jobs. ICE has responded to this by creating a new program Bringing it Home. (BiH) The premise of BiH is that 'Healthy Energy Living' in Indigenous communities can be unlocked through synergy between clean energy and sustainable investment to ensure that homes: a) last longer, b) are more durable and healthier, and c) are cheaper to operate over the short and longer term.
Platforms such as the icenet.work allow the growing community of Indigenous clean energy leaders, to further collaborate with clean energy industry and governments on clean energy projects, access to financial capital for clean energy infrastructure, and share project and business experiences internationally.
Indigenous inclusion in Canada's growing clean energy, and clean growth economy is a force for change, and partnering with First Nations, Inuit and Métis is the way forward.
By Terri Lynn Morrison, Director of Strategic Partnerships and Communications, Indigenous Clean Energy
Thanks to Todayville for helping us bring our members' stories of collaboration and innovation to the public.
Click to read a foreward from JP Gladu, Chief Development and Relations Officer, Steel River Group; Former President and CEO, Canadian Council for Aboriginal Business.
Hydro-Québec takes partnerships, environmental measures and sharing of wealth to new levels
Enbridge advances Gulf Coast strategy with US$3B Moda Midstream purchase
CALGARY — Enbridge Inc. has signed a US$3-billion deal to purchase a U.S.-based terminal and logistics company.
The Canadian pipeline giant says it will buy Moda Midstream Operating LLC from private-equity firm EnCap Flatrock Midstream.
As part of the deal, Enbridge will acquire the Ingleside Energy Center located near Corpus Christi, Texas.
Ingleside is North America's largest crude export terminal. It loaded 25 per cent of all U.S. Gulf Coast crude exports in 2020.
The deal also gives Enbridge access to other crude export assets in the Gulf Coast region, including the Cactus II Pipeline, the Viola Pipeline and the Taft terminal.
Enbridge says the purchase will advance its U.S. Gulf Coast export strategy. It says the deal is expected to close in the fourth quarter and will immediately add to the company's earnings.
This report by The Canadian Press was first published Sept. 7, 2021.
Companies in this story: (TSX:ENB)
The Canadian Press
Why Alberta Oil and Gas? There is no credible alternative for complex industrialized economies.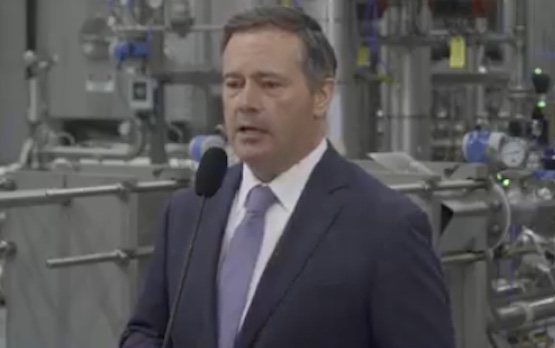 It's been an incredible week on the world stage when it comes to energy production and the environment.  
Monday the International Panel on Climate Change released its latest update.  The Secretary General of the United Nations called the situation a "Code Red" and strongly urged people around the world to immediately adopt a new "inclusive and green" economy.  Most interpret that as a call to end our dependence on fossil fuels as soon as possible.  
Thursday a news reporter asked Premier Kenney why Alberta bothers to continue with fossil fuels.  Premier Kenney launched into this common sense response.