PETER SUTHERLAND SR GENERATING STATION POWERS NORTHEAST ONTARIO
PETER SUTHERLAND SR GENERATING STATION POWERS NORTHEAST ONTARIO
On the Abitibi River in northeastern Ontario, the Peter Sutherland Sr. Generating Station (GS) powers 25,000 homes and businesses with renewable waterpower. The development was a partnership between Ontario Power Generation (OPG) and Coral Rapids Power: a wholly-owned company of the Taykwa Tagamou Nation (TTN). The development is named after a respected elder from TTN. The $300-million project was completed in 2017.
On the Abitibi River in northeastern Ontario, almost two years of construction and eight years of planning have culminated in a new hydroelectric station capable of powering 25,000 homes and businesses with clean, renewable, and affordable power.
The 28-megawatt (MW) Peter Sutherland Sr. Generating Station (GS), located about 80 kilometres north of the town of Smooth Rock Falls on the New Post Creek, went into service on April 2017, well ahead of its scheduled 2018 target. In addition, the $300- million project stayed on budget.
That's a testament to the solid planning and execution between OPG and its partner in the development, Coral Rapids Power, a wholly-owned company of the Taykwa Tagamou Nation (TTN). The development, which is named after a respected elder from TTN, has already had a positive impact on the First Nation community.
"We had about 50 TTN members working on the project at one point or another, which was significant for our First Nation partner," said Paul Burroughs, Project Director at OPG. "They were part of the project team working to help make this a success."
As part of the project agreement, Coral Rapids Power has a one-third ownership in the facility, meaning they will receive a share of profits from the station and be a partner for life over the 90 or so years the plant is expected to operate. As TTN's first foray into hydro development, the project took several decades to get off the ground before the First Nation agreed to partner with OPG in 2007 as part of a past grievances settlement. Construction of the station began in 2015.
The project provides the TTN community with a long-term investment opportunity and a sustainable economic base. Further, it provides spinoff benefits for the entire northeast region.
"The relationship we've built with OPG is based on a foundation of respect, trust, and all working toward a common goal," said Wayne Ross, President of Coral Rapids Power. "There have been many benefits from this project for our community, including good-paying jobs, transferable skills and a long-term revenue stream."
In addition, approximately $53.5 million in subcontracts were awarded to TTN joint- venture businesses during the construction phase of the station.
"The partnership is about creating a lifelong relationship with the First Nation," said Burroughs.
The project has created skilled jobs and unique learning opportunities benefitting TTN members who will pursue work in a range of different career fields. Labour needs included engineers, equipment operators, labourers, drillers, cement workers, ironworkers, electricians, welders, carpenters, and camp support services.
At the peak of construction, there were about 220 workers employed on the project, many of whom reside in the local community.
"Our partnership is about more than just megawatts," said Mike Martelli, President, Renewable Generation. "It's also about creating skilled jobs and ongoing revenue that will benefit this community for years to come."
In addition to the direct employment opportunities, existing local businesses and the regional economy benefitted from contracting work, as well as local project purchasing and expenditures. The estimated sales multiplier associated with the project is $1.50 – that is for every dollar expended an additional $0.50 was spent in northern Ontario.
The new station is operated by OPG's northeastern operations control room in Timmins and is maintained by technicians located at a nearby work centre at Abitibi Canyon.
Peter Sutherland Sr. GS is the latest asset in OPG's clean energy portfolio, which includes successful joint ventures with other First Nations. In early 2015, OPG and the Moose Cree First Nation celebrated the completion of the Lower Mattagami Hydroelectric Project, northern Ontario's largest hydroelectric project in 50 years.
Ontario's 58 northeastern hydroelectric facilities provide a clean, renewable, and reliable source of power to Ontarians year- round. Their combined capacity is over 3,000 MW.
Thanks to Todayville for helping us bring our members' stories of collaboration and innovation to the public.
Click to read a foreward from JP Gladu, Chief Development and Relations Officer, Steel River Group; Former President and CEO, Canadian Council for Aboriginal Business.
Food inflation in Canada shows signs of easing, but grocery prices to remain high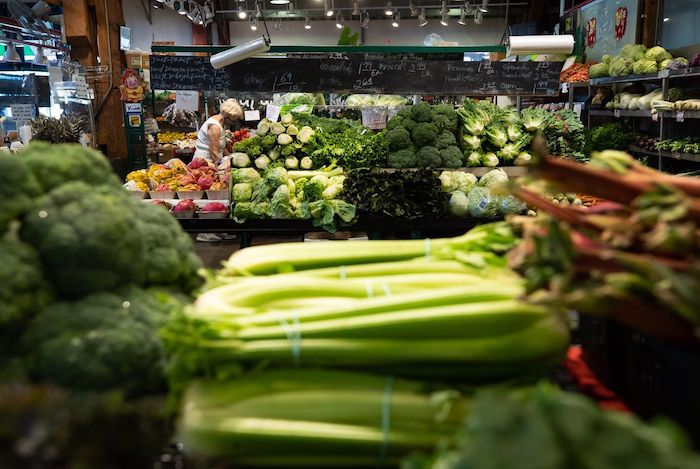 A woman shops for produce in Vancouver, on Wednesday, July 20, 2022. Food inflation appears to be easing in Canada but experts say consumers shouldn't expect lower prices at the grocery store. THE CANADIAN PRESS/Darryl Dyck
Food inflation appears to be easing in Canada, but experts say shoppers shouldn't expect lower prices at the grocery store.
Statistics Canada says the cost of groceries in February rose 10.6 per cent compared with a year before, down from an 11.4 per cent year-over-year increase in January.
Yet a falling food inflation rate doesn't mean the price of food is coming down.
Instead, it means prices are rising less quickly, signalling the worst of the era of grocery price hikes could be behind us.
Sylvain Charlebois, director of the Agri-Food Analytics Lab at Dalhousie University, says the food inflation rate is expected to continue to cool throughout the spring and into summer.
But he says Canadians may still experience sticker shock at the grocery store as some food prices are still significantly higher than a year ago.
This report by The Canadian Press was first published March 21, 2023.
Alberta moves to force oilpatch to pay owed taxes above 'threshold' amount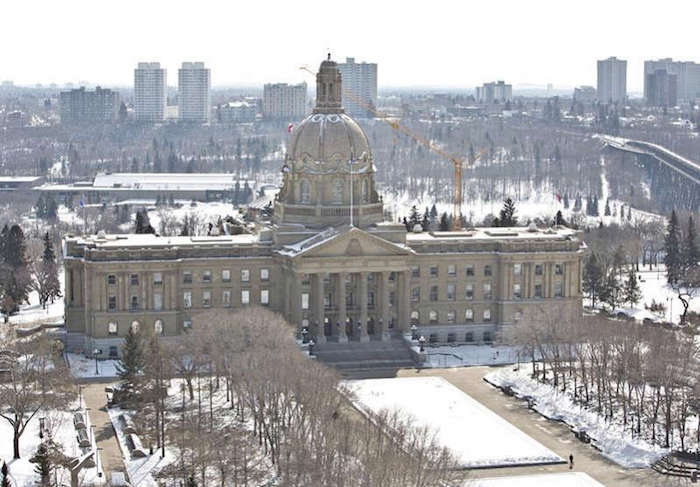 The Alberta government says it's moving to force oilpatch companies to make good on their unpaid municipal taxes.
Energy Minister Peter Guthrie says he's issued an order that blocks companies from acquiring or transferring licences on wells or other assets if their unpaid taxes exceed a threshold amount.
That threshold is yet to be determined and will be set by the Alberta Energy Regulator and Alberta Municipal Affairs.
Alberta Energy says in a release that once the threshold has been established, companies that don't meet it will be targeted for collection.
Rural Municipalities Alberta has said energy companies owe the municipal districts in which they operate a total of $268 million.
Paul McLauchlin of the group says the order will help reduce the unpaid tax burden on its members.
This report by The Canadian Press was first published March 20, 2023.
The Canadian Press