INDUSTRY-INDIGENOUS RELATIONS: A TREND TOWARD DEEPER ENGAGEMENT
INDUSTRY-INDIGENOUS RELATIONS: A TREND TOWARD DEEPER ENGAGEMENT
The Canadian oil and natural gas industry has a strong history of engagement with Indigenous peoples. Since its early initiatives, the petroleum sector has had many learnings and opportunities for growth with respect to its interactions with Indigenous communities. Consequently, these relationships have evolved towards ever-deepening forms of engagement including consultation and business partnerships. However, the nature of these relationships has been difficult to communicate with credibility; arrangements between companies and communities are often confidential, thus limiting the ability of industry to share positive stories of engagement.
The Canadian Association of Petroleum Producers (CAPP), an association that represents Canada's oil and natural gas producers, has utilized multiple surveys of its members in order to better understand the relationship between industry and Indigenous peoples. One of these surveys, known as the Telling Our Story survey, was commissioned by CAPP and conducted by Dr. Ken Coates of the University of Saskatchewan. Additionally, CAPP developed its own survey focused on procurement, community investment and consultation capacity funding in the oil sands. These surveys provide data that demonstrate the value producers place on building long-term, sustainable relationships with Indigenous communities. In particular, economic engagement is viewed as a primary opportunity to establish good relations and support Indigenous self- determination.
Survey Methodology
The purpose of the Telling Our Story survey was to collect information about the oil and natural gas industry's efforts to engage Indigenous communities. Research was conducted by Dr. Ken Coates, Canada Research Chair in Regional Innovation at the Johnson-Shoyama Graduate School of Public Policy, University of Saskatchewan. Dr. Coates used a comprehensive survey of industry representatives, in partnership with CAPP, plus CAPP's member companies and partner associations including the Canadian Council for Aboriginal Business, the Petroleum Services Association of Canada, the Canadian Energy Pipeline Association, and the Canadian Association of Geophysical Contractors. A total of 122 companies participated in the study, representing a cross-section of the oil and natural gas industry in Canada. Data was collected in a confidential manner, anonymized and aggregated into a final report. The survey highlighted key themes related to industry's engagement with Indigenous communities.
Consultation and Community Engagement
Companies within the oil and natural gas industry have developed long-term relationships with communities, and these relationships are multifaceted. Of course, a core aspect of relationship-building takes place through consultation processes. The trend toward consultation accelerated in 2004 with the Supreme Court of Canada decision on Haida Nation v. British Columbia, which determined the Crown has a duty to consult and accommodate Indigenous peoples when making a decision that could affect their constitutional rights. Procedural aspects of this duty can be delegated to industry, and now industry conducts the majority of project consultations. Survey respondents noted that today, companies are actively engaged in this process, seeking to ensure meaningful, two-way discussion in consultations. CAPP members indicated that they view these relationships formed through consultation as critically important to their business. Many companies have teams of staff dedicated to consulting and building relationships with communities, and funding is often provided to support community capacity to engage in consultations. A separate survey of CAPP's oil sands members found that between 2015 and 2016, oil sands operators provided $40.79 million for consultation capacity funding to local Indigenous communities.
Associated with consultations are a variety of forms of engagement. CAPP's members placed particular value on supporting various community activities, social and cultural priorities, and infrastructure needs. The aforementioned survey of oil sands members found that between 2015 and 2016 operators in the region spent $48.6 million on Indigenous community investment. According to companies, these focused investments positively impact relationships. Furthermore, there has been a trend toward the negotiation of long- term, collaborative agreements between project proponents and Indigenous communities in areas of operation that address community concerns and include clauses related to procurement, employment, community investment, dispute resolution, capacity funding and other topics of importance to the proponent and the community.
Economic Engagement
According to oil and natural gas producers, there is a strong emphasis on economic engagement as the priority in building relationships. In particular, procurement – the purchasing of goods and services from Indigenous businesses – presents a significant opportunity for mutual benefit. Both joint venture partnerships and preferential contracting arrangements with Indigenous-owned companies enable companies to build links and trust with communities. The focus on these arrangements is evidenced by substantial financial investment: in 2015 to 2016, oil sands producers spent $3.3 billion on procurement from 399 Indigenous owned- companies in 65 Alberta communities. While a sizable proportion of Indigenous businesses may be small or new, the data suggests their role in the sector will continue to increase.
This type of engagement allows Indigenous peoples to leverage their own expertise, build capacity, and ultimately establish pathways to prosperity. In this regard, industry can play an important role in supporting successful, self-determining communities. Although procurement was ranked most highly in terms of its benefit to the relationship between producers and communities, there are other forms of economic engagement; a number of companies have Indigenous recruitment strategies and support training programs intended to build the technical skillset of Indigenous employees and contractors.
Conclusion
The research commissioned by CAPP highlights the emphasis that oil and natural gas sector companies place on meaningful consultation, partnerships, and in particular, economic engagement. Industry has made strides in building deeper partnerships, and it is expected that the trend toward more meaningful engagement will continue. As an industry association, CAPP believes the oil and natural gas sector has an important role in tangibly advancing reconciliation together with Indigenous peoples in response to the Truth and Reconciliation Commission's Call to Action 92. CAPP believes its role in reconciliation can be described as identifying and finding feasible ways to share economic opportunities arising from resource development, while continuing to learn, grow and improve strong relationships based on trust, respect, and open communication. Industry's understanding will continue to develop, and the sector is open to further dialogue in order to inform its understanding of industry's role in reconciliation.
Thanks to Todayville for helping us bring our members' stories of collaboration and innovation to the public.
Click to read a foreward from JP Gladu, Chief Development and Relations Officer, Steel River Group; Former President and CEO, Canadian Council for Aboriginal Business.
PETER SUTHERLAND SR GENERATING STATION POWERS NORTHEAST ONTARIO
Flames bounce back with 5-1 victory over Ducks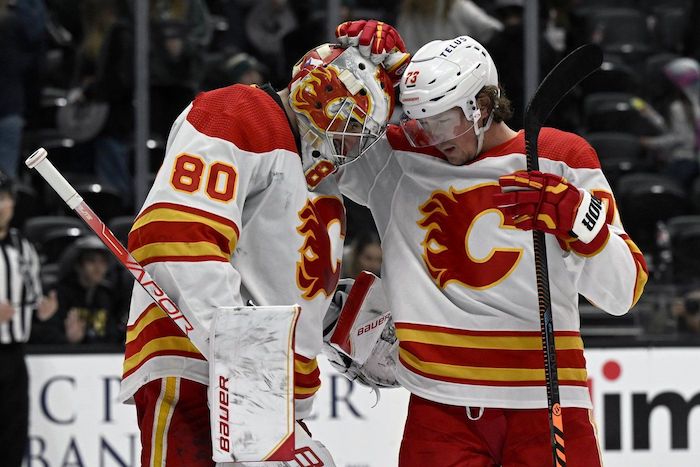 Calgary Flames right wing Tyler Toffoli (73) celebrates with goaltender Dan Vladar (80) after the Flames defeated the Anaheim Ducks in an NHL hockey game in Anaheim, Calif., Tuesday, March 21, 2023. (AP Photo/Alex Gallardo)
By Joe Reedy in Anaheim
ANAHEIM, Calif. (AP) — Tyler Toffoli had three assists, Calgary scored twice on the power play and the Flames bounced back from a six-goal loss one night earlier with a 5-1 victory over the Anaheim Ducks on Tuesday.
Toffoli has nine points in the past four games, including six assists.
Nick Ritchie, Troy Stecher, Rasmus Andersson, Elias Lindholm and Andrew Mangiapane scored Calgary's goals. Mikael Backlund had a pair of assists and Dan Vladar stopped 19 shots for the Flames, who rebounded from an 8-2 defeat Monday night in Los Angeles.
"We just wanted to put that game behind us. And there's no better way to put it behind you than to just go out there and play right away," said Mangiapane, who scored on a breakaway with less than five minutes remaining for his 12th of the season. "I think the first period set the tone for us. We wanted to come out strong and hard and just keep building off of that."
The win kept Calgary four points behind Winnipeg for the final wild-card berth in the Western Conference with 10 games remaining after the Jets beat Arizona 2-1.
"As a coach it is really simple: I just want to keep every game meaningful," Flames coach Darryl Sutter said.
Frank Vatrano scored Anaheim's lone goal. John Gibson made 38 saves, facing more than 40 shots for the 20th time this season.
"We knew that they were going to be a little ornery after their game last night against L.A., and other than a few spurts in the second period, maybe for about six minutes in the second, we couldn't sustain much. Every time we turned, they were in our face," Ducks coach Dallas Eakins said.
Calgary has 12 goals with the man advantage over the past month, which is fifth best in the NHL.
Andersson put Calgary up 3-0 less than three minutes into the third period on a one-timer off Toffoli's pass. It was Andersson's 11th goal and his third in the past six games.
The Flames grabbed the lead 37 seconds into the game when Ritchie put in the rebound after Gibson made a pad save on Noah Hanifin's shot from the point. Ritchie's 12th of the season marked the sixth time Calgary has scored in the opening minute.
Stecher broke a 90-game goal drought at 16:50 of the first with a snap shot from the right faceoff circle to the high side of the far post. Stecher — whose last goal was on Feb. 17, 2022 — has three points (one goal, two assists) since being acquired from Arizona at the trade deadline.
Anaheim got on the board five minutes later when Vatrano lifted a wrist shot over Vladar's shoulder on his glove side. Vatrano's 17th marked only the second goal in Anaheim's last 15 power-play opportunities.
Lindholm scored his 21st and gave Calgary a 4-1 lead 46 seconds into the third on a one-timer.
NOTES
Hanifin extended his point streak to six games with the first assist on Ritchie's goal. He has six points (two goals, four assists) during that span. … Calgary defenceman Chris Tanev was scratched an hour before the game due to an upper-body injury. … Anaheim forward Nikita Nesterenko made his NHL debut. Nesterenko was acquired from Minnesota in the John Klingberg trade at the deadline. Nesterenko played three seasons at Boston College and signed a two-year, entry-level contract last Wednesday.
UP NEXT
Flames: Open a three-game homestand against the Vegas Golden Knights on Thursday.
Ducks: Host the Winnipeg Jets on Thursday.
2022 World Senior Men's gold medalist rink and Cheryl Bernard among teams at Senior Curling Championships at Red Deer's Pidherney Centre this week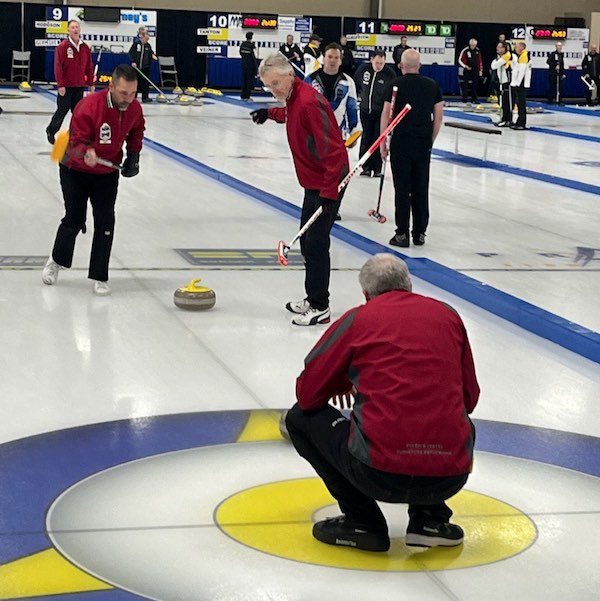 The 2023 Alberta Servus Credit Union Senior Men's and Women's Championships will take place at Red Deer's Pidherney Centre on March 21 to 26.
Thirty-three rinks are on hand to vie for the right to represent Alberta at the Men's and Women's Canadian Championships next fall.
The 2022 World Senior's gold medalists, Team Wade White looks to add yet another championship title to his name alongside teammates, third Barry Chwedoruk, second Dan Holowaychuk and lead George White. While defending Alberta champion, Team Pahl will keep the pressure on to represent Alberta once again.
Other noteworthy names on the men's side include, Mickey Pendergast; Master's Provincial Champion and former teammate of local legend, Rob Armitage, and 2017 Senior's Champion, Glen Hansen.
The talent continues on the women's side with nine of the top senior women's teams in the province.
The star studded line-ups include Olympians, Cheryl Bernard, Carolyn McRorie, Sandra Jenkins and Shannon Kleibrink forming a team under Bernard, and Glenys Bakker and Atina Ford-Johnston skipping their own rinks, with Cory Morris joining Ford-Johnston as lead.
With defending champion, Diane Foster, out of the race, it truly is anyone's title to claim.
Draws run throughout the week with the semi-finals of both the women and men at 9 am on Sunday March 26 followed by the finals at 2 pm.
Admission is free thanks to support from Servus Credit Union.