Looking for a Resilient Career for the Future? Keep an Eye Out for the Lighthouse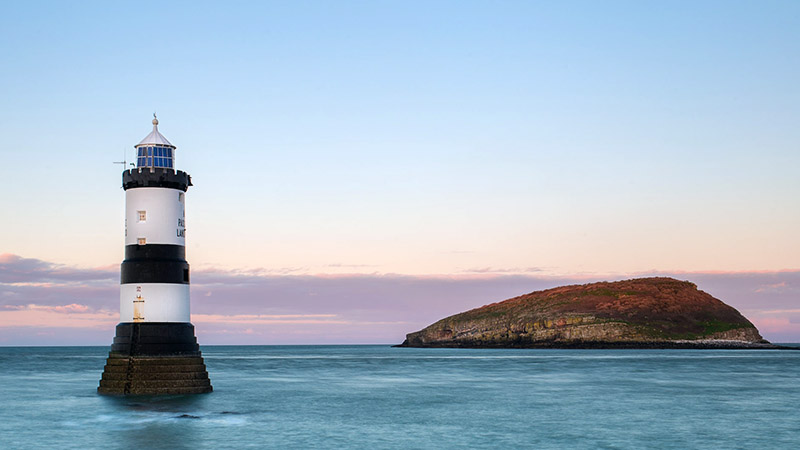 If we consider that the future of work will include a multitude of digital practices, it is up to us as employees and employers to embrace this shift with readiness and education. More familiar than not, the skills we learn through our years in education are a base, from which we hope to secure a position that falls in the same realm as our studies. The challenge is that even with curriculum updates and youth programs, the study of ever-changing digital education continues to be a challenge for both teachers and students.
We as a society are moving into a gig-heavy economy, with individuals packing more onto their certification rosters in the hopes of diversifying their resume's. For those who may want to keep the pace over the next decade, two key categories within education shine through – data science and web development. 
The importance of these skills may seem only attributable to certain industries, however, if we consider the more intensive labour positions, how data is perceived and understood is immensely important. If you are a mid-career worker, someone looking to renew their digital education or one to pursue alternative career paths that carry real promise, these skills may prove to be some of the most sought after in the near future. 
To no surprise that the end of year report by Payscale shows the two "hottest jobs" fall in the data category, reflected by the "The Future of Jobs Report 2020" by the World Economic Forum. This report shows a progressive estimate for skills that will be in demand up to 2025 and beyond. 
This is all great knowledge to have on hand, but where can similar skills be learnt without investing in a multi-year university degree? 
One Canadian company has tangible options.
Lighthouse Labs
Lighthouse Labs is a Canadian company founded in 2013 by its CEO Jeremy Shaki. They specialize in educational programs and boot camps in the fields of web development and data science. Their team has created intuitive learning programs attainable for all walks of life who carry a 'growth mindset' into their personal development. 
They offer full-time and part-time courses for their multiple bootcamps, with available mentorship from experienced professionals in both fields. The results from their 2019 Student Outcomes Report available on their website. A year from January 2019, 504 students enrolled in their bootcamps, 458 graduated and 324 gained employment post bootcamp.  Out of the 329 graduates who completed a job-seeking cycle within 180 days post-bootcamp, 95% of that group accepted employment. These numbers are incredible in comparison to the investment required for a new career avenue in 2021.
In March of 2020, we experienced a mass transition to digital communications in our daily and work lives due to the pandemic. For some, the integration of conference calls, internal team applications and a pressing focus on data was simple to grasp, but not for all. 
In light of some of these challenges, Lighthouse Labs has implemented and collaborated with multiple organizations to offer "Impact Initiatives". Created to offer hyper-focused ways of educating groups of Canadians to enhance their digital literacy.
In collaboration with Kids Code Jeunesse, a non-profit organization focused on digitally-focused educational programs for youth, with funding from the Government of Canada created the Code Create Teach initiative. This partnership had 2,703 teachers experience a one-day introductory workshop on coding and computational thinking. The objective was to offer teachers additional tools they can bring into their classrooms to enhance their student's grasp of digital technologies.
There are multiple ongoing initiatives with Lighthouse Labs and other organizations that are available to view on their website. Another that stood out is the "Accelerating Possibilities Project" in partnership with Woodgreen Community Services. Created to offer mid-career workers an opportunity to learn new skills in web development, data science and customer service. Now more than ever, these types of initiatives have the opportunity to benefit the lives of countless Canadians. 
As noted in various media outlets over recent years, there is an outcry for traditional industry workers to keep pace with the digital revolution with training and support. This is one opportunity where Lighthouse Labs and other educational programs can offer a real avenue to a new career. 
It should be noted that parallel to the closing of office spaces, restrictions on multi-person worksites and the mass layoffs in some of the more traditional industries, these skills offer the opportunity to both begin a new career path with an educated support system, and to re-evaluate what new skills could bring more value to your current position and your company's future.
Scholarship Funding
Lighthouse Labs has a strong sense of supporting their community and has recently announced a new scholarship fund in response to the difficult economic and societal conditions our country has faced due to the pandemic. After a high interest in their March 2020 scholarship round, they announced another $500,000 scholarship fund for those in need. You may be eligible for up to $5,000 in support for a full-time bootcamp and $750 for part-time programs if you've been laid off, had your hours reduced, or are out of school because of the pandemic. For interested individuals, download their financial guide for more information. 
If you would like to learn more about Lighthouse Labs, their support for our communities and the various boot camps they offer, check out their website. All of their material has been digitized and has opened up their reach to anywhere in Canada, check out their blog to learn more about their platform for online tech education. Their team has created a wide variety of reading material to help interested parties learn more prior to an application. These skills are here to stay, the more we integrate with data and web development, the more employers will be headhunting for the right candidate – which truly could be you.
For more stories, visit Todayville Calgary
Walk To Breathe – Alberta man will walk from Lethbridge to Edmonton to raise $50,000.00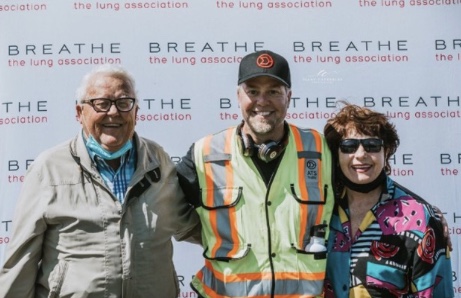 Article submitted by Chris Sadleir on behalf of The Lung Association, Alberta and NWT
July 7, Edmonton's Chris Sadleir will take the first step in a 500-kilometre, 50-thousand dollar journey, a walk from Lethbridge to Edmonton in support of people living with lung disease in Alberta and the Northwest Territories. Last year, Sadleir's inaugural walk took him from Calgary to Edmonton, and raised over 33-thousand dollars. At the time, it was meant to be a once-in-a-lifetime effort, one that turned out to raise even more awareness and engagement than Sadleir had dared to hope for, and ultimately, uniting Albertans from small towns, rural regions, and big cities in support of the cause.
Building on last year's success, Sadleir will not just take on the challenge again, he is extending his route, his reach, and his goal for results.
The journey will commence in Lethbridge on July 7th and finish in Edmonton July 23rd – five years to the day that Sadleir's father received his life-saving lung transplant. This year's walk is in celebration of that milestone, and in commemoration of a dear family member who lost his life to respiratory complications earlier this year.
PLEASE UNDERSTAND: Lung Disease does NOT target smokers and the elderly – it affects EVERYONE – babies, young children, young adults and otherwise healthy people.
From Chis Sadleir:
I HUMBLY ask for your support in my WALK TO BREATHE, and the fight against lung disease. Your kindness and consideration is a BREATH OF FRESH AIR, as we work together to make a difference across Alberta and NWT."
"In 2020, I walked from Calgary to Edmonton and raised over $33,000 to support lung disease patients and increase awareness about the far-reaching affects of lung disease.
This year, my Walk To Breathe will take me from Lethbridge to Edmonton – over 500 km, with a goal to raise $50,000 for the Lung Association of AB & NWT.  
Having experienced the devastating affects of lung disease within my own family, I am passionate about supporting all those who struggle to breathe.  My Father is a 5-year Double Lung Transplant survivor, and a very dear member of our family lost his life due to respiratory complications in early March – they are the inspiration behind my walk this year.
My Walk To Breathe 2021 will begin in Lethbridge on July 7th and finish in Edmonton on July 23rd – marking the 5-year anniversary of my father's transplant.
I HUMBLY ask for your support in my WALK TO BREATHE, and the fight against lung disease.
"The inspiration comes from my Father – my determination is for ALL Albertans"
Your kindness and consideration is a BREATH OF FRESH AIR, as we work together to make a difference across Alberta and NWT.
The Canadian Northern Railway's legacy at Big Valley, Alberta.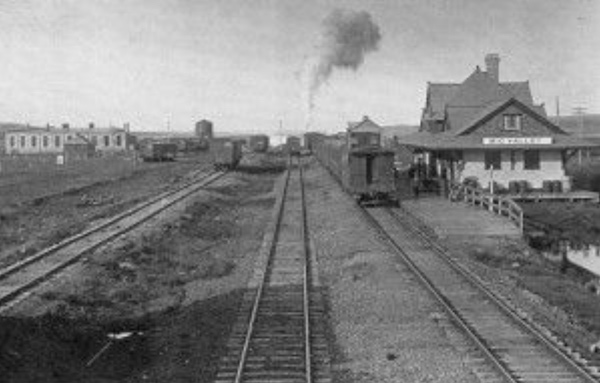 By Shawn I. Smith, Canadian Northern Society
It's a Saturday afternoon in June in the quiet Village of Big Valley. Visitors admire the splendid heritage railway depot and gardens at the end of main street. Two blocks south is a historic grain elevator – a classic Canadian symbol standing tall above the prairie landscape. To the east across the tracks are large stark concrete walls, visibly reminiscent of Stonehenge. "What are those curious walls?" is often asked. Then the sound of a locomotive whistle breaks the silence, creating a scene out of the 1950's when a vintage passenger train pulls into town, and the train crew scurries about on the platform unloading its cheerful patrons.
While not obvious to the guests who have enjoyed the 21-mile excursion train ride from Stettler aboard the Alberta Prairie Railway, the scene that unfolds on summer days in Big Valley is part of a legacy left by two dynamic railroaders who over a century earlier had an ambitious and grand vision for Western Canada. Today, both active and abandoned rail lines in central Alberta, related historic structures and sites, and indeed the communities that owe their existence to the Canadian Northern Railway (CNoR) share this common heritage.
Since the completion of the Canadian Pacific Railway in 1885, railways have been inextricably linked with the development of western Canada. After Confederation the new Dominion Government quickly recognized that without railways real settlement would not take place in the sparsely populated North West.
Energy, Enterprise, and Ability
The CNoR (Canadian Northern Railway) was a product of two Canadian-born railroaders with CPR roots. William Mackenzie and Donald Mann met during the 1880's while the senior road was under construction in the Selkirk Mountains. Their "Energy, Enterprise, and Ability" – which would become the railway's motto would lead to a partnership in contracting, steamship lines, and a 9,500-mile transcontinental railway empire that served seven provinces and included the Duluth Winnipeg and Pacific Railway in the U.S. The two were knighted for their achievements in 1911.
Branch lines were the key to the CNoR strategy.The Vegreville to Calgary branch – chartered in February 1909 by CNoR subsidiary Alberta Midland Railway – was the company's key north-south spine through Alberta. The portion between Vegreville and Drumheller was opened for service in 1911. While it had the appearance of a typical prairie branch line, its primary purpose was to carry steam and domestic heating coal from mines at Brazeau and Drumheller to growing prairie markets.
The fact that the line traversed a region of great agricultural potential for both grain and cattle farming was an added benefit. In typical fashion, grain elevators were located every five to ten miles – the distance being established around the practical ability for a livestock team to haul a load of grain and return in one day's time from the growing number of homesteads clustered around each delivery point.
The Battle River Subdivision along with further line completions in 1914 to Calgary and Strathcona respectively provided the CNoR with an effective intercity freight route, albeit longer than those of its competitors.
The Brazeau Branch, extending 176 miles west from the junction at Warden to the Nordegg Collieries was extremely important to the CNoR which depended largely on this supply of steam coal for terminals across the West. The subsequent extension of the Goose Lake line at Munson became an important link from Calgary to Saskatoon. All of these CNoR lines were financed using provincial bond guarantees.
By May of 1912 mixed trains crewed by Big Valley men were running north to Vegreville and south to Drumheller. Another run to Rocky Mountain House was added in June. A Second Class depot was erected that year and a five-stall roundhouse and turntable were complete by April of 1913.
By late 1913 a Railway Post Office Car service had been established on the line, and Big Valley was home to 14 locomotives and an equal amount of engine service and train crews. Assistant Superintendent Thomas Rourke oversaw terminal operations that included a train dispatching office.
By September 1917 fourteen mines were operating in the Drumheller Valley producing 250 carloads of coal every 24 hours. Drumheller was without question the "Powerhouse of the West." Big Valley's railroaders were kept busy 24 hours a day operating the trains that pulled the coal out of the valley.
After being selected as the CNoR terminal, Big Valley boomed. By 1919, its population had increased to over 1025, with some 325 souls working for the CNoR. At its peak, the company's payroll included 26 train and engine crews, a shop staff of 40, and a Bridge and Building crew averaging 45 employees, managed by Frank Dewar. There were 8 sectionmen, and at the station an Agent, operators round the clock, yard clerks, and the train dispatcher. Four to five carman conducted car repairs and inspections.
Coal from Brazeau was piled in a huge stockpile almost a block long on the east side of the yard. A gravel pit operation north of town at Caprona was established to provide aggregate for line ballasting on all of the CNoR area lines. Steam shovels kept this operation steady, mining volumes often equating to 100 carloads per day.
Big Valley's early railroaders were a colourful lot. Many came and went, and with the Big Valley collieries in production by 1914 shipping coal as far east as Ontario – night life in town could be wild. Assistant Superintendent Rourke, a former baseball player in the Detroit Tigers minor league system, was responsible for putting together the "Big Valley Bugs" – made up almost entirely of railroaders – who in 1918 put together a resounding victory over the high-flying Edmonton Red Sox.
The National
During the First World War, financial problems caught up with Mackenzie and Mann and their rapidly expanding enterprise. Despite profitable western lines such as the Vegreville and Brazeau branches, lack of traffic on the transcontinental lines, burdensome debt, and the negative impacts of the War would result in the company being "nationalized" by the Dominion Government in 1918. The rival Grand Trunk Pacific (GTP) Railway would fare even worse, having been placed into receivership in 1919. These events led to the creation of today's Canadian National (CN).
The new CN was confronted with the task of rationalizing the CNoR and GTP lines throughout western Canada. Consolidation was affected by the elimination of duplicate facilities and improving services by combining portions of the former competing lines. Construction of track connections joining the Brazeau branch with he former GTP Tofield to Calgary line at Alix were opened for service in 1922.
Connections were also made between the Battle River Subdivision and the former GTP mainline at Ryley. Geographically the GTP divisional point at Mirror was seen as central to the operations of the Brazeau branch vs. Big Valley. Coal that had originally moved over the Brazeau line to Warden then northward was now diverted over the new connection at Alix via Mirror which became the new home terminal for crews running west.
The new routing via Alix saved a distance of over 50 miles between Brazeau and Saskatoon. The former GTP south of Camrose also became the CN's north-south main line through Alberta.
This consolidation led to the significant decline of Big Valley as a railway town. While the company kept a small number of train crews assigned to both freight and passenger service, by 1925 the exodus to Mirror, Edmonton, Drumheller, and Hanna began. It was reported that over 100 railroaders' homes were moved out of the village, some of which continue to exist in Mirror today. In what was known as the "Battle of Big Valley" – the unions fought the company's decision hard but were left with little compensation for their relocation expenses after the issue went to arbitration in the late-1920's with the decision going with the company. By the onset of the depression, Big Valley's population had dropped by some 500 souls to 445.
It is without question that the old Canadian Northern Railway's reason for existence in central Alberta has changed dramatically since its arrival in 1910. Coal is no longer used to heat our homes – and in fact its use is considered sinful by some!
Packages ride on trucks, and people drive their own cars and trucks instead of riding mixed trains and Nos. 25 and 26 to get to Calgary or Edmonton.
While huge volumes of grain still move on trains – these are now loaded in modern high capacity elevators capable of loading 100 cars or more in 12 hours or less. The original steel rails that remain in service between Stettler and Big Valley are therefore of historic testament to Mackenzie and Mann and their great accomplishment. In fact, this section of track is the sole operating survivor of many similar "60-pound" branch lines that have now been re-laid or abandoned across the prairies. And almost incredibly one can still experience a passenger train ride over these vintage rails, pulling into Big Valley just as travellers did one hundred years ago.