Keeping Community Close at SunnyCider
SunnyCider is Calgary's premium handcrafted hard cider, made from western Canadian ingredients with a strong focus on locally picked fruit.
As the name suggests, SunnyCider began in the Sunnyside community in 2013. The creation of SunnyCider is similar to many of the craft brewery backstories in the city – it all began between friends in a garage. However, the differences between home brewing cider and home brewing beer complicated things a bit at the beginning, according to Dennis Scanland, SunnyCider Co-founder. "We started out by using car jacks and homemade devices as pressing apparatuses," says Dennis, "one guy even welded a bunch of throwing knives to the end of a rod and attached it to a drill. Scary!" he laughs.
Now located at 1-3300 14th Ave NE, the SunnyCider Cider House has a fully operational system for pressing and fermenting fruit alongside their 50-seat taproom and kitchen. Open Thursday through Saturday, the bright, spacious Cider House plans to begin hosting kitchen takeovers on October 15, where they will invite guest chefs in for feature food nights. October 15 will feature Roy's Korean Kitchen takeover to be enjoyed alongside SunnyCider's 10 rotating taps.
With their roots in the small Calgary neighborhood of Sunnyside, SunnyCider has always placed an emphasis on community, meaning "everyone has a seat at the table, and is invited to feast on the fruits of each other's labour" – literally.
The SunnyCider fruit donor program operates in partnership with Calgary Dollars to minimize environmental impact and reduce food waste in the city by turning local fruit into premium ciders. "We take all the excess fruit in the city that would probably go to the compost or landfill otherwise, and we make cider out of it." Says Dennis. "Our first year we received somewhere around 20,000 pounds of donated fruit, and we're on track to beat that this year." SunnyCider pays $0.25 per pound in Calgary Dollars for apples, crab apples, pears, berries, chokecherries, cherries and currants, which can then be put towards 40% of any purchase at the Cider House or other participating Calgary Dollars locations.
As winter approaches, the team at SunnyCider encourages Calgarians to challenge the notion that "summer is cider season" and continue supporting local. The cidery is currently working on a brand new Black Currant Cider, which they hope to unveil by the end of October.

For major cider fans, SunnyCider also invites you to join the InCider Club! For a $200 annual subscription fee, you will receive 12 bottles of exclusive SunnyCider product for a year, 10% off regular priced merchandise, bottles and growler fills purchased at the cider house, and priority event booking.
To learn more about new products and the fruit donor program, visit https://www.sunnycider.ca.
For more stories, visit Todayville Calgary.
Bail hearing set for Alberta man accused of sexually assaulting five women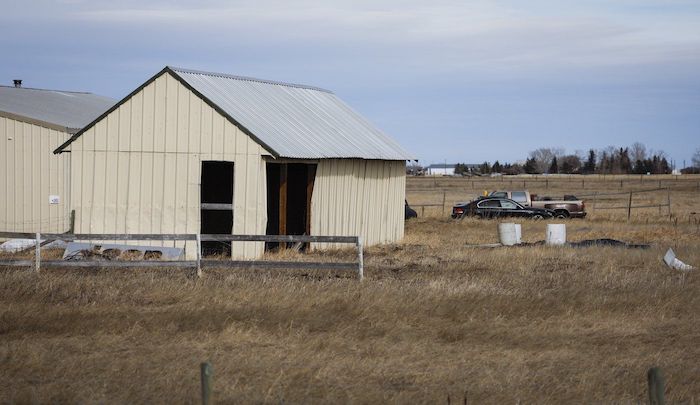 A rural property is seen near Langdon, Alta., Monday, April 10, 2023. A bail hearing for a man accused of kidnapping and sexually assaulting women in Calgary's sex trade will be held later this month. THE CANADIAN PRESS/Jeff McIntosh
Calgary
A bail hearing for a man accused of kidnapping and sexually assaulting women in Calgary's sex trade is to be held later this month after two more complainants came forward.
Richard Robert Mantha, who is 59, faces two new charges of sexual assault and two additional charges of administering a noxious substance.
They are in addition to 13 offences he faces in relation to three women, including sexual assault causing bodily harm.
Mantha appeared in court and a bail hearing was scheduled for May 26.
Police say the women allege they were approached by a man, then drugged and taken to a rural property, where they were physically and sexually assaulted.
Mantha was charged after officers cordoned off a property east of Calgary and brought in cadaver dogs, but police said at the time that no bodies were found.
This report by The Canadian Press was first published May 12, 2023.
'A man lost his life': Youth to receive adult sentence in officer's hit-and-run death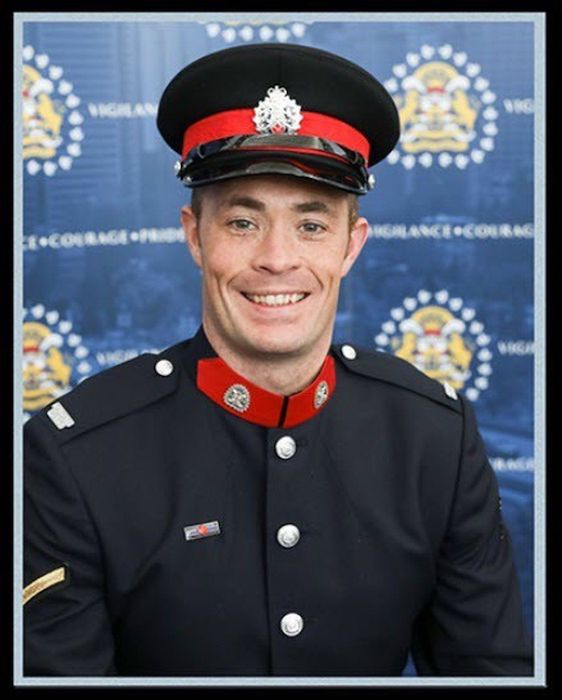 Sgt. Andrew Harnett of the Calgary Police Service is shown in an undated handout image provided by the police service. An Alberta judge ruled that a young man convicted of manslaughter in the hit-and-run death of Sgt. Harnett will face an adult sentence. THE CANADIAN PRESS/HO-Calgary Police Service
By Bill Graveland in Calgary
A young man convicted of manslaughter in the hit-and-run death of a Calgary police officer will face an adult sentence, an Alberta judge ruled Wednesday.
Sgt. Andrew Harnett died after being dragged by an SUV, then falling into the path of an oncoming car on Dec. 31, 2020.
The offender, who is now 20, was days away from turning 18 when Harnett died and was driving the vehicle when it took off from a routine traffic stop with the officer holding on to the wheel and trying to get him to stop.
He testified during his trial that he was scared when Harnett and another officer approached the vehicle during a traffic stop and he saw Harnett put his hand on his gun.
Court of King's Bench Justice Anna Loparco found the young man not guilty of first-degree murder but guilty of manslaughter last year.
The Crown wants the 20-year-old to serve between 11 and 13 years in prison.
Loparco said the offender had shown maturity, even when committing the offence, and was living on his own.
"I find that on the whole he demonstrated traits more aligned with an adult than a young person," Loparco said.
"He did not return to the family home following his flight from police. Rather, he went to his own suite and monitored the situation on social media. When he discovered Sgt. Harnett had died, he did not involve his family."
Loparco rejected defence arguments that the actions were largely impulsive and said the objective of the court is to hold the individual, who as the driver was taking a lead role, accountable.
"He reached speeds of 80 to 90 kilometres an hour. He also intentionally engaged in a variety of manoeuvres aimed at dislodging Sgt. Harnett from the car," Loparco told the court.
"The consequential harm done was immense. A man lost his life, a family lost a husband and soon-to-be father, brother and son. A wide circle lost a friend. Society lost a police officer who exemplified professional conduct."
Loparco said she doubted the genuineness of the young man's expressed remorse and added his recounting of the events "deflects blame and minimizes his role." She said he is also considered to be a high risk to reoffend.
The judge said although he may need counselling and support, that can't be offered with a three-year youth sentence.
"In my view, a maximum youth sentence, even without credit for any pretrial custody, would not be of sufficient length to hold (the offender) accountable for his offending behaviour," she said.
"This court shall, therefore, impose an adult sentence."
Loparco is to hear final arguments on sentencing from both lawyers May 31.
This report by The Canadian Press was first published May 10, 2023.