2020 Alberta Highway Cleanup Collects 32k Bags of Garbage
The results from the 43rd annual Alberta Highway Cleanup have been released!
This year's cleanup took place from 7 a.m. to 5 p.m. on September 19, postponed from its usual date of operation during the first week of May due to COVID-19. Although the campaign did experience a slight drop in participation as a result of the ongoing global pandemic, the numbers remain encouraging and highways all across Alberta are better for it.
The Alberta Highway Cleanup began in 1977 as a joint operation between Alberta Transportation and 4H clubs across the province. It has since expanded to include volunteers from a number of schools, Scout and 4H clubs, church groups, and more. Each group is assigned 1 kilometer for every 2 participants, and Alberta Transportation awards $100 per successful kilometer, meaning the cleanup represents an excellent annual fundraising opportunity for countless local non-profits and clubs.
In 2019, the Alberta Highway Cleanup had over 18,000 volunteers and collected more than 56,000 bags of garbage, resulting in a total contribution of $1.3 million from Alberta Transportation (1).
This year's highway cleanup saw a total of 11,986 volunteers clean approximately 9000 kilometers of road province-wide. "Things were not down as much as you'd think," says Wayne Wood, Alberta Transportation spokesperson, "this year was still very encouraging given all the circumstances."
Volunteers received just over $925,000 from Alberta Transportation for 32,000 bags of garbage.
Alberta Transportation is hoping to return to the regularly scheduled cleanup in May 2021.
To learn more about the Alberta Highway Cleanup and how your club or nonprofit can get involved, visit https://www.alberta.ca/alberta-highway-cleanup-programs.aspx#toc-2.
For more stories, visit Todayville Calgary.
Drying conditions return in Alberta, crews see more intense fire activity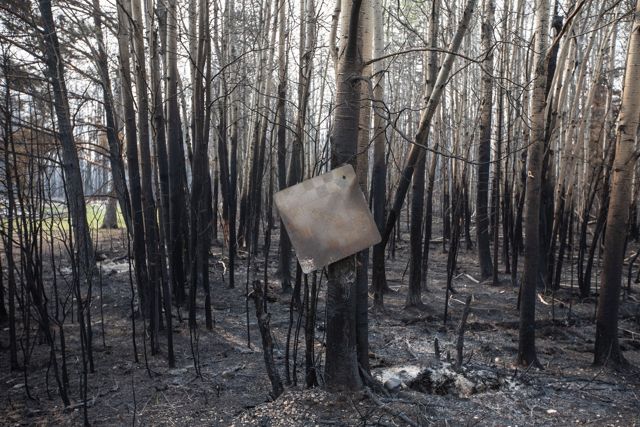 A burnt metal sign hangs from a tree, damaged by recent wildfires, in Drayton Valley Alta., on Wednesday, May 17, 2023. As more wildfire evacuees are being allowed to return home in Alberta, provincial officials warn that warm, dry conditions are returning this weekend in some areas.THE CANADIAN PRESS/Jason Franson
As more wildfire evacuees are being allowed to return home in Alberta, provincial officials warn that warm, dry conditions are returning this weekend in some areas.
Melissa Story with Alberta Wildfire says the elevated fire conditions were anticipated and that crews on the ground are seeing more intense fire activity on the perimeters of wildfires.
But she says most fires haven't grown substantially and she doesn't believe any have jumped their containment lines.
The number of evacuees as of Saturday afternoon stood at 5,257, down from over 7,200 on Wednesday, following cooler and wetter conditions in the last week.
Nearly 50 wildfires in Alberta's forest protection area are burning, with 14 of those listed as out-of-control.
Cyndee Evans, executive director of the Alberta Emergency Management Agency, says the situation remains serious despite recent positive news.
"While we can take heart that more Albertans are starting to return home, we cannot afford to drop our guard. Now is not the time for complacency. Please continue to do your part and help prevent the spread of wildfires and further damage from occurring," Evans told a news conference Saturday.
Story noted that showers were forecast for some parts of Alberta later Saturday, reducing fire danger, but also cautioned they bring the risk of lightning.
Federal Emergency Preparedness Minister Bill Blair said in a tweet Saturday that an extension for the deployment of Canadian Armed Forces personnel to assist in firefighting efforts has been approved.
Story said firefighters from New Zealand were welcomed to the province Friday and that nearly 200 firefighters and support staff from Australia would be arriving this weekend.
Alberta remains under a provincewide state of emergency, although some bans on fires, ATVs and off-highway vehicles have been relaxed in recent days.
Parkland County west of Edmonton lifted a state of local emergency on Friday that had been in place since April 29, and downgraded a fire ban to a fire restriction. It said that meant "safe fires in approved fire pits with a screen are allowed and do not require a permit."
Fires without screens still required permits, however, and open fires in the county are still banned.
The High Level Forest Area wildfire update noted the Pasqua fire located in the community of Fox Lake saw an increase in fire activity after warm and dry weather on Friday, and that temperatures and fire behaviour was expected to pick up on Saturday.
Fox Lake remains evacuated, but residents are being permitted to sign up for tours of the community on Monday to view damage. A statement from the Little Red River Cree Nation said priority will be given to people who have lost their homes.
"Tours will be visual only, as it is still not safe for members to walk around the community or house sites due to hot spots as well as possible toxins and hazards in the areas that have been burned," said a statement posted online by the First Nation on Friday.
This report by The Canadian Press was first published May 27, 2023.
UCP leader Smith says she is 'delighted' by endorsements from Harper, Poilievre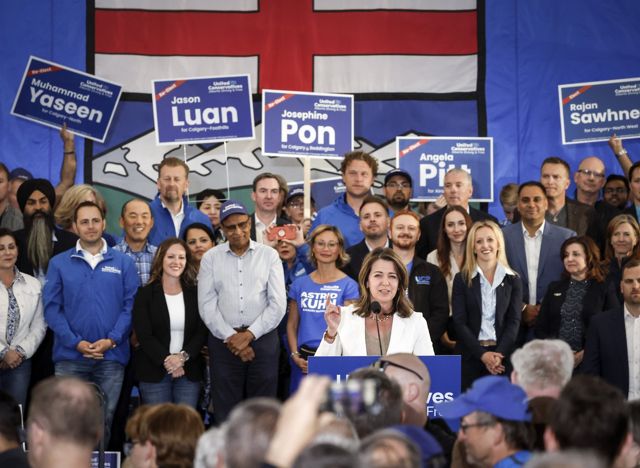 United Conservative Party leader Danielle Smith, centre, makes an election campaign announcement in Calgary, Alta., Friday, May 26, 2023. Albertans go to the polls on May 29. THE CANADIAN PRESS/Jeff McIntosh
Calgary
United Conservative leader Danielle Smith says she would aim to lower the level of political polarization in Alberta if her party wins what has been a tight and often bitter election race.
She made her remarks during her last news conference before Albertans go to the polls on Monday.
Smith says she would consult broadly and make decisions based on what she's heard.
She adds her door is always open to people from all backgrounds and all political persuasions, and she would learn by exchanging ideas.
The UCP leader also says she was delighted to garner endorsements from former prime minister Stephen Harper and federal Conservative Opposition Leader Pierre Poilievre.
The rival New Democrats have been endorsed by high-profile former Calgary mayor Naheed Nenshi.
This report by The Canadian Press was first published May 26, 2023.