INDIGENOUS CONSULTATION AND ENGAGEMENT AT CANADA'S ENERGY AND UTILITY REGULATORS
INDIGENOUS CONSULTATION AND ENGAGEMENT AT CANADA'S ENERGY AND UTILITY REGULATORS
CAMPUT is the Association of Canada's provincial, territorial and federal energy and utility regulators. CAMPUT's purpose is to improve energy and utility regulations in Canada and to educate and train our members. We are highlighting the work of two of our members, the Canadian Nuclear Safety Commission and the Canada Energy Regulator, in the areas of Indigenous consultation and engagement.
The Canadian Nuclear Safety Commission (CNSC) has a broad mandate, including to protect health, safety and security, and the environment, and to disseminate objective scientific, technical and regulatory information to the public, including Indigenous groups. The CNSC is also an agent of the Crown with the responsibility of ensuring the Duty to Consult is met before making decisions. The CNSC has explored various means to ensure that Indigenous groups' voices are heard and integrated into Commission decision-making. The CNSC has also committed to developing on-going, respectful relationships that allow open dialogue in the spirit of reconciliation and trust building.
First, the CNSC focused in-house and put into place policies, practices and processes with an overarching regulatory framework and management system to confirm that CNSC decisions uphold the Honor of the Crown. This included a Regulatory Document (REGDOC 3.2.2, 2016) that sets out the Commission expectations on how proponents play a significant role in working with Indigenous groups to address concerns and mitigate impacts and / or treaty rights, early in design and project proposal stages.
The CNSC also has a dedicated team with expertise in Indigenous consultation and engagement that conducts ongoing engagement with Indigenous groups with interests in nuclear facilities. The long-term goal is to help build relationships and trust and help CNSC staff learn more about the history, rights, interests, and culture of the Indigenous groups. The CNSC continues to work with Indigenous groups to ensure they are provided the opportunity to present their views and give oral presentations at Commission hearings.
To support this participation, the CNSC has put in place a Participant Funding Program that in part, has helped Indigenous groups hire consultants to review technical scientific reports, fund Indigenous Knowledge studies, cover community meeting costs, pay Honoraria for elders, and costs for travel and preparations for hearings. Further, Commission hearings have taken place in communities near facilities to allow easier access by Indigenous groups, and teleconferencing, web access, live streaming and simultaneous translation in Indigenous languages has also been used.
The CNSC acknowledges the importance of working with and integrating Indigenous Knowledge alongside scientific and regulatory information in its assessments and regulatory processes, where appropriate and where authorized by Indigenous communities. Indigenous ways of knowing and cultural context enhance the CNSC's understanding of potential impacts of projects and strengthens project reviews and regulatory oversight.
The CNSC also runs its own Independent Environmental Monitoring Program (IEMP) that seeks Indigenous participation in taking samples from public areas around nuclear facilities and measuring and analyzing the amount of radiological and hazardous substances in the samples. Following discussions with many Indigenous groups, it was recognized that they could play a key role in identifying country foods and traditional harvest areas and participate as part of the IEMP. Getting meaningful monitoring results to Indigenous communities is a key priority for the CNSC.
The Canada Energy Regulator (CER) welcomes change. In August 2019 we transitioned from the National Energy Board to the Canada Energy Regulator. The CER has been given new legislation and is focused on improvement. Reconciliation with Indigenous Peoples is a pillar of our renewal.
Our legislation directs us to find meaningful ways to engage with Indigenous Peoples. We embrace our new mandate and have woven specific deliverables on reconciliation into every aspect of our work.
Our vision: to transform the way we work with Indigenous Peoples, recognizing their unique cultures, knowledge and histories; and endeavor to reflect a renewed Nation- to-Nation relationship based on the recognition of rights, respect, cooperation and partnership.
We recognize reconciliation is an ongoing process that occurs in the context of evolving Indigenous-Crown relationships. Sitting around the table with Indigenous communities, we are working to find new ways to co-manage regulatory oversight. We recognize the inseparable connection Indigenous Peoples have with the land and the water, and we will work collaboratively to protect them. We are also ensuring we equip the communities with the right skills and support to make the changes we envision a reality.
Indigenous Advisory and Monitoring Committees (IAMC) bring together Indigenous and federal leaders to provide advice to regulators and to monitor the Trans Mountain Expansion and Line pipelines. Members share the goals of safety and protection of environmental and Indigenous interests in the lands and water. Indigenous participation does not equal support or opposition for a project, allowing for better information-sharing within the group. This initiative represents a foundational change in the way the CER and the Federal government work with Indigenous Peoples. It aims to develop an enduring and meaningful relationship for the entire lifecycle of the project. We believe our work with the IAMCs can lead the way on co- management of regulatory oversight activities and has the potential to be applied across the rest of Canada's energy system.
Here are some other ways we are changing how we work with Indigenous Peoples:
We are meeting with Indigenous communities earlier on who may be impacted by projects we regulate to better understand their concerns and share how the CER holds companies accountable for the protection of Indigenous rights and interests.
We are adapting our hearing processes to allow for different paths of Indigenous participation. This includes sharing Indigenous Knowledge, allowing for ceremonies, selecting specific locations for the hearing that are convenient to Indigenous participants or elders, and allowing for remote participation if travel is not possible.
We are developing a National Indigenous Monitoring Policy so that all CER-regulated infrastructure projects can benefit from Indigenous Knowledge when they are being build and operated.
We are training our employees to understand more about Indigenous history, culture and contemporary issues facing Indigenous Peoples in Canada. This training ensures that consideration of Indigenous rights and interests and becomes embedded in our way of working.
Background. The Canadian Energy Compendium is an annual Energy Council of Canada initiative which provides opportunity for cross-sectoral collaboration on a topic of shared interest across the Canadian energy sector, produced with the support of Canada's national energy associations and Energy Council of Canada's members. The stories contributed to the 2019 edition, Indigenous Energy Across Canada, highlight current conversations celebrating Canada's dynamic energy sector and encouraging its continuous improvement.
Thanks to Todayville for helping us bring our members' stories of collaboration and innovation to the public.
Click to read a foreward from JP Gladu, Chief Development and Relations Officer, Steel River Group; Former President and CEO, Canadian Council for Aboriginal Business.
Canada needs 300,000 new rental units to avoid gap quadrupling by 2026: report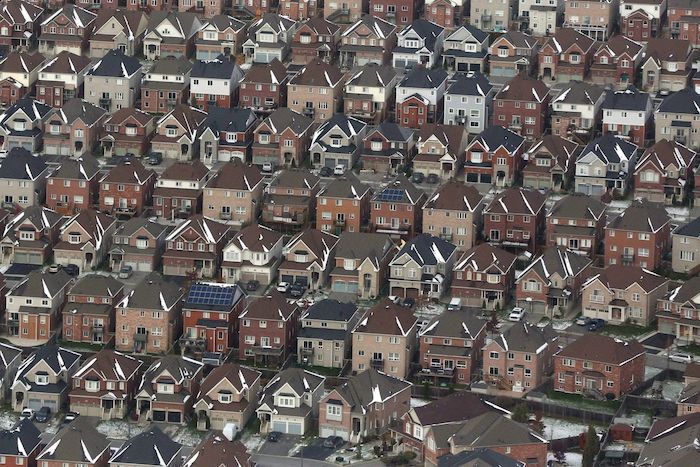 An aerial view of houses in Oshawa, Ont. is shown on Saturday, Nov. 11, 2017. A Royal Bank of Canada report predicts Canada's rental housing shortage will quadruple to 120,000 units by 2026 without a significant boost in rental stock. THE CANADIAN PRESS/Lars Hagberg
By Sammy Hudes in Toronto
Canada's rental housing shortage will quadruple to 120,000 units by 2026 without a significant boost in stock, Royal Bank of Canada said in a report Wednesday.
In order to reach the optimal vacancy rate of three per cent, the report suggested Canada would need to add 332,000 rental units over the next three years, which would mark an annual increase of 20 per cent compared with the 70,000 units built last year.
The research analyzed vacancy rate data released in January by the Canada Mortgage and Housing Corporation (CMHC).
Canada's vacancy rate fell to 1.9 per cent in 2022, its lowest point in 21 years, from 3.1 per cent in 2021.
Competition for units also drove the highest annual increase in rent growth on record, by 5.6 per cent for a two-bedroom unit.
Canada's rental housing stock grew by 2.4 per cent in 2022, led by Calgary at 7.4 per cent and Ottawa-Gatineau at 5.5 per cent, while Toronto and Montreal saw the smallest percentage increases at 2.1 per cent and 1.4 per cent, respectively.
"We haven't seen that many additions to the purpose-built inventory in almost a decade, so you would think that added supply of units would ease some of the competition, but what the CMHC rental market data revealed to us was that it didn't," said RBC economist Rachel Battaglia.
Slow growth in Canada's two most populous cities has been outpaced by rapidly increasing demand, partly fuelled by high immigration levels, she said. Annual federal immigration targets are set to grow eight per cent by 2025, meaning demand is unlikely to let up.
Battaglia also pointed to affordability and behavioural preferences for the influx of rentals sought. She said more Canadians are choosing to live alone, meaning fewer incomes per household.
"You have a lot of people being funnelled into the rental market who maybe would have liked to own something but it's just not financially in the books for them right now," said Battaglia.
The report estimated an existing deficit of 25,000 to 30,000 units of rental stock across Canada. In addition to building more supply, it recommended turning condo units into rentals, converting commercial buildings and adding rental suites to existing homes to help ease the pressure.
Without such measures, Battaglia said the market could "become infinitely more competitive."
"Which is not something that we want to realize given the competition we're already seeing," she said.
"You're already seeing rents increase dramatically."
This report by The Canadian Press was first published March 22, 2023.
Fed raises key rate by quarter-point despite bank turmoil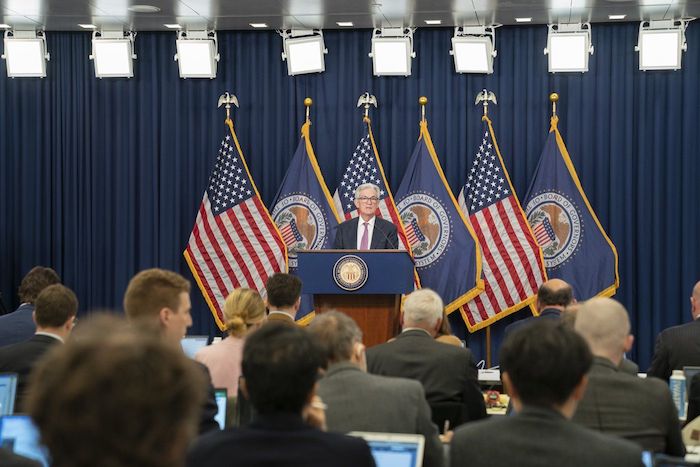 Federal Reserve chair Jerome Powell speaks during a news conference, Wednesday, Feb. 1, 2023, at the Federal Reserve Board in Washington. With inflation still high and anxieties gripping the banking industry, the Federal Reserve and its chair, Jerome Powell, will face a complicated task at their latest policy meeting Wednesday and in the months to follow: How to tame inflation by continuing to raise interest rates while also helping to restore faith in the financial system – all without triggering a severe recession. (AP Photo/Jacquelyn Martin, File)
By Christopher Rugaber in Washington
WASHINGTON (AP) — The Federal Reserve extended its year-long fight against high inflation Wednesday by raising its key interest rate by a quarter-point despite concerns that higher borrowing rates could worsen the turmoil that has gripped the banking system.
"The U.S. banking system is sound and resilient," the Fed said in a statement after its latest policy meeting ended.
At the same time, the Fed warned that the financial upheaval stemming from the collapse of two major banks is "likely to result in tighter credit conditions" and "weigh on economic activity, hiring and inflation."
The central bank also signaled that it's likely nearing the end of its aggressive series of rate hikes. In a statement, it removed language that had previously indicated it would keep raising rates at upcoming meetings. The statement now says "some additional policy firming may be appropriate" — a weaker commitment to future hikes.
And in a series of quarterly projections, the Fed's policymakers forecast that they expect to raise their key rate just one more time – from its new level Wednesday of about 4.9% to 5.1%, the same peak level they had projected in December.
Still, in its latest statement, the Fed included some language that indicated that its fight against inflation remains far from complete. It said that hiring is "running at a robust pace" and noted that "inflation remains elevated." It removed a phrase, "inflation has eased somewhat," that it had included in its previous statement in February.
The latest rate hike suggests that Chair Jerome Powell is confident that the Fed can manage a dual challenge: Cool still-high inflation through higher loan rates while defusing turmoil in the banking sector through emergency lending programs and the Biden administration's decision to cover uninsured deposits at the two failed U.S. banks.
The Fed's signal that the end of its rate-hiking campaign is in sight may also soothe financial markets as they continue to digest the consequences of the U.S. banking turmoil and the takeover last weekend of Credit Suisse by its larger rival UBS.
The central bank's benchmark short-term rate has now reached its highest level in 16 years. The new level will likely lead to higher costs for many loans, from mortgages and auto purchases to credit cards and corporate borrowing. The succession of Fed rate hikes have also heightened the risk of a recession.
The Fed's policy decision Wednesday reflects an abrupt shift. Early this month, Powell had told a Senate panel that the Fed was considering raising its rate by a substantial half-point. At the time, hiring and consumer spending had strengthened more than expected, and inflation data had been revised higher.
The troubles that suddenly erupted in the banking sector two weeks ago likely led to the Fed's decision to raise its benchmark rate by a quarter-point rather than a half-point. Some economists have cautioned that even a modest quarter-point rise in the Fed's key rate, on top of its previous hikes, could imperil weaker banks whose nervous customers may decide to withdraw significant deposits.
Silicon Valley Bank and Signature Bank were both brought down, indirectly, by higher rates, which pummeled the value of the Treasurys and other bonds they owned. As anxious depositors withdrew their money en masse, the banks had to sell the bonds at a loss to pay the depositors. They were unable to raise enough cash to do so.
After the fall of the two banks, Credit Suisse was taken over by UBS. Another struggling bank, First Republic, has received large deposits from its rivals in a show of support, though its share price plunged Monday before stabilizing.
The Fed is deciding, in effect, to treat inflation and financial turmoil as two separate problems, to be managed simultaneously by separate tools: Higher rates to address inflation and greater Fed lending to banks to calm financial turmoil.
The Fed, the Federal Deposit Insurance Corp. and Treasury Department agreed to insure all the deposits at Silicon Valley and Signature, including accounts that exceed the $250,000 limit. The Fed also created a new lending program to ensure that banks can access cash to repay depositors, if needed.
But economists warn that many mid-size and small banks, in order to conserve capital, will likely become more cautious in their lending. A tightening of bank credit could, in turn, reduce business spending on new software, equipment and buildings. It could also make it harder for consumers to obtain auto or other loans.
Some economists worry that such a slowdown in lending could be enough to tip the economy into recession. Wall Street traders are betting that a weaker economy will force the Fed to start cutting rates this summer.
The Fed would likely welcome slower growth, which would help cool inflation. But few economists are sure what the effects would be of a pullback in bank lending.
Other major central banks are also seeking to tame high inflation without worsening the financial instability caused by the two U.S. bank collapses and the hasty sale of Credit Suisse to UBS. Even with the anxieties surrounding the global banking system, for instance, the Bank of England faces pressure to approve an 11th straight rate hike Thursday with annual inflation having reached 10.4%.
And the European Central Bank, saying Europe's banking sector was resilient, last week raised its benchmark rate by a half point to combat inflation of 8.5%. At the same time, the ECB president, Christine Lagarde, has shifted to an open-ended stance regarding further rate increases
In the United States, most recent data still points to a solid economy and strong hiring. Employers added a robust 311,000 jobs in February, the government report. And while the unemployment rate rose, from 3.4% to a still-low 3.6%, that mostly reflected an influx of new job-seekers who were not immediately hired.