India Part 2- Terrific photos! Experience the Taj Mahal and Ganges with Gerry Feehan
India Part 2- Terrific photos help you experience the Taj Mahal and Ganges. This is the second in a four-part series on India
Experience the Taj Mahal and Ganges with Gerry Feehan. The Taj Mahal in Agra, India was commissioned in 1632 by the Mughal emperor Shah Jahan in memory of his favourite wife Mumtaz Mahal. Constructed of ivory marble inlaid with semi-precious stones, the Taj Mahal is described as the world's most perfect building. The Taj does not disappoint.
The grand mausoleum is best viewed in the early morning light, but some important foreign politico was in town so the grounds were closed to us plebeians. We had to view the edifice from Agra Fort, which lies across the Yamuna River.
Still, the ancient site in the hazy distance was stunning, with its four tall minarets framing the gigantic domed tomb. In 1658, after a succession battle, Shah Jahan's son had his father imprisoned in the Fort. The elder Shah was forced to live out his existence with a distant, tantalizing, maddening view of his beloved wife's final resting place.
The Taj Mahal grounds re-opened to the great unwashed later that afternoon – affording us the opportunity to avoid the morning crowd. As the sun set, we were able to quietly enjoy this architectural wonder with an intimate gathering of… about 10,000 souls. Did I mention India has a lot of people? (see Part 1 of the series.)
"India? Are you nuts?" Join Gerry for Part 1 of his series on India.
Every morning, before he could open his mouth to explain where we were going and what we'd see, eat and do that day, we'd greet our guide Anoop Singhal with a preemptive, "What's the scoop, Anoop?" Then he'd regale us with the remarkable things we were to consume – visually and gastronomically – that day.
And throughout the adventure, with ceremonial kirpan rattling by his side, driver Devinder Singh navigated us safely through the byways of Rajasthan and Uttar Pradesh, his horn a constant presence, firmly announcing our arrival in every hamlet, village and town.
When we flew to Varanasi to visit the sacred waters of the Ganges, Singh Ji drove through the night, met us at the airport and safely delivered us to our luxurious accommodation.
It was on the short drive into Varanasi that we saw our first corpse.
Supplicants bathe in the sacred GangesIt is the desire of every devout Hindu to be cremated along the banks of the Ganges River, ashes then spread into the sacred water. Such a fortuitous departure from life enhances the deceased's opportunity to be transported to heaven and escape the cycle of reincarnation, rebirth.
What we had seen on the way into town was a body, brightly wrapped in funerary attire, drawn in an open cart and bound for a wooden funeral pyre.
Late that afternoon, after navigating Varanasi's warren-like alleyways and descending the stone steps of Manikarnika Ghat to the riverbank, we rowed quietly out into the soft Ganges current. Orange flames danced from a score of burning pyres, each mimicking the brilliant Indian sunset.
Downstream, supplicants released floating offerings of lit candles set in yellow marigolds, while men and women – pilgrims from all over India – stepped into the water to cleanse themselves and sip the holy elixir.
Despite encouragement from the locals we did not partake in the ritual of drinking directly from the blessed Ganges. A Canadian doctor I met on a scenic point overlooking the river warned that to do so was to invite, "the 30 day, 30 pound diet."
As darkness descended we drifted silently, watching a growing multitude of funerary blazes illuminate the shore. The effect was ethereal, apocalyptic.
In the morning the mood at breakfast was somber. Our time with Mr. Singh and our wonderful guide Anoop was over. We were headed to Mumbai to begin the next leg of our journey. Before we left for the airport, Anoop Ji surprised us with a private yoga session in the garden of the Taj Gateway, our fabulous Varanasi hotel.
After a lot of "ohms", some deep breathing and much stretching, the yogi insisted we finish the session with a laugh – literally. So, we all forced a grin that morphed to a chuckle and eventually became a contagious guffaw. Soon the whole group was howling with a genuine, fall on your yoga mat, belly laugh.
The mood had swung and we were all smiles as we boarded the plane for Mumbai.
Next time: the slums of Mumbai.
If you go: Explore India from Vancouver B.C., www.exploreindia.ca, capably and professionally handled all aspects of our private month-long tour – air and land travel, hotels, meals, guides, drivers, entrance fees and activities – for one all-inclusive price.
"India? Are you nuts?" Join Gerry for Part 1 of his series on India.
"The Planet is not an Ashtray" – It's Time to Stop Throwing Cigarette Butts on the Ground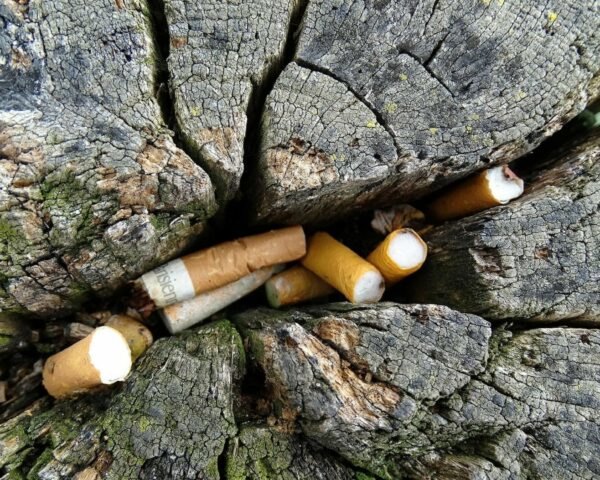 Raise your hand if you've ever witnessed someone flick their burnt out cigarette butt onto the ground while they're standing outside the pub, or walking down the sidewalk. Or, if you've ever driven over a still-lit cigarette on the road after the driver in front of you chucked it out the window of their moving car. 
In a public setting, throwing a soda can or an empty coffee cup onto the ground is a hard no, often met with swift social backlash by surrounding witnesses. So why, then, is it considered socially acceptable to throw cigarette butts – literal chemical trash on fire – onto the ground?
While the act of discarding a cigarette butt onto the ground may seem insignificant in the moment, statistics show the staggering and destructive impact this decision has on the environment when made by millions of people every day. 
According to a National Geographic article released in August 2019, cigarettes are the top plastic polluters around the world. Globally, approximately 6.5 trillion cigarettes are purchased each year, and of those, "an estimated two-thirds of the trillions of filters used each year are tossed into the environment." 
Cigarettes are not biodegradable. The breakdown that results from weathering and time spent in the elements leads to further environmental degradation, as thousands of microscopic plastic fibers and chemicals are released. The chemicals found in cigarette ash and filters, which include arsenic, lead and benzene, among others, are poisonous to the environment and its inhabitants.
In 2019, a study led by Anglia Ruskin University (ARU) was published in the journal of Ecotoxicology and Environmental Safety highlighting how cigarette butts significantly reduce plant growth. "We believe it is the chemical composition of the filter that is causing damage to the plants," says co-author Dr. Bas Boots, "Most are made from cellulose acetate fibers, and added chemicals which make the plastic more flexible … may also be leaching out and adversely affecting the early stages of plant development."  
In addition to inhibiting early plant growth, cigarette litter consistently ends up in waterways that lead to surrounding rivers, lakes, and the ocean. This contaminates the water with dangerous chemicals and plastics that poison marine life and other animals, who often mistake cigarette butts for food.
Not to mention, in regions experiencing hotter, dryer climates, cigarette butts can lead to wildfires when discarded before being properly extinguished. In June 2019, the Vancouver Island Fire Department responded to 7 fires in 7 days, all of which were caused by improperly discarded cigarette butts. 
The social norm that permits cigarette butts as an acceptable form of litter is far outdated. Cigarette litter should be held to the same standard as all other forms of chemical and plastic waste that negatively impact the environment, meaning the onus is on the user to ensure proper, safe disposal. 
Brain Garden is a family run business based in Vernon, British Columbia, on an international mission to eliminate cigarette litter and its detrimental environmental effects. 
Founded by 'Head Gardener" Jack Elliman in 2013, Brain Garden manufactures eco-friendly, airtight Pocket Ashtrays for safe, on-the-go disposal of cigarette butts. When users drop their lit cigarettes into the Pocket Ashtray and snap it shut, the airtight seal extinguishes the butt and traps the smoke, successfully tackling two of the main reasons individuals litter in the first place – convenience and lingering smell.
The inspiration for the Pocket Ashtray originated in the transformational festival industry, where individuals are encouraged, if not required, to leave no trace. Though not as commonly as on a city sidewalk, even there, Elliman noticed, cigarette butts were ending up on the ground. It was there Elliman identified the need for a convenient, eco-conscious solution to keep cigarette butts from ending up in the environment.
From there, the environmentally friendly invention has expanded into the global market as a convenient, educational product that leads to less cigarette waste littering our towns, contaminating our waterways, harming our wildlife, and causing wildfires.
"It really comes down to education," says Elliman, inventor of the Pocket Ashtray, "people forget that cigarette waste is toxic waste, and now with COVID, it's a biohazard as well." Since the launch of Brain Garden nine years ago, hundreds of thousands of Pocket Ashtrays have been distributed to cities, fire departments, music festivals, cleanup groups and more worldwide. 
The story doesn't end there, however. The Pocket Ashtray goes one step beyond simply keeping cigarette litter off the ground. Once the Pocket Ashtray becomes full, the contents can be mailed to TerraCycle using free shipping labels provided by Brain Garden, compliments of TerraCycle. From there, TerraCycle composts the remaining paper and tobacco and recycles the cellulose acetate. 
"We are approaching 1000 total pounds of recycled cigarette litter with TerraCycle," says Elliman. This half-ton milestone is a result of global participation in various Brain Garden cigarette litter campaigns, including "butt barrels" and "butt buckets" which function alongside the Pocket Ashtrays.
The funds generated from the recycling process with TerraCycle are then put towards the Brain Garden Wildfire Prevention and Education Campaign. This campaign focuses on reducing wildfire risk by providing free Pocket Ashtrays to the smokers, promoting safe and responsible cigarette disposal, and educating the public about the dangers of improperly discarded cigarette butts. 
It's 2021. Time to respect the environment, be a good human and use an ashtray.

For more information on the Pocket Ashtray and how to join Jack Elliman and Brain Garden on their ongoing mission to protect the environment from the largest global plastic pollutant, visit https://braingarden.ca
For more stories, visit Todayville Calgary.
The ultimate penalty for package thieves – A hilarious Christmas story of revenge
You may be familiar with Mark Rober. Mark is an engineer who loves to put his profession to work for him in curious and extremely entertaining ways.  His video called Building the Perfect Squirrel Proof Bird Feeder has been watched more than 53 Million times!
Well here's a new video and the timing is perfect.  Considering the combination of COVID19 and online Christmas shopping, package thieves are undoubtedly busier than ever.   A couple of years ago the creator of this video had a package stolen from his front step and when there was nothing police could do about it, he decided to take his revenge and do his part to decrease the practice of poaching packages.
For anyone who has had a package stolen from their step, here's your revenge!  Mark admits it's a bit petty, but his overall goal is to steer people away from making poor decision.  Take a few minutes to enjoy Mark's amazing work.