Angling and adventure greet our intrepid traveller on Padre Island
By Gerry Feehan, award-winning travel writer and photographer. Here is his latest story, Padre Island, Texas.
_________________________________________________________________________________________
"…I peaked through a stack of chili-flavoured pork rinds, past a battered flag of the Lone-Star State hanging in the dirty window, and into the parking lot. Smiley was staring storeward… waiting…."
Padre Island Texas is a long spit of sand dunes guarding mainland Texas from the destructive tornadoes and winter storms that pound in from the Gulf of Mexico. Between this narrow barrier island and the mainland lies Laguna Madre, a shallow hyper-saline sea renowned for sensitive sea grass and world-class fishing.
On some Padre Island, Texas beaches, camping is free. South of Corpus Christi, at Padre Island National Seashore, free boon-docking extends for over 100 kilometres. But the sandy entrance is also the only exit. So, after you bite off as much of the hard-packed seashore road as you can chew and you've had your fill of remote surf and turf, a tight U-turn and a long return drive up the beach is required to get back to civilization.
It was shoulder season, so we and our RV had the whole shoreline to ourselves.
The other campers were all outfitted for fishing. "When in Rome," thought I and asked the park ranger if he knew of any local fishing guides.
The weather was atrocious: 3°C with a 70-kilometer north wind. Only a Canuckle-head would beach in such conditions; five meters from the raging ocean and sideways to a Gulf gale. The van was a rockin' all night.
In the morning the weather cleared, the sun shone and the wind ebbed, portending a fine day on the Laguna Madre. We drove back across the causeway to the mainland, toward Arroyo City and a lovely campground along a canal fronting the ocean. We chose a site protected by live oak trees in case (heaven forbid) the weatherman's prognostication was inaccurate and the wind began to howl anew. As per our typical MO, we arrived at dusk, sans reservation.
The other campers were all outfitted for fishing. "When in Rome," thought I and asked the park ranger if he knew of any local fishing guides.
"No, I sure don't," he said. "Y'all could check with the live-bait store back in town. Look for the big sign – a redfish – out front. They may have a' idea." I asked Florence if she'd mind hanging solo for a day while I went angling. "No, go ahead. I'll spend the day relaxing, reading and knitting." I wandered down the road. When I saw red, I stepped in. The shop smelt. After baiting the proprietor with fishing small-talk, I asked, "Do you think you could find a guide to take me out tomorrow?"
"Well, I know of a fella lives right by," he said, chewing uncertainly on a pork rind, "but it's kind of late and I doubt he'd be available on short notice. I could call if you like." He picked up the phone.
Five minutes later 'Captain Smiley' was walking in the door. He shook my hand and arrangements were made to tackle an early morning. The sun had not yet risen when the Captain putt-putted up to our riverfront campsite and welcomed me aboard. Minutes later, dawn greeted us as we cast our first lines into the shallow, glassy waters of Laguna Madre. A fat red drum hit on my second cast; a fighting day was upon us.
I had a great time with Smiley. Affirming his moniker, he laughed and joked all day long in his charismatic Tex-Mex accent.
The night before I had warned the Captain that I was short on greenbacks and would need to pay by cheque. He hesitantly agreed. When we arrived back at dock he expertly prepped my red-fish "on the half-shell" for grilling. Driving me back to our campsite he diverted his battered pick-up truck toward the bait shop. Pulling up he informed me that there was an ATM inside. Evidently he preferred cash to a cheque written on the reputable but foreign Royal Bank of Canada. I smiled, opened the door and headed into the store.
I had no bank card, just a US Visa. Uncertain if I could withdraw cash or whether my PIN# would work, I shoved the card in, chose English over Spanish as my language of preference and, after agreeing to an unreasonable fee for using the bank machine ("in addition to whatever other charges your financial institution may impose"). I prayed silently as I entered my personal security particulars. The machine sat quietly for a time, made some distant interior rumblings and eventually announced: "Request Declined."
I peaked through a stack of chili-flavoured pork rinds, past a battered flag of the Lone-Star State hanging in the dirty window, and into the parking lot. Smiley was staring storeward… waiting.
I checked to see if there was a back exit. The wary owner eyed me suspiciously. The rear door led through a heap of fish offal into an alligator-infested swamp. Preferring embarrassment to an awful death, I thought I'd again ask the Captain if he would accept my cheque. I took a last baleful glance at the ATM and noticed a message: "maximum withdrawal $120." I had requested too much dinero. I started the process anew, punched in my PIN, agreed to pay the usurious fees and crossed my fingers. The machine slowly spat six tattered twenties at me. A full day of guided fishing is not cheap. I repeated the process a few times. Eventually the tired machine coughed up enough cash to retire my piscatorial indebtedness.
I handed the dough to Smiley. He smiled and asked, "Do you want to fish tomorrow?" I couldn't envisage enduring another ATM debacle and, in any event, it was time for us to move on from this arroyo.
"No thanks," I said, "we need to hit the road tomorrow."
"Aw, that's too bad," said Smiley. "Tomorrow's my day off and what I do on my day off is… go fishing. I'll take you out on my dime."
I saw my calendar clearing.
I called Florence to ask leave. She concurred, delighted. (Apparently, one day away from her beloved was insufficient to create any overwhelming desire to be reunited in the confines of our small RV.)
I had another great "caught my limit" day of fishing. As I fried up a delicious speckled sea trout that night, Florence asked, "Are you going fishing again tomorrow?"
"Naw," I said. "Smiley's got a customer lined up for the morning."
"Gee, that's too bad," she said, "this fish is incredible." She was eyeing her knitting.
______________________________________________________________________________________________
Hope you enjoyed your trip to Padre Island Texas. Gerry Feehan is an award-winning travel writer and photographer. He and his wife Florence live in Red Deer, AB and Kimberley, BC. You can read more of his stories here.
"India? Are you nuts?" Join Gerry for Part 1 of his series on India.
Hawaii Five-O's by Gerry Feehan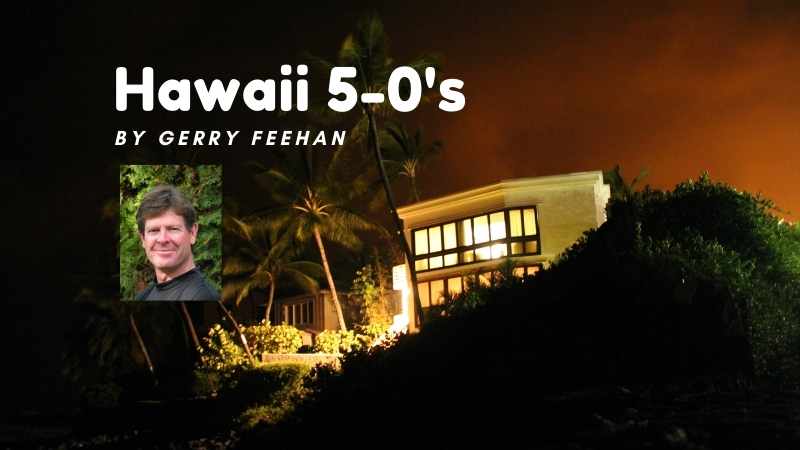 Standing on an active lava flow is ill-advised. But our guide Steve demonstrated the art carefully, with a brief clamber onto the quickly cooling pahoehoe.
We were on the Big Island of Hawaii. Ten of us, five couples in our fifties (the Five-Os), were sharing a charming three-floor oceanfront home in Kona. Although we spent much of our two-week stay lazily floating in a private solar-heated pool watching humpback whales breach, spinner dolphins spin and surfers hang ten, we also took time to explore the many wonders of Hawaii's largest, youngest chunk of land.
It is labelled the Big Island for good reason. All the other islands of the 50th state could fit easily within its landmass. Driving from Kona on the western leeward side to Hilo on the wet eastern side is a three-hour drive one-way. But that's where the lava is and it doesn't flow uphill. So we hopped in the rental cars and made the overland foray.
Their motto is "go with the flow" … so we did.
There are few places on earth where one can view lava freshly vented from a magma chamber, oozing inexorably toward the sea, creating new planet. The Big Island is one of those magic spots.
Pele, the Hawaiian goddess of the Volcano, is tempestuous and unpredictable. As placation she insists on an offering of gardenia, plumeria or an equally entrancing native Hawaiian blossom. So said Steve as we embarked at twilight on our trek across twenty-year-old lava toward the fresh, gurgling stuff.
There are two types of lava, each easily recognized by its remnant trail. A'a' flows are jagged and brittle, settling in an upright, dangerous posture. Our path was over the more subtle, titanium-coloured pahoehoe lava, defined by its often ropy, luxuriant and more accessible texture. Pahoehoe wanders hot and plentiful, vented from deep in mother earth's mantle. A'a', pushed methodically downhill, builds like windrows graded from a winter street. I prefer pahoehoe. It's much more forgiving if you trip and fall.
Steve and his partner Ken purchased 23 acres of oceanfront Hawaiian land a decade ago. Recent transports from Montana, they intended to milk goats on their new abode. Lava had not invaded this parcel for 5000 years. But their nanny-milking ambitions were destroyed within three months of move-in when Pele unleashed her fickle fury on their whole tract of Hawaiian soil.
So they gave up the goat and took up lava tours. Their motto is "go with the flow" … so we did. They are a knowledgeable, informative and respectful team. We dutifully followed our guides across terra incognita. Ken led. Steve took up the rear.
Twilight in the tropics is brief. After an hour slowly meandering across the shiny titanium landscape we halted. Utter blackness had descended, but beneath us the darkness evaporated. We stood mesmerized atop newly borne earth — the fresh molten evidence under foot, like a glowing red spider-web. And to our left and right fresh molten rock slowly flowed by, like incandescent rivers.
I proffered Pele's floral gift directly into the path of the creeping molten stone. The flower wilted and disappeared beneath the hot rock's onslaught. Nearby a large Koa tree caught fire, exploding in light, whistling and popping like Canada Day fireworks.
When Steve stepped up onto pahoehoe that, seconds earlier, had been a red-hot sinuous mass of 1100°C flowing stone, we stood back, aghast. Fortunately, Steve is light on his feet. After a moment atop the smoldering lava he hopped back to safety, the bottom of his boots smoking faintly. Goddess Pele loves to see soles burn.
Headlamps illuminated for the hike out, we carefully retraced our steps through a minefield of sharp lava. In the night sky the island's persistent vog had evaporated. The Milky Way lay crisp and clear above us. We were one with the universe. Well not actually one. But pretty darn close.
Mahalo
Gerry Feehan is an award-winning travel writer and photographer. He lives in Kimberley, BC.
Thanks to Kennedy Wealth Management for sponsoring this series. Click on the ads and learn more about this long-term local business.
Vancouver Island by Gerry Feehan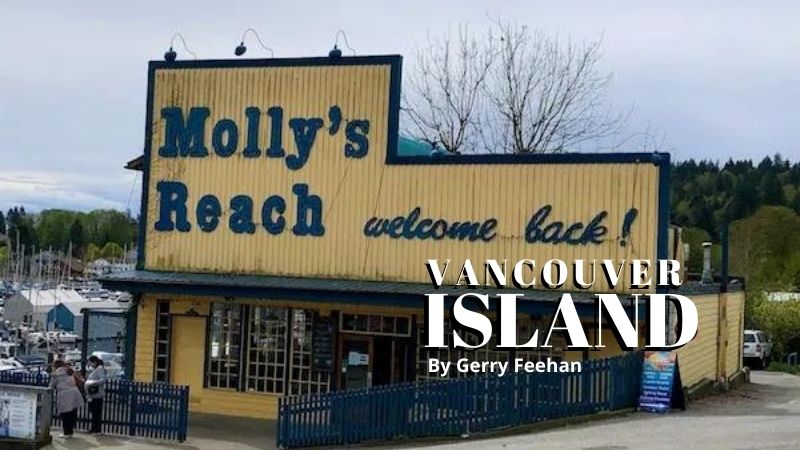 Let's face it. April in Alberta sucks. Beneath the snowy mantle cold and clean… lies a bunch of dead brown grass. Meanwhile on Vancouver Island, spring is in bloom. The cherry trees are in full magenta majesty. The land is bright with magnolia and rhododendron blossoms and colourful tulips punctuate the evergreen grass. Hummingbirds flit amongst the flowers, sipping spring's sweet nectar.
I'm not stupid. Last year on the first of April my wife and I packed our cozy little motorhome and headed for the coast. Avoiding the customary Vancouver to Victoria ferry route, we elected to travel up the Sunshine Coast, on the mainland to Powell River, before heading over to the Island.
I use the word 'mainland' loosely since, although technically attached to the continent, there is no direct road to Powell River. Getting there entails travel by ferry—two ferries actually. After departing Horseshoe Bay in North Vancouver, the first stop is Gibson's, made famous by the old CBC series The Beachcombers. We combed Molly's Reach unsuccessfully for Bruno Gerussi and Relic before navigating the steep road up and out of town and onto the Sunshine Coast Highway.
Soon we were serpentining through massive stands of hemlock, western red cedar and Douglas fir. We encountered the sea again at lovely Sechelt where we enjoyed a quiet hike through a towering old-growth forest—and a lively overnight stay with Sechelt friends. In the morning we followed the meandering road to Saltery Bay where we boarded our second ferry for the leg to Powell River.
We had hoped to avail ourselves of some Sunshine Coast tourist amenities—perhaps a day trip to Desolation Sound, a floatplane into Princess Louisa Inlet or a zodiac ride to Sechelt Narrows—but none of the operators had yet opened for the year.
Unfortunately, with a few notable exceptions, this became a recurring theme during our April trip to the wet, er I mean, west coast. That it was quiet was just as well. Highway 101 (which apparently originates 15,000 road miles away at the tip of South America) terminates at Lund, BC. And I mean, terminates. Had there been a couple more cars parked in front of the historic Lund Hotel, I'd still be trying to turn the motorhome around.
After retracing our path south to Powell River, we caught the late afternoon ferry for the run over to Comox on the Island. Our arrival was inauspicious. Rain poured down through the night. In the morning the windshield wipers were flapping time all the way to Port McNeill. Literally flapping. They were broken. But when we pulled into town the sky cleared and we enjoyed a lovely, crisp evening. The town was deserted. We had the world's largest burl, a Port McNeil must-see, to ourselves.
For the uninitiated, a burl is an abnormal outgrowth on a tree, like a wart, or a giant blemish. This particular burl is six meters in diameter and is estimated to weigh 30 tonnes. That's one big zit.
A few kilometres up the road is Port Hardy, which bills itself as a salmon fishing mecca. But the charters were all in dry dock. The run of spring salmon had yet to arrive. And the orcas that eat them were nowhere to be seen. So forget whale watching.
Perhaps this whole 'Vancouver-Island-in-April' thing was not such a great idea after all. But of course, it was. Sure, we got a bit wet here and there and, yes, some of the more touristy things weren't yet open for business, but there was the quiet solitude, gorgeous hiking, camping in peaceful remote forests—and spring's bright blossoms.
I unfurled my fly rod and spent a delightful day wading the Marble River, near Port Alice, casting every manner of lure onto those pristine mountain waters. Alas, I didn't land a thing, despite digging deep into my fly box for the finest of flies. Clearly, the fish of Vancouver Island are either blind—or very stupid.
Pursuing more quiet isolation, we headed for Telegraph Cove, located on a dead-end road just south of Port McNeill. We phoned ahead to see if the campground was open but the pre-recorded message simply thanked patrons for 'a great season' and offered an encouraging 'see you in the spring'.
We weren't optimistic. We resigned ourselves to a night of boondocking in some remote pullout. Still, we pressed on and pulled into the cove just as the setting sun glimmered red on the calm, gorgeous bay of the tiny hamlet.
Look up 'quaint' in the dictionary. There'll be a picture of Telegraph Cove. The small harbour is surrounded by cute, rustic lodging; converted fishing shacks and charming motel units hang precariously over the water.
At the end of the pier stands the iconic rust-red Telegraph Cove Lumber & Trading Co., which now houses the Whale Interpretive Centre. Everything was shut fast. I peeked through the smoky windows of the local cafe. In a far corner, tables and chairs were upended and neatly stacked. Suddenly, out of nowhere, an older fellow, with a hitch in his gait and a sharp tool in his hand, appeared. 'Can I help ya?' he inquired, hoisting a hacksaw. I looked at Florence and shivered. It was reminiscent of The Shining.
'We were hoping to find a spot to camp for the night,' I mentioned nervously. 'No problem,' he said. 'we're not officially open yet but you're welcome to pull in anywhere and hook up. No charge.' He pointed up the hill toward a steep gravel road leading into the forest and a sign that read, 'Camping.' I turned to thank him. He was gone.
Still, we slept peacefully that night, lullabied to sleep by the rhythmic swaying of giant Douglas fir. In the morning we moseyed down to the boat ramp, intending to launch our inflatable kayak. The wind was gale-force. Outside the harbour entrance, the roiling sea was grey and angry. And we'd been warned that even on calm days, navigating the tide at Telegraph Cove can be challenging.
Deflated, but not defeated, we stuffed the limp kayak back into its lair in the rear of the RV and pointed the wheel toward Tofino on the rugged west side of Vancouver Island… where we would soon encounter a real adventure on the ocean.
Gerry Feehan is an award-winning travel writer and photographer. He lives in Kimberley, BC.
Thanks to Kennedy Wealth Management for sponsoring this series. Click on the ads and learn more about this long-term local business.