Local artist records original song for Remembrance Day with video showcasing Red Deer's military history
Editor's note: This article was published in 2020. It was extremely popular in the Central Alberta region so we wanted to circulate it again this year, now even more poignant with the war in Ukraine. The video uses many images that are familiar to Central Albertans and pays tribute to Central Alberta soldiers who have deployed internationally over the years.
This spring, a singer and songwriter friend of mine from Red Deer, Shelly Dion, came to me with a song idea that had, in her words, been "knocking around in my head for the past 30 years". She said that she really wanted to pay her respects to the people who sacrificed their lives and livelihoods to go to war.
The song is called "Lay Me Down", and it's a very fitting song for this time of year. We decided to get together and record a simple version of the song. Then I sent her off to see musical wizard, Red Deer's Heath West of Medodius Design. Heath came up with some excellent improvements and we recorded it in his studio this fall.
As Honorary Colonel of 41 Signal Regiment in Alberta, I'm always looking for opportunities to promote the military, our Regiment's members, and of course at this time of year, to acknowledge the sacrifice made by the men and women who serve in the Canadian Armed Forces. "Lay Me Down" hit all the right notes.
With some help from Counsellor Michael Dawe, long-time archivist for the City of Red Deer, I gained access to some wonderful historic photos that helped me to tell some of the stories of Red Deer's military history. At the same time, I wanted to help the members of our Regiment honour the many local members who have volunteered to put their lives and careers on hold to deploy internationally to places like Afghanistan, Golan Heights, Bosnia-Herzegovina, Croatia, and more recently Ukraine and Latvia. This project allowed me to both profiles some local history and recognize our more modern history. Thanks to WO Drew Adkins of 41 Signal Regiment for his help in coordinating photos from our wall of fame inside Cormack Armoury.
The above video is the result. Take some time to learn about our local military history. Do you know who Cormack Armoury is named after? You'll also learn about local members of 41 Signal Regiment (2 Sqn), many of whom actively serve in the Armed Forces today. You may even know some of them as neighbours, friends, and co-workers. Please take a moment to acknowledge their service, and on November 11th, attend a service, and at the very least, take a moment at 11 AM to be silent and consider how lucky we are to be at peace in our country.
"Lay Me Down" is written and performed by Shelly Dion and produced and engineered by Heath West. Musicians: Bagpipes Glenn MacLeod, acoustic guitar Heath West, electric guitars Lloyd Lewis, drums Phil Liska, Bass Doug Gagnon.
Click to read more on Todayville.
Red Deer Recovery Community will offer hope for residents from Central Alberta and around the world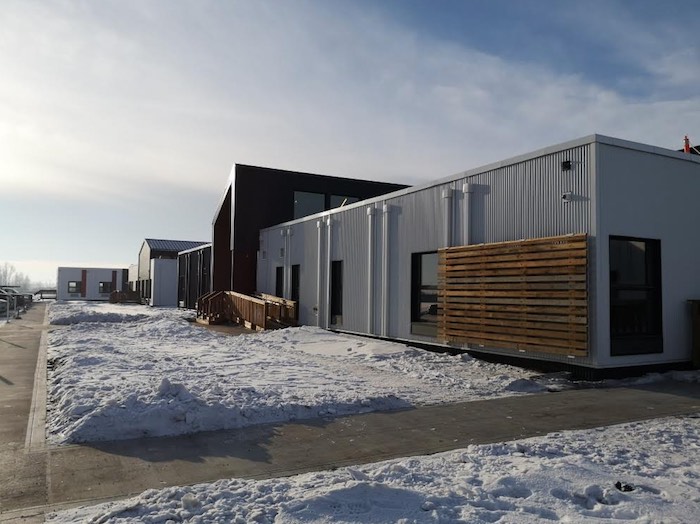 Central Albertans won't be the only ones paying close attention to the official opening of the Red Deer Recovery Community next month. According to Marshall Smith, Chief of Staff to Premier Danielle Smith, jurisdictions from across North America will be looking to the Red Deer Recovery Community for potential answers to their own issues. Red Deer Recovery Community will be the first of 11 the province is opening over the coming months.
Cities across North America and beyond have been battling an addictions crisis, and losing. As the number of homeless people and the number of fatal overdoses continues to rise, cities are looking for new solutions. After years of slipping further behind, Alberta has decided on a new approach to recovery and Marshall Smith has been leading the charge.
Smith is a recovering addict himself. A political organizer from BC, he once worked for former Premier Gordon Campbell. His own crisis started with alcohol, then moved to cocaine dependency before he eventually succumbed to methamphetamine use. The successful political operative found himself without work and living on the street for over four years. Eventually he benefited from a 35 day stay in a publicly funded recovery centre in BC.
Former Alberta Premier Jason Kenney brought Smith to Alberta to head up the UCP's addictions and recovery file. His personal experiences and incredible comeback story are at the heart of Alberta's new approach.
While the success of recovery programs vary, Marshall Smith and Dr. Christina Basedow of the Edgewood Health Network (operators of Red Deer Recovery Community) say with the right treatment and the right amount of time, they expect a very high rate of successful recoveries. Smith says the province won't give up on patients, even if some have to go through more than once.
The Recovery Community is central to this new approach, but patients who will be able to stay for up to a year, will need somewhere to go when they leave. This week the province also announced the Bridge Healing Transitional Accommodation Program in Edmonton. This "second stage" housing will ensure former addicts have a place to stay upon leaving addiction treatment centres. This will be their home in the critical days following treatment when they need to reestablish their lives by finding work or educational opportunities.
Red Deer Mayor Ken Johnston feels the 75 bed Recovery Community will be transformation for Central Alberta. Mayor Johnston says all Central Albertans will play an important role in helping former addicts when they leave the Recovery Community.
Construction of the Red Deer Recovery Community is all but complete.
Thursday, municipal and provincial politicians toured the facility and were introduced to the operators of the new facility. Dr Christina Basedow, Western VP of Edgewood Health Network teamed up with Nicholas Milliken, Alberta's Mental Health and Addiction Minister, to take questions about operations.
Premier Danielle Smith made the trip to Central Alberta to offer support for the project and see the facility first hand.
Red Deer Mayor Ken Johnston and Premier Danielle Smith listen to Chief of Staff Marshall Smith
Marshall Smith explains aspects of the Recovery Community to Premier Danielle Smith, Red Deer Mayor Ken Johnston and Red Deer MLA's Adriana LaGrange and Jason Stephan
In the days leading up to an official opening expected in February, Edgewood Health Network is finalizing the admission process which will see the first batch of up to 75 people suffering addictions moving into single and double occupied rooms.
The new 75-bed facility, will begin accepting residents battling addictions in February. Those residents will stay for up to a full year accessing medications, programming and developing life skills.
In the meantime the province expects a recovery industry will be developing in Red Deer including second stage housing opportunities and counselling.
Springbrook man charged in meth, fentanyl, and cocaine bust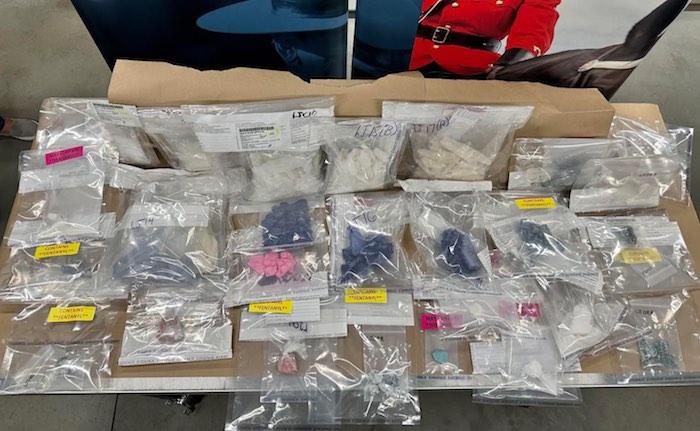 Submitted by Red Deer RCMP
Alberta RCMP charge three men in drug trafficking investigation
A joint operation between the RCMP Federal Serious and Organized Crime (FSOC) unit and Red Deer RCMP's General Investigative Section has resulted in charges laid against three men for drug trafficking in the Calgary and Red Deer area.
As a result of this drug investigation, RCMP seized:
2.1 kg of methamphetamine
1.3 kg of fentanyl
238.2 grams of cocaine
$10,000 cash
Brandon Schnell, 39, a resident of Calgary, has been charged with:
Trafficking in Substance contrary to section 5(1) of the Controlled Drugs and Substances Act (x6);
Possession of Property Obtained by Crime Under $5,000 contrary to section 355(b) of the Criminal Code (x2).
Kevin Gallagher, 38, a resident of Springbrook, was arrested and charged with:
Trafficking in Substance contrary to section 5(1) of the Controlled Drugs and Substances Act (x6);
Possession of Property Obtained by Crime Under $5,000 contrary to section 355(b) of the Criminal Code (x4); and,
Trafficking in Property Obtained by Crime contrary to section 355.2 of the Criminal Code (x2).
Gallagher is scheduled to appear in Red Deer Provincial Court on Dec. 1, 2022.
A 26-year-old resident of Calgary was previously arrested and charged with:
Possession of a Controlled Substance for the Purpose Trafficking contrary to section 5(1) of theControlled Drugs and Substances Act (x3); and,
Possession of Proceeds of Crime Over $5,000 contrary to section 355(a) of the Criminal Code.
That individual appeared in Calgary Provincial Court on Oct. 26, 2022.
"This investigation exemplifies the importance of strong working relationships between the Federal Policing Program and the many RCMP detachments in Alberta. This joint operation disrupted a drug trafficking operation and targeted individuals that would have caused greater harm to our communities."
– S/Sgt. Kent Dahl, RCMP Federal Serious and Organized Crime
"Through excellent investigational work and effective interagency collaboration, this drug trafficking network was disrupted and dangerous drugs were prevented from entering a number of Alberta communities. We are very proud of the work of both our GIS team and of those in FSOC."
– Insp. Heidi Ravenhill, Red Deer RCMP