Business Spotlight: Increased Online Activity, Increased Concerns
These are unprecedented times for most industries in Alberta, including the IT industry. We do not hear a lot about the challenges faced by businesses that offer IT services in the wake of self-isolation and the transition to working from home. In this piece, we will discover what a local Calgary company, SysGen Solutions Group, is doing to tackle the 'new norm' in their daily work routine, the physical and mental support provided for their employees and their support in our community. This article will also discuss the concerns with security risks.
Since the beginning of March 2020, Statistics Canada, as part of their Canadian Perspective Survey Series reported a 29% increase in people working from home. Following that increase, we have seen a major increase in online activity, with the majority of that traffic being directed to software applications that support our work from home communication and productivity. As seen below, TrustRadius reports data on the rising software categories from the beginning of the COVID-19 outbreak to April 6th.
(Data sourced from TrustRadius on top rising software categories, April 2020)
With this rise, how does a local Alberta IT company tackle this new challenge and play its part in supporting its customers, employees and their community during the COVID-19 pandemic?
SysGen Solutions Group was founded in 1995 and is a major player in IT consulting firms across Western Canada. Over their 25 years, SysGen has been the recipient of several national and international awards, including Canada's Top Small & Medium Employer (2017 to 2019), Alberta's Top Employer (2017 to 2018), Profit 500 (2013 to 2017), CRN's Top Managed Service Providers 500 (2017 to 2019), Top 100 Solution Provider in Canada from CDN (2016 to 2017), Ingram Micro Microsoft 365 Partner of the Year (2019) amongst several other accolades. Awards such as these show a true passion for their employees and their ability to drive their industry into the future.
The president of SysGen, Ryan Richardet found himself at a crossroads before his growth at the company. Working on a MSC in cardiovascular science at the University of Calgary and being accepted into USC Medical School, he chose to rethink his passion. Ryan decided that building a great company through people was what he wanted to do; thus he continued working in business development for SysGen just under 10 years ago. Through multiple roles in the company, he was promoted by SysGen CEO Lyle Richardet from vice president to president in December of 2018.
"…the more you get better at it, the more you understand. You get excited to see other people achieve success. It's pretty amazing" – Ryan Richardet, SysGen President
SysGen's business model involves an array of IT services, including cybersecurity, a service that has skyrocketed in necessity during COVID-19. Like other organizations, SysGen has introduced a Work from Home (WFH) policy due to COVID-19. Traditionally, the local management team leads employees based on their office culture. Customer solutions are collaborated on as a team at SysGen and client offices. But these norms have been uprooted since COVID-19.
How has communication between you and your team been since WFH?
Ryan mentions that SysGen has implemented strong communication between all members of his team since directing the entire staff to WFH. He is happy to say that his team has greatly accepted communicating through video conferencing and messaging apps.
"…there are two sides. It's the employee and employer relationship. I can't even really see it that way. I'm here with everybody in the trenches and we're all working as a team"
Virtual town halls have been useful to facilitate weekly communication to ensure employees are aware of updates at SysGen. They have been using the chat conferencing tool Microsoft Teams to ensure collaboration continues between staff and that SysGen stays true to its mission to deliver an amazing customer experience. Ryan sees it as a transformational business platform that provides many tools for people to communicate and collaborate effectively.
"I see the whole team digging in and trying to go the extra mile to make a difference right now. I'm super proud of that. I can't be more excited about the relationship between all of us during this time."
Community Support
SysGen has proactively supported the community for several years through SysGen Cares. This support has included offering free IT support to non-profits such as cSPACE and Downtown Vernon. Nominations were received from the community and the selected non-profit was chosen based on its application. SysGen has also worked with local sports teams to sponsor jerseys and has donated funds for trout restocking efforts with the Alberta Conservation Association. Alpine Canada is another organization SysGen works with through SyGen Cares to support their IT services and initiatives.
Recently, SysGen introduced a new initiative to help non-profits that have been hit hardest by COVID-19. This program offers a donation of up to $1,000 to a non-profit chosen by an organization that signs with SysGen for managed services. You can learn more about this initiative here.
What recommendations would you offer for those concerned about their cybersecurity during this time?
There have been recent reports of cybersecurity issues that align with the rise in online activity. Some may be aware that the popular web conferencing tool "Zoom" has been banned from educational institutions and large companies across the world due to security issues. There are also numerous other considerations about how to keep our privacy and security intact while almost a third of the population works from home.
"…we have a managed security platform to help clients establish secure technology
environments. But there are little things you can personally do right now…"
Some of the recommendations from Ryan and his team consist of conducting good internet hygiene. This can be learned through infographics and webinars offered by industry experts. SysGen will be offering a cybersecurity webinar in the coming weeks on this topic. Following that, make sure that you close programs when you're finished using them and implement strong passwords across user accounts.
One concern is that a webcam can be accessed through viruses or malware downloaded from an unknown source. It may be a scary thought to have after spending weeks on your laptop, however, Ryan offers a simple tip: Cover your webcam when you're not using it for video calling. You can even do this with a piece of tape. To learn more, visit SysGen's blog for additional information on technology and IT services.
Hopes for the future?
Typically, Ryan and other team members would travel for client meetings. Now that he's working from home, he does not miss traffic lights and congested roads. He's looking forward to the social aspects of his position, including meetings and events with colleagues and customers. In the meantime, Ryan virtually connects with his team and clients, sometimes in a more informal way to catch up or share a funny meme. Keeping the social part of the work environment alive has a positive effect on team morale, which is important with the uncertainty in the world today.
In celebration of SysGen's 25-year milestone, they are planning a virtual party with various events through a virtual town hall. This is where the real creative thinking begins. Ryan mentions:
"…the celebration is going to be virtual so we will have to experiment with whether it could ever replace an in-person party. We're going to make it fun and engaging, so we'll find out!"
If you would like to learn more about this local Alberta company, SysGen Solutions Group, visit their website or social media. Here you will find information on how to increase your internet hygiene and improve your work from home experience because it's likely here to stay.
Website – SysGen Solutions Group – Twitter – Facebook – LinkedIn – YouTube
For more stories, visit Todayville Calgary
Federal departments failed to spend $38B on promised programs, services last year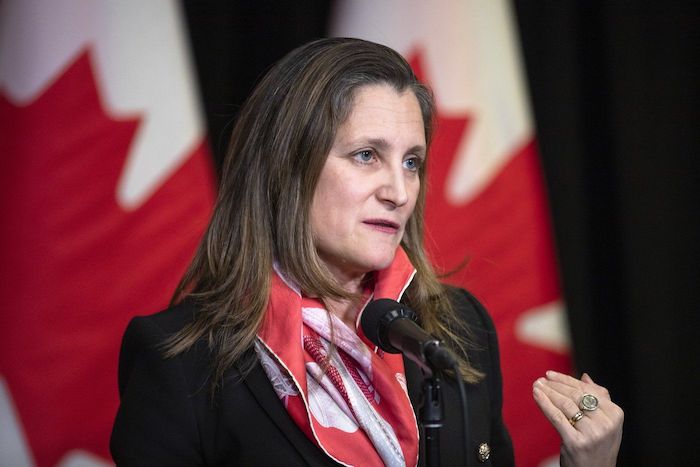 By Lee Berthiaume in Ottawa
The federal government failed to spend tens of billions of dollars in the last fiscal year on promised programs and services, including new military equipment, affordable housing and support for veterans.
Federal departments are blaming a variety of factors for letting a record total of $38 billion in funding lapse in 2021-22, including delays and disruptions caused by the COVID-19 pandemic.
They also say much of the money remains available for future years.
The unspent funds also played a big part in the Liberal government posting a smaller-than-expected deficit in the year ending March 31, 2022.
Canada rang up a $90.2 billion deficit — $23.6 billion less than had been projected in the budget.
The unprecedented amount of lapsed funding, much of which has been returned to the federal treasury, has one observer suggesting it is a sign of long-standing challenges delivering on big federal projects for the country.
The amount of lapsed funds across government is spelled out in the most recent iteration of the public accounts, a report on federal revenues and spending by every department and agency tabled in the House of Commons every year.
The $38.2 billion that was reported as lapsed in the last fiscal year marks a new record over the previous year, which was $32.2 billion. That was a dramatic increase over the previous record of $14 billion in 2019-20.
That compares to around $10 billion about a decade ago, when Stephen Harper's Conservative government was accused by political opponents and experts alike of using large lapses to make cuts by stealth.
Health Canada and the Public Health Agency of Canada reported the largest lapses of all departments and agencies, with nearly $11.2 billion of their combined $28.2 billion budgets going unspent.
Much of that had been set aside for COVID-19 initiatives that were not needed, said Health Canada spokeswoman Tammy Jarbeau. Those include vaccines, personal protective equipment and rapid tests.
"Both Health Canada and the Public Health Agency of Canada have rigorous internal financial management controls designed to prevent, detect and minimize errors and financial losses, and ensure the funding is spent in the best interests of Canadians," she wrote in an email.
The pandemic figured in the responses and explanations from many other departments and agencies, with many blaming COVID-19 for delays.
One of them was the Defence Department, which reported a lapse of $2.5 billion in the last fiscal year. Much of the money wasn't spent due to delays in the delivery of new military equipment such as Arctic patrol vessels and upgrades to the Army's armoured vehicles.
There were also delays on major infrastructure projects for the military, according to Defence Department spokeswoman Jessica Lamirande. Those include upgrading and rebuilding two jetties for the Navy in Esquimalt, B.C., and a new armoury in New Brunswick.
"The COVID-19 pandemic has had a significant impact on many of our business lines," Lamirande said.
"The impacts of the pandemic on supply chain and industry capacity are causing manufacturing backlogs and delays."
Lamirande added most of the unspent funds are expected to be available in future years through a process called reprofiling, in which schedules are revised to reflect planned spending in future years due to those delays.
Former parliamentary budget officer Kevin Page said the government's handling of lapsed funding now is "a little more relaxed" than in previous years, when unspent funds were not reprofiled and even used to justify budget cuts in Ottawa.
But defence analyst David Perry of the Canadian Global Affairs Institute said the Defence Department's lapse, which has been steadily growing in recent years, is a symptom of Ottawa's continued difficulties purchasing new military equipment.
"If we're not getting those procurement projects through, we're not getting new equipment into the inventory, so we don't actually have the gear for our troops," he said, noting many of the delayed projects were launched under the Harper government.
Perry also noted the current rate of inflation, which is already naturally higher for military equipment and the defence sector than most other parts of the economy. Not spending money now means Canada will have to pay more for the same gear and services later, he said.
The Infrastructure Department, the Canadian Mortgage and Housing Corp. and the Fisheries Department, which includes the Canadian Coast Guard, also reported delays with different capital projects, including on affordable housing and broadband internet.
"Due to the unprecedented circumstances over the last few years such as the COVID-19 pandemic, disbursing funds to proponents for many projects are expected to and will take longer," CMHC spokeswoman Claudie Chabot said in an email.
Perry suggested a bigger problem.
"The government of Canada's ability to actually deliver services to the public, especially when it comes to large projects, large capital projects, be it for equipment or infrastructure or IT projects, is struggling across the board," he said.
Other federal entities with large lapses included Indigenous Services Canada, which failed to spend $3.4 billion, and Crown-Indigenous Relations and Northern Affairs Canada, which reported a lapse of $2.2 billion.
Spokesman Vincent Gauthier attributed much of the latter lapse to "the timing and progress of negotiations for specific claims and childhood litigations," adding that funds will available "in some instances" in future years.
Gauthier did not say why Indigenous Services, which is responsible for delivering federal services to First Nations, Inuit and Métis, failed to spend billions of dollars. He did say most of the money had been reprofiled "so that it will be available when recipients need it."
Veterans Affairs Canada also reported a nearly $1 billion lapse last year, which the department blamed on fewer ill and injured ex-soldiers applying for assistance than expected.
However, critics have described earlier lapsed funding as evidence of the challenges many veterans face in accessing benefits and services. In 2014, the Royal Canadian Legion demanded the Harper government explain why $1.1 billion went unspent over seven years.
This report by The Canadian Press was first published Jan. 30, 2023.
FTX's Sam Bankman-Fried, DOJ tussle over his communications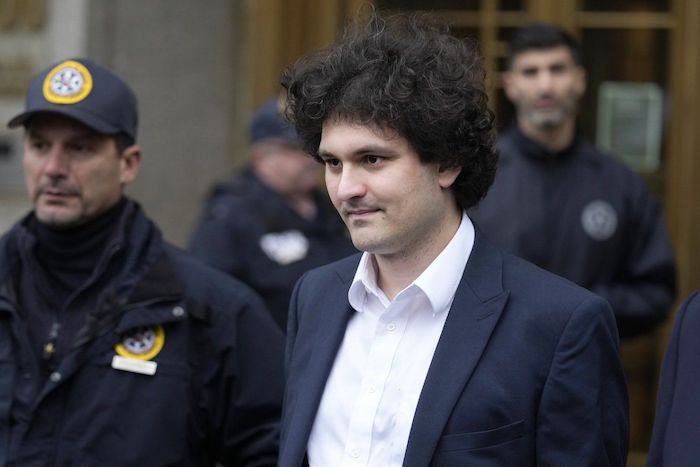 By Michael Liedtke
Federal prosecutors are trying to prohibit FTX founder Sam Bankman-Fried from privately contacting current and former employees of the bankrupt cryptocurrency exchange to prevent potential witness tampering in a criminal case accusing him of bilking investors and customers.
The request, made in a letter filed late Friday by U.S. Justice Department lawyers, prompted an indignant response from Bankman-Fried's lawyer, who accused prosecutors of twisting the facts to cast the FTX founder in a sinister light ahead of his trial scheduled later this year.
The testy exchange prompted U.S. District Judge Lewis Kaplan in New York to issue a Saturday order that included admonishment for the opposing lawyers in the case to refrain from "pejorative characterizations" of each other's actions and motives.
Bankman-Fried, 30, has been under confinement at his parents' home in Palo Alto, California, since pleading not guilty earlier this month to charges against him. He is accused of diverting massive sums of FTX customer funds to buy property, donate to politicians and finance risky trades at Alameda Research, his cryptocurrency hedge fund trading firm.
Federal prosecutors raised their concerns about Bankman-Fried's attempts to connect with potential witnesses in the case after discovering he sent an encrypted message over the Signal texting app on Jan. 15 to the general counsel of FTX US, according to their letter to Kaplan.
"I would really love to reconnect and see if there's a way for us to have a constructive relationship, use each other as resources when possible, or at least vet things with each other," Bankman-Fried wrote to the FTX general counsel, dubbed "Witness 1," in the prosecutors' letter.
Federal prosecutors told Kaplan that Bankman-Fried's communications are a sign that he may be trying in influence a witness with incriminating evidence against him. As a safeguard, the prosecutors want Kaplan to revise the conditions of Bankman-Fried's bail so he can't communicate with current or former employees of FTX and Alameda Research outside the presence of a lawyer without a waiver from the Justice Department.
But Bankman-Fried's attorney, Mark Cohen, painted a much different picture in his fiery retort to the prosecutors. Cohen described Bankman-Fried's effort to reach the FTX general counsel as "an innocuous attempt to offer assistance in FTX's bankruptcy process."
In his Saturday order, Kaplan demanded complete copies of Bankman-Fried's electronic communications to be provided by Monday.
Federal prosecutors also want Kaplan to change the conditions of Bankman-Fried's bail to prevent him from communicating through Signal, which has an auto-delete option to make messages quickly disappear in addition encryption technology to help shield the contents from outsiders.
"Using Signal to contact potential witnesses increases the likelihood that detection of any attempt to obstruct justice by influencing a witness will itself be obstructed," the prosecutors told Kaplan.
But Cohen wrote that the message sent to the FTX general counsel didn't have an auto-delete feature. Cohen also assured the judge that Bankman-Fried has turned off the disappearing messages option in his Signal account.
"The government cannot justify a bail condition based on an unfounded concern about what Mr. Bankman-Fried might do, when there is no evidence that he is, in fact, doing it," Cohen said.
Before prosecutors asked the judge to impose broad restrictions that would prevent Bankman-Fried from privately communicating with any current or former FTX employees, Cohen said the two sides had already been in negotiations to reach a "reasonable" compromise before prosecutors "sandbagged" the talks with their late Friday letter to Kaplan.
By Cohen's estimate, FTX and Alameda Research have about 350 current and former employees who would be blocked off from Bankman-Fried by a blanket ban, including some that might have crucial information for his defense during a trial tentatively scheduled to begin in October.
Bankman-Fried was willing to voluntarily agree to a prohibition against him communicating with several top FTX executives in exchange for being allowed to remain in contact with others such as his father, his therapist still employed by the cryptocurrency exchange and a range of other unidentified workers who directly reach out to him.
Kaplan told federal prosecutors to respond to Cohen's claims in his seven-page letter by Monday.