CAFF announces nominees for best films
19 films nominated for awards at Central Alberta Film Festival (CAFF).
Central Alberta Film Festival (CAFF) announces nominees for best films
19 out of nearly 40 films being shown at Carnival Cinemas during the Central Alberta Film Festival between February 20th and 23rd have been nominated for awards, which will be presented at a ceremony on February 23rd after a special screening of Making Coco: The Grant Fuhr Story.
"The festival is showing some amazing films," says Don Tjart, CAFF vice-president. "The nominees for this year's awards are special, though. There are going to be some difficult choices."
There are three nominees for Best Feature Narrative. Barren & Empty The Sea tells the story of Esteban, who becomes a stranger in his own village overnight. In Prairie Dog, reports begin to come in regarding a mysterious animal roaming the farmlands of Brada County. In Cor Values, which was filmed in central Alberta, a young reporter travels back to his home town, only to find out home is not what it once was.
There are four nominees for Best Feature Documentary. Before the Plate follows a single plate of food backwards to the farms its ingredients came from. From Seed to Seed is a Canadian perspective on a global social movement that regenerates the land, farming, and communities. Last of the Fur Traders shares the adventures of a worker on the Arctic Ocean for the Hudson's Bay Company. RISE: The Story of Augustines tells the tale of one of the most celebrated independent bands in the world.
Nominees for Best Short Narrative are Beautiful Idiot, Emily, The Wall, Beautiful Cake, Amen, and Cambion. Nominees for Best Short Documentary are Waniska, Salaam B'y, Farm, Finding Water, Once a Raider, Always a Raider: Inside the St. Albert Raiders Hockey Club, and Power on Water.
Film descriptions, screening times, and tickets can be found at cafilmfestival.ca.
About Central Alberta Film Festival (CAFF)
Central Alberta Film Festival is a not-for-profit cultural organization with a mission to educate, support and promote cinematography and film making in Alberta and Canada. CAFF is a bridge between the audience, critics and the contemporary filmmakers who want to showcase and discuss their work. This festival is a platform to incubate Albertan, Canadian, and international talent. In a rapidly evolving film industry, CAFF is a catalyst to enhance cinematic experience with excellence, and support Canadian artistic values. The third annual Central Alberta Film Festival will take place February 20-23, 2019.
With hail storms this size it's a miracle no one was killed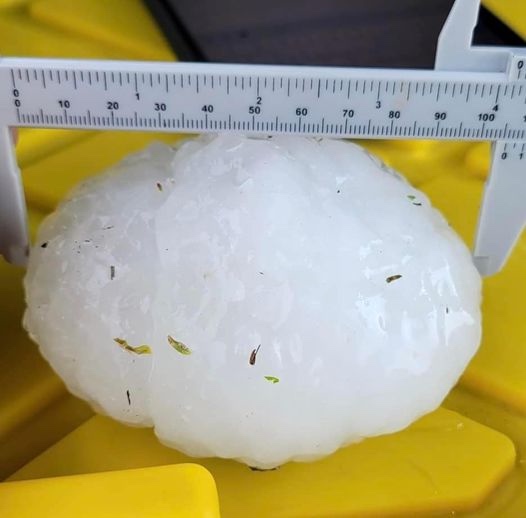 Monday, August 1st will be a day hundreds of Albertans will never forget. The hail storm that devastated an area of Central Alberta resulted in a series of terrifying experiences for motorists on the QE II, especially around Antler Hill, just north of Innisfail. This is a map of the area most affected by the largest hail stones most have seen in their lifetimes.
Yes we've all heard people talk about "baseball" or "tennis ball" sized hail in the past. In this case, those comparisons are simply too small!
Now you can imagine how terrifying it must have been to be caught driving on the QE II south of Red Deer and north of Innisfail during this storm on Monday, August 1st. Here's what that felt like, courtesy of Gibran Marquez as posted on the Facebook Page Alberta Storm Reports
This couple was remarkably calm considering the battering they were experiencing!
The immediate aftermath.
ASIRT investigating Stettler incident after RCMP shoot and taser suspect who allegedly threatened woman with an axe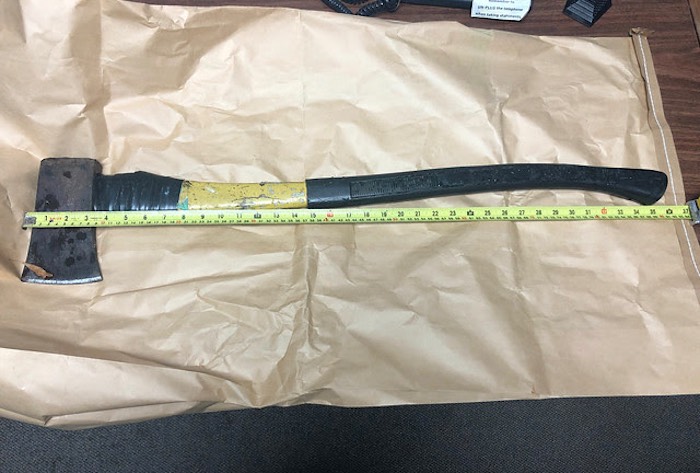 News release from ASIRT (Alberta Serious Incident Response Team)
Investigation into Stettler RCMP officer-involved shooting causing injury continues
On July 24, the Alberta Serious Incident Response Team (ASIRT) was directed to investigate an officer-involved shooting that occurred earlier that day.
At 10:14 p.m., the Stettler Royal Canadian Mounted Police (RCMP) detachment received a report of a disturbance in the area of 58 Street and 50A Avenue. When officers arrived in the area, they were flagged down by a female who said she had been threatened by a man with an axe.
Officers located the man in a nearby alley and confronted him. During this time, one officer discharged his conducted energy weapon and another discharged his firearm, striking the man. Emergency Medical Services arrived and provided the man with medical care. He was then transported by STARS Air Ambulance to an Edmonton-area hospital, and released the next day.
Two weapons were recovered from the scene
ASIRT's investigation will examine the circumstances surrounding the uses of force. No additional information will be released.
As part of its ongoing investigation, ASIRT is continuing efforts to identify people who may have observed the man or witnessed aspects of the confrontation between the man and police. ASIRT is asking anyone who may have been in the area and may have witnessed these events and/or may have video to contact investigators at 403-592-4306.
ASIRT's mandate is to effectively, independently and objectively investigate incidents involving Alberta's police that have resulted in serious injury or death to any person, as well as serious or sensitive allegations of police misconduct.