CAFF announces nominees for best films
19 films nominated for awards at Central Alberta Film Festival (CAFF).
Central Alberta Film Festival (CAFF) announces nominees for best films
19 out of nearly 40 films being shown at Carnival Cinemas during the Central Alberta Film Festival between February 20th and 23rd have been nominated for awards, which will be presented at a ceremony on February 23rd after a special screening of Making Coco: The Grant Fuhr Story.
"The festival is showing some amazing films," says Don Tjart, CAFF vice-president. "The nominees for this year's awards are special, though. There are going to be some difficult choices."
There are three nominees for Best Feature Narrative. Barren & Empty The Sea tells the story of Esteban, who becomes a stranger in his own village overnight. In Prairie Dog, reports begin to come in regarding a mysterious animal roaming the farmlands of Brada County. In Cor Values, which was filmed in central Alberta, a young reporter travels back to his home town, only to find out home is not what it once was.
There are four nominees for Best Feature Documentary. Before the Plate follows a single plate of food backwards to the farms its ingredients came from. From Seed to Seed is a Canadian perspective on a global social movement that regenerates the land, farming, and communities. Last of the Fur Traders shares the adventures of a worker on the Arctic Ocean for the Hudson's Bay Company. RISE: The Story of Augustines tells the tale of one of the most celebrated independent bands in the world.
Nominees for Best Short Narrative are Beautiful Idiot, Emily, The Wall, Beautiful Cake, Amen, and Cambion. Nominees for Best Short Documentary are Waniska, Salaam B'y, Farm, Finding Water, Once a Raider, Always a Raider: Inside the St. Albert Raiders Hockey Club, and Power on Water.
Film descriptions, screening times, and tickets can be found at cafilmfestival.ca.
About Central Alberta Film Festival (CAFF)
Central Alberta Film Festival is a not-for-profit cultural organization with a mission to educate, support and promote cinematography and film making in Alberta and Canada. CAFF is a bridge between the audience, critics and the contemporary filmmakers who want to showcase and discuss their work. This festival is a platform to incubate Albertan, Canadian, and international talent. In a rapidly evolving film industry, CAFF is a catalyst to enhance cinematic experience with excellence, and support Canadian artistic values. The third annual Central Alberta Film Festival will take place February 20-23, 2019.
Three Hills RCMP nab suspect who set fire to a field in escape attempt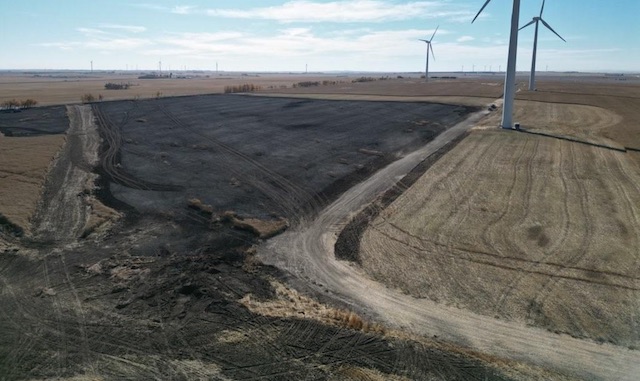 Three Hills RCMP apprehend property crime offender after lighting fire on rural property
On Oct. 8, 2023, at approximately 4:15 p.m., Three Hills RCMP responded to a break and enter in progress while the home owner was home and hiding inside. Members arrived at the residence and observed suspects fleeing the area in a vehicle. Three Hills RCMP located the vehicle and one male suspect after he lit a fire to a farm field to try and evade police. The male was arrested shortly after and identified by police. Police confirmed the vehicle was stolen and officers located break and enter tools and stolen property inside the vehicle.
Joseph Vincent (30), a resident of Sylvan Lake, Alta., has been charged with:
Arson – Damage to Property
Break and Enter Residence
Possession of Break-in Instruments
Possession of property obtained by crime under $5000
Provincial Trespass
Following a Judicial Interim Release Hearing, Vincent was remanded into custody to appear in Alberta Court of Justice in Drumheller on Oct. 13, 2023.
Three Hills RCMP Detachment Commander Sgt. Jamie Day stated "I am proud of the responding members from the Three Hills Detachment. A lot of work went into catching this offender and I am, thankful that no one was hurt during the incident. This demonstrates the importance, effectiveness and dedication from our members. Three Hills RCMP remains fully committed in building safer communities by working in partnership with our community as well as through investigative and enforcement efforts to achieve this goal. An instrumental tool that aided the investigation, was camera footage provided by the victims linking the individual to multiple incidents. I would like to thank Southern Alberta District Crime Analyst for his assistance providing intel that was critical to the investigation."
28 year old Blackfalds woman arrested after drug trafficking investigation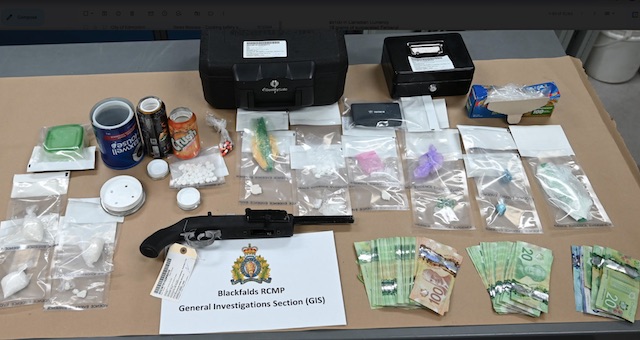 News release from Blackfalds RCMP
Blackfalds RCMP lay charges after drug trafficking investigation
In the summer of 2023, Blackfalds RCMP began an investigation into drug trafficking in the Blackfalds area. As a result of the investigation, on Sept. 5th, 2023, RCMP observed the suspect who appeared to be selling drugs from a Toyota Camry. RCMP initiated a traffic stop and arrested the suspect. RCMP seized:
86.8 grams of suspected Methamphetamine
5.6 grams of suspected Cocaine
93 Percocet pills
A loaded prohibited/Restricted firearm
$5100 in Canadian Currency
16 grams of suspeceted Fentanyl
Other pills that are not yet known.
Evidence obtained in the search of the vehicle led officers to continue the investigation. On Sept. 6, 2023, RCMP executed a search warrant at a hotel in Red Deer. As a result of the search of the hotel room, RCMP seized:
28.3 grams of suspected methamphetamine
8 grams of suspected Cocaine
12.6 grams of suspected Fentanyl
RCMP have arrested and charged Blackfalds resident, Reanne Brodersen (28), with:
Possession for the Purpose of Trafficking (x4)
Possession of the Proceeds of Crime
Weapons offences (x4)
Failure to Comply with Weapons Prohibition Order (x2)
Fail to Comply with Release Order (x2)
Bordersen has been taken before a justice of the peace and remanded with her next appearance date set for Oct. 19, 2023, at the Alberta Court of Justice in Red Deer.