Cabot's Crossing- Celtic at its Finest- Saturday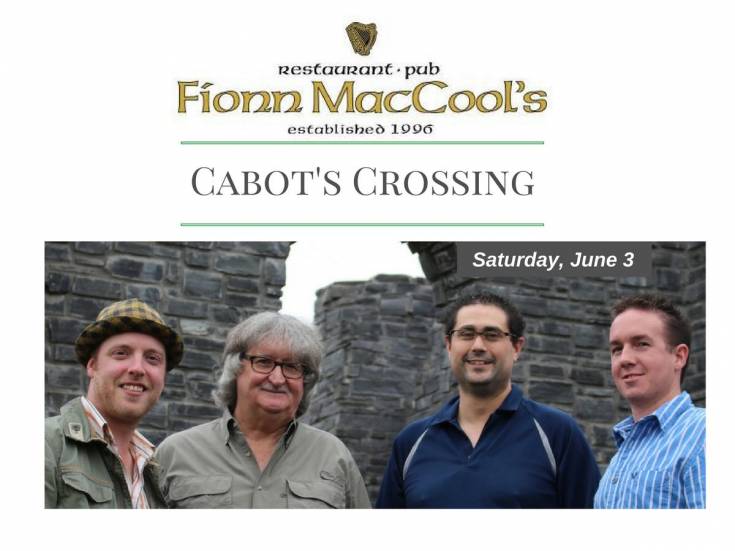 Here's what "Cabot's Crossing" has to say on their website:  
"… Cabot's Crossing has a repertoire firmly embedded in East Coast / Maritime / Newfoundland / traditional Irish music, from the Rankins and Great Big Sea to Ryan's Fancy and Stan Rogers, Christy Moore and the Pogues to John Allan Cameron and Ron Hynes. The boys bring an authentic Celtic performance to the stage: the raw excitement of an impromptu kitchen party fused with the refined, polished sound of musicians demonstrating decades of combined experience. Their high-energy and hard-driving rhythm will leave audiences clapping, stomping, singing and drinking along … usually all of the above…"
Have a listen to some classic East Coast Folk as the band performs Farewell to Nova Scotia and go see them Live Saturday night!
Click for everything Fionn MacCool. Here's a link to learn more about Cabot's Crossing.
4 year old caber-tosser proves the Highland Games are in his blood!
Courtesy of Todayville Contributor Jock Mackenzie
Jamie Arthur is only four years old and he loves tossing the caber. His mom says, "All he talks about is the Highland Games." Jamie started "giving a toss" when he was three and now his dad, Ben, has cut and peeled Jamie's second caber. The first caber is now tossed with ease; the second one (shorter but heavier) is still a challenge.
For everyone who's a Scot, for those who wish they were, and for anyone who appreciates great value for their dollar, the 72nd Red Deer Highland Games will be held at the Westerner on Saturday, July 22. See https://www.reddeerhighlandgames.com/ for everything you need to know. 
Time to consider RDSO Season Tickets
From the Red Deer Symphony Orchestra
The RDSO Reveals Upcoming Season
The 2019-2020 Season has a lot in store for central Alberta. The Main Series will deliver seven concerts with programming ranging from Pachelbel, to Lapalme, to music from Broadway.

We The North | October 5, 2019 | RDC Arts Centre
Come hear music from Russia, Finland and Norway. Though conceived in icy cold climates, don't be fooled – this music is still full of warmth. The first concert of the season will feature the newly appointed principal cellist of the Calgary Philharmonic Orchestra, Arnold Choi, in the highly demanding and exciting Sinfonia Concertante by Prokofiev.
Featuring Arnold Choi, Cello
PROKOFIEV: Sinfonia Concertante
SIBELIUS: Finlandia
GRIEG: Peer Gynt Suite

Czech Out These Bohemians | November 2, 2019 | RDC Arts Centre
Let Czech-born Edmontonian Zuzana Simurdova delight you in the very entertaining piano concertino by Bohuslav Martinů. And because there is no such thing as having too much Dvořák in life, this program will further visit the Bohemian countryside with his celebrated Serenade for Strings.
Featuring Zuzana Simurdova, Piano
MARTINŮ: Nonet
MARTINŮ: Piano Concerto
DVOŘÁK: Serenade for Strings

Stringing The Holidays Together | December 7, 2019 | RDC Arts Centre
A concert for strings only, featuring the Rosedale Valley Strings Youth Orchestra playing alongside the RDSO's string sections. This concert will feature a variety of Christmas favourites and a surprise or two.
Featuring Rosedale Valley Strings | Conductor Naomi Delafield

On Broadway | January 25, 2020 | RDC Arts Centre
The musical stage will come alive! This exciting pops concert will feature music ranging from old chestnuts to newly minted classics. From Cole Porter to Elton John, and Rogers & Hammerstein to Andrew Lloyd Webber, there will be something for everyone.
Selections From:
Rogers & Hammerstein: The Sound of Music; Cole Porter: Kiss me Kate; Claude Schönberg: Les Misérables; Elton John: The Lion King; Frederick Loewe: My Fair Lady; Stephen Sondheim: "A Little Night Music"; Pasek and Paul: The Greatest Showman ; Stephen Schwartz: Wicked; Leonard Bernstein: West Side Story ; Andrew Lloyd Webber: Phantom of the Opera

Canada On Canvas | February 22, 2020 | RDC Arts Centre
An all-Canadian tribute to the visual arts. Among works by Somers (on Picasso) and Korndorf (on Maud Lewis), there will be an exciting new premiere. Our very own Claude Lapalme is composing an important new work to celebrate and commemorate the 100th anniversary of the Group of Seven.
Featuring the Premiere of the "Group of Seven Suite" by Claude Lapalme

Water Music | April 18, 2020 | Gaetz Memorial United Church
Presented by the RDSO, Rosa Barroca returns with a full complement of winds to present audience favorites from the baroque period, such as the Pachelbel Canon and the Suites from Handel's Water Music.
Presenting Rosa Barocca
PACHELBEL: Canon and Gigue
ALBIONI GIAZIOTTO: Albinoni
HANDEL: Water Music

Finale Friday | FRIDAY, June 5, 2020 | RDC Arts Centre
Corey Hamm's triumphant return to the Red Deer Symphony Orchestra. He will wow us with an energetic performance of Bartók's Piano Concerto No. 2. Also on the program will be RDSO's concerto competition winner from Red Deer's 2019 Festival of the Performing Arts, Kathryn Fakeley. This incredible young cellist will be performing a movement of the Kabalevsky cello concerto. The evening will end with the 1812 Overture by
Tchaikovsky. It will be a sound spectacular!
Featuring Corey Hamm, Piano & 2019 Red Deer Festival of Performing Arts Winner Kathryn Fakeley, Cello
BARTÓK: Piano Concerto No. 2
KABALEVSKY: Cello Concerto
TCHAIKOVSKY: 1812 Overture

For information regarding Season Memberships and a downloadable 2019-2020 Season booklet visit https://www.rdso.ca/