"Broken" Federal public service system requires overhaul says Canada's PBO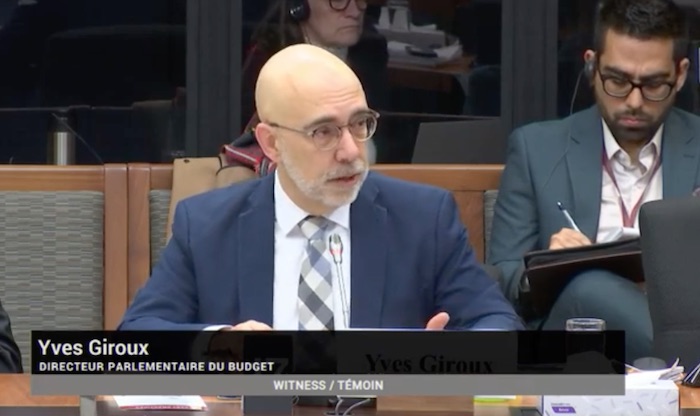 Canada's Parliamentary Budget Officer says the federal public service is letting Canadians down.
Facing questions from the Senate National Finance Committee on Tuesday, Yves Giroux says the public service system is "broken".
Senator Larry Smith asked about Giroux's experience with budget estimate reports from federal ministries coming in late, incomplete or sometimes not at all. Giroux replied with some stunning statements, claiming federal cabinet ministers "are not very well equipped to challenge their own officials.".
According to Giroux's testimony "We end up in a situation where it's public servants responsible for delivering programs that set their own targets, and they usually set the bar not too high so that it doesn't look too easy, but neither too low, so it's fairly easy to achieve most of the time".
"But yet by their own assessment, they fail to deliver upon many of these."
The PBO then called for a leadership overhaul of federal departments, emphasizing there is "clear room for enhanced leadership to improve service delivery."
At least 10 injured after explosion destroys Calgary home: fire department
Firefighters attend the scene of a house explosion that injured several people, destroyed one home and damaged others in Calgary, Monday, March 27, 2023.THE CANADIAN PRESS/Jeff McIntosh
By Colette Derworiz in Calgary
CALGARY — At least 10 people were seriously injured Monday after an explosion destroyed a home and damaged surrounding properties.
The fire department said the force of the explosion in northeast Calgary created "a large debris field" and several fires. A tangle of what appeared to be charred beams, pink insulation and splintered wood could be seen where the house once stood. The side of a home next door was charred, a window looking onto the street shattered.
Many of the injured were believed to have been inside the single-family home when it blew up and were sent to various hospitals in the city, the department said.
"Fire crews have been unable to access the source home at this time to search for any more patients due to structural instability," it said in a news release.
Adam Loria, a spokesman for Calgary Emergency Medical Services, said the injured people sent to hospital are all adults.
He said six were in life-threatening condition and four received serious injuries.
"It was quite the group effort, not only with EMS, to ensure all patients were cared for and transported in a timely fashion, but as well with our first responder partners Calgary police and Calgary fire," Loria said.
Bobbie Puttick, who lives eight houses down from the explosion, said it happened after he left for work, but his children were home at the time.
"They felt the house rock and they came out and took a video right away," he said.
"It's nuts to see the house gone. And to see the roof on the other across the street in the neighbour's yard."
Lorna Lammers said she heard the explosion from three blocks away.
"I was sitting at my kitchen table and I heard 'kaboom' and I thought something like a vehicle or something had run into my house or my garage," she said.
Lammers said she and her neighbours headed outside to see what had happened and she saw black smoke billowing into the sky. She said there was a lot of debris, including a mattress on the roof of a house and wood in some trees.
Lammers said she had previously spoken to some men who lived in the home while walking her dog.
Power to the area was shut down and workers were trying to clamp the natural gas line. Fire and police were also on scene trying to determine the cause of the blast.
This report by The Canadian Press was first published on March 27, 2023.
— With files from Bill Graveland in Calgary and Emily Blake in Yellowknife
NewsAlert: Two-thirds of people with disabilities find barriers on planes, trains: AG
OTTAWA — The federal auditor general says two-thirds of people with disabilities encountered barriers on federally regulated planes and trains in 2019 and 2020, and is highlighting a lack of consultation and enforcement by agencies involved.
More coming.
The Canadian Press