Breaking Bad sized superlab busted by police!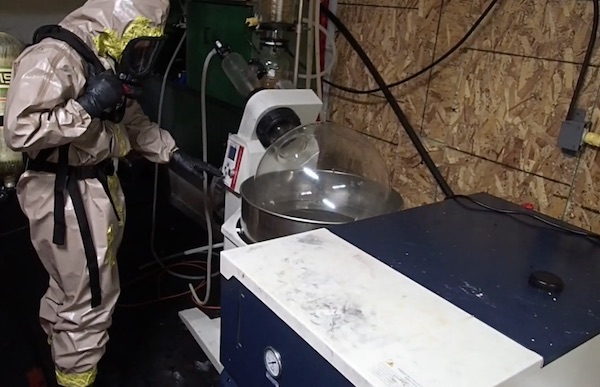 News Release from the Alberta Law Enforcement Response Team
ALERT has prevented possibly hundred of millions of fentanyl doses from hitting the streets after a superlab has been dismantled.
More than 31 kilograms of fentanyl and precursors were seized, along with 7,600 kilograms of chemicals used in fentanyl production.
ALERT executed 13 search warrants on July 7, 2021 as part of Project Essence. The search locations included homes and businesses in the Edmonton and Calgary areas, and a suspected fentanyl superlab located at a rural location near Aldersyde, Alta.
Project Essence covered all aspects of fentanyl production; from importation, to accumulation and stockpiling of equipment and raw chemicals, to production, and eventual distribution.
ALERT will provide full details via a news conference on Wednesday, September 1, 2021.
Alberta confirms its first case of Omicron COVID-19 variant in a traveller
EDMONTON — Alberta is reporting its first case of the Omicron COVID-19 variant.
The province's chief medical health officer, Dr. Deena Hinshaw, says the case was confirmed in a traveller returning from Nigeria and the Netherlands.
"The individual tested positive while asymptomatic and I can confirm that this individual has not left quarantine since their arrival from international travel," Hinshaw said at a news conference Tuesday.
"We have notified the individual and their household and all necessary measures are in place to prevent transmission."
The variant of concern was first identified in South Africa after a spike in infections, but it is unclear where Omicron first emerged.
Preliminary evidence suggests the new variant transmits more easily.
Alberta is the third province in Canada to report the presence of the Omicron variant. Ontario announced its first cases on Sunday and Quebec reported its first case on Monday.
Hinshaw said Alberta was prepared for the eventuality.
"While it is important that we all continue to be vigilant in the face of COVID-19 to protect ourselves and others, I don't want Albertans to be alarmed," she said.
"We anticipated the arrival of this variant in the province eventually, based on what we have seen with previous strains of COVID-19.
"We … have the necessary tools in place to monitor this case and any potential spread of the variant."
This report by The Canadian Press was first published Nov. 30, 2021.
The Canadian Press
Calgary to host Edmonton Stingers, two other teams for BCLA group-stage games
Calgary will host the third window of group stage games for the upcoming Basketball Champions League Americas.
The BCLA features 12 teams from seven countries in the Americas competing over four months for a berth in the 2023 FIBA International Cup.
The four games in Calgary, which will be held March 14-16 at the WinSport Arena, mark the first time Canada has hosted the league.
The Canadian Elite Basketball League champion Edmonton Stingers will play a pair of games over the window, facing Puerto Rico's Cangrejeros on March 14 and Nicaragua's Real Estelí on March 16.
Cangrejeros and Real Estelí will face off March 15.
The BCLA begins Dec. 13 with Edmonton travelling to Nicaragua to begin pool play.
The other teams in the competition are: Quimsa (Argentina); Boca Juniors (Argentina); Obras (Argentina); São Paulo (Brazil); Minas (Brazil); Flamengo (Brazil); Bigua (Uruguay); Nacional (Uruguay); and UdeC (Chile).
This report by The Canadian Press was first published Nov. 30, 2021.
The Canadian Press