Around Red Deer May 5th – 7th…..
11:53 am – Red Deer RCMP arrested a man in a stolen truck in a marshy area of the Johnstone neighbourhood on Thursday night after he fled police. Read More.
11:47 am – Street sweeping continues in Sylvan Lake today. Find out where.
11:40 am – On May 7th 2017, Lacombe Firefighters will be climbing the Bow Tower in Calgary. In the Calgary Firefighter stair climb, the event raises money towards the Wellspring foundation. Read More.
For more local news, click here!
11:35 am – Street sweeping in Penhold today:
Hayter Street
• Lee Street
• Elreg Street
• Duncan Street
• Aberdeen Street
• Dundee Crescent
11:26 am – A tip from the public resulted in local Mounties arresting a wanted man in a stolen truck at the Village Mall in Red Deer Thursday afternoon. Read More.
9:26 am – Numerous activities are taking place throughout the City this weekend. Find out what else is going on.
9:17 am – A Fire Advisory has been issued for the Rocky Mountain House Forest Area. Read More.
9:09 am – Red Deer's Westerner Park is a busy place this weekend. You can check out the Central Alberta Vintage Auto Club, Red Deer Gun Show and the Optimist Club of Red Deer's 52nd Annual Salute to Youth Dinner! Read More.
For more local news, click here!
9:01 am – Blackfalds RCMP are looking for 3 white males accused of firing a rifle towards a tree after an attempted theft of fuel was interrupted by a property owner. Read More.
8:51 am – Work to reconstruct Red Deer's Rotary Park parking lot will begin on Monday. Read More.
8:45 am – Head for the outdoors in Red Deer this weekend and take part in the Annual Jane's Walk. It's your chance to join your neighbours in exploring the City's neighbourhoods! Read More.
For more local news, click here!
8:30 am – The Grade 9 Badminton City Finals take place at Lindsay Thurber High School this afternoon. Also, Provincial Badminton will be hosted at all 3 local high schools from May 5-6. There will be a kick-off breakfast event and opening ceremonies at Hunting Hills High School at 9:00 a.m. on May 5.
École Secondaire Notre Dame will host mixed doubles teams
Hunting Hills High School will host girls and boys doubles
Lindsay Thurber High School will host girls and boys singles
8:20 am – The 29th Annual Young Writers Conference takes place at Red Deer's Oriole Park Elementary School on Saturday, May 6th. The conference is expected to attract approximately 300 nine and ten year olds from across the City. Students will have the opportunity to learn from Canadian writers, poets, illustrators and storytellers. The format will see students attending three workshop sessions in which they have expressed a special interest. Sessions include drama, painting, story writing, radio and journaling.
8:10 am – Red Deer's Pines School will host a Cinco De Mayo Family Dance tonight from 6:30 – 8:00 pm in the gymnasium. The event will feature a Mexican Folkloric Dance Performance. Food trucks will also be selling tacos, macaroni and cheese, as well as mini donuts starting at 5:30 pm.
For more local news, click here!
Shooter warning signs get lost in sea of social media posts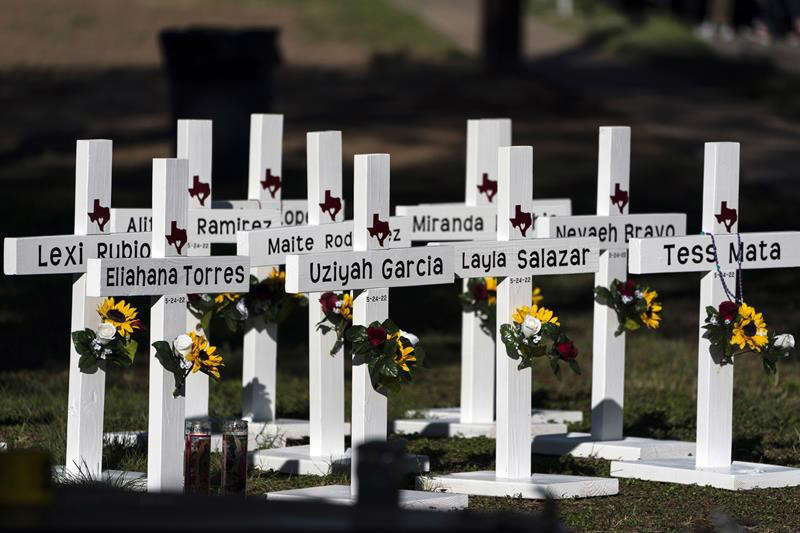 WASHINGTON (AP) — The warning signs were there for anyone to stumble upon, days before the 18-year-old gunman entered a Texas elementary school and slaughtered 19 children and two teachers.
There was the Instagram photo of a hand holding a gun magazine, a TikTok profile that warned, "Kids be scared," and the image of two AR-style semi-automatic rifles displayed on a rug, pinned to the top of the killer's Instagram profile.
Shooters are leaving digital trails that hint at what's to come long before they actually pull the trigger.
"When somebody starts posting pictures of guns they started purchasing, they're announcing to the world that they're changing who they are," said Katherine Schweit, a retired FBI agent who spearheaded the agency's active shooter program. "It absolutely is a cry for help. It's a tease: can you catch me?"
The foreboding posts, however, are often lost in an endless grid of Instagram photos that feature semi-automatic rifles, handguns and ammunition. There's even a popular hashtag devoted to encouraging Instagram users to upload daily photos of guns with more than 2 million posts attached to it.
For law enforcement and social media companies, spotting a gun post from a potential mass shooter is like sifting through quicksand, Schweit said. That's why she tells people not to ignore those type of posts, especially from children or young adults. Report it, she advises, to a school counselor, the police or even the FBI tip line.
Increasingly, young men have taken to Instagram, which boasts a thriving gun community, to drop small hints of what's to come with photos of their own weapons just days or weeks before executing a mass killing.
Before shooting 17 students and staff members dead at Marjory Stoneman Douglas High School in 2018, Nikolas Cruz posted on YouTube that he wanted to be a "professional school shooter" and shared photos of his face covered, posing with guns. The FBI took in a tip about Cruz's YouTube comment but never followed up with Cruz.
In November, 15-year-old Ethan Crumbley shared a photo of a semi-automatic handgun his dad had purchased with the caption, "Just got my new beauty today," days before he went on to kill four students and injure seven others at his high school in Oxford Township, Michigan.
And days before entering a school classroom on Tuesday and killing 19 small children and two teachers, 18-year-old Salvador Ramos left similar clues across Instagram.
On May 20, the day that law enforcement officials say Ramos purchased a second rifle, a picture of two AR-style semi-automatic rifles appeared on his Instagram. He tagged another Instagram user with more than 10,000 followers in the photo. In an exchange, later shared by that user, she asks why he tagged her in the photo.
"I barely know you and u tag me in a picture with some guns," the Instagram user wrote, adding, "It's just scary."
The school district in Uvalde had even spent money on software that, using geofencing technology, monitors for potential threats in the area.
Ramos, however, didn't make a direct threat in posts. Having recently turned 18, he was legally allowed to own the weapons in Texas.
His photos of semi-automatic rifles are one of many on platforms like Instagram, Facebook and YouTube where it's commonplace to post pictures or videos of guns and shooter training videos are prevalent. YouTube prohibits users from posting instructions on how to convert firearms to automatic. But Meta, the parent company of Instagram and Facebook, does not limit photos or hashtags around firearms.
That makes it difficult for platforms to separate people posting gun photos as part of a hobby from those with violent intent, said Sara Aniano, a social media and disinformation researcher, most recently at Monmouth University.
"In a perfect world, there would be some magical algorithm that could detect a worrisome photo of a gun on Instagram," Aniano said. "For a lot of reasons, that's a slippery slope and impossible to do when there are people like gun collectors and gunsmiths who have no plan to use their weapon with ill intent."
Meta said it was working with law enforcement officials Wednesday to investigate Ramos' accounts. The company declined to answer questions about reports it might have received on Ramos' accounts.
___
More on the school shooting in Uvalde, Texas: https://apnews.com/hub/school-shootings.
Amanda Seitz, The Associated Press
CFL Players' Association ratifies new contract with CFL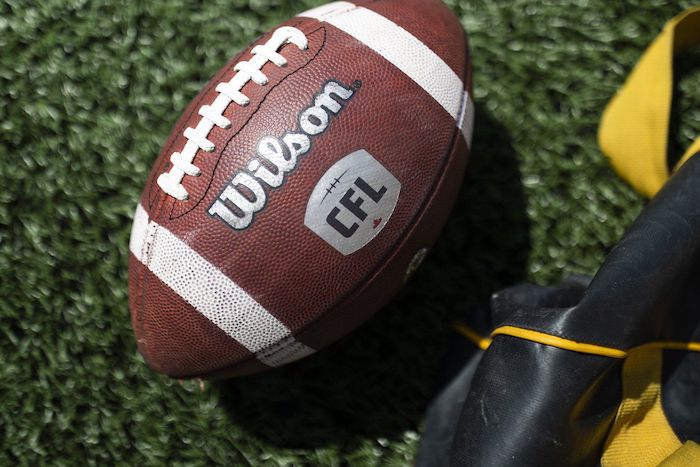 By Dan Ralph
The CFL Players' Association ratified its new collective bargaining agreement with the CFL on Thursday night.
The CFLPA made the announcement via email. The players' vote came hours after the two sides hammered out a seven-year tentative agreement.
The ratification came two days after CFL commissioner Randy Ambrosie unveiled the league's final offer to its players.
The deal must also be ratified by the CFL board of governors, but that's not expected to be an issue. With the players accepting the agreement, the league's exhibition season will open on time Friday night.
"We are pleased that players have now ratified a new collective bargaining agreement between the CFL and CFLPA," Ambrosie said in a statement. "The CFL's board of governors will conduct its ratification vote shortly.
"We look forward to a successful season — including pre-season games this weekend — and a long and productive partnership with our players."
The CFLPA didn't provide overall voting results. Players on six of the nine CFL teams had to accept the deal for it be ratified, with the required margin being at least 50 per cent plus one of ballots in favour.
On Monday, the players voted against a tentative deal that the union had recommended they accept. The CFLPA also recommended the ratification of Thursday's tentative agreement.
According to sources, CFL teams will have seven Canadian starters and 21 in total on rosters this year. In 2023, that number increases to eight with one being a nationalized Canadian — an American who has spent either five years in the CFL or at least three with the same team.
Clubs will also be able to rotate two nationalized Canadians for up to 49 per cent of snaps. Teams can move to three nationalized Canadians in 2024 but the two franchises that play the most Canadians at the end of the season will receive additional second-round draft picks.
And the seven pure Canadian starters per game will remain intact throughout the term of deal, which can be reopened after five years when the CFL's broadcast agreement with TSN expires.
The sources spoke on the condition of anonymity as neither the league nor union have provided specific details of the new agreement.
The sources also said the CFL will provide $1.225 million in a ratification pool for players. The salary cap this year will remain at $5.35 million and increase to $5.51 million in 2023. It will be $5.99 million in 2028.
Minimum salaries for global, national (Canadian) and American players will be consistent. The figure will increase from $65,000 to $70,000 next year and $75,000 in 2027.
The maximum housing allowance this year will be $2,300 monthly for six months. The CFL and CFLPA agree to an annual review to determine the maximum housing allowance number for the next season.
In return, the CFL receives extended labour peace and the opportunity of time to really rebuild its business. The league didn't play in 2020 due to the COVID-19 pandemic — reportedly losing between $60 and $80 million — and held a shortened 14-game campaign last year.
Last December, the league announced a partnership with Genius Sports, a data, technology and commercial company that connects sports, betting and media. In August 2021, the CFL signed a multi-year partnership with BetRegal to become its official online sports-gaming partner.
Last month, the single-game sports betting industry opened fully in Ontario.
But Canadian Justin Palardy, a former kicker who spent time with five CFL teams from 2010-15, took to social media to voice his displeasure with the deal.
"Like I said on another tweet, what's the point of drafting more (Canadians) if we're getting rid of Canadian starters?" he tweeted. "You may think it's a terrific idea, doesn't mean it makes sense."
Defensive lineman/linebacker Shomari Williams, who went first overall in the 2010 CFL draft to Saskatchewan and played with four teams over six pro seasons (2010-15) also wasn't impressed.
"I feel the CFLPA main objective for (Canadian) members is to NOT diminish the roles of (Canadian) players in the CFL," he tweeted. "How do you bring this to your (Canadian) members after they voted no and have the confidence you will be re-elected?"
The two sides had been at odds regarding the Canadian ratio.
Last Wednesday, the CFL and CFLPA reached a tentative seven-year agreement, ending a four-day strike by seven of the league's nine teams. At first glance, there seemed to be many positives for the players, including a revenue-sharing model, the ability to reopen the pact in five years once the CFL signed a new broadcast deal, and veteran players having the ability to negotiate partially guaranteed contracts.
But the agreement also called for CFL teams to increase the number of Canadian starters from seven to eight. The extra would've also been a nationalized Canadian.
In addition, three other nationalized Canadians could play up to 49 per cent of snaps. And the deal didn't include a ratification bonus.
On Tuesday, Ambrosie unveiled an amended proposal that included a $1-million ratification pool and the abolition of the three nationalized Canadians playing 49 per cent of snaps. However, it also reduced the number of Canadian starters to seven, including one nationalized Canadian.
Not only did Ambrosie say it was the CFL's final offer, but it was good until midnight ET on Thursday, given the league's exhibition schedule was slated to begin Friday night with two games. Ambrosie added if the players rejected the offer and opted to go back on strike, they'd be served notice to vacate their respective training-camp facilities.
It marked the second time Ambrosie had gone public with a final contract offer to the CFLPA. On May 14, he posted a letter to fans on the league's website detailing the league's proposal to players hours before the former CBA was set to expire.
The next day, players on seven CFL teams opted against reporting to training camp and went on strike. The Edmonton Elks and Calgary Stampeders both opened camp as schedule because they weren't in a legal strike position, as per provincial labour laws, at the time.
It marked just the second work stoppage in league history and first since 1974.
This report by The Canadian Press was first published May 26, 2022.