Around Red Deer May 4th…..
4:42 pm – The Red Deer Rebels have selected nine players in today's WHL Bantam Draft. Find Out Who!
4:28 pm – Red Deer RCMP have charged well over a dozen people with several drug, weapons and stolen property counts after combing through the City looking for criminals over the past week and a half. Read More.
10:47 am – Red Deer RCMP are looking for three male suspects accused of breaking into the River Bend Golf Course and stealing numerous items, including a 2006 Calgary Flames goalie stick signed by Miikka Kiprusoff. Read More.
For more local news, click here!
10:40 am – The Red Deer Rebels have aquired 20-year old forward Mason McCarty from the Saskatoon Blades in exchange for the Rebels 2nd round selection in today's Western Hockey League Bantam Draft. Read More.
9:19 am – Residential street sweeping continues in Red Deer today. Read More.
9:10 am – Street Sweeping in Sylvan Lake today. Details here.
For more local news, click here!
9:05 am – Residential street sweeping in Lacombe today:
Henners Landing
– Beardsley Ave
– Deer St
– Cobb St, North of College Ave
8:58 am – Street sweeping continues in Penhold today:
• Aspen Close
• Heron Court
• Honeysuckle Close
• Harvest Close
• Hollman Close
• Henderson Close
• Healey Close
• Hanson Green
8:28 am – The results are in from this year's Red Deer Regional Catholic Education Foundation's Student Showcase Event called "Spotlight". District officials say $40,000 was raised from the March 16th event at the new St. Joseph Catholic High School. Funds raised will now go towards student scholarships, faith-based projects, and initiatives at Red Deer Catholic Regional Schools.
For more local news, click here!
8:23 am – Stettler RCMP are looking for witnesses to a fatal motorcycle crash on Highway 12 that killed a 57 year old man near Erskine on Tuesday night. Read More.
8:17 am – A Federal Census suggests Red Deer's population is aging at a slower rate than the rest of Canada. Read More.
8:13 am – A Rocky Mountain House man has been charged in relation to a fatal hit and run involving a pedestrian and motorcycle on the Sunchild First Nation last year. Read More.
For more local news, click here!
8:01 am – New courses are being offered at RDC's Series Summer Arts School! Details Here.
7:56 am – École Secondaire Notre Dame High School fine arts students will gather to celebrate theatre by putting on public performances today in the Zone 4 West One-Act Play Festival. Read More.
7:49 am – "Food Truck Wars" take place at École Secondaire Notre Dame High School in Red Deer over the noon hour today. It's a Grad Service Project to raise money for the RCMP Victim Services Trauma Dog. Find out what this means for your taste buds!
Canada ends scoring drought at men's World Cup but can't hold off Croatia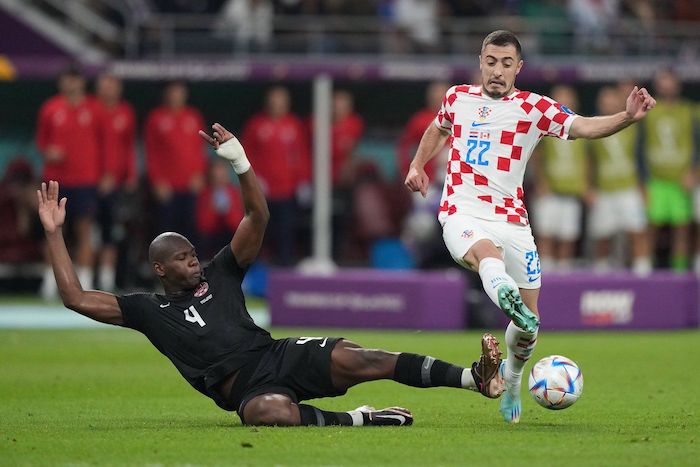 Umm Şalāl 'Alī – Canada wasted little time Sunday ending its scoring drought at the men's World Cup via Alphonso Davies but could not hold off Croatia, losing 4-1 to end its hopes of reaching the tournament's knockout round.
Ranked 12th in the world and runner-up to France four years ago in Russia, Croatia is filled with talent from top clubs and its class showed in rallying from an early 1-0 deficit.
Two goals by Andrej Kramaric and one by Marko Livaja accounted for the Croatian comeback. Lovro Majer added a stoppage-time goal in the 94th minute on a two-on-none attack.
The 41st-ranked Canadians started with a bang with a Milan Borjan goal kick finding Cyle Larin at midfield. Larin controlled the ball deftly with his foot and sent it over to Tajon Buchanan down the right flank. Buchanan surged ahead, took two touches, lifted his head and sent in a cross that Davies, soaring through the air high above fullback Josip Juranovic, headed home past goalkeeper Dominik Livakovic.
The Canadians came into the contest — the first-ever meeting between the two countries — needing at least a point to keep alive their hope of advancing out of the group stage with coach John Herdman calling it "one of those do-or-die games."
Croatia also needed a result after tying Morocco 0-0 in its opener.
This report by The Canadian Press was first published Nov. 27, 2022
Canada beats Australia to claim its first Davis Cup tennis championship
MALAGA, Spain (AP) — Felix Auger-Aliassime fell to his back behind the baseline, then waited for teammates to race off Canada's bench and pile on top of him.
A few minutes later, the Canadians finally could lift the Davis Cup.
"I think of us all here, we've dreamt of this moment," Auger-Aliassime said.
Canada won the title for the first time on Sunday, beating Australia behind victories from Denis Shapovalov and Auger-Aliassime.
Auger-Aliassime secured the winning point when he downed Alex de Minaur 6-3, 6-4 after Shapovalov opened the day by rolling past Thanasi Kokkinakis 6-2, 6-4.
Seven years after leading Canada to the top of junior tennis, Auger-Aliassime, Shapovalov and their teammates finally got to lift the biggest team trophy in their sport.
"We wanted to grow up and be part of the team and try to help the country win the first title," Shapovalov said, "so everything is just so surreal right now."
Shapovalov had dropped both his singles matches this week and needed treatment on his back during a three-set loss Saturday in the semifinals to Lorenzo Sonego of Italy that lasted 3 hours, 15 minutes. But the left-hander moved quickly around the court Sunday, setting up angles to put away winners while racing to a 4-0 lead in the first set.
Auger-Aliassime then finished off his superb second half of the season by completing a perfect week in Spain. He twice had kept the Canadians alive after Shapovalov dropped the opening singles match, and on Saturday he replaced his weary teammate to join Vasek Pospisil for the decisive doubles point.
This time, Auger-Aliassime made sure the doubles match wouldn't even be necessary. After his teammates poured onto the court to celebrate with him, they got up and danced around in a circle.
Canada had reached the final only once, falling to host Spain in Madrid in 2019, when Rafael Nadal beat Shapovalov for the clinching point after Auger-Aliassime had lost in the opening match.
But with Auger-Aliassime having since surged up the rankings to his current spot at No. 6, the Canadians are a much more formidable team now. They won the ATP Cup in January and finally added the Davis Cup crown to the junior Davis Cup title Auger-Aliassime and Shapovalov led them to in 2015.
Australia was trying for its 29th title and first since current captain Lleyton Hewitt was part of the title-winning team in 2003.
But it was finally time for the Canadians, who were given a wild card into the field when Russia was suspended because of its invasion of Ukraine.
"Look, I think we were very close today," de Minaur said. "Just wait until the next time we get the same matchup. Hopefully we can get the win and prove that we can do it."
But Canada will be tough to beat as long as Auger-Aliassime and Shapovalov play.
Shapovalov is just 23 and Auger-Aliassime 22, but both already have been Grand Slam semifinalists and Auger-Aliassime ended 2022 as one of the hottest players on the ATP Tour. He won all of his four titles this year, including three straight weeks in October.
He also beat Carlos Alcaraz in the previous Davis Cup stage in September, just after the Spaniard had won the U.S. Open to rise to No. 1 in the rankings. That victory helped send the Canadians into the quarterfinals, which they started this week by edging Germany.
"They're not kids anymore, that's for sure. Not after today — well not after the last couple of years," said Pospisil, the team veteran at 32. "They've been crushing it."
___
AP tennis: https://apnews.com/hub/tennis and https://twitter.com/AP_Sports