Around Red Deer May 29th…..
2:39 pm – The north Red Deer RCMP detachment located at 6592 58th Avenue is now re-opened to the public after renovations were made to improve work flow at the front counter customer service area. Red Deer RCMP thank the public for their patience during the closure and welcome citizens back to the north detachment.
12:40 pm – Red Deer – Mountain View M.P. Earl Dreeshen will be speaking to Bill C-46 An Act to amend the Criminal Code (offences relating to conveyances) in the House of Commons today. The Bill deals with proposed changes to impaired driving laws. Dreeshen had originally spoken to the Bill on May 19th, but the House rose for the day and his time has been transferred to today. The speech will take place at approximately 1:15 PM Mountain Time and will be broadcast on CPAC and available online atwww.parlvu.parl.gc.ca
For more local news, click here!
12:34 pm – A Red Deer man faces trafficking charges after RCMP seized drugs, drug trafficking paraphernalia and weapons during a search warrant at a downtown apartment Friday night. Read More.
11:25 am – The Government of Alberta has announced $37 million in Water for Life grants to build a wastewater line from Sylvan Lake to Red Deer! Read More!
11:17 am – Red Deer RCMP have arrested a man wanted in connection with the Knife-point robbery of a local taxi driver on February 2nd.
For more local news, click here!
11:07 am – Red Deer's Spray Park and Outdoor Pool are set to open for another season on Thursday! Read More.
10:55 am – Heads up Lacombe County motorists! CP Rail has notified the County they are planning a number of closures of roads at crossings throughout the County over the next couple of weeks to facilitate upgrades and repairs to their rail line. Traffic will be detoured along local roads during the closure; watch for signs indicating the detour routes. Read More.
10:41 am – Penhold's water reservoir project will proceed in mid-June and take approximately 12 months to complete. Find out what else Council was discussing at their latest meeting!
For more local news, click here!
10:21 am – Foreigner's 10-city Canadian tour is set to perform in the ENMAX Centrium at Westerner Park in Red Deer on Friday, October 13th. Presale starts on Tuesday, May 30th at 10:00am by using the promo code TOUR40 at www.TicketsAlberta.com until Thursday, June 1st at 11:59pm. Tickets go on sale to the public this Friday, June 2nd at 10:00am at www.TicketsAlberta.com.
10:03 am – RCMP are warning Albertans about Binary Options Scams. Read More.
9:56 am – Red Deer Mounties say 20 year old Debra Goodrunning who was previously reported as missing, has now been found. Police are thanking the public for their help in finding her.
For more local news, click here!
9:45 am – A 56 year old Sylvan Lake man died on Saturday after the motorcycle he was driving, collided with a bridge near Little Smoky River. Read More.
9:35 am – Red Deer RCMP arrested a man who fled from the hospital while in custody Saturday morning. Read More.
9:26 am – RCMP are looking for a suspect or suspects who stole $20,000 worth of cigarettes and other items from the No Frills Gas Bar in Stettler May 3rd. If you have any information about this or any other crime, please call Stettler RCMP at (403)742-3382 or CRIMESTOPPERS at 1-800-222-TIPS (8477).
For more local news, click here!
9:17 am – RCMP are hoping you can help them identify a man accused of breaking into a vehicle in Stettler, stealing a wallet inside and using a credit card from the wallet to use at several local businesses. Read More.
8:55 am – All Grade 6-8 students from St. Matthew Catholic School in Rocky Mountain House will compete in Middle School track and field events at the Curtis Football Field today!
8:31 am – Grade 5 students at G.W. Smith Elementary School in Red Deer will attend Nature School at the Kerry Wood Nature Centre all week. Students will have the opportunity to participate in a variety of outdoor activities.
For more local news, click here!
8:23 am – Grade 3-5 students at Ecole Barrie Wilson Elementary School in Red Deer will have a unique opportunity today to learn more about the human brain. The Central Alberta Brain Injury Society (CABIS) is coming to do their Brain Walk program, which is an interactive walk through the brain where students visit 10 different hands on stations over the course of an hour to learn about how different parts of the brain work. The purpose of the Brain Walk is to inspire the students to realize how important the brain is and what it can do, thereby developing a natural desire to protect the brain.
8:12 am – The Parkland Regional Library System headquartered in Lacombe, is among six regional library systems in Alberta that will share $10.7 million in one-time capital funding announced by the province on Friday, May 26th. In a release, Parkland Regional Library Director Ron Sheppard says "This funding is exceptionally good news. Parkland Regional Library's headquarters has been in need of significant infrastructure upgrades for a number of years, and our ability to fund such a large-scale capital undertaking with our partner municipalities has been a challenge. We are very grateful the Alberta government recognizes the important role regional systems play in supporting library services for rural Albertans."
7:56 am – Five Central Albertans will be recognized for their extraordinary volunteer efforts with a new National Award today. Four Red Deerians and one resident from Penhold will be among 45 people recognized at the Sovereign's Medal for Volunteers Awards Ceremony in the Edmonton Federal Building's Capital View Room May 29th. The award recipients include:
James A. Bourgoin, Red Deer
Robert Crites, Penhold
Beverley Hanes, Red Deer
Vincent Martin, Red Deer
Bobbi McCoy, Red Deer
For more local news, click here!
CP NewsAlert: CFL, CFL Players' Association reach tentative collective agreement
TORONTO — The second strike in CFL history is over.
Two sources told The Canadian Press that the CFL and CFL Players' Association reached a tentative seven-year collective bargaining agreement Wednesday night.
The sources spoke on the condition of anonymity as neither side immediately offered confirmation.
The contract must still be ratified by both the CFL board of governors as well as the CFLPA membership but the expectation is players will report to their teams Thursday and go through an opening-day walkthrough.
More coming.
The Canadian Press
Alberta premier Jason Kenney steps down as UCP leader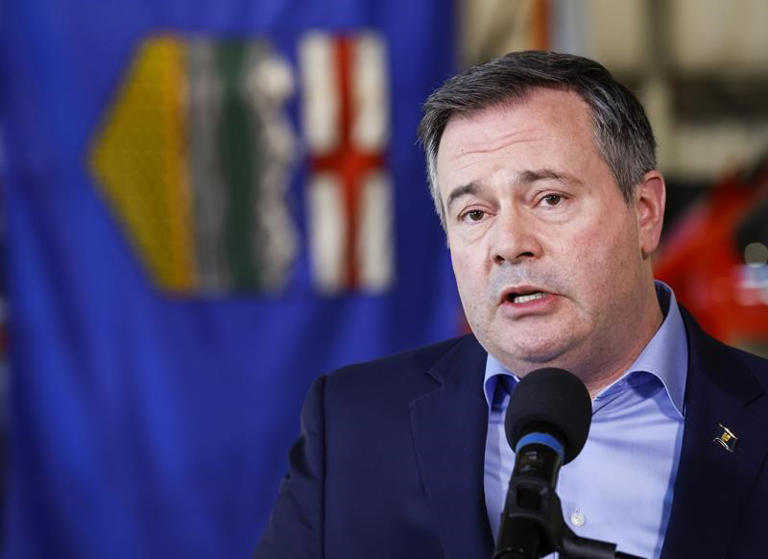 Alberta Premier Jason Kenney has stepped down as leader of the United Conservative Party after narrowly winning the party's leadership vote.
Kenney received 51.4 per cent support in voting results released tonight in Calgary.
He told supporters that the number is not what he hoped for and is not enough for him to continue on as leader.
If Kenney had received less than 50 per cent plus one, he would have had to quit as per party rules and a leadership contest would have been called.
Normally, leaders consider 75 to 80 per cent — or higher — the minimum credible mandate to continue leading their party.
Kenney had earlier said he would accept a slim majority, because the voting pool was skewed by last-minute members interested only in scuttling his big-tent conservative party.
"While 51 per cent of the vote passes the constitutional threshold of a majority, it clearly is not adequate support to continue on as leader," Kenney said.
"I've informed the president of the party of my intention to step down as leader of the United Conservative Party," he said to gasps in the audience.
"We need to move forward united. We need to put the past behind us. And a large number of our members have asked for an opportunity to clear the air through a leadership election."
The leadership review took on heightened importance over the past year as Kenney was buffeted by poor polling numbers, sluggish fundraising and open dissent from some in his party and caucus.
It was also punctuated by controversy. It had already been delayed by a year when it was set for an in-person ballot on April 9 in Red Deer, Alta.
When 15,000 members signed up — five times more than expected — the party said it couldn't handle the logistics and moved to a mail-in ballot open to all 59,000 members.
Critics said the change was made to give Kenney the edge as it appeared he was going to lose the in-person vote.
Elections Alberta is also investigating allegations of illegal bulk buying of memberships in the review. And the party remains under investigation by the RCMP over allegations of criminal identity fraud in the 2017 contest that saw Kenney elected leader.
Kenney had made it clear that the vote and open dissent had become a "soap opera" distracting the party facing a provincial election next May.
He also said that if he got the required support, he would expect dissenters in his caucus to rally behind him or face unnamed consequences.
Two backbenchers who openly criticized Kenney last year — Todd Loewen and Drew Barnes — were voted out of caucus and sit as Independents.
Backbenchers Jason Stephan, Peter Guthrie and Brian Jean — who helped Kenney found the UCP — have been the most vocal. They openly urged the premier to resign for the good of the party.
Kenney has tried to downplay the dissent by tying it directly to unhappiness over COVID-19 restrictions his government bought in to try to stop the spread of the virus.
Opponents in caucus say the dissatisfaction is also over Kenney's policies and management style, which they deem to be top-down, dismissive and undemocratic. They say Kenney has not done enough to gain a better deal for Alberta with the federal government on shared programs.
Conservative leaders in Alberta have not fared well after middling votes in leadership reviews.
Former Progressive Conservative premier Ralph Klein left after getting 55 per cent of the vote in 2006. Ed Stelmach and Alison Redford received 77 per cent in their reviews, but stepped down from the top job when the party pushed back.
This report by The Canadian Press was first published May 18, 2022.
The Canadian Press