Around Red Deer May 24th…..
10:15 am – All burn permits have been suspended for Red Deer County effective immediately due to the current high winds. Burn permits are required for all prohibited debris within the County. Weather conditions will continue to be monitored and updates will be given at a future date.
For more local news, click here!
9:11 am – 15 year old Terrylle Rain who was previously reported missing in Red Deer has now been located and RCMP are thanking the public for their assistance.
9:05 am – Red Deer RCMP are asking for public assistance to locate 17 year old Brianna Crookedlegs. She was last seen in Red Deer on May 19 and RCMP wish to verify her well-being. She's described as Aboriginal, 5'7" tall, 115 lbs with brown hair, brown eyes, a nose piercing (right side) and right eyebrow piercing. If you have been in contact with Brianna Crookedlegs or have information on her whereabouts, please contact Red Deer RCMP at 403-343-5575.
8:52 am – A 39 year old woman is dead after a crash between a car and semi at the intersection of Highway 11 and 21 near Nevis Tuesday afternoon. A 54 year old man driving the semi was not hurt. The woman's name has not been released and the investigation continues.
For more local news, click here!
8:38 am – Students from St. Dominic High School and École Secondaire Notre Dame High School will participate in the Zone Track and Field Meet in Stettler today. Elsewhere, The Girls Rugby team from Notre Dame will play against Notre Dame High School (from Calgary) in an exhibition game today as both teams prepare for zones and league finals.
8:20 am – A Fire Advisory has been issued for Ponoka County. Details Here.
8:15 am – Central Albertans and their families can learn about dementia and how Alberta Health Services (AHS) and the Alzheimer Society can support them, during a free Apple Talks presentation today. It's from 6:00 – 7:30 pm at the Golden Circle. Read More.
Most unused COVID-19 vaccines will expire at the end of the year: auditor general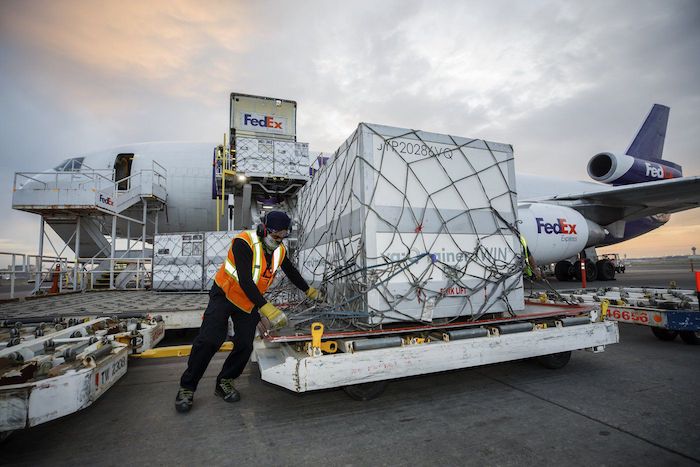 By Laura Osman in Ottawa
Tens of millions of doses of COVID-19 vaccines are likely about to expire and go to waste because of a failure to manage an oversupply, Canada's auditor general reported Tuesday — a failure with an estimated price tag of about $1 billion.
Karen Hogan has released the results of her office's investigation into the government's efforts to get ahold of COVID-19 vaccine doses in the early days of the pandemic, and track how many people got them.
The auditor gave the Public Health Agency of Canada and the Procurement Department a thumbs up when it came to quickly getting enough doses into the country to meet vaccination goals, but said the government did a much poorer job of managing all that supply.
"We found that the Public Health Agency of Canada was unsuccessful in its efforts to minimize vaccine wastage," Hogan wrote in the report.
The government knew that by signing advanced purchase agreements with a number of pharmaceutical companies there was a risk of buying up more COVID-19 vaccines than Canadians needed.
PHAC and the federal government signed deals with seven companies that were developing vaccines in 2020 and 2021, in case only a few them were approved by Health Canada.
So far six of those have been authorized by the drug review agency.
"In my view, it was a prudent approach given all the uncertainty back in 2020," she said at a press conference Tuesday.
The auditor found that about half of the 169 million doses the government paid for have made it into the arms of Canadians between December 2020 and May 2022.
The federal government announced plans to donate some 50 million surplus doses to other countries, but as of May 31 only about 15 million had been given away and another 13.6 million expired before they could be donated.
Canada has offered the remaining 21.7 million doses to other countries but so many countries are now offering donations that the market is saturated, Hogan said, and those vaccines will be wasted if they are not distributed soon.
There were also 32.5 million doses in federal and provincial inventories by the end of the audit period in May, worth about $1 billion, based on the auditor's estimate.
Hogan said in her report that the majority of those doses will expire by the end of 2022.
Hogan said the public health agency informed her that another 10 million have expired since the end of the audit and another 11 million were donated.
Part of the problem, she said, was that provinces and territories did not communicate and share data with PHAC.
"Although some provinces and territories consistently reported to the agency, the agency was unable to obtain complete data from most. This meant that the status of these doses was unknown and reduced the agency's ability to predict supply needs and plan for donations," the report said.
The auditor general's office and the public health agency itself warned for a decade before the COVID-19 pandemic that there were serious gaps in the federal and provincial health data sharing plans.
In January 2021, Deloitte Inc. was awarded a $59.1 million contract to come up with a national vaccine management system called VaccineConnect to share timely information about vaccine distribution, coverage and safety.
Some elements of that program were up and running on time, but others were delayed and the auditor found that PHAC was instead using spreadsheets to manually track expiration dates and waste as of June 2021.
The information silos made it difficult for vaccine companies to monitor national safety indicators of their products, as they've been ordered to by Health Canada.
"Companies cannot entirely fulfil this requirement when they do not have access to the necessary data on adverse events," the report said.
Hogan found two incidents in 2021 where companies learned of adverse effects to their vaccines from the media and urgently requested the data from the government, but couldn't get access to it for three months.
Canada is also the only G7 country that does not follow World Health Organization guidance to share case-level information about patients who have adverse effects after immunization, and instead sends only summary data.
This report by The Canadian Press was first published Dec. 6, 2022.
Federal Court of Appeal upholds all but one rule on airline compensation
OTTAWA — The federal court of appeal says it will uphold all but one ofthe rules that bolster compensation for air passengers subjected to delayed flights and damaged luggage.
The court on Tuesday dismissed the appeal that challenged the validity of the passenger bill of rights, with the exception of one regulation that applies to the temporary loss of baggage.
Air Canada and Porter Airlines Inc., along with 16 other appellants that include the International Air Transport Association had argued that the passenger rights charter launched in 2019 violates global standards and should be rendered invalid for international flights.
In court filings, the airlines argued the regulation exceed the Canadian Transportation Agency's authority and went against a multilateral treaty by imposing compensation requirements for flight cancellations or lost baggage that were too stringent.
The CTA and Attorney-General argued there is no conflict between the passenger protections and the treaty.
The FCA initially turned down a request from the airlines to suspend the Air Passenger Protection Regulations (APPR) in 2020.
This report by The Canadian Press was first published Dec. 6, 2022.
Companies in this story: (TSX:AC)
The Canadian Press