Around Red Deer May 24th…..
10:15 am – All burn permits have been suspended for Red Deer County effective immediately due to the current high winds. Burn permits are required for all prohibited debris within the County. Weather conditions will continue to be monitored and updates will be given at a future date.
For more local news, click here!
9:11 am – 15 year old Terrylle Rain who was previously reported missing in Red Deer has now been located and RCMP are thanking the public for their assistance.
9:05 am – Red Deer RCMP are asking for public assistance to locate 17 year old Brianna Crookedlegs. She was last seen in Red Deer on May 19 and RCMP wish to verify her well-being. She's described as Aboriginal, 5'7" tall, 115 lbs with brown hair, brown eyes, a nose piercing (right side) and right eyebrow piercing. If you have been in contact with Brianna Crookedlegs or have information on her whereabouts, please contact Red Deer RCMP at 403-343-5575.
8:52 am – A 39 year old woman is dead after a crash between a car and semi at the intersection of Highway 11 and 21 near Nevis Tuesday afternoon. A 54 year old man driving the semi was not hurt. The woman's name has not been released and the investigation continues.
For more local news, click here!
8:38 am – Students from St. Dominic High School and École Secondaire Notre Dame High School will participate in the Zone Track and Field Meet in Stettler today. Elsewhere, The Girls Rugby team from Notre Dame will play against Notre Dame High School (from Calgary) in an exhibition game today as both teams prepare for zones and league finals.
8:20 am – A Fire Advisory has been issued for Ponoka County. Details Here.
8:15 am – Central Albertans and their families can learn about dementia and how Alberta Health Services (AHS) and the Alzheimer Society can support them, during a free Apple Talks presentation today. It's from 6:00 – 7:30 pm at the Golden Circle. Read More.
Canadian sprinter Andre De Grasse wins bronze in men's 100 metres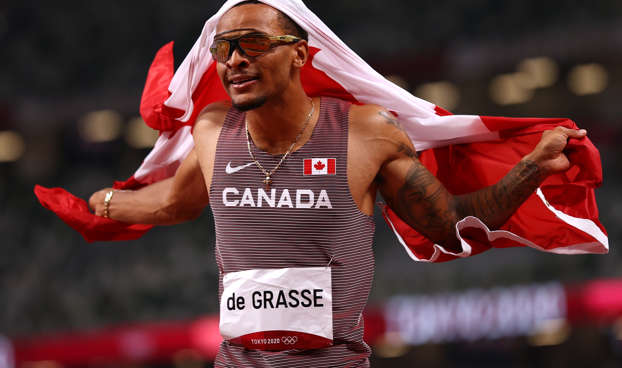 TOKYO — Canada's Andre De Grasse has claimed the bronze medal in the men's 100 metres for the second straight Olympics.
The 26-year-old from Markham, Ont., overcame a rough start and raced to third in a personal-best time of 9.89 seconds.
Italy's Lamont Jacobs took the gold in 9.80 seconds, followed by American Fred Kerley in 9.84 seconds. All three medallists ran personal bests.
It's Canada's first track and field medal at the Tokyo Olympics. It's also the latest piece of hardware in the event for De Grasse, who won bronze in the 100 in both the 2016 Olympics and 2019 world championships.
Two hours earlier, De Grasse ran 9.98 to finish second in his semifinal and seventh overall.
De Grasse is the first Canadian male to climb the medal podium in Tokyo. Led by swimming superstar Penny Oleksiak, women had captured all of Canada's 13 previous medals.
De Grasse will have a day off before he's back on the track for the 200 heats and semifinal on Tuesday. He captured silver in the 200 at both the 2016 Olympics and 2019 world championships.
There was no clear-cut favourite in the men's 100 this year with the retirement of Usain Bolt. The Jamaican superstar and world record-holder (9.58) captured gold and silver in the 100 and 200 in the Beijing, London and Rio, and what the media dubbed his "bromance" with fellow Puma athlete De Grasse was an entertaining storyline in Rio.
American Christian Coleman, the reigning world 100-metre champion and the sprinter considered De Grasse's biggest challenge in Tokyo, is serving a doping suspension through May of next year.
This report by The Canadian Press was first published Aug. 1, 2021.
The Canadian Press
Penny Oleksiak makes history as Canada swims to bronze in medley relay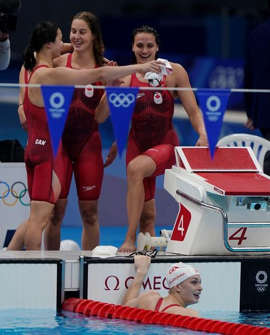 Masse, 25, earned a pair of silver in backstroke. Oleksiak also claimed bronze in the 200-metre freestyle.
The women's swim team amassed six medals in Tokyo to equal its Rio count of five years ago.
Taylor Ruck of Kelowna, B.C., Pickrem, Mac Neil and Toronto's Kayla Sanchez posted the fastest qualification time in Friday's heats to give Canada a middle lane Sunday.
The medley relay medal was Canada's first since 1988 and fourth in the 61-year Olympic history of race. Canadian women were bronze medallists in 1976, 1984 and '88.
Oleksiak won 100-freestyle gold, 100-butterfly silver and anchored Canada to a pair of freestyle relay bronze medals at age 16 in Rio.
Heats, semifinals, finals and relays added up to 10 races over nine days for Oleksiak in Tokyo, where she added a pair of relay medals and the 200 free bronze to her total.
Oleskiak, Mac Neil and Masse claimed their third medals at the Tokyo Aquatic Centre.
This report by The Canadian Press was first published July 31, 2021.
The Canadian Press