Around Red Deer May 18th…..
2:50 pm – Red Deer RCMP are hoping you can help them find 35 year old Nadia Bull. She was last seen in Red Deer on May 12. RCMP believe she may now be in the Rocky Mountain House area, and wish to verify her well-being. Read More.
11:53 am – The Innisfail Farmer's Market is back for another season! Read More.
11:48 am – Food Truck Thursdays are back for another season in Sylvan Lake! Read More.
For more local news, click here!
9:16 am – Red Deer RCMP are asking for public assistance to locate 13 year old Jayden Lafferty. He was last seen in Red Deer on April 19 and RCMP wish to verify his well-being. Jayden Lafferty is described as Caucasian, 5'3" tall, 105 lbs, Wavy light brown hair and Blue eyes. If you have been in contact with Jayden Lafferty or have information on his whereabouts, please contact the Red Deer RCMP at 403-343-5575.
9:07 am – Red Deer College celebrated two events on Wednesday, May 17th. The Learning Pathways in Central Alberta Memorandum of Understanding signing and the 2017 Community Awards. In the afternoon, representatives from RDC and seven local School Divisions gathered to celebrate the ongoing partnership created through Learning Pathways in Central Alberta, a Memorandum of Understanding between the eight organizations. Later in the evening, community members, alumni and distinguished guests gathered to celebrate two deserving individuals and one community partner at the 2017 Community Awards ceremony. Alfio Truant was awarded the G.H. Dawe Memorial Award for his commitment to community and leadership. The Distinguished Alumnus Award went to Rod Kennedy for his personal and professional achievements, as well as public service. The Community Partner Award was presented to seven central Alberta School Divisions, in recognition of their collaborations with Red Deer College in promoting high school completion and the transition to post-secondary learning.
8:59 am – Rocky Mountain House RCMP are hoping you can help them find 24 year old Waylon Frencheater. Read More.
For more local news, click here!
8:33 am – Arson charges have been laid against 39-year-old Denis Fortin in connection with an apartment fire in Ponoka on May 1st. Read More.
8:24 am – The Alberta government has announced $54.2 million in funding this year for improvements to campgrounds, new picnic tables and improved infrastructure. In Central Alberta, Jarvis Bay Provincial Park will receive some campground upgrades, while Fish Lake Provincial Park will see campground upgrades and an expansion. Read More.
8:05 am – It's a busy day at St. Francis of Assisi Middle School in Red Deer. A representative from Red Deer College Career Services will be presenting to Grade 8 students. Information will include what it is like to be a college student, what kind of careers going to college can help them achieve, and how to work towards getting to the college level. Also, Presenters from the University of Calgary Let's Talk Science Team will be presenting to Grade 6 students. Students will have an opportunity to participate in various hands-on crime lab activities during this session.
Terror charges laid against man accused in London attack against Muslim family
LONDON, Ont. — Prosecutors say the attack against a Muslim family in southwestern Ontario that left four dead and one injured was an act of terrorism.
Twenty-year-old Nathaniel Veltman had been charged with four counts of first-degree murder and one count of attempted murder in the June 6 incident in London, Ont.
Federal Crown Sarah Shaikh says prosecutors have now received consent from the country's attorney general to go ahead with terrorism proceedings.
Veltman, who has yet to retain a lawyer, made a brief court appearance via video this morning and said he understood the new charges.
Salman Afzaal, 46, his 44-year-old wife Madiha Salman, their 15-year-old daughter Yumna and her 74-year-old grandmother, Talat Afzaal were killed while out for an evening walk.
The couple's nine-year-old son, Fayez, was seriously injured but is expected to recover. 
Police allege the incident was a planned and premeditated attack targeting Muslims. 
Saboor Khan, a friend of the family, said upgrading the charges against Veltman was "the right thing to do." 
"The family and the community has been terrorized and many of us are afraid to leave our homes," Khan said. 
A funeral for the family drew hundreds of mourners to the Islamic Centre of Southwest Ontario over the weekend.
Veltman's next court date is scheduled for June 21. 
This report by The Canadian Press was first published June 14, 2021.
The Canadian Press
Indigenous people can now reclaim traditional names on their passports and other ID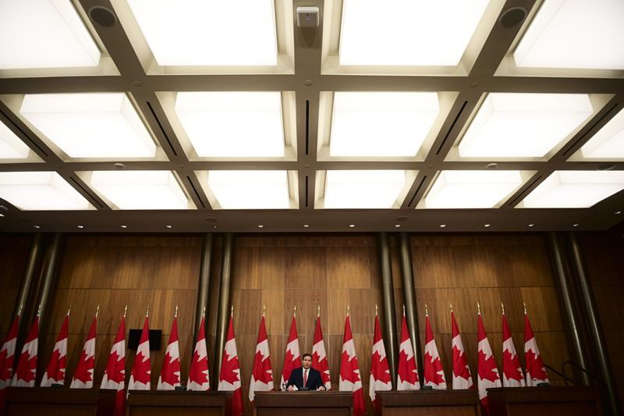 OTTAWA — The federal government is announcing that Indigenous people can now apply to reclaim their traditional names on passports and other government identification.

The announcement comes in response to a call to action from the Truth and Reconciliation Commission that demanded governments allow survivors and their families to restore names changed by the residential school system.

Indigenous Services Minister Marc Miller says the announcement applies to all individuals of First Nations, Inuit and Métis background, potentially affecting hundreds of thousands of people who aim to reclaim their identity on official documents.

Citizenship Minister Marco Mendicino says all fees will be waived for the process, which pertains to passports, citizenship certificates and permanent resident cards.
The move comes six years after the Truth and Reconciliation Commission made the recommendation, and follows last month's news that ground-penetrating radar detected what are believed to be the remains of 215 children at a former residential school in Kamloops, B.C.
Most of the commission's 94 calls to action remain unfulfilled, though cabinet ministers pointed to a pair of bills that would incorporate Indigenous rights into the oath of citizenship and align Canada's laws with the United Nations Declaration on the Rights of Indigenous Peoples.
This report by The Canadian Press was first published June 14, 2021.
The Canadian Press