Around Red Deer March 21st……
2:30 pm – Yesterday, RCMP issued a media release in which three accused's were identified as being charged with 88 offences. Since that release, Ponoka RCMP have learned that Miles Appenrodt was not involved in the offences whatsoever and is in fact, a victim of identity theft. When arrested, the male – whose name cannot yet be released – produced an Alberta drivers license to police in the name of Miles Appenrodt and held himself out to be that person for the duration of his time in custody. The RCMP deeply regrets this error and apologizes to Mr. Appenrodt for the difficulties this has caused. We are doing all we can to remove any re-posts of the original publication from social media and we are issuing this media release to ensure that its message gets to all forms of media that posted our original statement. The RCMP has now correctly identified the male responsible and a warrant is being sought. The charges will now include personation and possession of identity document, in addition to the original offences.
12:20 pm – After Alberta's Education school projects announcement this morning, St. Patrick's Community School is one of seven schools on the list to undergo a modernization. "We are truly grateful for the tireless lobbying from our Senior Administrators and Board Members to the government over the past five years. The announcement of this modernization is wonderful news for all of our students, families and staff. We are excited about the collaborative spaces this will provide our students and teachers, which will enhance their learning environments. We feel very blessed to have been chosen as one of the seven schools in the province to receive this news," said Principal, Terri Lynn Mundorf at St. Patrick's Community School. "We are very excited about this announcement. St. Patrick's Community School has been our number one capital priority for many years as it's currently at 730 students or 130% capacity. It needs more effective learning spaces for students," said Board Chair Guy Pelletier at Red Deer Catholic Regional Schools. A specific dollar amount for the modernization is not yet known but Pelletier estimates it could be in the $8-10 million range. He hopes to see the modernization complete within two years.
11:45 am – A retirement has lead to the naming of a new Associate Superintendent for the Red Deer Public School District. Read More.
10:18 am – More Red Deerians can now keep chickens in their yard. Read More.
For more local news, click here!
8:56 am – St. Thomas Aquinas Middle School will host an Exhibition of Learning for parents and the community on March 21 from 1:30 – 2:30 p.m. at the  Red Deer College Library. Grade 9 students at St. Thomas Aquinas Middle School have teamed up with the Biology Department and Library at Red Deer College for a Biology/Biodiversity project-based learning experience. Students will demonstrate their knowledge of biological interactions by presenting posters and showcasing puzzle pieces created through project-based-learning. People will have an opportunity to ask students about their projects, their learning experience, and project-based learning in general. Research shows that students feel a greater sense of ownership of their work when they know it will have an audience beyond their teachers.
8:50 am – What do a non-profit greenhouse in Manitoba, a community fruit orchard in Saskatchewan, a farmer's potluck mixer in Alberta, and an historical farming exhibit in British Columbia have in common? They are examples of community projects funded by the Peavey Mart Community Agricultural Grant. Since 2013, non-profit groups have received more than $180,000 from the grant, which funds ideas that promise to strengthen towns or cities through community agriculture. This year, a $50,000 grant is up for grabs. "We want people to build on their great ideas by getting community support and feedback, and putting those ideas into plans," say Jest Sidloski, director of customer experience for Peavey Industries. "A good idea for a community initiative won't succeed unless it has a good plan." Sidloski says the grant typically does not fund buildings or renovations. "The focus is on operating community agriculture." The application form is available on the Peavey Mart website, and applications are accepted until May 31.
8:25 am – Father Henri Voisin School will host an Exhibition of Learning for parents and the community on March 22 from 5:30 to 6:45 p.m. The Exhibition of Learning will showcase students' project-based learning and hard work over the past year. Grade 1-5 students will share their new discoveries through cross-curricular projects by demonstrating their authentic learning experiences at this event based on curriculum and 21st Century competencies. "This event is a testimonial to the authentic and engaging learning experiences that our students experience through Catholic education," says Rob Coumont, Assistant Principal. "During this evening, students have the opportunity to share with guests the process and journey of their learning through the different projects they created." All are invited to walk around and engage students in conversation about their innovative projects.
CP NewsAlert: Michael Kovrig, Michael Spavor back in Canada after detention in China
Two Canadians who were imprisoned in China for nearly three years are home.
Video from CTV shows Prime Minister Justin Trudeau greeting Michael Kovrig and Michael Spavor on the tarmac at the airport in Calgary early this morning.
More coming.
The Canadian Press
Last-minute Fajardo TD gives Roughriders 31-24 victory over B.C. Lions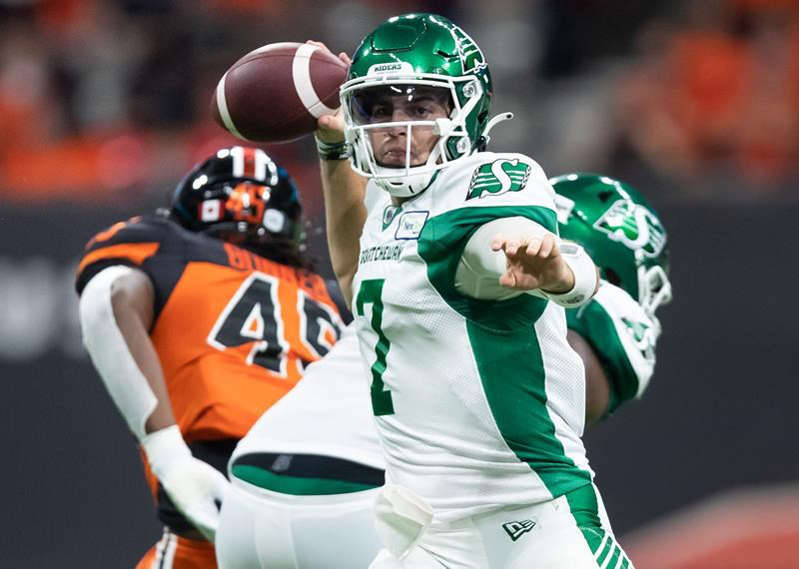 VANCOUVER — A last-minute touchdown by quarterback Cody Fajardo gave the Saskatchewan Roughriders a 31-24 road victory over the B.C. Lions on Friday.
Fajardo scored on a quarterback sneak on third down with two seconds left on the clock, clinching a back-and-forth game between the two sides.
Damon Webb poured salt in the Lions' wounds, recovering a fumble by B.C. wide receiver Lucky Whitehead and darting into the end zone for a touchdown as time expired.
Fajardo threw for 279 yards, one touchdown and one interception on the night, completing 24-of-31 attempts. Kicker Brett Lauther had four field goals for Saskatchewan, including a 49-yard bomb in the first quarter.
Lions quarterback Michael Reilly had 259 passing yards, and made good on 23-of-34 attempts, including a pair of touchdown passes to Whitehead.
The win gives Saskatchewan (5-2) sole possession of second place in the West Division and snapped a three-game win streak for the Lions (4-3).
The Riders were first on the scoreboard when Lauther made a 38-yard field goal 5:52 into the game.
B.C. was quick to respond. Reilly connected with wide receiver Bryan Burnham on a 28-yard pass on the next play, then followed it with a short toss to Whitehead.
The speedy Florida Atlantic product evaded several Saskatchewan defenders and streaked 47 yards down the sideline for his first touchdown of the night.
Whitehead leads the CFL in receiving this season with 665 yards in seven games.
A solid Lions defence kept the Riders frustrated and pinned in their own territory for much of the first half.
Lauther kept Saskatchewan within striking distance, booting a 49-yard field goal to close out the first quarter and a 28-yard kick early in the second.
Reilly struggled at times to connect with his receivers across the first half.
But with less than a minute to go in the second frame, the veteran QB narrowly avoided a sack, then got a running pass off to Jevon Cottoy for a 26-yard gain. He then sent an 11-yard dish to Whitehead to set up a first-and-goal, then once again found Whitehead in the end zone for B.C.'s second major of the night.
Jimmy Camacho made the converts on both plays and the Lions took a 14-9 lead into halftime.
A 21-yard pass from Fajardo to Kyran Moore put the Riders in good position early in the third, but B.C.'s Jalon Edwards-Cooper spoiled the ensuing touchdown attempt, knocking down a pass before it reached the hands of Mitchell Picton as he waited in the end zone.
Saskatchewan settled for yet another Lauther field goal, this time from 30-yards out.
B.C. responded with a field goal of its own, a 32-yard kick by Camacho.
Saskatchewan caught a big break in the final minutes of the third when Whitehead fumbled a punt return, giving the Riders the ball at the Lions 48-yard line.
Minutes later, Fajardo blasted a 23-yard pass to Ricardo Louis in the end zone, giving the Riders their first touchdown of the night 13:16 into the quarter. Saskatchewan was stymied on the two-point conversion attempt, though, keeping the score 18-17.
The strike was Louis' first in the CFL. The 27-year-old wide receiver is playing his first season in the league after spending three years with the NFL's Cleveland Browns.
Down a point heading into the final frame, the Lions refused to relent.
About four minutes into the quarter, Reilly made an 11-yard run to give his side a first down at Saskatchewan's 31-yard line. Ed Gainey tripped Burnham in the end zone on the next play and the pass interference created a first-and-goal opportunity for the Lions.
Reilly handed the ball off to Shaq Cooper and the running back snuck across the goal line for the touchdown. B.C. went up 24-18 after Camacho made the convert.
Camacho later missed a 43-yard field goal attempt.
Edwards-Cooper came up big once again with three minutes left in the game, intercepting a long pass from Fajardo along the sidelines, but the Lions couldn't whether the Riders' final push.
The Lions will face a tough test on Oct. 1 when they host the league-leading Winnipeg Blue Bombers. Saskatchewan will visit the Calgary Stampeders the following night.
NOTES: Saskatchewan defensive back Ed Gainey returned to the lineup after missing two games with an injured toe. … The Lions gave out 10,000 orange shirts with a reimagined logo by Kwakwaka'wakw/Tlingit artist Corrine Hunt to mark the first-ever National Day for Truth and Reconciliation.
This report by The Canadian Press was first published Sept. 24, 2021.
Gemma Karstens-Smith, The Canadian Press