Around Red Deer March 21st……
2:30 pm – Yesterday, RCMP issued a media release in which three accused's were identified as being charged with 88 offences. Since that release, Ponoka RCMP have learned that Miles Appenrodt was not involved in the offences whatsoever and is in fact, a victim of identity theft. When arrested, the male – whose name cannot yet be released – produced an Alberta drivers license to police in the name of Miles Appenrodt and held himself out to be that person for the duration of his time in custody. The RCMP deeply regrets this error and apologizes to Mr. Appenrodt for the difficulties this has caused. We are doing all we can to remove any re-posts of the original publication from social media and we are issuing this media release to ensure that its message gets to all forms of media that posted our original statement. The RCMP has now correctly identified the male responsible and a warrant is being sought. The charges will now include personation and possession of identity document, in addition to the original offences.
12:20 pm – After Alberta's Education school projects announcement this morning, St. Patrick's Community School is one of seven schools on the list to undergo a modernization. "We are truly grateful for the tireless lobbying from our Senior Administrators and Board Members to the government over the past five years. The announcement of this modernization is wonderful news for all of our students, families and staff. We are excited about the collaborative spaces this will provide our students and teachers, which will enhance their learning environments. We feel very blessed to have been chosen as one of the seven schools in the province to receive this news," said Principal, Terri Lynn Mundorf at St. Patrick's Community School. "We are very excited about this announcement. St. Patrick's Community School has been our number one capital priority for many years as it's currently at 730 students or 130% capacity. It needs more effective learning spaces for students," said Board Chair Guy Pelletier at Red Deer Catholic Regional Schools. A specific dollar amount for the modernization is not yet known but Pelletier estimates it could be in the $8-10 million range. He hopes to see the modernization complete within two years.
11:45 am – A retirement has lead to the naming of a new Associate Superintendent for the Red Deer Public School District. Read More.
10:18 am – More Red Deerians can now keep chickens in their yard. Read More.
For more local news, click here!
8:56 am – St. Thomas Aquinas Middle School will host an Exhibition of Learning for parents and the community on March 21 from 1:30 – 2:30 p.m. at the Red Deer College Library. Grade 9 students at St. Thomas Aquinas Middle School have teamed up with the Biology Department and Library at Red Deer College for a Biology/Biodiversity project-based learning experience. Students will demonstrate their knowledge of biological interactions by presenting posters and showcasing puzzle pieces created through project-based-learning. People will have an opportunity to ask students about their projects, their learning experience, and project-based learning in general. Research shows that students feel a greater sense of ownership of their work when they know it will have an audience beyond their teachers.
8:50 am – What do a non-profit greenhouse in Manitoba, a community fruit orchard in Saskatchewan, a farmer's potluck mixer in Alberta, and an historical farming exhibit in British Columbia have in common? They are examples of community projects funded by the Peavey Mart Community Agricultural Grant. Since 2013, non-profit groups have received more than $180,000 from the grant, which funds ideas that promise to strengthen towns or cities through community agriculture. This year, a $50,000 grant is up for grabs. "We want people to build on their great ideas by getting community support and feedback, and putting those ideas into plans," say Jest Sidloski, director of customer experience for Peavey Industries. "A good idea for a community initiative won't succeed unless it has a good plan." Sidloski says the grant typically does not fund buildings or renovations. "The focus is on operating community agriculture." The application form is available on the Peavey Mart website, and applications are accepted until May 31.
8:25 am – Father Henri Voisin School will host an Exhibition of Learning for parents and the community on March 22 from 5:30 to 6:45 p.m. The Exhibition of Learning will showcase students' project-based learning and hard work over the past year. Grade 1-5 students will share their new discoveries through cross-curricular projects by demonstrating their authentic learning experiences at this event based on curriculum and 21st Century competencies. "This event is a testimonial to the authentic and engaging learning experiences that our students experience through Catholic education," says Rob Coumont, Assistant Principal. "During this evening, students have the opportunity to share with guests the process and journey of their learning through the different projects they created." All are invited to walk around and engage students in conversation about their innovative projects.
Most unused COVID-19 vaccines will expire at the end of the year: auditor general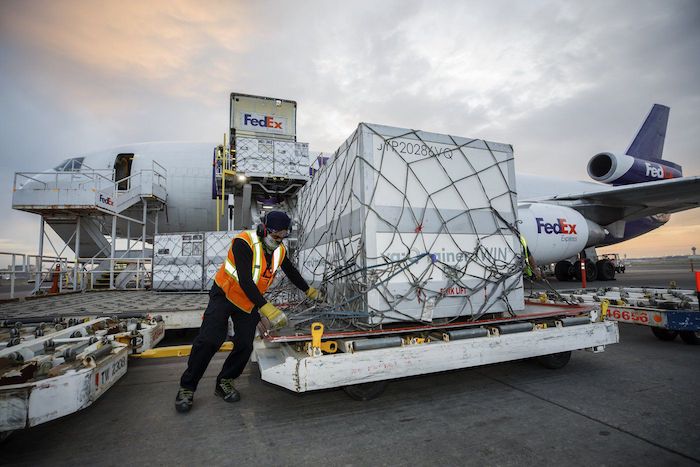 By Laura Osman in Ottawa
Tens of millions of doses of COVID-19 vaccines are likely about to expire and go to waste because of a failure to manage an oversupply, Canada's auditor general reported Tuesday — a failure with an estimated price tag of about $1 billion.
Karen Hogan has released the results of her office's investigation into the government's efforts to get ahold of COVID-19 vaccine doses in the early days of the pandemic, and track how many people got them.
The auditor gave the Public Health Agency of Canada and the Procurement Department a thumbs up when it came to quickly getting enough doses into the country to meet vaccination goals, but said the government did a much poorer job of managing all that supply.
"We found that the Public Health Agency of Canada was unsuccessful in its efforts to minimize vaccine wastage," Hogan wrote in the report.
The government knew that by signing advanced purchase agreements with a number of pharmaceutical companies there was a risk of buying up more COVID-19 vaccines than Canadians needed.
PHAC and the federal government signed deals with seven companies that were developing vaccines in 2020 and 2021, in case only a few them were approved by Health Canada.
So far six of those have been authorized by the drug review agency.
"In my view, it was a prudent approach given all the uncertainty back in 2020," she said at a press conference Tuesday.
The auditor found that about half of the 169 million doses the government paid for have made it into the arms of Canadians between December 2020 and May 2022.
The federal government announced plans to donate some 50 million surplus doses to other countries, but as of May 31 only about 15 million had been given away and another 13.6 million expired before they could be donated.
Canada has offered the remaining 21.7 million doses to other countries but so many countries are now offering donations that the market is saturated, Hogan said, and those vaccines will be wasted if they are not distributed soon.
There were also 32.5 million doses in federal and provincial inventories by the end of the audit period in May, worth about $1 billion, based on the auditor's estimate.
Hogan said in her report that the majority of those doses will expire by the end of 2022.
Hogan said the public health agency informed her that another 10 million have expired since the end of the audit and another 11 million were donated.
Part of the problem, she said, was that provinces and territories did not communicate and share data with PHAC.
"Although some provinces and territories consistently reported to the agency, the agency was unable to obtain complete data from most. This meant that the status of these doses was unknown and reduced the agency's ability to predict supply needs and plan for donations," the report said.
The auditor general's office and the public health agency itself warned for a decade before the COVID-19 pandemic that there were serious gaps in the federal and provincial health data sharing plans.
In January 2021, Deloitte Inc. was awarded a $59.1 million contract to come up with a national vaccine management system called VaccineConnect to share timely information about vaccine distribution, coverage and safety.
Some elements of that program were up and running on time, but others were delayed and the auditor found that PHAC was instead using spreadsheets to manually track expiration dates and waste as of June 2021.
The information silos made it difficult for vaccine companies to monitor national safety indicators of their products, as they've been ordered to by Health Canada.
"Companies cannot entirely fulfil this requirement when they do not have access to the necessary data on adverse events," the report said.
Hogan found two incidents in 2021 where companies learned of adverse effects to their vaccines from the media and urgently requested the data from the government, but couldn't get access to it for three months.
Canada is also the only G7 country that does not follow World Health Organization guidance to share case-level information about patients who have adverse effects after immunization, and instead sends only summary data.
This report by The Canadian Press was first published Dec. 6, 2022.
Federal Court of Appeal upholds all but one rule on airline compensation
OTTAWA — The federal court of appeal says it will uphold all but one ofthe rules that bolster compensation for air passengers subjected to delayed flights and damaged luggage.
The court on Tuesday dismissed the appeal that challenged the validity of the passenger bill of rights, with the exception of one regulation that applies to the temporary loss of baggage.
Air Canada and Porter Airlines Inc., along with 16 other appellants that include the International Air Transport Association had argued that the passenger rights charter launched in 2019 violates global standards and should be rendered invalid for international flights.
In court filings, the airlines argued the regulation exceed the Canadian Transportation Agency's authority and went against a multilateral treaty by imposing compensation requirements for flight cancellations or lost baggage that were too stringent.
The CTA and Attorney-General argued there is no conflict between the passenger protections and the treaty.
The FCA initially turned down a request from the airlines to suspend the Air Passenger Protection Regulations (APPR) in 2020.
This report by The Canadian Press was first published Dec. 6, 2022.
Companies in this story: (TSX:AC)
The Canadian Press