Emergency Over, Son Charged In Mom's Death, Ponoka Home Invasion
2:20 pm – The ECHO Lacombe Association is proud to announce $4,400 in funding support for Neighbourhood Life's 'coffee bike'. The coffee bike is available free of charge for those looking to host block parties, as well as select community events. All coffee supplies will be donated by Good Neighbour Coffee. The group seeks to improve the quality of life within Lacombe by fostering a collaborative environment focused on cultivating innovation, nurturing a business-friendly culture, promoting sustainable growth and creating a safe, inclusive, vibrant and healthy community.
1:47 pm – Red Deer residents are reminded that property tax bills for 2017 are due on Friday, June 30th. Read More.
1:38 pm – The City of Red Deer is offering youth unlimited rides on Red Deer Transit and unlimited access to all City recreation facilities all summer long with the Rip 'N Rec Summer Pass. Read More.
For more local news, click here!
10:05 am – The Red Deer Rebels have announced that Assistant Coach Pierre-Paul Lamoureux has left the team to take a job as Associate Head Coach of the Fargo Force of the United States Hockey League. Meanwhile, the Rebels have hired Brett Anderson as an Assistant Coach. Brett was Director and Head Coach at the Ontario Hockey Academy in Cornwall, Ontario last season. Read More.
9:52 am – Sylvan Lake's Dog Park is closed temporarily for Foxtail removal. Read More.
9:08 am – Ponoka RCMP are seeking the public's assistance in locating a missing 13 year old male. James Rain was last seen in Ponoka at approximately 8:00 pm June 24th. He is believed to be in the Wetaskiwin area. He is described as 5'2 in height, 155 lbs pounds in weight, Brown hair and Brown eyes.
For more local news, click here!
9:00 am – Red Deer road closures to make note of today. Read More.
8:46 am –  Ponoka RCMP are actively searching for five suspects after two people were restrained and robbed early Saturday morning. Read More.
8:40 am – Charges have been laid against a 25 year old man accused of killing his mother on the Ermineskin First Nation in 2015. Read More.
For more local news, click here!
8:30 am – Father Henri Voisin Elementary School in Red Deer will celebrate the accomplishments of it's students at their Year-end Awards Ceremony today. This event will be held in the gymnasium from 12:45 – 1:45 pm.
8:15 am – It's Kindergarten Orientation night at the new Don Campbell Elementary School in Red Deer's Inglewood neighbourhood. It runs from 5:45 pm – 6:30 pm. Meanwhile, all Gr. 1-5 families from Don Campbell Elementary are invited to attend a school tour which will be available to all families this evening. It's a drop-in event that runs between 6:30 pm – 8:00 pm.
7:55 am – The state of local emergency has been lifted in Red Deer as power has been restored to nearly all residents, returning Electric Light & Power to regular operations. However, Parks crews will continue restoration of City parks and trails in the coming weeks and potentially into the fall. Read More.
After Cabinet withdrawal, Neera Tanden lands White House job
WASHINGTON (AP) — President Joe Biden's lone Cabinet choice who was rebuffed by Congress has landed a job as a White House senior adviser.
Neera Tanden had been Biden's pick to lead the Office of Management and Budget but withdrew her nomination in March after it was clear that she would not garner enough Republican support to be confirmed. Several GOP senators objected to her previous tweeted criticisms of her political rivals.
Tanden will now be a senior advisor to Biden, the White House said Friday. She will launch a review of the US Digital Service and begin planning for possible policy changes that could result from the forthcoming Supreme Court decision on GOP legal challenges to the Affordable Care Act. Tanden worked in former President Barack Obama's administration as the act was designed and implemented.
Tanden, a close ally of White House chief of staff Ron Klain, will depart the think tank Center for American Progress. Its founder, John Podesta, said that "Neera's intellect, tenacity, and political savvy will be an asset to the Biden administration."
Tanden's hire was first reported by CNN.
The Associated Press
Bloc Québécois leader says next federal election campaign could begin in mid-August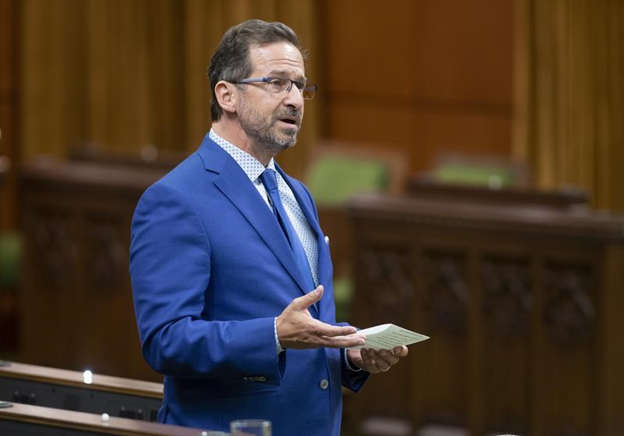 Bloc Québécois Leader Yves-François Blanchet said Friday he sees an opening to begin the next federal election campaign on Aug. 16 if the COVID-19 pandemic is under control.
That timeline would ensure the federal vote doesn't interfere with municipal elections that are to be held across Quebec in November, Blanchet told a virtual meeting with an association representing Quebec cities and towns.
"It would seem to me to be highly disrespectful for a federal election to interfere with municipal elections," Blanchet, whose party holds 32 seats in the minority Parliament, told the gathering in French.
"It opens a window that opens quite squarely on Aug. 16. I'm not saying that's when it's going to happen, but we can't rule it out."
The Bloc leader's suggestion comes a day after his party tabled a motion in the House of Commons demanding Prime Minister Trudeau not call an election during the pandemic. Blanchet has repeatedly warned Trudeau against holding a vote during the health crisis.
The purpose of the Bloc's motion, Blanchet said Friday, was to force a debate and a vote on the election date, as the Trudeau government sought to limit debate on Bill C-19, which aims to ensure a vote can be safely conducted during the pandemic.
Bill C-19 passed by a vote of 330-1 at second reading Tuesday, with the support of the Bloc members, who said they wanted the legislation to move to committee for study.
Blanchet said the government shouldn't be attempting to force through a bill that would permit an election to be held during the pandemic, adding that the bill isn't necessary if the pandemic is under control.
"If there is a pandemic, we don't have an election and if the pandemic is controlled, we don't need a law to hold an election during the pandemic," he said. "Let's be logical."
This report by The Canadian Press was first published May 14, 2021.
The Canadian Press