Emergency Over, Son Charged In Mom's Death, Ponoka Home Invasion
2:20 pm – The ECHO Lacombe Association is proud to announce $4,400 in funding support for Neighbourhood Life's 'coffee bike'. The coffee bike is available free of charge for those looking to host block parties, as well as select community events. All coffee supplies will be donated by Good Neighbour Coffee. The group seeks to improve the quality of life within Lacombe by fostering a collaborative environment focused on cultivating innovation, nurturing a business-friendly culture, promoting sustainable growth and creating a safe, inclusive, vibrant and healthy community.
1:47 pm – Red Deer residents are reminded that property tax bills for 2017 are due on Friday, June 30th. Read More.
1:38 pm – The City of Red Deer is offering youth unlimited rides on Red Deer Transit and unlimited access to all City recreation facilities all summer long with the Rip 'N Rec Summer Pass. Read More.
For more local news, click here!
10:05 am – The Red Deer Rebels have announced that Assistant Coach Pierre-Paul Lamoureux has left the team to take a job as Associate Head Coach of the Fargo Force of the United States Hockey League. Meanwhile, the Rebels have hired Brett Anderson as an Assistant Coach. Brett was Director and Head Coach at the Ontario Hockey Academy in Cornwall, Ontario last season. Read More.
9:52 am – Sylvan Lake's Dog Park is closed temporarily for Foxtail removal. Read More.
9:08 am – Ponoka RCMP are seeking the public's assistance in locating a missing 13 year old male. James Rain was last seen in Ponoka at approximately 8:00 pm June 24th. He is believed to be in the Wetaskiwin area. He is described as 5'2 in height, 155 lbs pounds in weight, Brown hair and Brown eyes.
For more local news, click here!
9:00 am – Red Deer road closures to make note of today. Read More.
8:46 am –  Ponoka RCMP are actively searching for five suspects after two people were restrained and robbed early Saturday morning. Read More.
8:40 am – Charges have been laid against a 25 year old man accused of killing his mother on the Ermineskin First Nation in 2015. Read More.
For more local news, click here!
8:30 am – Father Henri Voisin Elementary School in Red Deer will celebrate the accomplishments of it's students at their Year-end Awards Ceremony today. This event will be held in the gymnasium from 12:45 – 1:45 pm.
8:15 am – It's Kindergarten Orientation night at the new Don Campbell Elementary School in Red Deer's Inglewood neighbourhood. It runs from 5:45 pm – 6:30 pm. Meanwhile, all Gr. 1-5 families from Don Campbell Elementary are invited to attend a school tour which will be available to all families this evening. It's a drop-in event that runs between 6:30 pm – 8:00 pm.
7:55 am – The state of local emergency has been lifted in Red Deer as power has been restored to nearly all residents, returning Electric Light & Power to regular operations. However, Parks crews will continue restoration of City parks and trails in the coming weeks and potentially into the fall. Read More.
Canadian sprinter Andre De Grasse wins bronze in men's 100 metres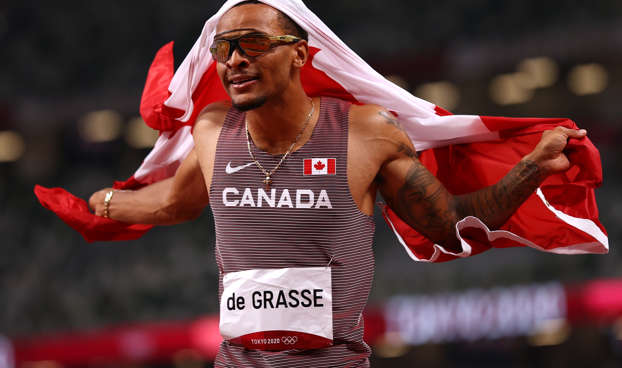 TOKYO — Canada's Andre De Grasse has claimed the bronze medal in the men's 100 metres for the second straight Olympics.
The 26-year-old from Markham, Ont., overcame a rough start and raced to third in a personal-best time of 9.89 seconds.
Italy's Lamont Jacobs took the gold in 9.80 seconds, followed by American Fred Kerley in 9.84 seconds. All three medallists ran personal bests.
It's Canada's first track and field medal at the Tokyo Olympics. It's also the latest piece of hardware in the event for De Grasse, who won bronze in the 100 in both the 2016 Olympics and 2019 world championships.
Two hours earlier, De Grasse ran 9.98 to finish second in his semifinal and seventh overall.
De Grasse is the first Canadian male to climb the medal podium in Tokyo. Led by swimming superstar Penny Oleksiak, women had captured all of Canada's 13 previous medals.
De Grasse will have a day off before he's back on the track for the 200 heats and semifinal on Tuesday. He captured silver in the 200 at both the 2016 Olympics and 2019 world championships.
There was no clear-cut favourite in the men's 100 this year with the retirement of Usain Bolt. The Jamaican superstar and world record-holder (9.58) captured gold and silver in the 100 and 200 in the Beijing, London and Rio, and what the media dubbed his "bromance" with fellow Puma athlete De Grasse was an entertaining storyline in Rio.
American Christian Coleman, the reigning world 100-metre champion and the sprinter considered De Grasse's biggest challenge in Tokyo, is serving a doping suspension through May of next year.
This report by The Canadian Press was first published Aug. 1, 2021.
The Canadian Press
Penny Oleksiak makes history as Canada swims to bronze in medley relay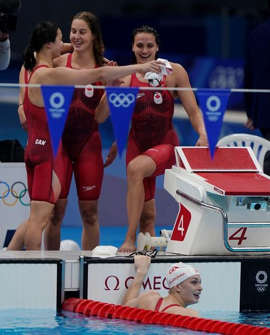 Masse, 25, earned a pair of silver in backstroke. Oleksiak also claimed bronze in the 200-metre freestyle.
The women's swim team amassed six medals in Tokyo to equal its Rio count of five years ago.
Taylor Ruck of Kelowna, B.C., Pickrem, Mac Neil and Toronto's Kayla Sanchez posted the fastest qualification time in Friday's heats to give Canada a middle lane Sunday.
The medley relay medal was Canada's first since 1988 and fourth in the 61-year Olympic history of race. Canadian women were bronze medallists in 1976, 1984 and '88.
Oleksiak won 100-freestyle gold, 100-butterfly silver and anchored Canada to a pair of freestyle relay bronze medals at age 16 in Rio.
Heats, semifinals, finals and relays added up to 10 races over nine days for Oleksiak in Tokyo, where she added a pair of relay medals and the 200 free bronze to her total.
Oleskiak, Mac Neil and Masse claimed their third medals at the Tokyo Aquatic Centre.
This report by The Canadian Press was first published July 31, 2021.
The Canadian Press