Around Red Deer June 1st – 4th…..
10:51 am – RCMP have wrapped up a multi-pronged property crime investigation in Red Deer. Read More.
10:45 am – Red Deer's Westerner Park is a busy hive of activity over the next several days. The Southside RV Centre Spring Event continues until Sunday, while the RDC Convocation Ceremonies take place on Friday, June 2nd. Meantime, the West Central 4H Regional Horse Show runs June 2 – 4, while the Red Deer 4H Beef Show runs June 2 – 5. Read More.
10:36 am – From Art Shows, to Live Theatre, a downtown Scavenger Hunt and fundraising Walks for Muscular Dystrophy and Arthritis, there's lots going on in Red Deer over the next several days. Details Here.
For more local news, click here!
10:26 am – STARS Air Ambulance helicopters can now land at the Hospital in Didsbury! Read More.
10:19 am – Red Deer's Blue Grass Sod Farms Central Spray Park and the Recreation Centre outdoor pool open for the season today! Read More.
10:16 am – A Boil Water Advisory is in place for several addresses on Red Deer's South Hill near Taylor and 32nd Street. Read More.
For more local news, click here!
10:07 am – Tips from the public have helped Red Deer RCMP make several arrests in our city over the past week. Read More.
10:01 am – École Camille J. Lerouge School Grade 9 students are working in conjunction with Kevin Traptow, owner of the "Cool Beans Coffee Company" to launch an initiative called "Pay Ahead for Daily Bread." The aim of the project is to encourage Red Deerians to pre-pay for various food or drink items at the Cool Beans Coffee bus so that when someone in need stops by the coffee shop, there is a cup of warm coffee or a small snack available for them to have free of charge. On Friday, June 23 from 11:30 a.m. – 2:00 p.m. Grade 9 students will be at Cool Beans Coffee Company to serve coffee and lunch to its patrons while encouraging the citizens of Red Deer to "Pay Ahead for Daily Bread."
9:46 am – The Aboriginal Voices on Housing Network (AVOHN) is excited to launch the findings of its Gap Analysis on Housing supports for Aboriginal people in the city of Red Deer. The report entitled Red Deer Aboriginal Housing Gap Analysis: Towards an Aboriginal Strategy on Housing, is having an official launch at the Snell auditorium on June 2nd from 2:30 – 3:30. The launch includes representatives from 4 levels of government and will include a presentation by the researcher, Linda Many Guns of the University of Lethbridge, on her findings and recommendations.
For more local news, click here!
9:32 am – On May 31st, the House of Commons Standing Committee on Industry Science and Technology, for which Red Deer – Mountain View MP Earl Dreeshen serves as Vice Chair, tabled its report on the state of Canada's manufacturing sector. The report, titled The Canadian Manufacturing Sector: Urgent Need to Adapt, included an overview of the issues currently facing the manufacturing industry. According to the Canadian Manufacturers & Exporters, the industry has seen a notable drop in employment over the past decade.
9:25 am – Heads up Red Deer drivers! There will be some road closures throughout the city this weekend to be on the lookout for. One for Saturday's Market and the other for the Hudson's Heart project on Sunday. Details Here.
9:17 am – Red Deer College invites central Albertans to celebrate the best films of the year at Film Works 2017. This annual event features films created by RDC's latest student actors, directors, cinematographers and all-around filmmakers. Show times are 7 pm on Friday, June 2nd and Saturday, June 3rd at the Welikoklad Event Centre.
For more local news, click here!
9:03 am – RDC grads will celebrate their achievements at the 53rd Annual Convocation Ceremonies at the Parkland / Prairie Pavilions in Westerner Park on Friday, June 2nd!
8:52 am – Grade 6 – 9 students from St. Thomas Aquinas Middle School in Red Deer will perform what they have learned this school year in a year-end band concert. It's from 7 – 8 pm at the school tonight!
8:27 am – Students at Annie L. Gaetz Elementary School in Red Deer will take some time today to enjoy a Bike Roadeo. This means all students will bring their bikes and ride through a course. Elsewhere, the Lindsay Thurber Choral Music Program presents One World, One Song. It's their year end choir concert with tickets available at the Lindsay Thurber bookstore or at the door for $10. On Friday night, Hunting Hills High School has their 9th Annual Advanced Placement and International Baccalaureate Art programs show. This runs from May 24 – June 17, with the opening reception on June 2nd.
For more local news, click here!
Women's tennis tour suspends China events over Peng concerns
The head of the women's professional tennis tour announced Wednesday that all WTA tournaments would be suspended in China because of concerns about the safety of Peng Shuai, a Grand Slam doubles champion who accused a former high-ranking government official in that country of sexual assault.
Peng posted her allegations on social media last month.
WTA Chairman and CEO Steve Simon wrote in a statement that he doesn't believe China has addressed Peng's safety "in any credible way."
He said he doubts Peng is not subject to coercion and intimidation.
Simon repeated his call for a "full and transparent investigation — without censorship" into Peng's accusations.
___
More AP tennis: https://apnews.com/hub/tennis and https://twitter.com/AP_Sports
Howard Fendrich, The Associated Press
CNN suspends Chris Cuomo for helping brother in scandal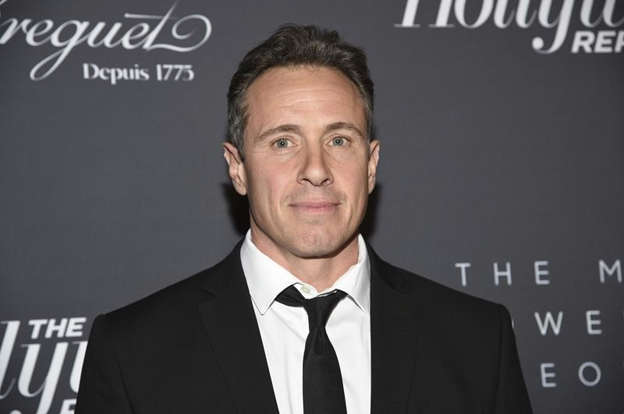 NEW YORK (AP) — CNN indefinitely suspended anchor Chris Cuomo on Tuesday after details emerged about how he helped his brother, former New York Gov. Andrew Cuomo, to face charges of sexual harassment earlier this year.
The network said documents released by New York's attorney general Monday indicated Cuomo took a greater level of involvement in his brother's efforts than CNN executives previously knew.
"As a result, we have suspended Chris indefinitely, pending further evaluation," the network said.
The CNN anchor pressed sources for information on his brother's accusers and reported back to the governor's staff, and was active in helping craft their response to the charges, according to emails and a transcript of his testimony to investigators working for state Attorney General Letitia James. Her office found Andrew Cuomo sexually harassed at least 11 women.
Chris Cuomo previously acknowledged talking to his brother and offering advice when the governor faced harassment charges. But the information released Monday revealed far more details about what exactly Chris Cuomo did. Andrew Cuomo resigned in August to avoid a likely impeachment trial.
Cuomo's program, which airs at 9 p.m. Eastern time on weeknights, averaged 1.3 million viewers, narrowly outpacing Anderson Cooper as CNN's most popular show, according to the Nielsen company. Like many cable newscasts, viewership is down significantly after being swollen during the election year.
Cuomo appeared on his program on Monday night, talking about COVID-19 and politics without mentioning his own issues.
There was no immediate response to a request for comment sent to Cuomo and the lawyer who represented him during this summer's testimony.
Anderson Cooper subbed for Cuomo on his show Tuesday.
During the first two months of the pandemic, Cuomo interviewed his brother on the air a number of times. It was a hit with viewers, although it violated CNN's policy of not having Cuomo report on his brother, and was a programming choice that has grown worse with time and additional revelations.
Chris Cuomo frequently consulted with his brother's aides when Andrew was fighting the charges last May, sometimes disagreeing with their advice.
"This is my brother, and I'm trying to help my brother through a situation where he told me he did nothing wrong," Cuomo testified last July to investigators at the attorney general's office.
He has said he did nothing to influence his own network's coverage of the story.
Cuomo also said he reached out to other journalists to find out whether they were writing stories about his brother, most notably seeking information on what Ronan Farrow of the New Yorker was writing. He acknowledged he didn't tell CNN he was doing this, and characterized his actions as nothing out of the ordinary for a journalist.
Critics have called on CNN to take action following the attorney general's release, with David A. Graham of The Atlantic saying Cuomo should resign — or be fired by CNN if he doesn't.
After it was first revealed last May by The Washington Post that Cuomo had consulted with his brother's aides, CNN released a statement saying that his actions were inappropriate, but it did not discipline him.
Cuomo, a lawyer, is 13 years younger than Andrew Cuomo, who he has described as his best friend. They are the sons of former New York Gov. Mario Cuomo, who was in office from 1982 to 1996.
He worked for several years at ABC News, joining CNN in 2013 as co-host of the network's morning show.
A veteran TV executive, Shelley Ross, wrote a column for The New York Times in September saying Cuomo had groped her at a party 16 years ago. Cuomo told the newspaper that "I apologized to her then, and I meant it."
David Bauder, The Associated Press