Around Red Deer June 19th…..
2:22 pm – On June 10th, the Lacombe Police Service in conjunction with the Alberta Sheriffs conducted roadside check stops at various locations in Lacombe as part of the Enhanced Alberta Check Stop Program. Hundreds of vehicles were stopped with some drivers getting charged or receiving tickets. Read More.
2:16 pm – On June 15th, Lacombe Mayor Steve Christie joined members of Council, City staff and special guests at the annual Volunteers of Distinction ceremony at the Lacombe Memorial Centre. The event honoured and thanked citizens, both past and present, who have volunteer their time on the City's various boards, committees and commissions. Read More.
1:52 pm – Thanks to a tip from the public, the fifth wheel trailer that was stolen from a locked compound in Queens Business Park the evening of June 3rd has been recovered. Read More.
For more local news, click here!
1:46 pm – Red Deer RCMP took two men into custody the morning of June 16th after an attempted personal robbery in the Riverside Meadows neighbourhood. Read More.
1:39 pm – The Town of Blackfalds has big plans to celebrate Canada 150 on July 1st! Details Here.
10:34 am – Starting today and running all week, workers with the Town of Innisfail will begin spraying weeded areas around the community. Read More.
For more local news, click here!
10:17 am – The City of Lacombe is set to celebrate Canada's 150th Birthday in grand fashion on July 1st! Find Out More.
9:53 am – Have a young man in the house interested in playing some football this year? Red Deer Minor Football is holding an Open House at Rosedale Park from 6 – 8 pm tonight! Read More.
9:39 am – For the second day in a row, Rocky Mountain House RCMP and Clearwater Fire received a request for help on the North Saskatchewan River on Saturday, June 17th. A canoe had capsized near the big horn dam and stranded two men on logs in the river. Read More.
For more local news, click here!
9:10 am – Rocky Mountain House RCMP and Clearwater Fire received a request for help on the North Saskatchewan River on Saturday, June 17th after a canoe had capsized near the Saunders Recreation Area. The incident caused two men to be stranded on logs in the river. Read More.
8:51 am – Lots of Road Rehabilitation work throughout the City of Red Deer today. Here's Where.
8:43 am – The Parkland Mall Mosaics of Hope fundraiser completed its seventh successful year this spring, raising a total of $22,500 for central Alberta charities. As a result, the United Way of Central Alberta, Shalom Counselling Centre, and Ronald McDonald House Charities Central Alberta have each received $7,500.
For more local news, click here!
8:28 am – Ponoka RCMP are looking for 44 year old Blair Hinkley. Hinkley is wanted in connection with an assault on a woman at a rural residence in Ponoka County June 8th. Read More.
8:14 am – It's Kindergarten Graduation Day at École Our Lady of the Rosary School in Sylvan Lake today!
7:59 am – Students of Mattie McCullough Elementary School in Red Deer will enjoy a year end family BBQ this evening! The event will feature a guest appearance from Terry Grant from Man Tracker. He will be signing autographs and selling colouring books to help raise money for the school's Access For All playground. The colouring books were illustrated by one of the student's parents! The BBQ runs from 5 – 7 pm.
TC Energy shuts down Keystone pipeline system after leak in Nebraska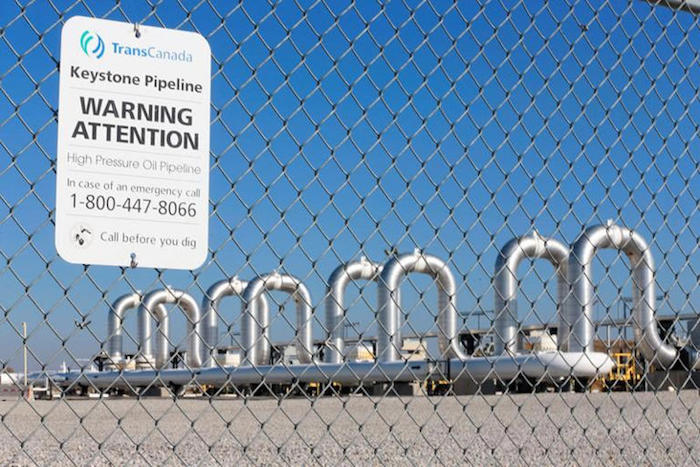 CALGARY — TC Energy Corp. says it has shut down its Keystone pipeline after a leak in Nebraska.
The company says it has mobilized people and equipment in response to a confirmed release of oil into a creek, about 32 kilometres south of Steele City, Neb.
TC Energy says an emergency shutdown and response was initiated Wednesday night after a pressure drop in the system was detected.
It says the affected segment of the pipeline has been isolated and booms have been deployed to prevent the leaked oil from moving downstream.
The Keystone pipeline system stretches 4,324 kilometres and helps move Canadian and U.S. crude oil to markets around North America.
TC Energy says the system remains shutdown as its crews respond and work to contain and recover the oil.
This report by The Canadian Press was first published Dec. 8, 2022.
Companies in this story: (TSX:TRP)
The Canadian Press
Advocate asks AFN chiefs to ensure $40B settlement deal leaves no child behind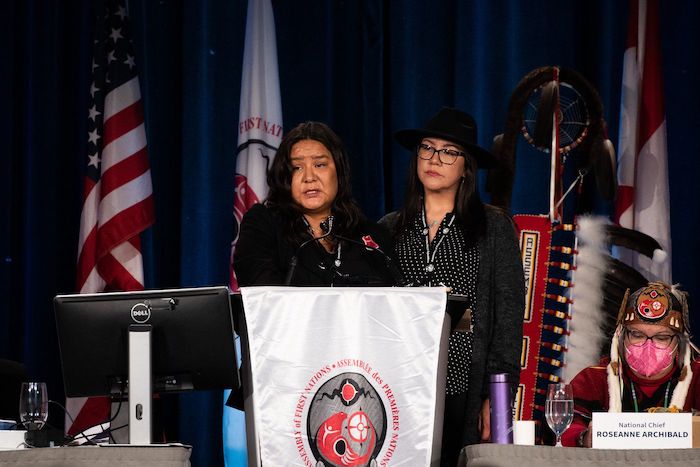 By Stephanie Taylor in Ottawa
A First Nations child welfare advocate on Wednesday implored chiefs to ensure "no child is left behind" in a landmark $40-billion settlement agreement with the federal government.
Cindy Blackstock delivered the message to an Assembly of First Nations gathering in Ottawa, after being invited to take the stage by Cindy Woodhouse, regional chief in Manitoba who helped negotiate the agreement, which had been thrown into question since being rejected by the Canadian Human Rights Tribunal.
The AFN, representing more than 600 First Nations across the country, had asked the tribunal to approve the settlement deal, which would see the government spend $20 billion to compensate families and children for systemic discrimination in the Indigenous child welfare system. It would also spend another $20 billion on making long-term reforms.
Blackstock, the executive director of the First Nations Caring Society who first lodged the complaint at the heart of the issue, raised concerns that the agreement wouldn't provide $40,000 in compensation to all eligible claimants, which is the amount the tribunal ruled they should get.
"We can make sure that in our First Nations canoe of justice, no child has to see their money go away and no child is left behind in justice," she said Wednesday.
"We are capable of that."
Following the tribunal's decision in October, the federal government filed for a judicial review of some parts of its decision.
Endorsing the settlement agreement loomed as one of the biggest items on the assembly's agenda, with chiefs being asked to vote on what the organization should do next.
The chiefs had been preparing to vote on conflicting resolutions, with one asking them to support the final settlement agreement, while another sought to see the organization not appeal the tribunal decision and renegotiate the deal.
But on Wednesday, further talks between both sides took place, assisted by former senator and judge Murray Sinclair, who helped the AFN, federal government and lawyers for two related class-action lawsuits reach the $40-billion agreement in the first place, which was formally announced in January.
Chiefs ultimately voted late Wednesday against re-entering negotiations but to instead support compensation for victims outlined in the agreement and "those already legally entitled to the $40,000 plus interest under the Canadian Human Rights Tribunal compensation orders."
It also included a provision that AFN leaders must regularly return to chiefs to provide it with progress updates and "seek direction" from chiefs on implementing the final agreement.
Many chiefs thanked Blackstock, who was greeted with applause after further agreement was met and said she was honoured to see people come together for children harmed by Ottawa's discrimination.
"We have had too many apologies, we've had too many compensation deals, we've had too many kids hurt. And this has got to be it," she said.
She added more discussion on the long-term reform part of the deal would be presented to chiefs on Thursday.
Earlier in the day, the assembly heard from sisters Melissa Walterson and Karen Osachoff, plaintiffs on the case, about the impact the foster care system had on their lives.
Osachoff said she had been in the child welfare system since she was born and didn't have a chance to grow up with her sister.
"Had it not been for the '60s Scoop and the child welfare (system), her and I would have grown up together."
She said she understands why the tribunal characterizes those like her as "victims," but told chiefs to instead think of them as survivors.
"I am not a victim and our claimants are not victims."
This report by The Canadian Press was first published Dec. 7, 2022.