Around Red Deer June 16th – 18th…..
3:01 pm – A Didsbury woman is facing drug charges after Innisfail RCMP conducted a traffic stop on June 15th. A search of the vehicle revealed several small zip-lock bags of a substance believed to be cocaine, methamphetamine and a scale. Mounties in total seized 32 g of cocaine and 16 g of methamphetamine.
12:59 pm – This year the Red Deer Catholic Regional Education Foundation has raised $50,000 to fund 16 schools and two Division projects. In addition to funding these projects, the Catholic Education Foundation will award $2,500 in scholarships to five students in the fall of 2017.
For more local news, click here!
12:52 pm – It's a very busy weekend in the Town of Innisfail. The Rotary Parade, Innisfail Pro Rodeo, 9th Annual Softball Tournament, Legion Pancake Breakfast and Co-op Beef on a Bun. Read More.
12:48 pm – Due to the annual Innisfail Dolphins Swim Meet, a schedule change will be in effect at the Innisfail Aquatic Centre from 3 p.m. June 16 to 6 p.m. June 17. Read More.
12:40 pm – It's Sylvan Lake Block Party Day tomorrow. A BBQ will be held outside the NexSource Centre starting at 11:30 am. Details Here.
For more local news, click here!
12:29 pm – The Town of Blackfalds is excited to announce that the Wadey Visitor Information Centre is officially open for business Saturday, June 17 at 10:00 a.m. Check out all the work that has gone into transforming this historical building! Mark your calendars for the Grand Opening on July 1 as part of Blackfalds' #Canada150 celebration !
12:22 pm – Today marks the start of Blackfalds Days! Enjoy the many activities planned for the Town's annual family & community party! Details Here.
12:16 pm – Penhold Town Council has approved a request from the Penhold & District Optimist Club to hold a Charity Check-Stop August 12th to raise funds to continue supporting youth programs within the Town and schools. Find out what else happened at Council this week.
For more local news, click here!
11:57 am – "Olivia" is Alberta's top baby name from 2016. It's been the top name for girls three years in a row now. "Liam" came in as the top boys name from 2016. Also for the third year in a row. Read More.
11:43 am –  Charges have now been sworn against the two men who robbed and attempted to rob two Red Deer gas stations in the early morning of June 14th. Read More.
11:35 am – The City of Lacombe's Recreation and Culture Manager Sandi Stewart joined Chris Ross, Vice Chair of the Lacombe & District Recreation, Parks & Culture Board at the Gord Bamford House on June 14th to present a $2,000 Recreation and Culture Grant to Big Brothers Big Sisters (BBBS) of Lacombe & District Director Crystal Zens and her staff for their new Match Recreation Room and Activity Centre. Read More.
For more local news, click here!
9:36 am – The 70th Annual Highland Games are all set to go at Red Deer's Westerner Park on Saturday! Read More.
9:33 am – The Investor's Group Walk for Alzheimers and Red Deer Walk for ALS are among the many activities taking place throughout Red Deer this weekend. Find out what else is going on!
9:20 am – Enjoy Swing Dancing? Stop by Cool Beans downtown tonight at 7 pm! Read More.
For more local news, click here!
9:15 am – There's Live Music at the Alexanderway Parklet today! Set the tone for your weekend! Details Here.
9:08 am – Red Deer RCMP have arrested 35 year old Quentin Lee Strawberry after locating him at an apartment in south Red Deer the afternoon of June 15th. Read More.
9:02 am – RCMP are investigating after a small ultralite airplane went down near Ponoka on Thursday. No injuries were sustained by the pilot and lone occupant on board. The matter is still under investigation and information will be released as it becomes available.
For more local news, click here!
8:53 am – RCMP have charged a male driver after a two-vehicle crash near Rimbey on Wednesday that sent one person to hospital via Stars Air Ambulance. Read More.
8:41 am – There was a heavy and armed Red Deer RCMP presence at an apartment building on the 5100 block of 37 Street Thursday afternoon as police worked with an unfolding incident. Read More.
8:32 am – Road construction and the Public Market on Saturday will mean some road closures and other traffic disruptions in Red Deer over the next few days. Read More.
For more local news, click here!
8:06 am – St. Elizabeth Seton School in Red Deer invites you to their Father's Day Fun Run this upcoming Sunday, June 18th at Kin Kanyon to raise money for a new school playground. This 3 or 5 kilometre run/walk will start and end at Kin Kanyon (33 Street & 47 Avenue) at 10:00 a.m. rain or shine. For more details, click here. To register, click here.
7:57 am – There are Canada 150 Celebrations taking place at Hunting Hills High School in Red Deer today. Officials say students have filled out why they love Canada, decorated trees with maple leaves and laid out flags. There will be a BBQ and an all Canadian play-list to listen to.
7:46 am – It's an Elementary Sports Day at École Mother Teresa School in Sylvan Lake today. The annual event is for students to participate in a variety of Track events and team-building activities on the field behind the school. Meanwhile, all are welcome to come out and cheer on Aquathon participants at St. Patrick's Community School in Red Deer (which includes teachers as well as students). Participants will run 1 mile, swim 300m, and run another mile in this 7th Annual Aquathon competition.
After Cabinet withdrawal, Neera Tanden lands White House job
WASHINGTON (AP) — President Joe Biden's lone Cabinet choice who was rebuffed by Congress has landed a job as a White House senior adviser.
Neera Tanden had been Biden's pick to lead the Office of Management and Budget but withdrew her nomination in March after it was clear that she would not garner enough Republican support to be confirmed. Several GOP senators objected to her previous tweeted criticisms of her political rivals.
Tanden will now be a senior advisor to Biden, the White House said Friday. She will launch a review of the US Digital Service and begin planning for possible policy changes that could result from the forthcoming Supreme Court decision on GOP legal challenges to the Affordable Care Act. Tanden worked in former President Barack Obama's administration as the act was designed and implemented.
Tanden, a close ally of White House chief of staff Ron Klain, will depart the think tank Center for American Progress. Its founder, John Podesta, said that "Neera's intellect, tenacity, and political savvy will be an asset to the Biden administration."
Tanden's hire was first reported by CNN.
The Associated Press
Bloc Québécois leader says next federal election campaign could begin in mid-August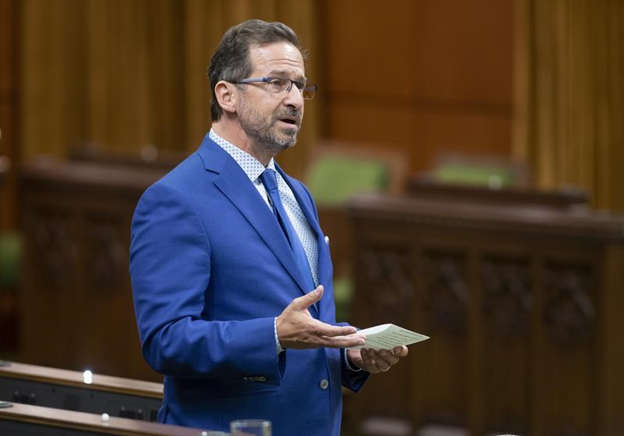 Bloc Québécois Leader Yves-François Blanchet said Friday he sees an opening to begin the next federal election campaign on Aug. 16 if the COVID-19 pandemic is under control.
That timeline would ensure the federal vote doesn't interfere with municipal elections that are to be held across Quebec in November, Blanchet told a virtual meeting with an association representing Quebec cities and towns.
"It would seem to me to be highly disrespectful for a federal election to interfere with municipal elections," Blanchet, whose party holds 32 seats in the minority Parliament, told the gathering in French.
"It opens a window that opens quite squarely on Aug. 16. I'm not saying that's when it's going to happen, but we can't rule it out."
The Bloc leader's suggestion comes a day after his party tabled a motion in the House of Commons demanding Prime Minister Trudeau not call an election during the pandemic. Blanchet has repeatedly warned Trudeau against holding a vote during the health crisis.
The purpose of the Bloc's motion, Blanchet said Friday, was to force a debate and a vote on the election date, as the Trudeau government sought to limit debate on Bill C-19, which aims to ensure a vote can be safely conducted during the pandemic.
Bill C-19 passed by a vote of 330-1 at second reading Tuesday, with the support of the Bloc members, who said they wanted the legislation to move to committee for study.
Blanchet said the government shouldn't be attempting to force through a bill that would permit an election to be held during the pandemic, adding that the bill isn't necessary if the pandemic is under control.
"If there is a pandemic, we don't have an election and if the pandemic is controlled, we don't need a law to hold an election during the pandemic," he said. "Let's be logical."
This report by The Canadian Press was first published May 14, 2021.
The Canadian Press