Around Red Deer April 25th…..
1:44 pm – RCMP are hoping you can help them identify a man accused of robbing the Canadian Tire Gas Bar in Red Deer April 23rd. Read More.
12:42 pm – The Government says Albertans will save money with instant rebates at stores for energy-efficient home products, with a new retail campaign that's running from April 28th to June 11th. Read More.
For more local news, click here!
12:13 pm – Red Deer County Council has given First Reading to it's 2017 Tax Rate Bylaw which proposes a 0% Tax Rate increase this year. County residents now have until May 8th to make comment on the bylaw. Read More.
11:59 am – Red Deer's Sheraton Hotel will be the site of a "Motion Rehab Expo" from 8:30 am – 3:00 pm on Wednesday, April 26th. Motion Rehab Expo is an educational and networking event for occupational and physical therapists in the Red Deer area. This event offers therapists, who assist Albertans with physical disabilities and those requiring physical rehabilitation, the ability to trial and learn more about the latest rehab mobility and seating products available to ensure that their clients' clinical needs are supported by the best technology.
11:46 am – RCMP are looking for a missing Rocky Mountain House woman. Read More.
For more local news, click here!
11:39 am – Certain Red Deer intersections will soon be issuing warning tickets to local drivers if they speed through those intersections. Read More.
11:31 am – RCMP are looking for a man accused of cashing a fraudulent cheque in Stettler April 12th. Can you identify him?
11:21 am – Grade 8 Boys singles and doubles will be playing in the Badminton city finals at St. Francis of Assisi Middle School in Red Deer from 4 – 8 pm today!
For more local news, click here!
11:13 am – Have a child entering Kindergarten this fall? Families are invited to participate in a rainforest adventure at the Parkland Mall and meet community partners that will help your child's school readiness skills for Kindergarten. All children registered for Kindergarten in 2017 at either Red Deer Catholic Regional Schools or Red Deer Public Schools are invited to attend and receive a free learning bag. Parents of students attending St. Gregory the Great Catholic School in Blackfalds are also invited to attend this event as well. Plan at least two hours for all activities. It runs from 1-7 pm today.
10:55 am – The Town of Sylvan Lake is asking residents to keep off the Town's sports fields and baseball diamonds for now until the weather improves. Read More.
10:45 am – Lacombe County is hosting another District Ratepayer Meeting this evening. This is the fourth one in a series of five. Tonight is with Division 6 Councillor Keith Stephenson from 7 – 9 p.m. at the Rainy Creek Hall.
RCMP looking for stolen boat and trailer worth over $100,000.00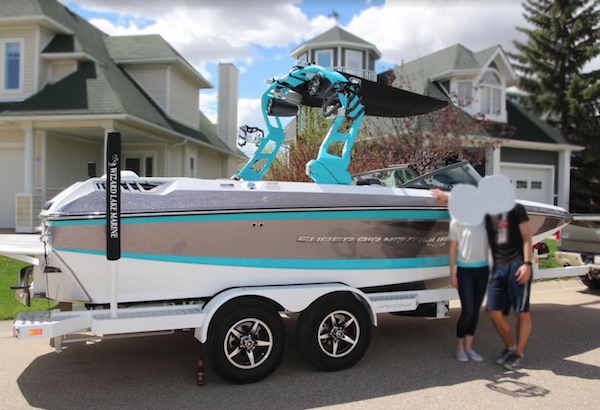 News Release from Sylvan Lake RCMP
Sylvan Lake RCMP request public's assistance in locating stolen boat
Sylvan Lake RCMP are investigating the theft of a boat and trailer that occurred between Sunday, May 30, 2021, and Tuesday June 1, 2021.  All attempts to locate the stolen property have been unsuccessful and the investigation is ongoing.
The boat is described as a 2017 Super Air Nautique 6522, teal and white in colour. The trailer is described as a 2017 white Boatmate. The value of the boat and trailer exceed $100,000.
If you have seen this boat and trailer or have any information in relation to this incident, please contact Sylvan Lake RCMP at 403-858-7200  or your local police. If you wish to remain anonymous, you can contact Crime Stoppers at 1-800-222-8477 (TIPS), online at www.P3Tips.com or by using the "P3 Tips" app available through the Apple App or Google Play Store.
Canada's Jessica Klimkait wins bronze in under-57 kg judo event
TOKYO — Canada's Jessica Klimkait has won bronze in the women's under-57 kilogram category at the Tokyo Olympics.
The reigning world champion from Whitby, Ont., defeated Kaja Kajzer of Slovenia by waza-ari in a bronze-medal match.
Klimkait missed a chance to add a gold medal to her world championship title when she lost to Sarah Leonie Cysique of France in the semifinals.
Klimkait was defeated by ippon when she was assessed a shido in the golden score period for a false attack. It was Klimkait's third penalty of the bout, giving Cysique a berth on the gold-medal match.
Klimkait was in fine form before her semifinal loss. She defeated Poland's Julia Kowalczyk in their quarterfinal bout at the Nippon Budokan.
The victory, her second straight via ippon, came after she beat Bulgaria's Ivelina Ilieva in the round of 16 earlier in the day
This report by The Canadian Press was first published July 26, 2021.
The Canadian Press