Armed Forces bring Grey Cup to Red Deer tomorrow (Friday)
3rd Annual Operation Tea Cup
Red Deer, AB – The Calgary Military Family Resource Centre (MFRC) is proud to announce the third annual Operation Tea Cup
WHAT:
For one day only, the Grey Cup is coming to Red Deer!
Delivered by military vehicles and escorted by members of the Canadian Armed Forces, the Grey Cup will be arriving at the Cormack Armoury and presented to Her Honour, the Honourable Lois E. Mitchell.
The Grey Cup is one of three cups donated by Lord Earl Grey to various sports organizations in recognition of athletic excellence. A second of these cups resides right here in Red Deer! Learn about the rich military history of these cups and be a part of history as these two cups are reunited by Her Honour, the Honourable Lois E. Mitchell.
In collaboration with our outstanding community partners, this multi-event day including a grey cup tour and private party raises awareness for our Canadian Forces and their deep-rooted connection to the Grey Cup. All proceeds are donated to our local Military Family Resource Centre (MFRC) to support military families throughout Central Alberta.
WHERE:
Cormack Armoury
4402 55 Street – Red Deer
WHEN:
Cup Presentations to Her Honour followed by Media: 3:15 p.m.  Friday, September 13, 2019
About the Calgary MFRC
The Calgary MFRC supports families of our Canadian Armed Forces (CAF) members within our service area of Southern Alberta, including Red Deer and Lethbridge. Our CAF soldiers, veterans and their family members face unique challenges that make being in the military an occupation different from any other. At the MFRC we aim to help lessen the impact of these unique challenges, which includes frequent separations, extended deployments and risks. The MFRC is a registered charity run by a volunteer board of directors that was started in 1991 by the Department of National Defense in conjunction with the Military Family Support Program. To learn more, visit calgarymfrc.ca.
About the Red Deer Office
The MFRC works to empower and support our military families. We offer a variety of programs and services including mental health supports, social activities, workshops and training, family separation and reunification support, deployment support, children and youth programs, and referral services to help. Our families are the strength behind the uniform, and we're here for them.
The Calgary MFRC has satellite offices in both Red Deer and Lethbridge. Each office caters to the specific needs of the forces in their areas. The Red Deer Branch is based at the Cormack Armory and serves a large part of Central Alberta.
Central Alberta is home to over 60 military families. The Canadian Forces in Red Deer consist of the Primary Reserve 78th Field Battery, which is part of the 20th Field Artillery Regiment, Royal Canadian Artillery, and the 2 Squadron, 41 Signal Regiment Reserve Force communications unit who provides communication information systems, strategic infrastructure services and support to 41 Canadian Brigade Group. Both units also operate out of Cormack Armory in Red Deer.
WATCH: Arthritis – Use it or Lose it!
Click above to join Dr. Nav Rattan, a Family Physician, Sport Medicine and MSK Physician, and Jeff Kopp, Kinesiologist and Recreation Therapist in this video stream recorded from the Red Deer Public Library.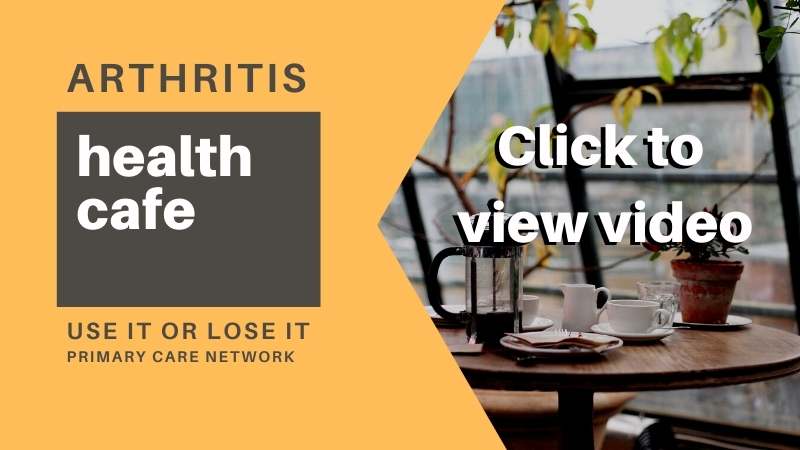 Click here to learn more about the Red Deer Primary Care Network.
Service Dog program looking for volunteer "Puppy Raisers" and boarding homes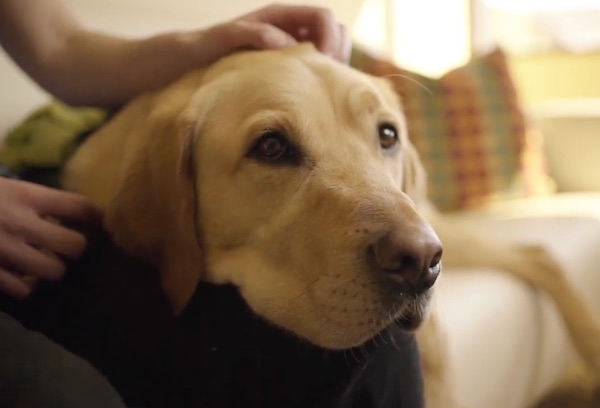 Red Deer Puppy Raising Program Announcement                                                                      
Dogs with Wings (DWW) is launching a new volunteer puppy raising program in Red Deer, AB this Spring! The Red Deer puppy raising program is a satellite puppy raising program where volunteers raise, train, and foster puppies from 8 weeks old to 14 – 16 months old and prepare them to become Service Dogs when they grow up. The Red Deer program will need full time puppy raisers and boarding homes, to puppy sit when puppy raisers are away. This program will join our three other locations in Edmonton, Calgary, and Grande Prairie and it's an exciting time for us!
We have partnered with the Central Alberta Child Advocacy Centre (CACAC) in Red Deer for this special announcement. In October 2020, we placed our Facility Dog DWW Quinn at the CACAC to assist them in the important work that they do in their community.
"Having Quinn as a part of our Child & Family Advocacy program provides a huge amount of comfort not only to the children and youth coming through our doors, but to their families and our entire staff as well. We're excited for Central Alberta to have the opportunity to be a part of a program that has such a great impact in our community – these puppies are going to make a huge difference in many lives, starting with their foster families'." Mark Jones, CEO, CACAC
Quinn is our 5th Assistance Dog to live in Red Deer, alongside Facility Dog DWW Harley at the Red Deer City Victim Services, two Companion Dogs, and one Autism Service Dog.
Dogs with Wings relies heavily on the assistance of our volunteer puppy raisers to be able to have our dogs earn their wings and graduate with a client! Our dogs help individuals with a wide range of tasks, ranging from assisting individuals who use wheelchairs, to providing safety and support to children with Autism, to assisting children and adults with disabilities at home and in their communities, and working with organizations to assist them in their community work. We need your help to become a puppy raiser! We are looking for 5 volunteer Puppy Raisers and 3 volunteer Boarding Homes to welcome puppies into their home this spring.
"Puppy Raisers are the cornerstone of our training program at Dogs with Wings.  At the heart of every successful assistance dog team is a puppy raiser who embraced the opportunity to raise a special puppy, teach them to feel safe in the world, and help them learn the skills necessary to have a solid foundation for their working career. We look forward to expanding this program to the Red Deer community." – Doreen Slessor, Executive Director, Dogs with Wings.
As a Puppy Raiser, you become part of our team that works toward fulfilling our mission, which is to enrich the lives of people with disabilities by providing them with highly skilled Assistance Dogs that increase their mobility, foster independence, and further their contributions to the community. The position of Puppy Raiser is the most demanding and rewarding. By accepting the care and education of a DWW puppy, you become one of our most valuable team players. A Puppy Raiser is a 24-hour, 7 days per week volunteer position.
The role of the Puppy Raiser is to socialize a puppy to as many environments and situations as possible. The puppy must be exposed to various situations, on a regular basis, such as: offices, malls, restaurants, downtown areas, elevators, and public transportation. The ultimate goal of a Puppy Raiser is to help the puppy develop sufficient social skills to behave in such a manner that its presence will be acceptable in all circumstances. DWW provides care for your dog when you are on vacation and covers the cost of all dog food, gear and equipment, training equipment, food bowls, service dog in training jacket, and covers the cost of all veterinary expenses. All you need to do is provide a name tag, toys, a bed, and treats! To become a Puppy Raiser, all that we ask is that one adult must be home during the day (or able to bring the puppy to work with you) and that you attend weekly training classes. For more information on our criteria and expectations, please contact us!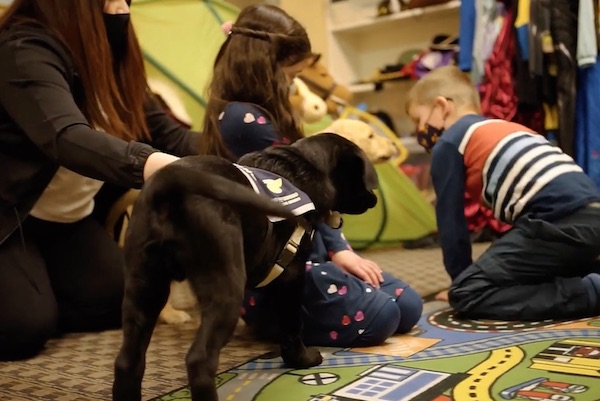 "Dogs with Wings is excited to open a new puppy raising program in Red Deer and expand our puppy raising program. This will allow us the opportunity to raise and train more dogs to help our clients. It has been an absolute privileged to work with the clients in the Red Deer and Central Alberta community and to see our dogs make such an incredible difference in their lives." – Veronica Fraser, Dogs with Wings Instructor & Training Manager.
If you are interested in being a Puppy Raiser, please complete and send this application form: http://dogswithwings.ca/volunteer-application/. If you have any questions or concerns, feel free to contact our office at (780) 944-8011 or via e-mail at [email protected].
More information about our organization and the programs we offer can also be found on our website (https://dogswithwings.ca/helping-us/volunteering-edmonton-calgary/_ at www.dogswithwings.ca. Thank you for your interest in being a Puppy Raiser that will help a dog earn its wings and give the gift of independence to someone in your community!
About DWW: Dogs with Wings Assistance Dog Society's (DWW) mission is to foster integration and independence for individuals with disabilities by providing them with highly trained Assistance Dogs and aftercare. They are a registered Non-Profit Society with a volunteer Board of Directors. Dogs with Wings Assistance Dog Society is an internationally accredited organization through Assistance Dogs International (ADI). Dogs with Wings specializes in the following areas: Service Dogs, Autism Service Dogs, Facility Dogs, and Companion Dogs. Service Dogs assist people with physical disabilities who use wheelchairs to enhance their quality of life and achieve greater independence. Autism Service Dogs provide greater safety and independence for children with Autism. Facility Dogs are part of a specially trained team that provides goal directed interventions, which promote improvement in physical, social, emotional, or cognitive abilities. Companion Dogs assist those who would benefit from having a well-trained service dog, but do not require public access. For more information, visit www.dogswithwings.ca
Central Alberta Child Advocacy Centre (CACAC): The Central Alberta Child Advocacy Centre is a not-for-profit organization rooted in the protection and recovery of today's most innocent and vulnerable – our children. The Centre is comprised of a collective that is driven by the courage to support children, youth, and their families affected by abuse, enabling them to build enduring strength and overcome adversity.
We work in a collaborative partnership with the Central Region Children's Services, Alberta Health Services, Alberta Justice, Alberta Education, the Central Alberta Sexual Assault Support Centre and the RCMP. Together we harness our collective courage to provide children with supported recovery. For more information on CACAC, please visit: centralalbertacac.ca