Armed Forces bring Grey Cup to Red Deer tomorrow (Friday)
3rd Annual Operation Tea Cup
Red Deer, AB – The Calgary Military Family Resource Centre (MFRC) is proud to announce the third annual Operation Tea Cup
WHAT:
For one day only, the Grey Cup is coming to Red Deer!
Delivered by military vehicles and escorted by members of the Canadian Armed Forces, the Grey Cup will be arriving at the Cormack Armoury and presented to Her Honour, the Honourable Lois E. Mitchell.
The Grey Cup is one of three cups donated by Lord Earl Grey to various sports organizations in recognition of athletic excellence. A second of these cups resides right here in Red Deer! Learn about the rich military history of these cups and be a part of history as these two cups are reunited by Her Honour, the Honourable Lois E. Mitchell.
In collaboration with our outstanding community partners, this multi-event day including a grey cup tour and private party raises awareness for our Canadian Forces and their deep-rooted connection to the Grey Cup. All proceeds are donated to our local Military Family Resource Centre (MFRC) to support military families throughout Central Alberta.
WHERE:
Cormack Armoury
4402 55 Street – Red Deer
WHEN:
Cup Presentations to Her Honour followed by Media: 3:15 p.m. Friday, September 13, 2019
About the Calgary MFRC
The Calgary MFRC supports families of our Canadian Armed Forces (CAF) members within our service area of Southern Alberta, including Red Deer and Lethbridge. Our CAF soldiers, veterans and their family members face unique challenges that make being in the military an occupation different from any other. At the MFRC we aim to help lessen the impact of these unique challenges, which includes frequent separations, extended deployments and risks. The MFRC is a registered charity run by a volunteer board of directors that was started in 1991 by the Department of National Defense in conjunction with the Military Family Support Program. To learn more, visit calgarymfrc.ca.
About the Red Deer Office
The MFRC works to empower and support our military families. We offer a variety of programs and services including mental health supports, social activities, workshops and training, family separation and reunification support, deployment support, children and youth programs, and referral services to help. Our families are the strength behind the uniform, and we're here for them.
The Calgary MFRC has satellite offices in both Red Deer and Lethbridge. Each office caters to the specific needs of the forces in their areas. The Red Deer Branch is based at the Cormack Armory and serves a large part of Central Alberta.
Central Alberta is home to over 60 military families. The Canadian Forces in Red Deer consist of the Primary Reserve 78th Field Battery, which is part of the 20th Field Artillery Regiment, Royal Canadian Artillery, and the 2 Squadron, 41 Signal Regiment Reserve Force communications unit who provides communication information systems, strategic infrastructure services and support to 41 Canadian Brigade Group. Both units also operate out of Cormack Armory in Red Deer.
Gateway Christian students experience life changing trip to Dominican
Students from Gateway Christian School recently returned from a life changing trip to the Dominican Republic as part of their Intercultural Studies program.
Gateway's 2023 Co-Impact Team, which included 13 students, two staff and an additional chaperone, spent 10 days on the ground over Spring Break connecting with other students and families to help to build a basketball court and physical education area at the Pena de Horeb school via Edudeo Ministries. Pena de Horeb is primarily a Haitian school, serving the students and families amidst a very poor Haitian neighbourhood. In the months leading up to the trip, Gateway students raised funds to help assist with the build. Gateway also spent a significant amount of time building relationships with and learning from students and staff at their partner school, El Colegio Cristiano Reformado Los Guandules.
"Service is an important part of the culture at Gateway, and this experience was the culmination of that. The Co-Impact Team fundraised not only for their trip, but also for funds to go towards the school we worked on in the Dominican Republic," said Geannette Lehman, Principal at Gateway Christian School. "The trip was part of their Intercultural Students class, which they receive credit for. We met weekly at 7:15 a.m. to complete aspects of the Intercultural Studies course, bond as a team, and prepare craft lessons and activities to teach students at the school in the Dominican. It was not only a great experience in the Dominican, but in preparing for the trip as a team as well."Alexa Huska, Gabe Gillies, and Kate Stober were three students who were part of the Co-Impact Team.
"It was really neat to connect with my fellow Grade 12 students," said Alexa. "We've gone to school together since we were kids, so to have an experience like this together was really special. We were able to connect on a deeper level."
Gabe added it was humbling to see how grateful those in the Dominican Republic were, even for the smallest things. "They have little compared to us, and they are just so happy," he said. "They are grateful for the things they have and they don't stress about the small stuff."
Kate agreed. "They have so much joy, and nothing mattered other than just being with one another," she said.
Ultimately, it was a great experience for all involved.
"The kids were greatly impacted by seeing the world through another lens. Our lens is so different from those around the world," said Geannette, adding she is proud of her students. "They gave up their Spring Break, immersed themselves in another culture, and represented Gateway and Red Deer Public so well."
To read Gateway's Co-Impact Team's blog of their experiences, click here.
Run/Hike for Red Deer Hospice Takes Place This Sunday at Bower Ponds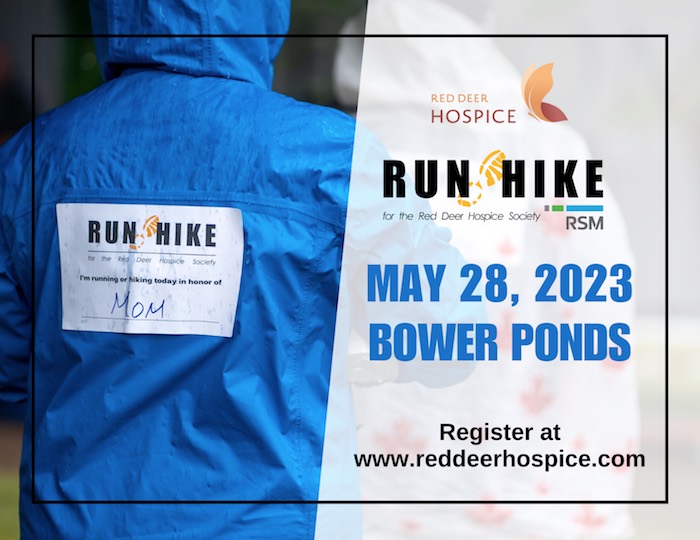 News release from Red Deer Hospice
Red Deer Hospice's 16th Annual Run/Hike event, presented by RSM Red Deer, will take place at Bower Ponds this Sunday.
Registration will open at 9:00am and those wishing to run, walk or stroll the 1km, 3kms or 5 kms will start at 10:00am. A light breakfast and hot, post-race lunch, provided by Mr. Mikes, will be available to participants and live entertainment will be provided by the band Fun House in the amphitheater.
"This will be a day to remember and reflect, while taking in the natural beauty of the trails in and around Bower Ponds," said Jerri Taylor, Executive Director of Red Deer Hospice. "As our main fundraiser for the year, our goal is to raise $38,000." Proceeds and donations will go towards Red Deer Hospice's mission of supporting a peaceful and compassionate end-of-life journey.
Online registration on the Red Deer Hospice website will close at 3:00pm on Friday, May 26, 2023. Those interested in participating in this year's Run/Hike event who have not registered can do so in person on Sunday morning at Bower Ponds.
For more information, visit www.reddeerhospice.com.