All charges dropped against Canadian pizzeria owner who defied COVID vaccine passport mandates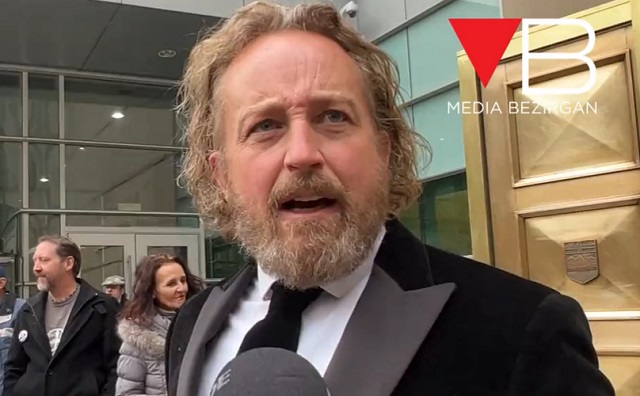 Jesse Johnson – Without Papers Pizza, Calgary
Jesse Johnson, who owned Without Papers Pizza, claimed a 'bittersweet' victory in a prolonged legal battle against the City of Calgary
All charges have been dropped against the owner of a popular Canadian pizzeria who kept his restaurant open in direct defiance of COVID-19 health rules and refused to ask customers for vaccine passports so that he could serve "everyone."
Outside a Calgary courthouse yesterday, Jesse Johnson, who owned Without Papers Pizza, claimed victory in a prolonged legal battle against the City of Calgary after a court dismissed all his COVID-related violation charges.
"Yes, it is a bittersweet irony what happened here today. My restaurant was shut unadjudicated, I was deemed guilty without going to a court of law," he said when speaking with independent media reporter Mocha Bezirgan outside Calgary's main courthouse Wednesday.
The Democracy Fund (TDF), which funded lawyers Martin Rejman and Chad Williamson in defense of Johnson, noted in a press release that the once-popular pizzeria was charged in October 2021 with "breaching multiple bylaws after its business license was suspended for not complying with public health orders and after undercover inspectors were permitted to purchase pizza and remain in the restaurant without providing proof of vaccination."
"Among other things, the allegations against the pizzeria were that it permitted persons to enter and remain on the premises without proof of vaccination and that it did not display prescribed signage, all of which was contrary to bylaws passed by the City of Calgary," the TDF noted.
Johnson did not hold back his disdain for Calgary officials who targeted his restaurant with COVID fines.
"They tried to break me mentally and they tried to break me spiritually. And they almost came close. If it wasn't for the good people that joined me here today, the many who I fought with on the streets of Calgary," he said.
Without Papers Pizza was forced into insolvency due to government COVID dictates.
Johnson said, however, that people need to learn how to "forgive" their oppressors as "Christ" commanded.
"We need to pray to Jesus Christ to offer us forgiveness and to give us the light to fight further into the future," he said.
The TDF said that Johnson's lawyers had argued in their constitutional application that the city bylaws in question "were implementing public health orders that were found to be invalid by judges of the Court of King's Bench."
"More specifically, the impugned health orders were held to be ultra vires the Public Health Act as they were made by the provincial cabinet as opposed to the Chief Medical Officer of Health, which is what the law required," the TDF stated.
Johnson's charges being dropped came in the wake of a recent court ruling that declared certain public health orders effectively null.
At the end of July, Justice Barbara Romaine from Alberta's Court of Kings Bench ruled that politicians violated the province's health act by making decisions regarding COVID mandates without authorization.
The decision put into doubt all cases involving those facing non-criminal COVID-related charges in the province.
As a result of July's court ruling, Alberta Crown Prosecutions Service (ACPS) said Albertans currently facing COVID-related charges will likely not face conviction but will instead have their charges stayed.
Danielle Smith took over from Jason Kenney as leader of the United Conservative Party (UCP) on October 11, 2022, after winning the leadership of the party. Kenney was ousted due to low approval ratings and for reneging on promises not to lock Alberta down, as well as enacting a vaccine passport.
Under Kenney, thousands of nurses, doctors, and other healthcare and government workers lost their jobs for choosing to not get the jabs, leading Smith to say – only minutes after being sworn in – that over the past year the "unvaccinated" were the "most discriminated against" group of people in her lifetime.
Smith made headlines last October after promising she would look at pardoning Christian pastors who were jailed for violating so-called COVID policies while Kenney was premier.
Unlike her predecessor, Kenney – who imposed vaccine passports, mandates, and lockdowns during COVID – Smith did vow she was not going to "create a segregated society on the basis of a medical choice."
Thus far, in addition to Johnson, café owner Chris Scott, and Alberta pastors James Coates, Tim Stephens, and Artur Pawlowski, who were all jailed for keeping their churches open under the leadership of Kenney, have had the COVID charges against them dropped due to the court ruling.
Countless others have had smaller charges against them for going against COVID mandates dropped as well. However, there are still some facing charges relating to border blockade protests.
Premier Smith reacts to Liberal Government's announcement on new methane reduction targets at COP 28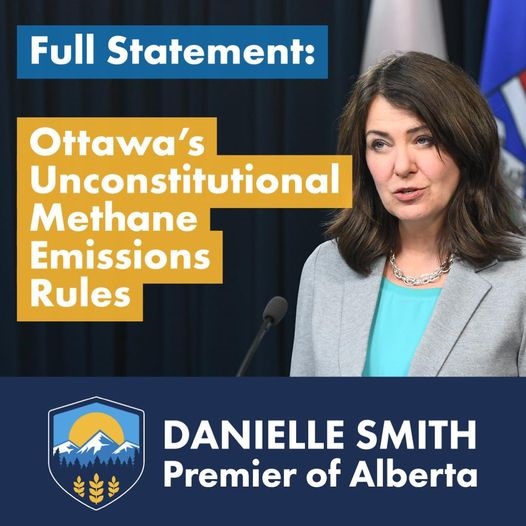 Federal methane emissions targets: Joint statement
"Once again, the federal government is setting unrealistic targets and timelines. Infrastructure can only be updated as quickly as technology allows. For example, Alberta will not accept nor impose a total ban on flaring at this time, as it is a critical health and safety practice during production. Any regulation that completely prohibits this is putting lives at risk"
Premier Danielle Smith and Minister of Environment and Protected Areas Rebecca Schulz issued the following statement on the federal government's proposed methane emissions regulations:
"The federal government has unilaterally established new methane emissions rules and targets to help win international headlines. Instead of building on Alberta's award-winning approach, Ottawa wants to replace it with costly, dangerous and unconstitutional new federal regulations that won't benefit anyone beyond Environment and Climate Change Minister Steven Guilbeault's post-office career.
"Managing emissions from Alberta's oil and gas industry is our constitutional right and responsibility, not Ottawa's, and we are getting the job done. Using a province-led approach, Alberta has already reduced methane emissions from the oil and gas sector by 45 per cent – hitting our target three years early – and we're just getting started.
"Meanwhile, not only is it illegal for Ottawa to attempt to regulate our industries in this manner, Ottawa also hasn't even hit one of its past arbitrary and unscientific emissions targets largely because it has little to no credible expertise regulating the natural resource, agricultural and other industry sectors in this space.
"Ottawa could have helped us keep reducing emissions with joint incentive programs in line with Alberta's Emissions Reduction and Energy Development Plan. It could have listened to the Supreme Court's declaration that the Impact Assessment Act was unconstitutional and abandoned this kind of arrogant and ineffective scheme. Instead, these new regulations threaten our successful province-led approach and impede good work that's already underway.
"Once again, the federal government is setting unrealistic targets and timelines. Infrastructure can only be updated as quickly as technology allows. For example, Alberta will not accept nor impose a total ban on flaring at this time, as it is a critical health and safety practice during production. Any regulation that completely prohibits this is putting lives at risk. A total ban would also be costly, resulting in shut-ins and loss of production.
"This approach will also cost tens of billions in infrastructure upgrades, yet Ottawa has provided virtually no financial support to do so. Thousands of Albertans could be put out of work in the coming years due to these costly regulations. A federal government willing to invest $37.7 billion into just three battery plants in Ontario and Quebec cannot credibly refuse to provide tax credits and financial incentives for producers in Alberta and Saskatchewan to assist with achieving a carbon-neutral economy by 2050.
"For years, Alberta, not Ottawa, has done the hard work and achieved results. We strongly support reducing methane emissions and have invested tens of millions into developing these technologies. Minister Guilbeault must work with us, and not against us, to keep cutting methane emissions and charting a course for carbon neutrality by 2050.
"Given the unconstitutional nature of this latest federal intrusion into our provincial jurisdiction, our government will use every tool at our disposal to ensure these absurd federal regulations are never implemented in our province."
Alberta's Methane Target Reached Early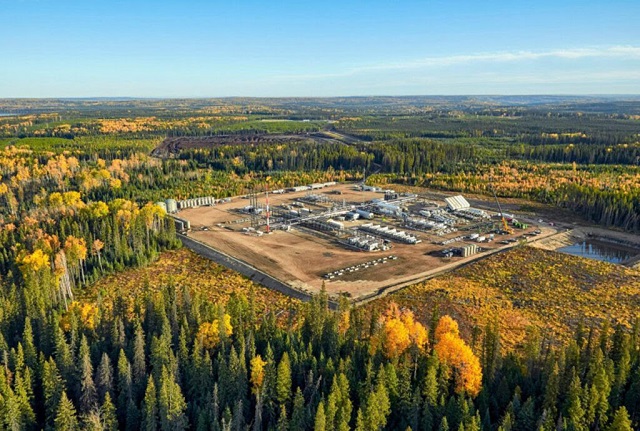 Gas processing plant in northwest Alberta, courtesy of EnergyNow
Courtesy of ENERGYminute
See more articles and infographics from ENERGYminute HERE
---
In a pat-yourself-on-the-back moment, Alberta's oil and gas industry successfully achieved a 45 percent reduction in methane emissions, surpassing the province's mandated target ahead of schedule.
Background: Alberta was the first province in Canada to commit to a 45 percent reduction in methane emissions from the oil and gas sector by 2025, based on 2014 levels. Spoiler alert: Alberta achieved its methane mission three years early.
Their targeted approach to reducing methane emissions from flaring, venting and fugitives has become an example globally, earning national and international awards for its effectiveness and cost-efficiency.
Alberta strong: The government credited the early success to close collaboration with the industry, implementing early action programs such as carbon offsets, tough regulations for all facilities, and enhanced leak detection and repair methods.
Minister of Environment Rebecca Schulz highlighted that this made-in-Alberta approach not only achieved the goal three years ahead of schedule but also resulted in roughly $600 million in savings for the industry compared to the proposed federal program.
Getting the job done: Alberta allocated $57 million from the Technology Innovation and Emissions Reduction fund for methane emissions programs, including:
$25 million in rebates to companies adopting emissions reduction equipment.
$17 million supporting alternatives to detecting and quantifying emissions.
$15 million to help small- and medium-sized operators assess methane reduction opportunities.
Overall, the initiatives eliminated 16.6 million tonnes of carbon dioxide equivalent from the atmosphere.
Looking ahead: Alberta is committed to building on this momentum and collaborating with industry experts to determine the next steps in their emissions reduction journey, aligning with the goal of carbon neutrality by 2050.