Alberta takes legal action against pastor, rodeo organizers for gatherings
CALGARY — A court date has been set for a Calgary pastor and two rodeo organizers have been ordered to appear in court after they were all accused of violating public health orders in place to reduce the spread of COVID-19.
RCMP say in a news release that a court summons has been served in relation to a pre-advertised, maskless "No More Lockdowns" protest rodeo held in early May.
Police allege Ty Northcott and Gail Northcott, who are both from Bowden, Alta., contravened the province's Public Health Act.
It comes a day after Calgary police released pastor Artur Pawlowski and his brother Dawid Pawlowski from custody.
The pair were arrested Saturday and charged with organizing an illegal in-person gathering and promoting and attending an illegal gathering.
Artur Pawlowski is to appear in court May 17.
The charges come after a court order was granted allowing Alberta Health Services and police to arrest and charge those who advertise illegal gatherings that breach COVID-19 health restrictions.
The health agency says there is an urgent need to minimize spread to protect all Albertans as COVID-19 cases surge in the province.
Rallies and protests against lockdowns, masks and other COVID-19 regulations have been occurring regularly in Alberta.
Police also ticketed protesters leaving another anti-restriction rally Saturday. It was held outside a central Alberta café, after the establishment was closed by health officials earlier in the week.
This report by The Canadian Press was first published May 11, 2021.
The Canadian Press
CannTrust CEO warned of consequences of unlicensed growing: former compliance worker
TORONTO — A former director of quality and compliance at CannTrust Holdings Inc. says he warned the company's chief executive that Health Canada could levy penalties if the firm grew pot in unlicensed rooms at its Niagara, Ont. facility.
Graham Lee says he told Peter Aceto he wasn't sure what the exact consequences could be, but knew they were possible because Health Canada had previously issued warning letters and handed out penalties.
For example, Lee said Health Canada checked CannTrust's inventory every day after it discovered the company using a storage facility at its Vaughan, Ont. location contrary to licensing.
Lee's comments were made at the Old City Hall courthouse in Toronto, where the Ontario Securities Commission is working to prove Aceto and other execs are guilty of several offences related to unlicensed growing at the Niagara facility.
Aceto, former CannTrust chairman Eric Paul and former vice-chairman Mark Litwin have pleaded not guilty to fraud and authorizing, permitting or acquiescing in the commission of an offence.
Litwin and Paul are also facing insider trading charges, and Litwin and Aceto are charged with making a false prospectus and false preliminary prospectus.
The men no longer work for CannTrust and their lawyers are arguing their clients are all innocent.
This report by The Canadian Press was first published Dec. 6, 2022.
The Canadian Press
Kadri's winner halts Coyotes' comeback effort as Flames earn 3-2 victory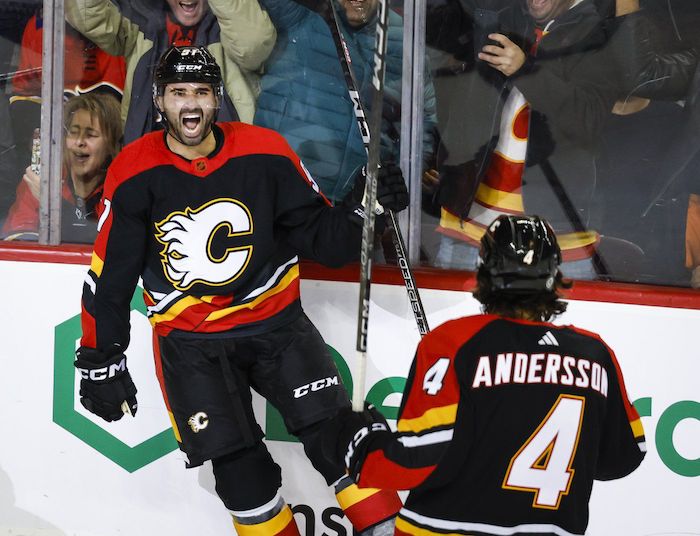 By Darren Haynes in Calgary
Nazem Kadri scored the game-winning goal at 15:42 of the third period and added two assists to lead the Calgary Flames to a 3-2 victory over the Arizona Coyotes on Monday.
Dillon Dube and Elias Lindholm also scored for Calgary (12-10-3), which has won five of its last six games at the Saddledome. Jonathan Huberdeau chipped in a pair of assists.
Shayne Gostisbehere and Jeff Chychrun each had a goal and an assist for Arizona (7-12-4), which has won just one of its last 10 (1-6-3).
Dan Vladar, starting for the fifth time in the last seven games, made 18 stops to even his record at 4-4-1.
Karel Vejmelka had 24 stops for the Coyotes in falling to 6-7-3.
Down 2-1 to start the third period, Arizona tied it at 5:50 when Chychrun snapped a shot over Vladar's shoulder. It was Chychrun's third goal in seven games since the defenceman returned from a wrist injury that sidelined him the first six weeks of the season.
But nine minutes later, Chychrun took a tripping penalty that proved to be costly.
Calgary regained the lead as Tyler Toffoli neatly set up Kadri, who notched his team-leading ninth goal of the season.
The Flames finished the night a perfect 2-for-3 on the power play, after having been in a slump, going 2-for-21 over the previous seven games.
Arizona went 0-for-2 on the man advantage.
Fuelled by back-to-back power plays early in the first period, Arizona held a 7-1 edge in shots at the 13-minute mark of the first period before Calgary started to tilt the ice in its favour.
After an extended stretch of pressure in the Coyotes' end, Dube opened the scoring deflecting a Chris Tanev point shot at 14:13 of the frame for his fifth goal of the season and fourth goal in his last eight games.
Just under three minutes later, Lindholm netted a power-play marker for his ninth of the campaign.
The Flames piled up 15 shots in a row before the Coyotes, having gone over 15 minutes without testing Vladar, finally directed a puck on the Calgary net seven minutes into the second.
With Vejmelka keeping the visitors within two, Arizona cut its deficit in half at 13:53 of the second. Rookie right-winger Matias Maccelli sent a drop pass to Gostisbehere whose shot found its way through a couple of screens and in off Vladar's arm.
HOMECOMING WEEK
Coyotes defenceman Juuso Valimaki, selected 16th overall in the 2017 draft, is the fourth Flames first-round pick to play against Calgary during its homestand. He follows Matthew Tkachuk (2016) and Sam Bennett (2014) with Florida on Tuesday and Sean Monahan (2013) with the Canadiens on Thursday.
ROOKIE RISING
Maccelli's assist extends the 22-year-old's point streak to four games (one goal, five assists). It's also his 15th helper on the season, which leads all rookies. Maccelli is second in rookie scoring behind Seattle's Matty Beniers.
UP NEXT
Coyotes: Having not played at home since Nov. 3, Arizona's stretch of 14 straight games on the road concludes on Wednesday in Edmonton.
Flames: Wrap up their five-game homestand on Wednesday against Minnesota.
This report by The Canadian Press was first published Dec. 5, 2022.