Active COVID cases continue to fall – Mike York update for January 17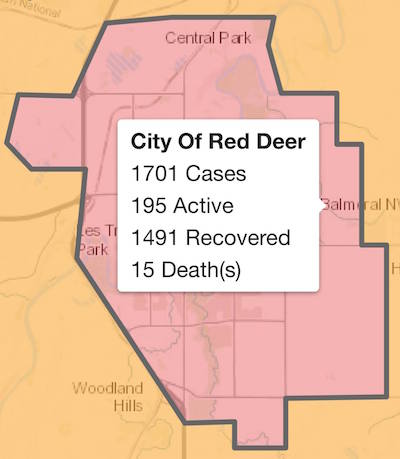 January 17 COVID update – noticeable drop of 15 active reported cases in Red Deer to 195 after 10 new cases but 23 recoveries. Unfortunately, there were also 2 new deaths bringing the total to 15.
Active cases are down from 1,209 to 1,182, with 8,209 cases to date. Hospitalizations sit at 65, down four, and ICU admissions are up one to 12. All ICU admissions in Central Zone are at Red Deer Regional Hospital.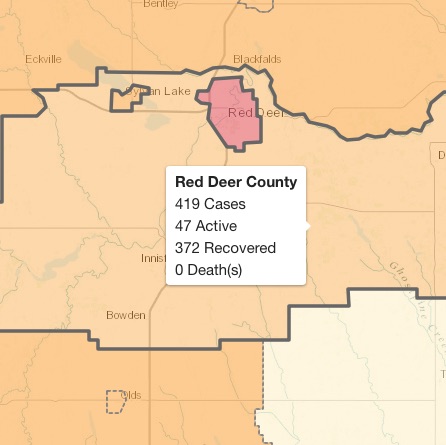 Red Deer County has 47 active cases, up one, the town of Sylvan Lake has 35, even with Saturday, and Olds has 27.
Lacombe County has 28 active cases, down one, and the city of Lacombe has 21, down six.
Ponoka County has 381, an increase of 15, though most cases there are in Maskwacis.
Clearwater County, which includes Rocky Mountain House, has 86 active cases, up two, and Brazeau County, which includes Drayton Valley, has 33, up two.
Mountain View County has 24, up two, Kneehill County has seven, down two, and County of Stettler has six, the same as yesterday.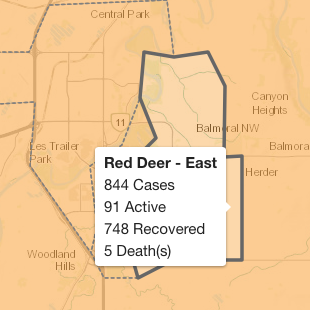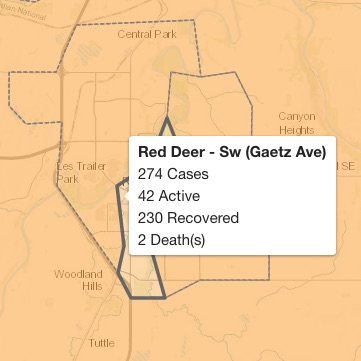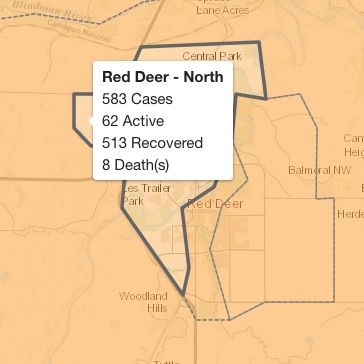 Meanwhile in Red Deer, the eastern section of town has dipped below 100 active cases for the first time in many weeks.  Cases are falling in Red Deer North (62) and in the South West as well (42).
Province delays almost all Step 2 cautionary measures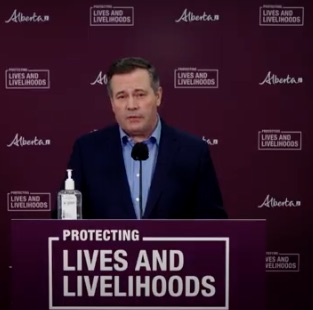 From the Province of Alberta
As a cautionary measure, changes to current restrictions for retail, children's sports, and hotels, banquets, community halls and conference centres have been delayed until Step 3.
Step 2: Hospitalization benchmark – 450 and declining
Libraries
These facilities can now open but must limit capacity to 15 per cent of fire code occupancy, not including staff.
Indoor fitness (no change to outdoor fitness):
Unsupervised low intensity individual and group exercises are now allowed by appointment only.
Mandatory physical distance of three metres is required between participants, including coaches and trainers, at all times, and masks must be worn at all times by trainers and those participating in low-intensity activities.
All indoor fitness must be pre-registered – no drop-ins allowed.
Low-intensity exercises include weightlifting, low-intensity dance classes, yoga, barre and indoor climbing, as well as the low-intensity use of treadmills, ellipticals and related equipment.
High-intensity activities, including running, spin and high-intensity interval training, continue to be allowed only on a one-on-one with a trainer basis, or training with a household and one trainer.
Additional details on the current restrictions is outlined on alberta.ca.
A decision on Step 3 will be made after at least three weeks of evaluation to assess the spread of COVID-19. Metrics based on cases and growth, including variant cases, are being monitored and will also be used to guide any decisions around the need to pause further steps or potentially increase restrictions.
Alberta's government is responding to the COVID-19 pandemic by protecting lives and livelihoods with precise measures to bend the curve, sustain small businesses and protect Alberta's health-care system.
Why some Infectious Disease experts say COVID-19 will soon be behind us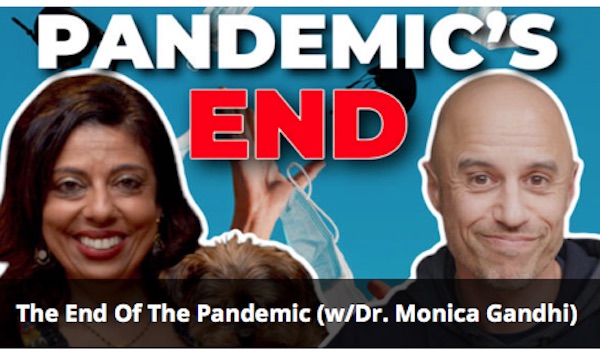 The common belief seems to be the COVID19 pandemic is going to be with us at least until the end of this year and possibly well into 2022.  But some infectious disease experts are making much more aggressive predictions.  In fact Dr. Monica Gandhi (bio below) is already beaming with joy over the data pouring in showing the vaccines spreading throughout the world are working incredibly well.  Enjoy this interview.  It will absolutely help you feel better about the state of our battle against COVID-19.
A UCSF (University of California, San Francisco) infectious disease doctor is convinced this pandemic is ending, and sooner than you think…here's why.
Dr. Monica Gandhi is a professor of medicine at UCSF and here are our other episodes together.
And here's her latest study in the Lancet.
An excerpt from the following video: "So we have tons of PhD epidemiologists who are painting gloom and doom pictures everywhere. Well, you know, first it was this. And then, you know, okay, now we have a vaccine but you know what, the variants are coming. So we're probably gonna have to wear seven masks and stay shut down. And by the way, don't even think about opening schools. Why are you thinking about opening schools? Oh, by the way it's your bad behavior that caused all this death, and so we're gonna shame you. And on top of that, it's never gonna get better. So expect 2023, before we get back to a semblance of what will be a new normal, which will be we'll all be in bubbles. So get those guys out of the picture and go with actual physicians who touch patients. What's your thinking right now? Where are we in this mess?
Dr. Gandhi:  We are just facing like complete dawn of hope and light and love. Like it's gonna be so great. It is getting so great. So what happened, right? Like March 11th was the day that the WHO declared this a worldwide pandemic. November 9th, we got the first press release from the first vaccine. Phase three clinical trial, that fast. And then we've had seven phase three clinical trials. So we have seven vaccines in circulation around the globe that work. And they work exactly using the same protein in different ways using that protein, and they work beautifully, and they all work beautifully against preventing what even made us notice on January 31st, 2019 or December 31st, 2019 that something terrible was happening, which is severe disease. They all work almost 100% to prevent… 100% for hospitalizations. And then like in the 90s to prevent you not even feeling well at home. So they're amazing."
The interviewer is Dr. Zubin Damania.   Trained at Stanford and the University of California, San Francisco, Dr. Damania is the founder of Turntable Health, an innovative primary care clinic and model for Health 3.0.  He produces videos and live shows under the pseudonym "ZDoggMD" which have collected nearly a billion views.
Click play to watch.