A very simple question about Canada's energy supply the Federal Government refuses to answer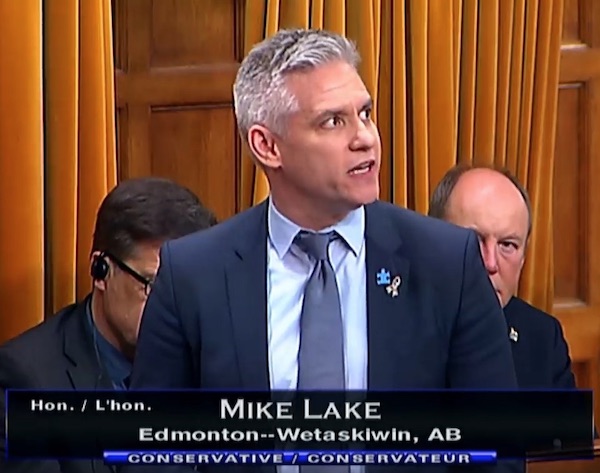 Edmonton-Wetaskiwin MP Mike Lake has a simple question for the federal government.  The answer has significant ramifications for Canada's energy producers, for jobs, and for Canada's economy.  MP Lake has asked the question in Parliament three times now.  The latest question was asked last week during "COVID Question Period" with MP's mostly speaking from their home offices.  In frustration, Lake has shared the exchange on his social media to show Canadians.  Here it is.
From the Facebook page of Edmonton-Wetaskiwin MP Mike Lake.
Three times in recent months, I've asked the Liberal government a very straightforward, yes-or-no question: "We're importing tens of millions of barrels of oil per year into Canada from Saudi Arabia, Nigeria and Algeria. Is this oil subject to the same rigorous regulations on upstream and downstream emissions as oil coming from Alberta, Saskatchewan and the Minister's very own home province of Newfoundland?"
Judge for yourself whether this is a fair and relevant question in the Canadian interest, and whether the Minister even came close to trying to answer the question.
Alberta's Walker into Hearts semifinal with 9-8 win over Manitoba's Jones
CALGARY — Alberta's Laura Walker advanced to the semifinal of the Canadian women's curling championship with a 9-8 win over Manitoba's Jennifer Jones in Sunday's tiebreaker game.
Walker faces defending champion Kerri Einarson in an afternoon semifinal with the winner taking on Ontario's Rachel Homan for the championship at night.
Jones missed an attempted double takeout in the 10th end, which left Walker an open draw to score three for the win in the tiebreaker.
Manitoba and Alberta were tied for third at 9-3 after the championship round, which required a tiebreaker game to solve.
Jones, a six-time champion at the Scotties Tournament of Hearts, was chasing a record seventh title.
This report by The Canadian Press was first published Feb. 28, 2021.
The Canadian Press
Let 'er buck: Study suggests horses learn from rodeo experience, grow calmer
CALGARY — Rodeo fans love the thrill of a bronc exploding into the ring, cowboy temporarily aboard. How the horse feels about it hasn't been so clear.
Newly published research out of the University of Calgary looks at three years of roughstock events from that city's Stampede in an attempt to peer inside the mind of an animal about to let 'er buck.
"I try to understand the animal's perspective," said Ed Pajor, a professor of veterinary medicine. "We asked the question whether or not horses find participating in the rodeo to be an adversive experience or not."
Pajor and his co-authors — Christy Goldhawk from the University of Calgary and well-known animal behaviourist Temple Grandin — studied 116 horses in bareback, novice bareback, saddle bronc and novice saddle bronc events. They looked at animals about to be loaded into a trailer and taken to the ring. They also observed how the horses behaved while in the chute waiting to be unleashed.
Horses have all kinds of ways of showing they're unhappy, Pajor said. They might move back and forth, chew their lips, swish their tail, defecate, roll their eyes, paw the ground, toss their head, or rear up in protest.
The researchers found that the more people were around them, the more likely the horses were to show unease. That's probably because they spend most of their time in fields and pastures and aren't used to the bustle, Pajor said.
The other factor that affected behaviour was experience. If it wasn't their first rodeo, the horses were much less likely to act up.
"We didn't see a lot of attempts to escape. We didn't see a lot of fear-related behaviours at all," Pajor said. "The animals were pretty calm.
"The animals that had little experience were much more reactive than the animals that had lots of experience."
There could be different reasons for that, he suggested.
"We don't know if that's because they're used to the situation or whether that's because of learned helplessness — they realize there's nothing they can do and just give up."
Pajor suspects the former.
"When the cowboys came near the horses, they would certainly react and you wouldn't really see that if it was learned helplessness."
The researchers also noted that the horses' bucking performance, as revealed in the score from the rodeo judges, didn't seem to be reduced by repeated appearances as it might be if the animals had become apathetic.
That doesn't necessarily mean the horses are having a good time, said Pajor, who's also on the Stampede's animal welfare advisory board. There are a couple of ways of interpreting active behaviour in the chute, he said.
"An animal might be getting excited to perform. Or an animal might be having a fear response."
"Understanding if animals like to do something is a tricky thing to do."
Pajor knows there are different camps when it comes to rodeos and animals.
"People have very strong opinions on the use of animals for all kinds of reasons. I think no matter what we're going to use animals for, we really need to make sure that we treat them humanely.
"My job is to do the research to understand the animals' perspective."
This report by The Canadian Press was first published Feb. 28, 2021.
— By Bob Weber in Edmonton. Follow @row1960 on Twitter
The Canadian Press