A great way to honour our veterans in November, donate blood
From Canadian Blood Services
Red Deer residents encouraged to donate blood to honour those who serve and have served
Many donor centres are open November 11 to receive much needed blood donations
To commemorate Remembrance Day, Canadian Blood Services encourages Canadians to honour members of the Canadian Armed Forces past and present to donate blood or blood products.
Members of the armed forces are among the most generous of donors. The Department of National Defense first partnered with Canadian Blood Services in 2006. To date they have donated over 45,000 units of blood and inspired thousands to become regular donors.
Each year, nearly 112,000 new blood donors are required across the country. Donors with all blood types are encouraged to donate.
Right now, there is an immediate need for new and returning donors to fill every open appointment across Canada with over 1,690 available appointments this month in Central Alberta. There is a particular need for and donors with O negative blood as it is the universal blood type that can be used for any patient.
The Red Deer donor centre, located at 5020 68 Street is open:
Tuesday, Wednesday and Thursday from 3 to 7 p.m.
Friday, Saturday from 9 a.m. To 1 p.m.
Remembrance Day Nov 11 from 3-7 p.m.
In compliance with the public health agency of Canada's direction to enable physical distancing, at this time, we can only welcome people with appointments.
Download the GiveBlood app and join Canada's Lifeline. Please call 1 888 2 donate (1-888-236-6283) or book now at blood.ca.
THE JACKPOT IS OVER $14000 AND THE WINNER WILL TAKE HALF!!!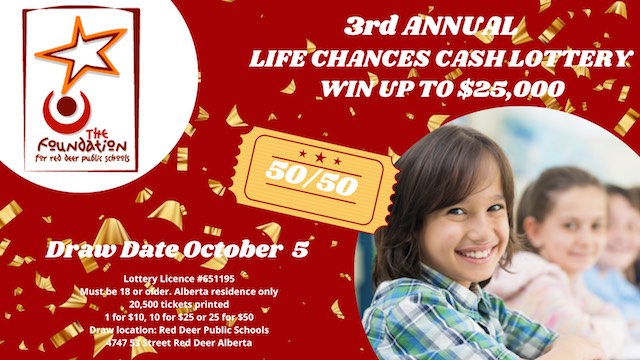 GET YOUR 50/50 TICKETSTODAY!!!! Winner could take home up to $25,000!!!
The Foundation for Red Deer Public Schools supports programs that have a significant impact on the LIFE CHANCES of students across the Division. By purchasing a ticket to support our 50/50 cash lottery you are giving students opportunities to have better life chances.
From giving kids a Bright Start to school to reconnecting with students so they graduate and cross the Finish Line, the Foundation helps students who face challenges in school and makes things better. We motivate struggling students and inspire them to read and write through Reading College. For students who come to school without basic needs, we give them that needed Step Up.
With the support from the Foundations 50/50 Life Chances Raffle, you are providing a student with opportunities that will improve their life. They can't always control the situations they're in but with your help students will continue to have these chances.
Don't miss your chance, CLICK HERE to buy your tickets today – Draw will be held on October 5! Good luck!
NOTE: This raffle is open to all community members in Alberta and over the age of 18.
Shelly Flint Appointed as New CEO of Westerner Park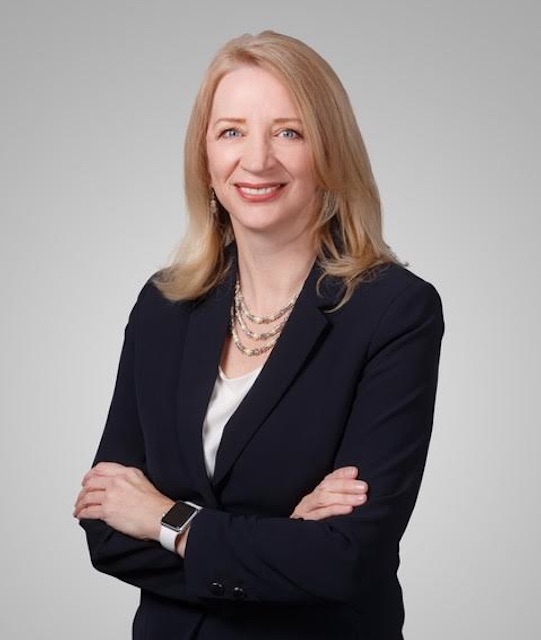 Westerner Park, a distinguished agricultural society and premier exhibition venue in the heart of Central Alberta, is pleased to announce Shelly Flint as its new Chief Executive Officer (CEO). This decision culminates a thorough and extensive search process, with the Board of Directors expressing their enthusiasm for the promising journey ahead under Shelly's leadership.
Tyler Nightingale, President of the Board of Directors, shared his excitement about the appointment, stating, "After a comprehensive search, we are thrilled to welcome Shelly. Her extensive experience, skill set, and knowledge align seamlessly with the strategic direction of Westerner Park, ensuring a positive and enduring impact on both the organization and the community at large."
Tara Lodewyk, Red Deer City Manager, added, "Shelly immediately connected with the mission of Westerner Park and the value it brings to the culture of our city and region. We are looking forward to working together and are confident in her leadership of Westerner Park."
For the past two decades, Shelly has served as a senior executive, spearheading diverse teams within Alberta's dynamic entertainment and finance sectors. Her tenure as the former CFO at the Calgary Stampede equips her with a distinctive insight into the intricacies of Westerner Park, enabling her to adeptly navigate its challenges and leverage its opportunities. Coupled with her roots in Central Alberta, Shelly is poised to steer the Park towards growth and long-term sustainability.
Shelly expressed her eagerness to join Westerner Park, saying, "I was thrilled at the opportunity to return to Central Alberta, where I grew up! Leading this purpose-driven organization will allow me to contribute to my community and affect meaningful change."
Shelly Flint's robust leadership, commitment to community, and extensive experience makes her an exceptional choice to lead Westerner Park into the future. The entire Westerner Park team eagerly anticipates the positive impact she will bring to this renowned institution.
About Westerner Park
Westerner Park is Central Alberta's largest tradeshow, agricultural, sports, entertainment, and convention facility. A not-for-profit organization and agricultural society, Westerner Park typically generates $150 million annually in economic activity, hosting over 1,500 events and 1.5 million visitors each year.