A celebration of writing styles and cultures, Poetry Party brings writers from around the world together in Red Deer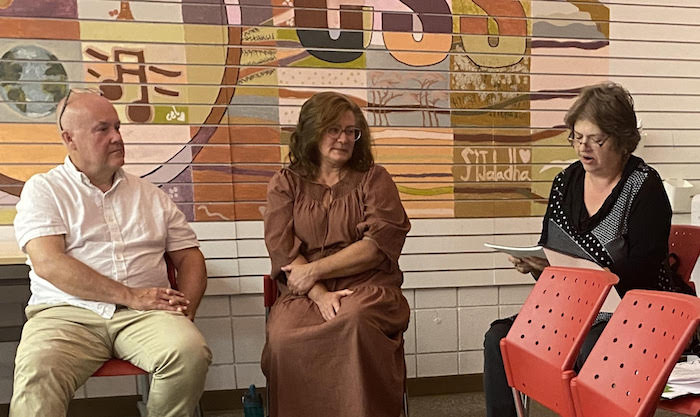 Left to right: Raymond Byiers (feature reader) with wife Rochelle Byiers, and Elena Rousseau (feature reader)
Submitted by Sabrina Samuel
Poetry Party Showcases Diverse Voices in Growing Literary Arts Community
There's an undeniable surge in arts and culture in the city of Red Deer that will carry on long after we say goodbye to Culture Days. From mural art adorning nearly every street in downtown, extensive musical programming, to theatre arts and new festivals exploding, Red Deer is flourishing and becoming a choice destination for working artists and arts purveyors.
Local poets and writers see more opportunities to gather and showcase their potential. Red Deer Writer's Ink celebrated thirty years as an organization this month, and now poets, curated by activist, advocate and community builder Jan Underwood from Care for Newcomers are committing to gathering regularly to share and celebrate their artform, after a successful inaugural Poetry Party.
Asdolah Khierandish, a global citizen who called Afghanistan home, also lived in Syria, before finding safety in Canada. He hesitated to share his poetry in Farsi. The lyrical language sounds like a song. Influenced by Sufi mystics such as Rumi and Hafiz, Khierandish explains the profound philosophical nature of their work, "A single poem can explain an entire book. The meaning is so deep."
While he was the only Farsi speaker of the group, the poem shared in his mother tongue about the Taliban overtaking his city moved others to tears. Asdolah's work penetrates the subconscious mind of the listener.
The honours English student from University of Alberta and multi-disciplinary artist, Elena Rousseau, brought levity and polish to the gathering, with poems playing into stereotypes of her Eastern European roots, "People think of vampires and Transylvania. I also love the culture of gypsies. That's something else people think of when I say I'm from Romania."
Her animated reading style drew in the audience.
All of art is a reaction to something. Beverly Beckley, known online as @beverleypithypoet takes her social media handle from her concise signature style of short and impactful poems. Her timeless work about Canadian Truth and Reconciliation from her chapbook The Little Bones, a fundraiser for The Remembering the Children Society, fit the season of Orange Shirts and Canadian historical awareness. The poet presented questions and posited opinions about the death of the queen, collective shame, and is a self confessed, "lover of personal darkness". She alluded to genius minds of mentally unwell writers including Sylvia Plath. The evening's discourse born from the poetry seemed equally interesting.
Another current event covered in my own reading was the death of Masah Amini from Iran while in custody of the morality police. A healthy twenty two year old, Masah's arrest came from not wearing a head covering (hijab) properly. The reported cause of death was a heart attack. Much of the poems I produce are to advance women and create equity. Social reality is often stark and hard to hear. The format of inclusion in the poetry circle asked all to share, though it was not required. The Poetry Party called on others to share their work in an open format as time permits after the featured readers were finished.
The most approached topic with mass appeal for poets is still love. Raymond Byiers rhyming works heaved with sentiment and personal homage to family. His first poem affirmed that the universality of grief can be captured. It lives in words, not always going beyond them. His final poem, a personal testament of deep love to his wife who was present from Didsbury renewed hope, "I wrote this just before my heart surgery. You can hear the Irish in me coming out when I read my poems aloud."
Since the Poetry Party was successful, another gathering will be held October 28, 6:00pm – 8:30 pm in the Maple Room of CARE for Newcomers (5000 Gaetz Avenue, Red Deer). All are welcome and this time, artists from all disciplines are welcome to bring their creations.
Spanish museum returns 2 paintings looted by Nazis to Poland
MADRID (AP) — A museum in northwest Spain returned two 15th-century paintings to Polish officials on Wednesday after it was determined that they had been looted by Nazi German forces during World War II.
The paintings "Mater Dolorosa" (Mother of Sorrows) and "Ecce Homo" were handed over to a delegation from Poland's culture ministry. According to Spain's Museum of Pontevedra, the works were originally believed to be by Dieric Bouts, a Flemish master born in the Dutch town of Haarlem, but now they are attributed to a member of his school or group.
The museum said that in 2020 Polish officials made it aware that the works had been looted by Nazi forces. The museum quickly decided to send them back to Poland, but the completion of official permits for the transfer had delayed it until now.
Nazi forces stole the works from the Czartoryski collection in Gołuchów when the city was occupied by the German military in WWII, Polish officials said. They appeared in Madrid in 1973 and had been in the Pontevedra museum since 1994 when they were acquired among over 300 works purchased from a Spanish private collector.
Poland saw much of its cultural patrimony destroyed or looted during the country's wartime occupation by Nazi Germany and the Soviet Union, and about 500,000 items remain missing.
The country has been making efforts to recover as much as possible. The Culture Ministry has a division for looted art that keeps a database of missing objects and scours foreign collections and auctions. When they locate a looted Polish painting, book or other object, they inform the law enforcement officials of that country.
___
AP writer Vanessa Gera in Warsaw contributed to this report.
Nominate an Alberta artist or arts collective for 2023 Distinguished Artist Award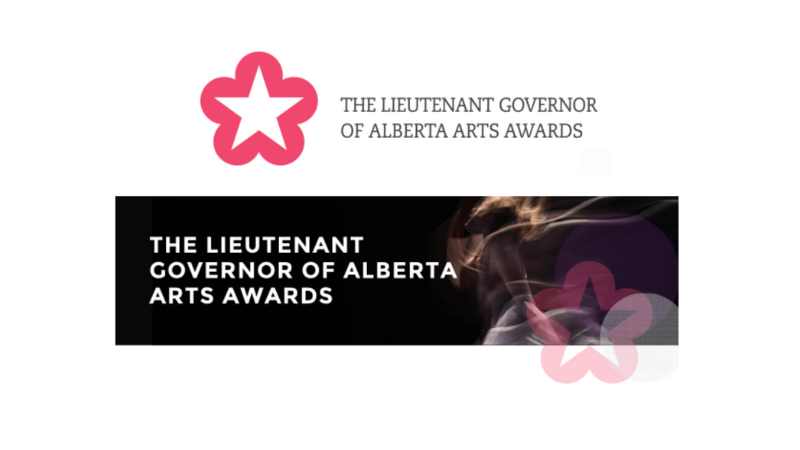 Since the program's launch in 2005, 23 Lieutenant Governor of Alberta Distinguished Artists have been awarded this title, along with a $30,000 prize, a two-week residency at the Banff Centre's Leighton Artist Studios, and a profile video on the artist. The awards were founded to highlight and celebrate Alberta's rich artistic talent – and we know there is so much to celebrate here!
The Lieutenant Governor of Alberta Distinguished Artists have impacted a wide range of arts disciplines provincially, nationally and internationally. Our Distinguished Artists include architect Douglas Cardinal – puppeteer Ronnie Burkett – visual artists Jane Ash Poitras, Alex Janvier, Peter von Tiesenhausen – sculptor Katie Ohe – composer John Estacio – dance choreographer Vicki Adams Willis – sopranist Frances Ginzer – authors Aritha van Herk, Rudy Wiebe – poet Alice Major, and theatre collectives One Yellow Rabbit and Old Trout Puppet Workshop – plus others! Check out our profiles of Alberta's Distinguished Artists at artsawards.ca
The Lieutenant Governor of Alberta Distinguished Artist Award is Alberta's most prestigious recognition of outstanding achievement in the arts. This award recognizes:
The highest degree of artistic excellence.
Career achievement; and/or significant body of work; and/or breakthrough contribution, including pushing the boundaries of the art from.
Significant impact on the arts in Alberta.
Help us celebrate Alberta's artists by nominating one or more artists for the 2023 Distinguished Artist Award. If you have nominated someone in the past who has not yet been recognized we welcome your updated re-submission.
This award has lifted our artistic spirit and propelled our work through the affirmation of our peers and our audience, and it has humbled us to be counted among such amazing talent – in this way we are driven to work harder and to reach further, to push the limits of art in Alberta.