Rebels make a deal with the Pats
The Red Deer Rebels are busy making some off-ice moves this week. They've acquired 18 year old Defenceman Jared Freadrich from the Regina Pats, in exchange for a 4th round selection in the 2017 WHL Bantam draft. The Camrose native is in his second WHL season and has played in 61 career games, scoring 5 goals and 16 assists for 21 points. Additionally, the Rebels have reassigned 17-year old forward Ben Hiltz to the Weyburn Red Wings of the Saskatchewan Junior Hockey League. 
RD Polytech Cross Country Running teams anxious to defend ACAC Gold and Silver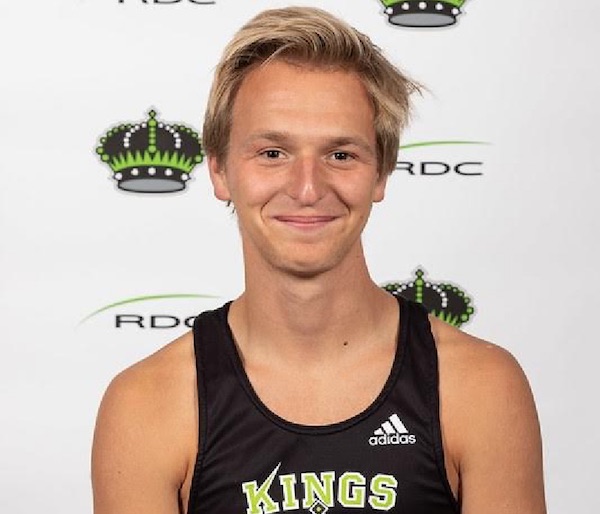 Red Deer Polytechnic Cross Country Running team is grateful for the opportunity to compete in 2021/2022
As expected, the Red Deer Polytechnic Cross Country Running team's roster has changed since its last formal competition in November 2019 at the Canadian Collegiate Athletic Association (CCAA) National Championships, but the 2021/2022 squad will be just as enthusiastic and competitive.
"I am excited for this season," says Kari Elliott, Red Deer Polytechnic Cross Country Running Head Coach. "Over the summer months, we began preparations and trained as a group for a couple of days a week and it was really nice to get together."
As a new campaign approaches, practices and training have recently accelerated.
"On August 29, we kicked off our annual training camp. We trained two days in Red Deer and then brought 14 student-athletes to Banff for our annual Sulphur Mountain Challenge, where the athletes raced 5 kilometres to the top of the mountain," says Elliott. "This is always a tough challenge and it is fun to see who is in shape to climb 640 metres in elevation. Veteran Dan Szucs was the fastest male to the top of the mountain and Jenica Swartz, who is a first-year student-athlete, led the women. At the end of July, Dan and Jenica also paced their respective teams over a five-kilometre time trial."
Szucs finished July's time trial in 16:14 and Swartz completed the course in 18:28.
Leading the Kings to Alberta Colleges Athletic Conference (ACAC) gold in 2019, Lacombe's Szucs will once again be an important member of the Kings. Individually, the Bachelor of Business Administration General Management student finished fourth over 8 km (27:48) at the conference championships in Calgary, and this season he is joined by one teammate from that dominant squad, and another very familiar face.
"We are fortunate to have Dan Szucs and Devin Saunders returning, along with Axsivier Lawrence, who was a member of our 2019/2020 Indoor Track team," says Elliott, who has been the Cross Country Running Head Coach at the Polytechnic since 2016/2017. "These guys are all strong competitors, and they will be significant contributors to our team score."
The Kings followed their ACAC gold with an impressive showing at the CCAA 2019 National Championships, winning bronze in Grande Prairie in snowy conditions. Over 8 km, Red Deer's Saunders (29:33) was the Kings' leader up north, placing 10th in the nation and earning a spot on the CCAA Cross Country Running Men's All-Canadian team.
Lawrence, a Bachelor of Education Elementary student, brings competitiveness and energy to the team. His athletic versatility was on display throughout the summer when he played for the Central Alberta Buccaneers and won the Alberta Football League Championship.
For Elliott, several new Kings will create friendly intersquad competition and round out a strong men's group.
"We have also added some amazing talent to the Kings. Notre Dame grad, Ethan Duret, is looking fast and is right in the mix with our top four," says Elliott. "Also, Jayden Wildcat and Kage Yellowfly, who finished second and third respectively at the Alberta Indigenous Games, are new recruits for us this season. These young men have already shown their speed and will add depth to our top four as well."
In addition, Hunting Hills graduate O'Tave Edmondson and competitive cyclist Wyatt Grainger will be valuable members of the Kings this year.
The Queens have one student-athlete returning from the ACAC silver medal winning group in 2019 and Elliott has surrounded her with teammates who have a lot of potential.
"Lauren Pasiuk is our team captain and brings much needed experience to this young team. Even though the Queens collectively lack ACAC experience, we have recruited very well," says Elliott, who is a two- time ACAC Cross Country Running Coach of the Year. "Newcomer Jenica Swartz has the potential to challenge for a medal at the ACAC Championships on October 30."
Elliott sees common attributes in all members of the Queens, who narrowly missed a national bronze medal in 2019.
"Strathmore's Justine Larson has had a strong start to training as well, says Elliott. "We have added Myah Cota, Kammy Park, and Halle Reid, and it is clear to me that all of our ladies are tough and want to compete."
For its first formal conference competition of the ACAC 2021/2022 season, the Red Deer Polytechnic Cross Country Running team will use Running Room Grand Prix #1 as an opportunity to grow.
"After over two years, we are looking forward to getting back into the swing of things. I want the student- athletes to enjoy the experience," says Elliott. "We want to learn about the level of our competition, to learn how to race again, and to test our fitness."
As the team prepares for its first grand prix, Elliott is concentrating on the controllable variables.
"Our team needs to focus on what we can control, which is training well and staying healthy," she says. "We have been talking a bit about goals already, but for now, it is all about getting to work."
After the cancellation of the ACAC 2020/2021 season and the difficulties that COVID-19 has brought to everyone, including student-athletes and coaches, Elliott is encouraging the team to focus on positivity.
Swartz's cross country running ability will help fill the void left by standouts Shayla Sklaruk and Jill Stewart, who transferred to complete their academic programs. Swartz is also a dual sport athlete, having committed to the Polytechnic's Queens Soccer team.
"It has been hard for these student-athletes during the pandemic, but my goal is to focus on the good that we can experience and create together," says Elliott. "One of the themes for our season is gratitude and I am encouraging one student-athlete each training session to share something they are grateful for that day."
This optimistic outlook, dedication, and intense training will only help the Red Deer Polytechnic Cross Country Running team excel as it opens the ACAC 2021/2022 season at Running Room Grand Prix #1 North on Saturday, September 18.
Concordia University of Edmonton will host the event at 2 pm.
Kings Soccer club hunting for another trip to Nationals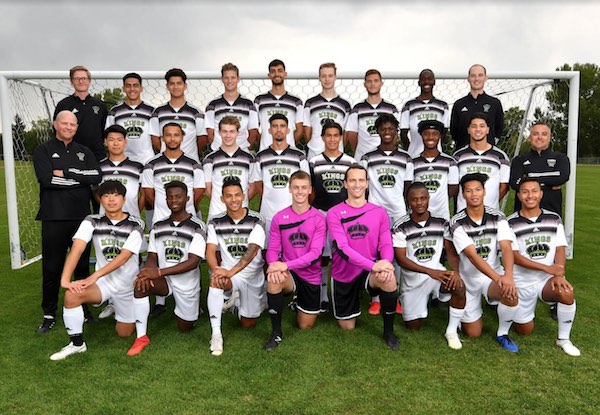 Red Deer Polytechnic Kings Soccer team on quest to return to nationals
Face division rivals at home to start new campaign
There's a quiet confidence surrounding the Red Deer Polytechnic Kings Soccer team as they prepare for the Alberta Colleges Athletic Conference (ACAC) 2021/2022 season, and for good reason.
When the Kings last played in November 2019, they placed sixth at the Canadian Collegiate Athletic Association (CCAA) Men's Soccer National Championship, which was the highest ranking of the two ACAC teams. The Lethbridge College Kodiaks finished eighth in Ontario.
The Red Deer Polytechnic Kings, who won an ACAC 2019 silver medal, are believed to be equally as talented this year, and some may argue that they have more skill.
With months of practicing and training, and two exhibition games under their belt, the RDP Kings are enthusiastic and looking to put all the pieces together as they hit the field for a shortened six game schedule after nearly a two-year absence of ACAC games due to COVID-19.
"It is absolutely outstanding to be back on the pitch," says Gerald Grobmeier, Kings Soccer Head Coach. "This year is a sprint. From the moment we hear the first whistle we must be on our game. We want to build on our accomplishments from 2019 and return to nationals."
With a large contingent of student-athletes around central Alberta this past summer, the Kings were able to start training sooner.
"We had a large core of players here, so we were able to start practicing in early June just as the COVID- 19 public health measures were aligned," says Grobmeier. "We are very fortunate because much of this team is made up of Red Deer Renegades alumni. Then we had more players show up in July, so we've had a good month and half of practices with the team all together."
Renegades alumni Kristofer Grobmeier, defender Hayden Jacobs, midfielders Kaidri Bornyi, Gabriel Martins Fonseca and All-Conference selection Pedro Humberto Mourao Neto, along with forward Gabriel Fleury de Queiroz are returning this year from the 2019/2020 Kings. This group will be counted on for their contributions on and off the field.
"One of our leaders this year is my son Kristofer, who is a third-year centre back, so we look towards him," says Grobmeier. "We also look towards the student-athletes from Brazil to show the others what it takes to compete in the ACAC."
Third-years Gabriel Martins Fonseca and Gabriel Fleury de Queiroz, both Bachelor of Business Administration General Management students, and Pedro Humberto Mourao Neto, who is enrolled in Kinesiology Fitness and Health, comprise the trio of gifted Brazilians.
"We also rely on some of the newer guys for leadership like Ajdin [Sarcevic], Kirkland [Moody] and Jared [St. Thomas]," explains Grobmeier. "Although they are new to the program, they come with a lot of experience. Ajdin played in the Bosnia, Kirkland has competed internationally, and Jared played at a very high level in Ontario."
Sarcevic, who is Renegades alumni, competed as a midfielder for NK Prodgrmec Sanski in the Bosnian Division II league. Red Deer's Moody played professional soccer in Jamaica. Lacombe's St. Thomas has experience as a goalkeeper with Ottawa South United, which is a semi-professional soccer team.
Along with Sarcevic, Moody, and St. Thomas, the RDP Kings have added some key players for 2021/2022. Musa Abedi, Isaiah Albright, Jesus Amaris, Carson Coady, Brian Grantham, Nicholas Min, Wataru Oguchi, Adan Sanchez-Pimental, Sheku Sesay, Emmanuel Siaw, Wakuto Tamura, Garrett Thompson and Thomson Wellie will wear the Kings uniform this season.
Two familiar student-athletes will return to the team after an absence. Renegades alumni Osvaldo Aguilar, who last competed at the Polytechnic in 2018/2019, and Masoum Zaher, who played in 2016/2017, are back on the Kings roster.
In a pair of exhibition games, the RDP Kings tied the Keyano College Huskies 1-1 and then they shutout The King's University Eagles 5-0. Those experiences provided the student-athletes and coaches with a range of learning opportunities.
"Those two days of exhibition games were extremely helpful for us," says Grobmeier. "In the first half against the Eagles, we created a lot of chances, but we couldn't put the ball in the net. It started to come to us in the second half, but it still needs to be cleaned up."
At half-time, the Kings and Eagles were knotted 0-0. Then Red Deer Polytechnic exploded for five goals in the second half.
"In those games we learned a lot about the players, lineup combinations, and what works and what doesn't work for us," says Grobmeier. "In both games, for about 20 minutes into the first half we lost our way, but we got back on track and it showed our players that if we stick to our system, it really works. These boys are extremely dedicated. They all have an extremely high soccer IQ and are very coachable which makes my job easier."
The 2021/2022 Kings roster is diverse, with players from around the world.
"We have a lot of different nationalities on the team, so it is fun," says Grobmeier. "Different nationalities play the game in different ways, so we are melding that all together into one cohesive system."
Along with Canada, the student-athletes have identified their hometowns in Brazil, Iran, Japan, and the United States.
The Red Deer Polytechnic Kings have one more non-conference game against the Olds College Broncos at home on September 12 as a final tune up before the regular season begins against the defending ACAC Champions, the Lethbridge College Kodiaks, five days later.
"It'll be a great test for us, and it'll show us where we are at. I know the Kodiaks will be well coached and ready to go with high profile players," says Grobmeier. "We've had good battles with them over the past few years and I expect it to be a one goal game, in our favour."
In 2019, the Lethbridge College Kodiaks (8-1-3) finished second in the ACAC Men's Soccer South Division. The Kings (7-3-2) were third.
On Friday, September 17, the Kings will host the Kodiaks at the Red Deer Polytechnic Main Field at 4 pm to begin the new campaign.
"Training is fine, but we do this to be on the pitch and battle. I love it," says Grobmeier. "All the boys love it, and this is why we play soccer."