2019 CANADA WINTER GAMES NAMED STC CANADIAN SPORT EVENT OF THE YEAR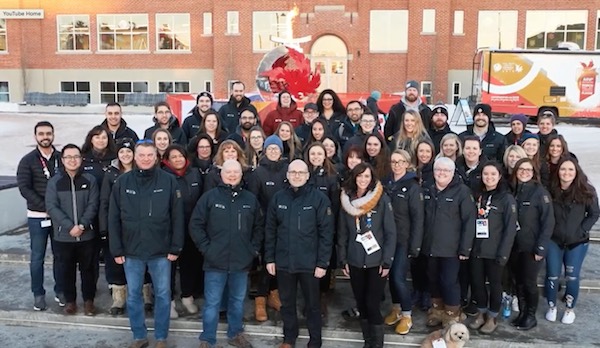 From the Canada Games Council
The 2019 Canada Winter Games have won the 2020 Sport Tourism Canada (STC) Canadian Sport Event of the Year Award with an event budget greater than $1 million.
The presentation of the 2020 PRESTIGE awards, postponed from last year, were hosted virtually as a gala on-line production. The presentation was hosted by Olympian, World Cup medallist and CBC Broadcaster Kelly VanderBeek.
The STC Canadian Sport Event of the Year Award recognizes the overall success of an outstanding single-sport, multi-sport or collegiate event held in Canada in 2019. The criteria states that the event rights holder is a Canadian governing body/entity and that a Canadian community bid against other Canadian communities and/or was awarded the right to host the event.
Thank you from 2019 Games CEO Scott Robinson, Mayor of Red Deer Tara Veer, and 2019 Games Chair Lyn Radford
2019 Canada Winter Games Facts
-The 2019 Canada Winter Games took place from February 15 – March 3, 2019 in Red Deer, Alberta
-The Games were organized by the 2019 Canada Winter Games Host Society led by Chair Lyn Radford
-The Games featured 19 sports and 150 events alongside a major arts and cultural festival
-Red Deer welcomed over 3,600 athletes, managers and coaches, 4,600 volunteers, and more than 26,000 visitors throughout two weeks of competition
-The Canada Games represent the highest level of national competition for Canadian amateur athletes, and were the largest event that Red Deer has ever hosted
-Sport infrastructure legacy generated from the Games includes the construction of the Gary W. Harris Canada Games Centre which is a multi-purpose venue built specifically for the 2019 Games that includes an ice rink, gymnasium, basketball court, running and sprint tracks, and squash courts
-The Games raised over $12M in sponsor and donor fundraising, resulting in the most successful sponsorship program in Games history
-Financial legacy from the Games includes generating a total net economic activity (GDP) of $44.7M for Red Deer and $60.6M for the Province of Alberta
-The Host Society donated over $500,000 in sport equipment and assets post-Games to over 40 local and provincial sport organizations and not-for-profits
Quotes
"The 2019 Canada Winter Games were a life changing experience for all participants. It was a time for dreams to become reality and for community to come together to deliver one of the elite hosting events in 52 years of history of Canada Games. The Canada Games framework gave Red Deer and Alberta an opportunity to build legacy, support sport development and deliver life long friendships to all. We thank Sport Canada, Government of Alberta, City of Red Deer, Canada Games Council, volunteers, staff, sponsors and partners for this fabulous journey. Thank you to the sponsor, Québec City Business Destination, of this event category of the STA Prestige awards. Your sponsorship allows for all of Canada to see the wonderful work done in our Sport Tourism industry. Merci beaucoup!"
Lyn Radford, Chair, 2019 Canada Winter Games Host Society
"The 2019 Canada Winter Games were an incredible event that showcased our nation's top amateur athletes and left behind a legacy of infrastructure, sustainability, and community pride in Red Deer. The City of Red Deer, Host Society staff, and the thousands of volunteers should be proud of what they accomplished and the 2019 Games are truly deserving of this award and recognition."
Evan Johnston, Chair, Canada Games Council
"Thank you to Sport Tourism Canada for recognizing the 2019 Canada Winter Games, with the honour of this recognition. This award is a tribute to the incredibly hard work accomplished by our local Host Society, our generous partners and the more than 5,000 incredible community volunteers who made this opportunity possible. To the people of Red Deer, be incredibly proud of what you accomplished. We are here because you courageously said yes. We are here because you said we will find a way. We are here because you said we'll do it together. Thank you, Canada Games, for the opportunity to welcome our fellow Canadians to our community for this once-in-a-generation opportunity."
Tara Veer, Mayor of Red Deer
Enjoy this wonderful look back at the 2019 Canada Winter Games, hosted by Ron MacLean
With hail storms this size it's a miracle no one was killed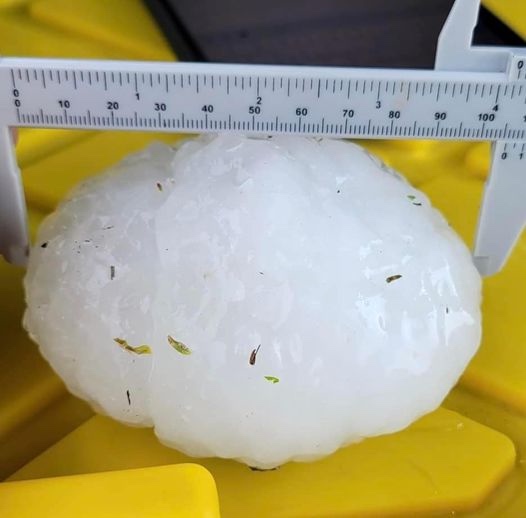 Monday, August 1st will be a day hundreds of Albertans will never forget. The hail storm that devastated an area of Central Alberta resulted in a series of terrifying experiences for motorists on the QE II, especially around Antler Hill, just north of Innisfail. This is a map of the area most affected by the largest hail stones most have seen in their lifetimes.
Yes we've all heard people talk about "baseball" or "tennis ball" sized hail in the past. In this case, those comparisons are simply too small!
Now you can imagine how terrifying it must have been to be caught driving on the QE II south of Red Deer and north of Innisfail during this storm on Monday, August 1st. Here's what that felt like, courtesy of Gibran Marquez as posted on the Facebook Page Alberta Storm Reports
This couple was remarkably calm considering the battering they were experiencing!
The immediate aftermath.
ASIRT investigating Stettler incident after RCMP shoot and taser suspect who allegedly threatened woman with an axe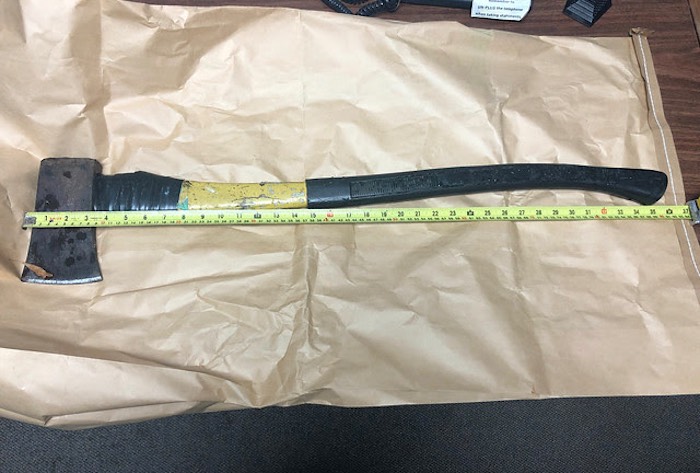 News release from ASIRT (Alberta Serious Incident Response Team)
Investigation into Stettler RCMP officer-involved shooting causing injury continues
On July 24, the Alberta Serious Incident Response Team (ASIRT) was directed to investigate an officer-involved shooting that occurred earlier that day.
At 10:14 p.m., the Stettler Royal Canadian Mounted Police (RCMP) detachment received a report of a disturbance in the area of 58 Street and 50A Avenue. When officers arrived in the area, they were flagged down by a female who said she had been threatened by a man with an axe.
Officers located the man in a nearby alley and confronted him. During this time, one officer discharged his conducted energy weapon and another discharged his firearm, striking the man. Emergency Medical Services arrived and provided the man with medical care. He was then transported by STARS Air Ambulance to an Edmonton-area hospital, and released the next day.
Two weapons were recovered from the scene
ASIRT's investigation will examine the circumstances surrounding the uses of force. No additional information will be released.
As part of its ongoing investigation, ASIRT is continuing efforts to identify people who may have observed the man or witnessed aspects of the confrontation between the man and police. ASIRT is asking anyone who may have been in the area and may have witnessed these events and/or may have video to contact investigators at 403-592-4306.
ASIRT's mandate is to effectively, independently and objectively investigate incidents involving Alberta's police that have resulted in serious injury or death to any person, as well as serious or sensitive allegations of police misconduct.