2019 CANADA WINTER GAMES NAMED STC CANADIAN SPORT EVENT OF THE YEAR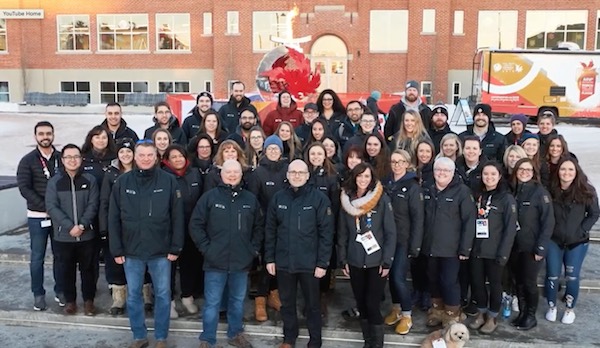 From the Canada Games Council
The 2019 Canada Winter Games have won the 2020 Sport Tourism Canada (STC) Canadian Sport Event of the Year Award with an event budget greater than $1 million.
The presentation of the 2020 PRESTIGE awards, postponed from last year, were hosted virtually as a gala on-line production. The presentation was hosted by Olympian, World Cup medallist and CBC Broadcaster Kelly VanderBeek.
The STC Canadian Sport Event of the Year Award recognizes the overall success of an outstanding single-sport, multi-sport or collegiate event held in Canada in 2019. The criteria states that the event rights holder is a Canadian governing body/entity and that a Canadian community bid against other Canadian communities and/or was awarded the right to host the event.
Thank you from 2019 Games CEO Scott Robinson, Mayor of Red Deer Tara Veer, and 2019 Games Chair Lyn Radford
2019 Canada Winter Games Facts
-The 2019 Canada Winter Games took place from February 15 – March 3, 2019 in Red Deer, Alberta
-The Games were organized by the 2019 Canada Winter Games Host Society led by Chair Lyn Radford
-The Games featured 19 sports and 150 events alongside a major arts and cultural festival
-Red Deer welcomed over 3,600 athletes, managers and coaches, 4,600 volunteers, and more than 26,000 visitors throughout two weeks of competition
-The Canada Games represent the highest level of national competition for Canadian amateur athletes, and were the largest event that Red Deer has ever hosted
-Sport infrastructure legacy generated from the Games includes the construction of the Gary W. Harris Canada Games Centre which is a multi-purpose venue built specifically for the 2019 Games that includes an ice rink, gymnasium, basketball court, running and sprint tracks, and squash courts
-The Games raised over $12M in sponsor and donor fundraising, resulting in the most successful sponsorship program in Games history
-Financial legacy from the Games includes generating a total net economic activity (GDP) of $44.7M for Red Deer and $60.6M for the Province of Alberta
-The Host Society donated over $500,000 in sport equipment and assets post-Games to over 40 local and provincial sport organizations and not-for-profits
Quotes
"The 2019 Canada Winter Games were a life changing experience for all participants. It was a time for dreams to become reality and for community to come together to deliver one of the elite hosting events in 52 years of history of Canada Games. The Canada Games framework gave Red Deer and Alberta an opportunity to build legacy, support sport development and deliver life long friendships to all. We thank Sport Canada, Government of Alberta, City of Red Deer, Canada Games Council, volunteers, staff, sponsors and partners for this fabulous journey. Thank you to the sponsor, Québec City Business Destination, of this event category of the STA Prestige awards. Your sponsorship allows for all of Canada to see the wonderful work done in our Sport Tourism industry. Merci beaucoup!"
Lyn Radford, Chair, 2019 Canada Winter Games Host Society
"The 2019 Canada Winter Games were an incredible event that showcased our nation's top amateur athletes and left behind a legacy of infrastructure, sustainability, and community pride in Red Deer. The City of Red Deer, Host Society staff, and the thousands of volunteers should be proud of what they accomplished and the 2019 Games are truly deserving of this award and recognition."
Evan Johnston, Chair, Canada Games Council
"Thank you to Sport Tourism Canada for recognizing the 2019 Canada Winter Games, with the honour of this recognition. This award is a tribute to the incredibly hard work accomplished by our local Host Society, our generous partners and the more than 5,000 incredible community volunteers who made this opportunity possible. To the people of Red Deer, be incredibly proud of what you accomplished. We are here because you courageously said yes. We are here because you said we will find a way. We are here because you said we'll do it together. Thank you, Canada Games, for the opportunity to welcome our fellow Canadians to our community for this once-in-a-generation opportunity."
Tara Veer, Mayor of Red Deer
Enjoy this wonderful look back at the 2019 Canada Winter Games, hosted by Ron MacLean
Judy's story: I'm on the healthy road!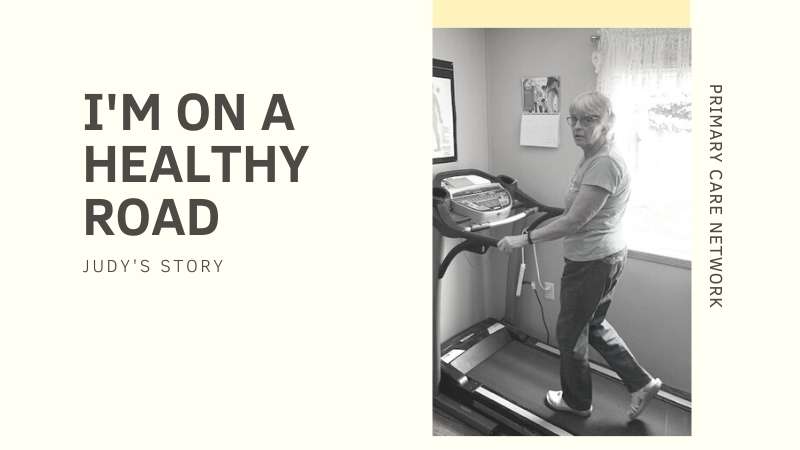 On the Healthy Road!
My journey to better health starting when my doctor told me my blood sugar was at pre-diabetes levels, my blood pressure continued to require medication and I had weight to lose. He sent me to see the RDPCN nurse. After some appointments there, the nurse referred me to the Health Basics program.
Exercise was my downfall. Working from home, I always found something else to do rather than exercise. Health Basics increased my awareness. I tracked what I was eating and became more aware of what I ate, when I ate and why I ate. I also realized things that would make me healthier that I wasn't doing. I realized being healthy is a process and I took one healthy step at a time. I also became aware of the wider variety of options for healthy lifestyle.
My husband and I visited friends over the summer and noted they had lost weight. This stimulated us to pay even more attention to our food intake. As a result of our overall efforts, I have lost about 32 pounds and my husband has lost 37. My blood sugar is now in the normal range. I have had significant decrease in my blood pressure medication. I have more energy. I enjoy exercising more as it is easier to move around and I have less arthritis pain. Health Basics is an excellent class- it started me on the healthy road. I also have much more confidence in my future health.
Click to learn more about the Red Deer Primary Care Network.
Read more success stories from the Primary Care Network.
Larry Reese and Judy Sutter among five Central Alberta artists featured in OUR West Country exhibition at MAG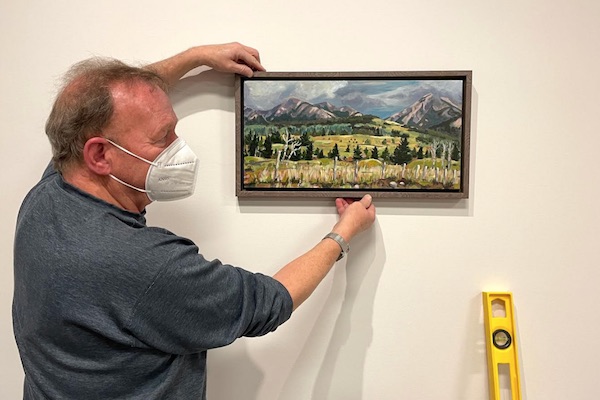 News Release from Red Deer Museum & Art Gallery (MAG)
Five Central Alberta artists worked en plein air, painting the incredible landscape that is the West Country.
The Eastern Slopes of Alberta and prospective coal mining in that area have been the focus of much controversy in the last year. These mountains are more than the resources they hold. They provide the people of Alberta with much of the province's fresh water supply as well as mental and physical connections to nature. In the summer of 2021, central Alberta artists Lynn LeCorre, Kate More, Larry Reese, Judy Sutter, and Susan Woolgar worked en plein air, painting and sketching onsite in the open air. Through their eyes, we experience the incredible landscape that is the West Country along the eastern slopes of Alberta's Rockies. See the exhibit OUR West Country: Plein Air Painting in Alberta's Eastern Slopes on display at the Red Deer Museum + Art Gallery (MAG) December 11, 2021 to March 12, 2022, with an opening reception on Sunday, December 12th from 2-4pm.
Words from Pat Matheson, Curator of Art:
"The MAG is looking forward to seeing this exhibition installed as it touches on a topic near and dear to many Albertans, including myself. With the new awareness most Albertans have with the landscape so close to us to the west, we invited a group of en Plein Air artists to capture the atmosphere, the beauty and the spirit of Alberta's eastern slopes through their eyes."
Opening Reception: Sunday, December 12, 2-4pm
Join us at 2 pm for the opening of the new exhibits OUR West Country: Plein Air Painting in Alberta's Eastern Slopes and Ya Ha Tinda – The Ranch: Photography by Arto Djerdjerian. Artists in attendance.
Talks & Tours:
Open for First Fridays! Guide in the Gallery – January 7, 5-8pm
2 O'CLOCK TOURS – Staff-led informal tours. February 12, 2pm