RDC Queens and Kings pick up ACAC Volleyball Awards
Emma Holmes – ACAC Women's Volleyball South Rookie of the Year
From RDC Communications
Holmes, Domoney and Wandler recognized at 2019 ACAC Women's Volleyball Awards
Two members of the Red Deer College Queens Volleyball team, along with their coach were honoured at the 2019 Alberta Colleges Athletic Conference (ACAC) Women's Volleyball Banquet & Award Presentations on Wednesday evening at Canyon Meadows Golf & Country Club in Calgary.
Bachelor of Kinesiology student Emma Holmes received the ACAC Women's Volleyball South Rookie of the Year and was selected to the ACAC Women's Volleyball South All-Conference team.
Kaylee Domoney was also named to the South All-Conference team.
Queens Head Coach Chris Wandler was chosen as the 2019 ACAC Women's Volleyball South Coach of the Year. All three helped guide the Red Deer College Queens (16-8) to second place in the south with 32 points.
Holmes had a tremendous start to her ACAC Volleyball career. In league categories typically dominated by veteran student-athletes, the five-foot-ten player finished tenth with 202 kills and 13thwith 2.38 kills per set. In 24 matches, the first-year student-athlete scored a total of 232 points for the RDC Queens.
Queens Head Coach Chris Wandler is impressed with the outside hitter's motivation and play in her inaugural year in the ACAC, and sees potential for further development. "Emma has drive and the more she touches the ball the more she thrives," he says. "For her to finish in the top of the ACAC with a much more experienced group goes to show how much upside Emma has in her game. She has a lot of space to grow her game, which is exciting."
Domoney has been a steady force for the RDC Queens. The Business Administration Human Resources student finished conference play with a total of 387 digs, the most in the league. The talented third-year from Red Deer averaged 4.35 digs per set, ranking her second in the ACAC.
With perhaps the youngest group in the ACAC, Wandler prepared and developed the Queens into one of the strongest and most winning teams in the league. The Red Deer College Queens won eight of its past ten matches and 15 of the last 18 conference matches.
"With eight first-year student-athletes on the Queens, Chris has worked hard to prepare and develop this young group throughout the ACAC season," says Diane St-Denis, RDC Athletic Director. "He holds his players to high standards in competition, the classroom and in the community, reflecting the values of Red Deer College and RDC Athletics."
"Kaylee's season is a tribute to her hard work and dedication to her craft at the libero position. A constant learner, Kaylee is always processing feedback to make her and her teammates better," says Wandler. "She's also a relentless competitor, and prepares herself for each and every week to be at her very best. She is most deserving of this honour."
Chris Wandler, from Cold Lake, has an extensive coaching resume.  He was an assistant to Talbot Walton with the RDC Queens from 2003 to 2012 and then took on a head coaching role with the Olds College Broncos Women's Volleyball team from 2012 to 2016. He led the Broncos to an ACAC bronze medal in his third year. Then he took over as the head coach for the RDC Queens Volleyball team in 2016-17 and guided them to a pair of ACAC bronze medals in the last two years. In addition, Wandler coached Team Alberta at the Western Canada Summer Games and the Canada Games, earning gold in 2013.
The Red Deer College Queens will compete at the ACAC Women's Volleyball Championship from February 21 to 23. In their first match, the Queens (16-8) will play the University of Alberta Augustana Vikings (14-10), who finished third in the north. The opening serve will occur on Thursday at 1:00 p.m. in Calgary. Ambrose University is hosting the event.
Fathers and DeWit celebrated at 2019 ACAC Men's Volleyball Awards
Regan Fathers and Mark DeWit of the Red Deer College Kings were recognized at the 2019 Alberta Colleges Athletic Conference (ACAC) Men's Volleyball Award Presentations on Wednesday evening at Shaw Theatre in Edmonton.
Regan Fathers was named the ACAC Men's Volleyball Player of the Year and was selected to the South All- Conference team after a remarkable regular season. Middle Mark DeWit was also named to the ACAC Men's Volleyball South All-Conference team with solid play. Both gifted student-athletes helped lead the RDC Kings to an 18-6 record, capturing second spot in the south and a position in the ACAC Championship. The Kings finished the season with momentum, achieving a 15-2 record in the last 17 matches.
As the year progressed, the impact of Fathers increased. In RDC's final two matches of conference play, the Kinesiology student totaled 66 kills, 33 digs, three stuff blocks, two aces and one assist against the previously undefeated Lethbridge College Kodiaks, helping the Kings hand the Kodiaks a pair of defeats, for the first time in 2018-19.
The six-foot-six right side hitter from East Fremantle, Western Australia led ACAC Men's Volleyball with a total of 435 kills and 5.37 kills per set. Even though he played only 21 matches, he had 69 more kills than Lethbridge College's Carter Hansen, who was second in the league after 24 matches.
Kings Head Coach Aaron Schulha recognizes the motivation from Fathers to continually improve and make his teammates better. "Regan put up dominating numbers while embracing an increased leadership role this season. He takes individual and team improvement very seriously, and it shows with his ability and willingness to take over matches throughout the season," he says. "I don't recall a season over the last several years where a men's volleyball player has put up those kind of kills numbers in our league. It has been very impressive to watch."
Fathers is a proven winner and a student-athlete who increases his level of play as the stakes rise. The previous time he played for the Red Deer College Kings in 2016-17, he won ACAC and Canadian Collegiate Athletic Association (CCAA) gold medals. He was selected the Tournament MVP of both events.
Mark DeWit, a second-year student-athlete, had a very strong campaign wearing the crown. The Bachelor of Commerce student finished fourth in the ACAC with 56 total blocks and 0.75 blocks per set. From the middle, the student-athlete from Lacombe accumulated 124 kills over 21 matches, impressively hitting for 49.8 per cent efficiency.
"Mark has been tremendous for us during his first two years. He has started the bulk of his first two seasons and showed steady improvement throughout. He is very dynamic with a quick jump and arm, which are very important to being an effective middle," says Head Coach Schulha. "He is also a very explosive blocker that moves quickly along the net and has active hands. His recognition as an All-Conference player is very well deserved and we are excited to see how he continues to improve in year three with our program."
The RDC Kings are in Edmonton for the ACAC Men's Volleyball Championship from February 21 to 23. In their first match, the Red Deer College Kings (18-6) will play the University of Alberta Augustana Vikings (15-9), who finished third in the north. The opening serve will occur on Thursday at 1:00 p.m. The NAIT Ooks are hosting the event.
King of the Kings is undisputed King (of National College Gaming Challenge)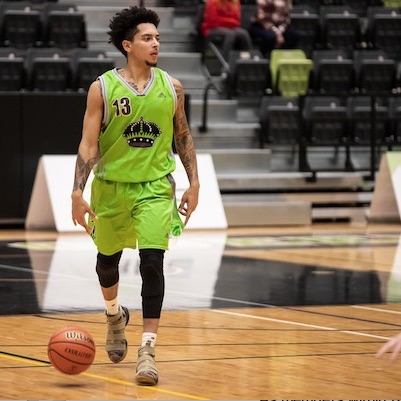 From RDC Communications
RDC student-athlete is king of CCAA Gaming Challenge
When it comes to basketball, Red Deer College Kings guard Tyronn King has demonstrated an impressive skillset beyond the court at the Gary W. Harris Canada Games Centre.
Over four weeks of online competition, King had a perfect 10-0 record in the NBA 2K Canadian Collegiate Athletic Association (CCAA) Gaming Challenge, using PlayStation 4. This unblemished performance earned him first place.
With the absence of Alberta Colleges Athletic Conference (ACAC) competition this year due to COVID-19, King embraced the opportunity to participate in this event created by the CCAA in coordination with Uniting Gamers.
"It was definitely a great experience – fun, and something competitive to do, especially right now with COVID-19 going on," said King, who rose to the top among 32 participants from CCAA member post- secondary institutions. "The people hosting it were great. They communicated well with the players and had everything set up nicely."
In order to continue advancing to the next round, King had to win the best of three games. It was randomly determined which player received first choice of current NBA teams. Participants could not select the same team and King had two squads that he relied on.
"I always picked either the Brooklyn Nets or the Milwaukee Bucks every game of the tournament," said King, who identified the Nets as his favourite team. "I didn't want to take a chance of losing one game of the tournament, so I made sure I always came out with fire power."
King faced Christopher Graham, a setter on The King's University Eagles Men's Volleyball team, in the quarter-final. The RDC Legal Assistant student from Toronto swept the series 2-0, with scores of 61-57 and 58-53 over Graham. In the semi-final, King persisted past Glynn Willis-Paris, a member of the St. Clair Saints Men's Basketball team, 48-44 and 50-47, to solidify a berth in the championship.
"In the two rounds prior to the final, I played a couple of guys who were really good and they put up a fight. In some of the games, I was down in the fourth quarter," said King, who helped guide his RDC Basketball team to the postseason in 2019/2020. "They gave me a run for my money, but when games are close and competitive, that's when they are the most fun."
King felt those hard-fought games adequately prepared him for the championship against Ryan Farrell of the University of New Brunswick Saint John Seawolves Men's Volleyball team.
"The two previous games were championship games to me. Once I got to the finals, I felt ready," explained King. "In the last two games, I was able to put my bench [players] in fairly early and won 57-43 and 54-42."
While balancing academics and training, King's hobby of playing basketball video games was a recipe for enjoyment and success in the CCAA Gaming Challenge.
"In my free-time, I play [NBA] 2K, so that was my preparation," said King. "It was pretty cool, knowing that I had a game each week, and being out of physical competition for so long, I looked forward to the days when I played."
The talented RDC student-athlete, who finished second in team scoring last year with 18.8 points per game, recommends this type of gaming challenge to others.
"Overall, it was fun and I would encourage anyone who plays 2K for fun or competitively to get involved in one of these tournaments," said King, who will enter his fifth year of eligibility when ACAC competition resumes. "It's definitely exciting and something to do during these COVID-19 times when there's not much competition going on."
For winning first place in the CCAA Gaming Challenge on March 18, King will receive a memorable gift.
"It is a customized ring from Jostens, so that's pretty cool," he said.
As members within RDC Athletics and the ACAC anxiously await the safe resumption of competition, King has been dedicated to his fitness and staying connected to his teammates and coaches.
"From a physical standpoint, I've been trying to stay in shape. When gyms weren't open, I trained at home and went for runs," said King, who is a 2019/2020 ACAC Men's Basketball South Second All- Conference team member. "As a team, we connect a lot via Zoom for weekly meetings that our coach organizes. Now, we are starting to get back in the gym, so it feels great."
In the absence of traditional sports this year, the CCAA Gaming Challenge was administered by the CCAA and Uniting Gamers in an effort to encourage connections among Canadian learners, in a fun and competitive virtual environment.
More information about the NBA 2K CCAA Gaming Challenge, including the results, is available online.
The evolution of a Red Deer College student-athlete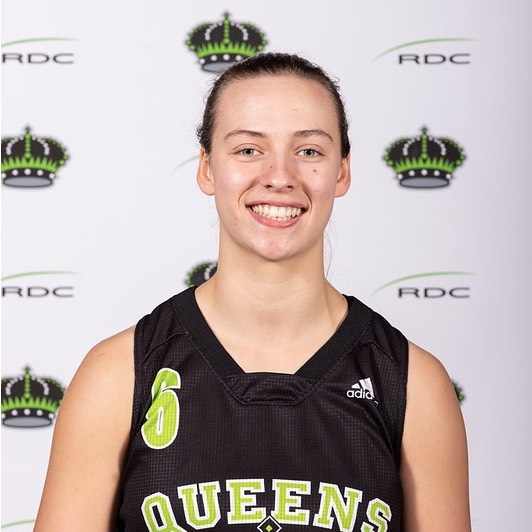 This article submitted by RDC Athletics
Three years have brought big changes for Amy Szymanek of Queens Basketball
Red Deer College Queens Basketball forward Amy Szymanek's progression as a player has been nothing short of remarkable, but perhaps her development as a student and leader have been even more impressive.
In her rookie season with the Queens in 2018/2019, the former David Thompson High School Voyageurs guard, averaged 2.8 points per game, and connected on 45.5 per cent of her free-throws, and 34.6 per cent from the field. That experience set the foundation for future development.
"With one year under my belt, I was more comfortable at the college level and believed in myself a lot more," said Szymanek. "I was very motivated to return and wanted to contribute in more ways."
In the summer of 2019, the Bachelor of Education student added another aspect of training to her routine as she prepared for her second year of competition in the Alberta Colleges Athletic Conference (ACAC).
"I trained physically and mentally," she said. "Visualization was a big aspect of improving my performance. I visualized the gyms we played in, the colours on the floor, my opponents' faces, and the crowd. Throughout the next season, it felt like I was reliving many of the situations I envisioned."
As the 2019/2020 season approached, Szymanek made a positive impression on new Queens Head Coach Mandy Botham.
"The first time we met, Amy offered to take on any role that would help the team," said Botham. "At our first scrimmage, it only took five minutes for me to see that Amy was a player I wanted to have on the Queens. She displayed huge potential as a player and a leader."
During Szymanek's second year, Botham challenged the student-athlete from Stauffer, Alberta, to reach new heights, and she responded. Szymanek more than tripled her offensive output from the previous season to 10.2 points per game. Only teammates Harneet Sidhu (12.1) and Britney Peters (10.5) averaged more points.
"Amy is so coachable and the more opportunity I gave her, the more she rose to the occasion," said Botham. "Amy is a good shooter, but one of her best aspects offensively is her ability to get to the rim and draw fouls."
Last season, Szymanek earned 64 free-throw opportunities, which was second most on the Queens, and only one behind teammate Sandra Garcia-Bernal. Szymanek's accuracy from the free-throw line climbed to 71.9 per cent and her efficiency from the field increased to 38.5 per cent, but her growth extended to other areas of the court.
"Rebounding was a big emphasis for us as a smaller team, and Amy's contributions at both ends of the floor kept getting better," explained Botham. "We were one of the top rebounding teams in the ACAC last season, which I am really proud of."
Szymanek exhibited impeccable timing and tenacity, more than doubling her total of 57 rebounds to 121 from one season to the next. The Queens ranked second in the 15 team league with 46.1 boards per game, slightly behind the Briercrest College Clippers (47.6).
While Szymanek's statistics increased, she also embraced a crucial defensive role.
"Amy is gritty and versatile, and she loves the challenge of defending our opponents' best players, who are often bigger," said Botham of the five-foot-nine forward. "So her footwork and technique have to be spot on to overcome that size disadvantage."
As impressive as Szymanek's progression has been on the hardwood, the development of her leadership skills has also become more prominent and impactful.
"As one of our team captains, Amy takes initiative, communicates with her teammates, and holds herself and others to a really high standard," said Botham. "She has the ability to properly read the situation, lighten the mood when it's appropriate and know when it's time to be serious. As a coach, I really appreciate that."
Szymanek credits past and current coaches, and family, especially her older brother Kevin, who was a member of Kings Basketball, for the development of her basketball and leadership skills.
"Kevin is an essential catalyst in my basketball growth. He had his sights on college basketball before I did, and he pushed me to limits I never thought I'd achieve. He still does," she said.
"As kids, we would play on this little court with a make-shift hoop that my dad made and we would play all night. I smile when I think about that memory. Playing against a larger and more skilled brother, it fuelled my competitive spirit."
Along with additional team depth and experience, Szymanek played an instrumental role in the Queens Basketball team (10-11) nearly capturing the final playoff spot in the South Division in 2019/2020, finishing only two points behind the Medicine Hat College Rattlers (11-10). At the end of the campaign, Szymanek and the Queens identified several valuable lessons to bring forward.
"It really hurt when we missed the playoffs, but our coaches encouraged us to use it as a learning opportunity," said Szymanek. "If we want to compete and win, we have to bring it each and every night, including in practice."
When the 2020/2021 ACAC season was cancelled due to COVID-19, the RDC Queens practiced together as a cohort, according to health and safety protocols. As restrictions tightened, the student- athletes pivoted their plans to work out more individually.
"Our strength and conditioning coach [Greg Howe] altered our workouts to be done at home," said Szymanek. "RDC Athletics has also been really supportive of us during the pandemic."
Szymanek, who plans to play all five years at RDC, also experienced growth academically.
"Amy was always a good student, but she raised her GPA to nearly 3.70 for Fall 2020 Term. I've seen a tremendous commitment from her," said Botham. "She excels in her courses, trains, has basketball responsibilities as a leader, and works on her parent's farm year round."
Botham appreciates Szymanek's willingness to participate in a variety of College and community events.
"Amy is always one of the first athletes to volunteer when I have a request or opportunity for community engagement," stated Botham. "She was part of the Student-Athletes Advisory Council last season and is involved again this year."
"As Co-Chair, along with Tyler Podgorenko from Kings Hockey, we organize and run the Student- Athletes Advisory Council meetings, and oversee the completion of initiatives," said Szymanek. "We are still doing a lot of community work this year – blood drives, sidewalk shoveling, and mental health awareness, with six projects in total."
As part of their Bleed Green campaign from February 22 to 26, the Council is encouraging a friendly competition of blood donations between RDC's 15 teams. The student-athletes hope that members of the College and surrounding communities will join their efforts to contribute to Canadian Blood Services.
"These initiatives are important because they emphasize community and as student-athletes we can use our voices to help," said Szymanek. "Children and people of a variety of ages look up to us. We have that reach and it is essential that we use it for positive things."
Trying to stay positive is essential during this time, as COVID-19 has created challenges for Queens Basketball, as well as teams and leagues across North America. Szymanek, Botham, and the Queens look forward to the return of basketball, which includes hosting the ACAC Championship when competition safely resumes.
"Playing in front of our own fans in the beautiful Gary W. Harris Canada Games Centre for a championship will be awesome. Winning and heading to nationals is the ultimate goal," said Szymanek. "I feel our team is on the rise and we can make it a reality. We have a long way to go and it won't come easy, but we work for that every day, even now."
While waiting for the next season to officially begin, Szymanek continues to impress her head coach and many others as she develops in all aspects of being an RDC student-athlete.
"Amy is a positive ambassador for not only Queens Basketball, but for RDC Athletics as a whole," said Botham. "The trajectory of Amy's improvement as a student-athlete and leader have almost been unbelievable and I've been fortunate to have a front row seat."