Rays Of Sunshine In MLB's Pointless Lockout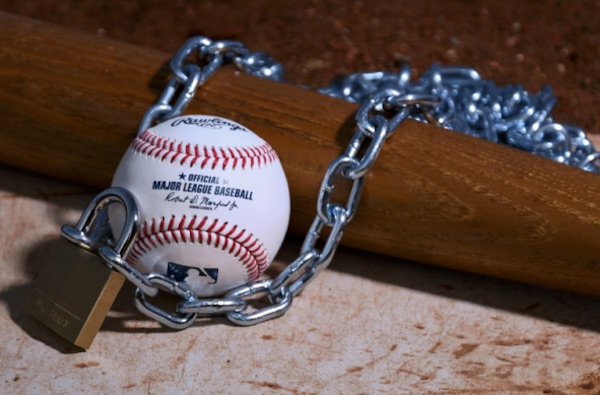 If you're a baseball fan planning on going to 2022 spring training to see your favourite team you might want to pause before booking a flight or hotel room. In case you didn't see the news, MLB has locked out its players again as the two sides jockey for a new collective bargaining agreement.
"We hope that the lockout will jumpstart the negotiations and get us to an agreement that will allow the season to start on time," says MLB owners commissioner Rob Manfred. "This defensive lockout was necessary because the Players Association's vision for Major League Baseball would threaten the ability of most teams to be competitive. It's simply not a viable option." Sure. Go with that.
Understand that for baseball fans the words collective-bargaining agreement are as welcoming as a reminder that you're due for a colonoscopy. Labour actions of the past have ruined seasons and— in the case of the Montreal Expos— doomed a franchise. (See: 1994 lockout )
"The Expos were widely regarded as the best team in baseball that season, prohibitive favorites to win the World Series for the first time in franchise history. Once play resumed, the cash-strapped Expos tore apart their contending team, shipping off their best players in trades for lesser prospects in most cases." By 2005 they had moved to Washington.
Since that 1994 disaster MLB has managed to avoid losing playing time to strikes/ lockouts. But the pressure has been building since the sport rejected the notion of a salary cap in favour of a much-less-restrictive luxury tax on free-spending terms. While the NHL, NBA and NFL operate more stringent salary cap systems, baseball has gone its own way in controlling salaries.
Concurrent with that has been an explosion of revenues for MLB, sending salaries and franchise values into the stratosphere. (See my book Cap In Hand for a full history of salary-cap economics and how a return to freer player markets is the future of the business.)
In a sign of how loose the financial reins have become, Max Scherzer's $43-million annual salary with the New York Mets is more than the entire payroll of two MLB teams. With no minimum payroll, Pittsburgh and Baltimore are free to lap up their 1/30th share of MLB's lucrative digital/ TV package, logo rights and other baubles.
Meanwhile players are concerned that while the stars become rich as Saudi princes the working class of the sport is not getting a proper share of the revenues. They claim owners are using devious practices to delay players getting to arbitration and free-agency. And they decry owners tanking for better draft picks or simply to make money.
None of this says that an early solution is imminent should the sides get past the next few weeks. The only lever for players is cancelling games, and there are none scheduled till next February (spring training) and late March (regular season). Likewise players are paid their salaries only during the regular season, meaning no player will lose any money till the games begin. Translation: They're not panicking either. So expect the real negotiating to start in February as camps set to open for 2022.
The hiccup in the debate over highly paid superstars and exploding payrolls is the Tampa Bay Rays. The definitive "small MLB market" Tampa has found a way to get to the 2020 World Series and the 2021 ALDS using a formula that involves dumping their name players (Evan Longoria, Blake Snell, David Archer) and culling prospects and rejects from other clubs.
While teams like the Blue Jays, Mets, Yankees, Dodgers and Angels are profligate spenders on big names, Tampa throws around nickels like they were manhole covers. The Rays are so frugal that they're proposing their summertime games be played in Montreal.
You want more? The cash-strapped Rays traded their stopper at the 2021 trade deadline— even as they led the majors in wins. They virtually invented the notion of reducing the value of starting pitching by creating the "bullpen" day, in which they start a relief pitcher and followed him with a series of other situational pitchers. Picking through the bargain bin they found inexpensive rejects and burnouts on other staffs and thrust them into their lineup.
As Mack Cerullo of Yahoo Sports noted, the Rays used 39 different pitchers last season; of the nine relief pitchers on Tampa Bay's opening-day roster, only three remained at season's end. The team's three All-Stars, Joey Wendle, Mike Zunino and Andrew Kittredge, made a combined $5 million last year. Brandon Lowe, Randy Arozarena and Austin Meadows, the heart of their batting order, made less than $3.7 million among them.
Despite cutting corners the Rays had the No. 1 ranked system in baseball starting 2021. By season's end prized rookies Wander Franco, Arozarena, Luis Patino and Shane McClanahan were all keys to TB getting to the ALDS. When they get too expensive the Rays will likely trade them for prospects or let them walk in free agency.
(Although the Rays tarnished their Scrooge reputation by signing the brilliant young Franco an eleven-year, $182 million contract extension, with a club option of $25 million for a twelfth year.)
Which begs the question: why are the tall foreheads of MLB shutting down the sport to save a system that has worked so well for Tampa? There is a ready template to compete and prosper in smaller markets. Why is this news to other owners? Likely it's easier to lock out players than do the heavy lifting of the Rays. With no threat of losing a franchise via relegation (as in soccer) or being cut off from the MLB gravy train why bother?
So prepare for months of crocodile tears from owners that MLBPA's demands "would threaten the ability of most teams to be competitive". And prepare to hold your nose when they say they've solved the Grand Old Past-Time.
Bruce Dowbiggin @dowbboy is the editor of Not The Public Broadcaster (http://www.notthepublicbroadcaster.com). The best-selling author was nominated for the BBN Business Book award of 2020 for Personal Account with Tony Comper. A two-time winner of the Gemini Award as Canada's top television sports broadcaster, he's also a regular contributor to Sirius XM Canada Talks Ch. 167. His new book with his son Evan Inexact Science: The Six Most Compelling Draft Years In NHL History is now available on http://brucedowbigginbooks.ca/book-personalaccount.aspx
Once Biden's Ace Against Trump, Covid Now Sinking Him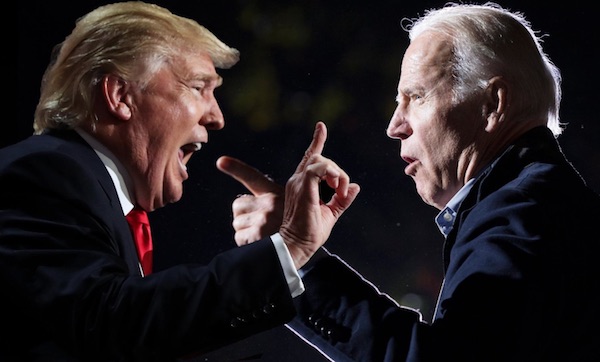 "220,000 Americans dead," said Joe Biden during the second presidential debate."If you hear nothing else I say tonight, hear this — anyone who is responsible for that many deaths should not remain as President of the United States of America,"
In March of 2020, the Democratic Party was dead in the water. Despite three years of Impeachment Theatre, RussiaGate inquiries, SCOTUS witch-hunts and the assault by Hollywood/ mainstream media on #OrangeManBad, the Dems were facing the likelihood that Donald Trump would win a second term in November 2020.
It was the economy, stupid. What to do with a front bench of mediocrities, radicals and lunatics running for the party nomination if the markets are booming?
Then the political gods gifted the party with Covid-19 in February 2020. The Wuhan-sourced pandemic was the ultimate political Hail Mary, an exploitable vehicle the Dems would manipulate to win the White House. From the time of the first deaths in February to Nov. 3, the Dems made sure everything Covid was attributed to the tempestuous Trump. And it stuck.
Trump's attempts to marshal Operation Warp Speed, his confrontational press conferences, his bans on foreign travellers and, ultimately, 15 Days To Flatten the Curve— no matter. The DEMs tied the shocking death numbers in the U.S. to Trump. Might early and alternative treatments have helped slow the pandemic? It didn't matter. Trump could not be given a win.
It mattered little that every other nation was helpless to stop the virus. The Dems made Americans believe Trump was making it worse. Looking at his opponent, Biden said in October's debates. "He knew all the way back in February how serious this crisis was… The president has no plan… It is what it is, because you are who you are." And so on.
This cynicism allowed the Dems and their leaking pals in the bureaucracy to flail the idea of vaccines being available in 2020. "If Donald Trump tells us that we should take it, I'm not taking it," future VP Kamala Harris shouted during her debate with Mike Pence. They also got a hand from their Big Pharma donors who delayed release of the vaccines till after the election, robbing Trump of a needed PR victory before the vote.
Famously, the DEM media party eviscerated Trump's attempts to discuss early treatment options such as Ivermectin, HCQ, vitamin therapy and, of course, falsely accusing the blustering Trump of telling people to drink bleach. It all stuck— and became Covid orthodoxy. Trump said it? Print it.
The "approved" CDC, WHO, NIH and Democrat prescription? Go home if you get sick, and wait till either you recover or go to the hospital to die. Anyone daring to contradict Team Fauci on Covid catechism was tossed from Twitter, Facebook and the MSM. Trump, Alex Berenson, Ivor Cummins, Naomi Wolff, Mike Lindell, Steve Bannon and the New York Post were among the many suspended or banned for "seditious" thought.
The October banning of the Post was the apogee of Pandemic Cancel Culture hubris. Because nothing was allowed to deflect from the pandemic, the oldest newspaper in America was banned for an October series of sourced stories on how Biden and son Hunter had been operating a shakedown scheme for years in China, Ukraine and other nations. How complete was the blackout? One in six Bidden voters later said they wouldn't have voted for him had they known.
(Canadian media, in the process of being bought out by PM Justin Trudeau, swallowed the Democrat narratives and sold them to mortified Canadians who were told Trump was the Grim Reaper. If anything, Canadians accepted harsher restrictions and lockdowns for fear of the media-manufactured apocalypse "created" by Trump.
The pandemic panic also allowed DEM operatives and sponsors to have election rules changed to permit mail-in voting, vote harvesting and to have ID rules relaxed— often in states run by GOP legislatures. It paid off as DEM votes went from 65,853,625 in 2016 to 81,284,666 in 2020. (Trump jumped from 62,985,106 to 74,224,319.)
The problem for new president Biden was that, having captured the WH, he now had to live up to the standards he'd imposed on Trump. Having told the public he was the man to conquer Covid Biden was soon eating humble pie. As of this writing 330,000 Americans have died on Biden's watch— 110,000 above the number he'd used to attack Trump. No surprise, Biden isn't resigning.
The media forces that put Biden in power quickly began campaigns of acceptance for one, then two, then three, now four shots of vaccine. Vax passports become good-behaviour badges. The unvaxxed were ostracized, portrayed as sub-human to distract from the collapse of the Omnipotent Vaccine narrative.
If the end result had not been thousands of deaths one might have even admired the hubris of the Biden operation. But people have died in large numbers as a result of a political scam.
Further, polling now shows the weary public is not distracted by this chicanery. Having failed to deliver on his Covid election promises, Biden now sees numbers at levels Trump experienced. Worse, a midterm massacre is in the offing, one that could see GOP take over both Houses of Congress. And repeal many of the progressive policies now being fed to the public.
The Biden media is now signalling the failure of its Covid strategy, pivoting to voting rights. DEM operative Donna Brazile catches the rage flavour. "Just as Revere and other patriots rode through Massachusetts on the night of April 18, 1775, warning rebellious colonists that the British were coming to prevent the creation of American democracy, Biden and Harris have warned that Republicans are coming now to destroy our democratic processes."
And all this because the Left, smarting from 2016 defeat, put its selfish destruction of Trump ahead of the safety of Americans. Karma is a bitch, no?
Bruce Dowbiggin @dowbboy is the editor of Not The Public Broadcaster (http://www.notthepublicbroadcaster.com). The best-selling author was nominated for the BBN Business Book award of 2020 for Personal Account with Tony Comper. A two-time winner of the Gemini Award as Canada's top television sports broadcaster, he's also a regular contributor to Sirius XM Canada Talks Ch. 167. His new book with his son Evan Inexact Science: The Six Most Compelling Draft Years In NHL History is now available on http://brucedowbigginbooks.ca/book-personalaccount.aspx
The High Stakes Plan To Sheikh Up Golf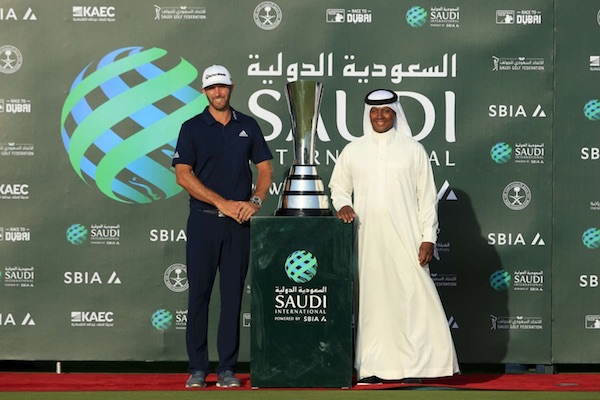 "Do I feel comfortable here? I wouldn't say I do. But this was not my choice. Our sport has chosen to be here, and whether it's fair or not, I think that, while we're here, it's still important to do some work on raising awareness." — F1 racing champion Lewis Hamilton on racing in Saudi Arabia
Has Saudi Arabia become the 2020s version of South Africa for sports? Back in the 1970s and 80s organized sports helped head the drive to isolate the apartheid regime in South Africa. Despite the offers of huge amounts of money (for the day) most establishment sports figures said no, leaving South Africa alone in its racist policy.
There are now the rumblings about the same shunning of Crown Prince Mohammed bin Salman and his ruling family over their politics in the region. Specifically the brutal murder of Jamal Khashoggi in 2018 has been seen by many as typical of the regime's cruelty. There is no doubt that the murder was bloodthirsty and arrogant. No one deserves to die that way.
And the strict Muslim regime has been pitiless in how it can treat its own people and immigrants working there. But using Khashoggi as a beacon of liberal thought is a bit much. Liberals have portrayed Khashoggi, whose byline appeared on columns in the Washington Post, as a martyr to the cause of progressivism in the region.
Here's how we saw the murder in our 2018 column "He May Be An SOB But He's Our SOB: "Well, the Saudis and their latest omnipotent leader appear to have made the mistake of killing someone who frequented the same DC dining salons as the American national press and political establishment. Some broke flatbread with him in his capacity as a columnist for WaPo. He was pals with prominent reporters.
You can do many things, but you don't murder a guy who picked up a tab at Le Diplomate for journos one night when they were a little short on cash.
Thus, we have a fury unseen for at least a fortnight over a guy who, though he didn't deserve to be butchered with bone saws, was something short of Jimmy Olsen, boy reporter: Nephew of arms dealer Anan Khashoggi, cousin of ill-fated Princess Di consort Dodi Fayed, dabbler in the Muslim Brotherhood propaganda, estranged pal of the current Saudi Royal family, supporter of the Turkish-Qatari axis, friend of disaffected princes and the anti-Saudi elements of the American elite."
As the expression goes, anyone who thinks they understand Saudi Arabia and the Middle East doesn't understand Saudi Arabia and the Middle East. But it seems that Khashoggi will nonetheless be the poster boy for the disquiet felt by celebrities such as Lewis Hamilton about a 14th century Islamic fiefdom— with more money that God— upsetting the sports apple cart.
As evidence, NBC Golf Channel hosts this week got in high dudgeon over a golf tournament the Saudis are running opposite the legendary AT&T Pebble Beach Classic in February. As is their wont the Saudis are paying so much in appearance fees that a large number of top Tour pros is headed there. Dustin Johnson, Bryson DeChambeau and Phil Mickelson are among the players to have committed to playing in what organizers hope will be a World Golf Tour.
Golf Channel's Rich Lerner and Eamon Lynch likened the players to those who took money to appear in Sun City in the 1970s. Kashoggi's publisher The Washington Post got straight the point. "There's no disguising the fact that it's blood money."
But Jordan Spieth thinks the competition will push the Tour . "I think as a player overall it will benefit in that I think that the changes that have come from the PGA Tour have been modernized in a way that may or may not have come about if it weren't there," he told Sky Sports.
So does Saudi Arabia rate a ban? Many countries and provinces (Quebec for one) rely on Saudi oil for economic survival. They're not talking. The U.S. sells it military equipment. Still no apartheid comparisons there. Fans of Iran are pissed, but that's the tribal Middle East for you.
But if the Kingdom does warrant censure why doesn't China get the same cold shoulder for next month's Olympics? Their record of late is deplorable— and they don't care who knows it. Oddly you didn't hear that take on Golf Channel, whose owners at NBC have billions sunk into the Olympic brand.
And where's the outrage for Australia as the Open tennis championships begin? As we wrote last month, "while we're looking at athletes denying politicians a PR bonanza, will any tennis players forgo a trip to January's Australian Open after the images of police-state tactics on their unvaxxed population in the host city of Melbourne? What messages are the best tennis stars sending by going ho-hum about a government that creates detention camps in Queensland for people not buying the mandated vaccines and lockdowns? A regime that does midnight raids, snatching people from their homes in the dead of night?"
You know the answer to that one.
Bruce Dowbiggin @dowbboy is the editor of Not The Public Broadcaster (http://www.notthepublicbroadcaster.com). The best-selling author was nominated for the BBN Business Book award of 2020 for Personal Account with Tony Comper. A two-time winner of the Gemini Award as Canada's top television sports broadcaster, he's also a regular contributor to Sirius XM Canada Talks Ch. 167. His new book with his son Evan Inexact Science: The Six Most Compelling Draft Years In NHL History is now available on http://brucedowbigginbooks.ca/book-personalaccount.aspx