Insurance rate increases absolutely unacceptable: NDP Critic for Service Alberta
This post was submitted by Jon Carson, NDP MLA for Edmonton-West Henday, Opposition Critic for Service Alberta
Thirty per cent.
That's how much auto insurance rates skyrocketed by for some Albertans at the end of this year, after Premier Jason Kenney and the UCP removed the five per cent cap on rate increases that our NDP government brought in, taking a "no limit" approach to how much insurance companies could actually raise rates.
The jump was immediate.
Albertans saw a wave of premium increases bordering on price gouging. Over 90% of car insurance companies filed for rate increases as soon as the cap was lifted, and rushed to bill drivers as soon as they could. Of the companies that received approved rate changes, the increases ranged from 4.9 per cent to an eye-popping 29.8 per cent.
It was a nice gift from Jason Kenney, who already slammed families for hundreds of dollars of new costs in his fall budget, including hikes to income tax, property tax, as well as more in school fees, prescription drugs and college tuition.
As usual, Finance Minister Travis Toews trotted out the UCP's one-trick pony and blamed the NDP, claiming that insurance companies were set to pack their bags and flee the province if he didn't let them jack up premiums beyond five per cent.
The lobbying effort came out in full force. The brokers, the insurance companies, and the Insurance Bureau of Canada are working overtime to sell quite the sob story: a massive spike in claims costs, not enough options for drivers, etc, etc. It's tough times for the poor, little ol' car insurance company.
What a load. These are some of the biggest and most profitable companies in Canada, and they simply want back the power they had to jack up premiums hand over fist.
The truth is that claims costs over the past few years are level, a fact that's supported by the Insurance Bureau of Canada's own data. In fact, an actuarial analysis by Fair Alberta Injury Regulators, an organization made up of concerned Albertans, doctors and legal experts, found that injury payouts have stabilized in the last few years, and even started to dip in 2019. Their actuary specifically found evidence that claims are "not skyrocketing."
This is further supported by the Alberta Superintendent of Insurance, responsible for all regulatory oversight of insurers operating in Alberta with a specific duty to ensure that insurance companies treat Albertans fairly. In his annual report for 2018, he found on average that the claims ratio for car insurance was 80 per cent across all companies in Alberta. Not the 120 per cent figure the insurance companies trot out on TV.
And while the UCP Government continues to claim they have documents to prove the cap made the car insurance industry unsustainable, they haven't provided a single piece of paper showing any of these companies would bail if they could–GASP–only raise premiums five per cent every year.
So why remove the cap? Well, in politics, it's who you know. And Jason Kenney knows an awful lot of people in the insurance industry. Namely, his former chief of staff and campaign director Nick Koolsbergen, who was hired to lobby the Premier on behalf of the car insurance industry just last year. He has Kenney's cell phone number.
Sounds like a good guy to have on your side… if you're a car insurance company.
The fact is, these companies turn a profit of tens of millions of dollars each year. They're used to having carte blanche in Alberta, and they want it back.
Under the thinly-veiled guise of "red tape reduction", the UCP has struck a panel looking at more regulatory changes that the insurance lobby itself has said "could also change the rate regulation framework that governs how insurers set premiums."
If costs are going to go up even more, who will Jason Kenney look out for? His friends and interests in big insurance? Or everyday Albertans driving to work?
Knowing Jason Kenney, Albertans should brace for impact.
Jon Carson is the MLA for Edmonton-West Henday and the Alberta NDP Opposition Critic for Service Alberta.

Graffiti artist completes world's tallest mural in downtown Calgary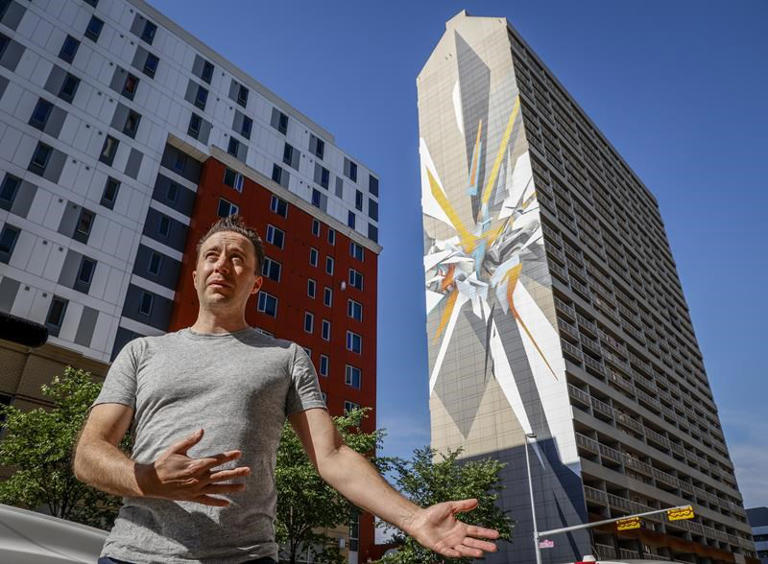 CALGARY — It looms on the edge of downtown a stone's throw from the Calgary Tower, a splash of colour amid aging buildings, railway tracks, parkades and a steady stream of traffic.
It's billed as the world's tallest mural, painted by one of the globe's top graffiti artists, and is part of a project to turn an austere area of downtown into an expansive open-air urban art gallery.
"The brutalism and dystopian look of this area with the giant parkades and the spiral ramps and stuff — it feels like Gotham. So turning this wall from concrete nothing to this is really fun," said Peter Oliver, president of the Beltline Urban Murals Project, or BUMP.
The mural is an abstract painting in various shades of orange, black, grey, blue, white and yellow and is the creation of DAIM, an internationally renowned German artist. DAIM, whose real name is Mirko Reisser, has been creating public artworks for more than 30 years.
"DAIM's work is rooted in graffiti art. It's abstract and he was actually the very first graffiti artist to start exploring three-dimensional works. So his work kind of obeys the laws of light and shadow but defies the laws of gravity," Oliver said.
"I think his work really marries well with the brutalism of this building and it's just a massive flat wall of concrete. It's the very first prefabricated concrete building in Calgary, built in 1980."
The mural is 95 metres high, making it the tallest mural in the world "by a long shot," said Oliver.
He said most cities don't have giant concrete walls available, with the majority being glass, steel or aluminum. So this was a perfect marriage.
DAIM, who was assisted by three local artists, spent over three weeks painting and went through more than 500 cans of spray paint after a base coat was added to the bare concrete. It is to be a permanent addition to the area and, as of last week, was awaiting a coat of UV sealant to make it complete.
Facing toward the east, it can be seen from a long way away.
"If you've got the window seat on the airplane, you can see it on the approach into the airport," Oliver said.
"I think what we're really doing with BUMP is re-architecting the identity of this city."
The project will be unveiling about 60 new murals during its annual festival, which runs from Aug. 1 to 28. Before that, the new art work can be viewed by visitors at the annual Calgary Stampede, which begins this week.
"If you're coming down, I'd check this out over the parade any day," Oliver said with a chuckle.
This report by The Canadian Press was first published July 4, 2022.
Bill Graveland, The Canadian Press
Beehives and goat farms: Lacombe school shortlisted in global environmental contest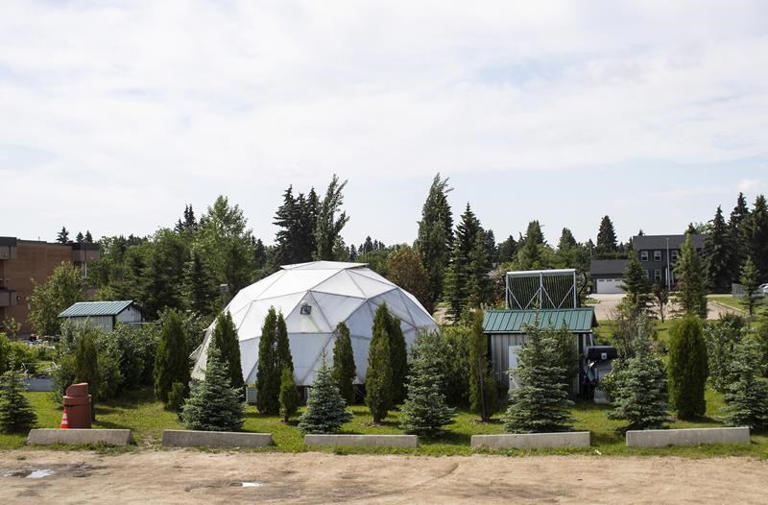 Taylor Perez says she learned more about her passions while tending beehives, goats and fruit trees at her central Alberta high school than sitting through lessons in a classroom.
"These are all skills we don't learn in regular classes," says the 18-year-old student at Lacombe Composite High School.
"You're not going to learn how to collaborate with community members by sitting in a classroom learning about E = mc2."
Perez and her classmates are buzzing with excitement after their school's student-led beekeeping program, goat farm, fruit orchard, tropical greenhouse and other environmental projects were recognized in a global sustainability contest among 10 other schools.
It's the only North American school to be shortlisted by T4 Education, a global advocacy group, in its World's Best School Prize for Environmental Action contest.
"The projects are coming from the students' own hearts and passion for taking care of the environment," says Steven Schultz, an agriculture and environmental science teacher who has been teaching in Lacombe since 1996.
"They are going to be our community leaders — maybe even our politicians — and for them to know what the heartbeat of their generation is (is) extremely important."
Schultz says the projects are pitched and designed by students in the school's Ecovision Club, to which Perez belongs, and he then bases a curriculum around those ideas.
The school of about 900 students began reducing its environmental footprint in 2006 when a former student heard Schultz say during a lesson on renewable energy that "words were meaningless or worthless without action," the 56-year-old teacher recalls.
"She took that to heart and a year later she came back and told me that she wanted to take the school off the grid."
Schultz and students watched a fire burn down solar panels on the school's roof in 2010, an event that further transformed his approach to teaching.
"As their school was burning, my students gathered in tears. That day I realized that students really care about the environment and they really care about the projects that they were involved in."
Since then, 32 new solar panels have been installed, and they produce up to four per cent of the school's electricity. After the fire, students also wanted to clean the air in their classrooms so they filled some with spider plants, including one in the teachers' lounge.
More recently, students replaced an old portable classroom on school property with a greenhouse that operates solely with renewable energy. It's growing tropical fruits, such as bananas, pineapples, and lemons, and also houses some tilapia fish.
Two acres of the school are also covered by a food forest made up of almost 200 fruit trees and 50 raised beds where organic food is grown.
The school also works with a local farm and raises baby goats inside a solar-powered barn that was built with recycled material.
"They breed and milk them at the farm because there are really tight regulations," says Schultz.
"We take the excrement from the goats and the hay and use it as mulch and fertilizers for our garden. The goats also chew up the grass and allow us not to have to use lawn mowers and tractors"
Perez said her favourite class is the beekeeping program with 12 hives that produce more than 300 kilograms of honey every year.
"I love that they have different roles in their own little societies," Perez says of the bees.
She says while working with local businesses and groups as a part of her curriculum, she learned she's passionate about the environment and wants to become a pharmacist so she can continue giving back to her community.
James Finley, a formerly shy Grade 10 student, says the Ecovision Club and environment classes have helped get him out of his comfort zone.
"I made friends, which was a hard thing for me in the beginning. But now I have, like, hundreds," says the 16-year-old, who enjoyed the lessons he took on harvesting.
"Taylor and Mr. Schultz were the main people that made me stay."
Schultz says the winners of the contest are to be announced in the fall.
A prize of about $322,000 will be equally shared among five winners.
This report by The Canadian Press was first published Sunday, July 3, 2022.
—
This story was produced with the financial assistance of the Meta and Canadian Press News Fellowship.
Fakiha Baig, The Canadian Press