Got a big idea for city council? Here's your chance to share it.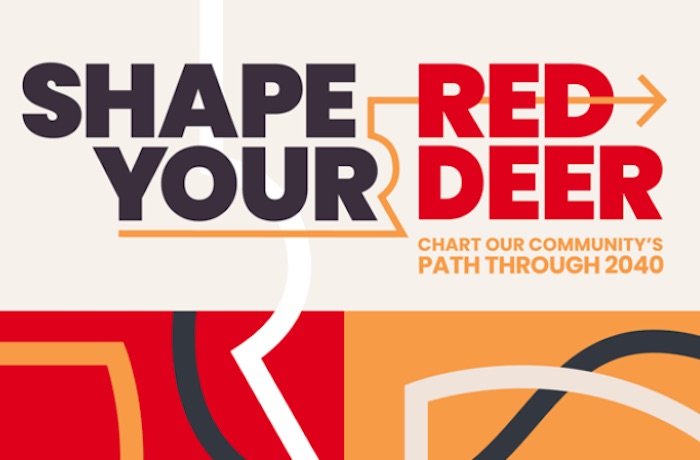 Red Deerians are invited to "Shape your Red Deer"
Red Deerians are invited to share their big ideas and dreams for Red Deer as part of a public participation project: Shape your Red Deer, chart our community's path to 2040.

What version of Red Deer do you see in the short, medium, and long-term? How do we get there? Help us envision Red Deer's future and chart the path we, as a city and community, want to take.

Launching today is an online engagement tool, where participants will be asked to provide their big ideas and dreams for Red Deer over the next twenty years, input on what The City should focus on over the next four years, and thoughts on what should guide municipal decision making. This engagement site will close on May 22.

To RSVP to either session, please visit www.reddeer.ca/2040.

"Feedback gathered as part of Shape your Red Deer will influence the future projects and work that The City of Red Deer will undertake in the short, medium and long-term. We are asking our community to inform City Council's new Strategic Plan and our Vision 2040 plan," said Interim City Manager Tara Lodewyk. "We encourage all Red Deerians to be part of this exciting time and share their ideas with us by participating in the online or in-person workshops, or with the online engagement tool."

Share your vision and ideas at upcoming public engagement opportunities, offered both in-person and online. Your feedback will be used to help shape Council's next Strategic Plan, and Vision 2040, which will influence the work The City of Red Deer does over the next four to twenty years.
Public Participation Opportunities:
There are several ways to provide your input as part of Shape your Red Deer, including an in-person workshop, an online workshop, and an online engagement tool that can be done at whatever time is convenient to you. All residents are invited to share their ideas and participate.
Online workshop
May 3, 2022: 1 – 2:30 p.m.
Register here
In-person workshop
May 16, 2022: 5:30 – 7 p.m.
RSVP here
Online engagement tool
April 26 – May 22
Take the survey here
What is the Strategic Plan?
The Strategic Plan is City Council's direction to the organization for the benefit of the community. A new strategic planning process begins every four years, with the swearing in of a new City Council. City Council determines its strategic plan based on several factors including, but not limited to, things they heard from citizens on the campaign trail, information shared with City Council from administration, and information collective during the public participation process directly connected to the strategic plan.
City looking to help homeowners affected by flooding from June rains
City applying for disaster recovery funding to support residents affected by June rainfall
The City of Red Deer is submitting an application to the Government of Alberta's Disaster Recovery Program (DRP) seeking financial relief for residents and property owners who experienced flooding due to excessive rainfall in June.

The DRP provides financial assistance for uninsurable loss and damage caused by emergencies and disasters. Following a disaster, affected municipalities can apply to the program and, if the municipal application is approved, affected residents can apply to the Province for financial assistance.

On Monday, The City will be submitting the first round of a DRP application seeking financial assistance for residents affected by ground flooding on or after June 23, 2022. The City is seeking to learn how many residents were affected by flooding to ensure the next phase of the application process has the most up to date information available.

Affected property owners are asked to contact the Engineering department to ensure the DRP application can be updated with more detailed information about the impacts of flooding. Owners can email [email protected] or call 403-342-8161 with the following information:
Name
Address
Phone number
Confirmation of the date flooding started on their property
1-2 photos if available
If they have not already, affected residents should first contact their insurance provider to confirm which costs will be covered, as DRP funding would only apply to uninsurable losses. Residents are reminded to keep track of all receipts related to flood expenses and are forewarned that it will take time before funds may become available. Applicants to the DRP should anticipate a site visit to confirm details as part of the application process.
In June 2022, The City reported between 167 and 182 mm of rain at different locations across the city. According to Environment Canada, from 1981 to 2010, the average precipitation for the month of June at the Red Deer Regional Airport was 94 mm.
Information and updates on the application process are available on The City's website at reddeer.ca/flood.
More information about the Alberta Government's Disaster Recovery Program (DRP), including the types of disasters covered by the program, is available online at https://www.alberta.ca/disaster-recovery-programs.aspx. Residents affected by ground flooding are encouraged to review the 'Homeowner and residential tenants' fact sheet for details about qualifying for the DRP.
Process of picking location for homeless shelter moves toward final decision August 29
Shelter site selection process moves to next phase
An update to Council on the process that will lead to Council making a decision on a shelter site has been presented for information to Council. The next phase in the process is a technical review of potential sites for a future shelter in Red Deer. Administration developed the next steps in the process reflecting Council's policy direction developed and approved during their June 24, 27 and July 4 meetings.

Two of the five phases of the site selection process are complete; this includes Phase 1: Public Engagement and Phase 2: Policy Direction to inform Process Design. The remaining three phases that lead up to a final site decision on August 29 includes the following:

Phase 3: Technical Review & Assessment Phase:
July 13 – 22: commercial realtor to conduct site search. Two meetings were held the week of July 11 to 15 with the commercial realtor. The first was with members of administration to provide information on the site selection process and the approved matrix. The second meeting was with Mayor Ken Johnston and Deputy Mayor Lee to provide further Council perspective.
July 22 – 25: initial technical assessment conducted by administration prior to site visits
July 25 – August 5: site visits and enhanced technical review of short-listed sites
Phase 4: City Council Review
August 15: City Council meeting: administrative recommendation of sites based on City Council's policy direction through the development of its matrix.
August 15 – 21: Additional administrative technical review of additional sites (if directed by Council)
August 21 – 26: City Council review and evaluation using their site evaluation matrix approved on July 4, 2022.
Phase 5: Site Decision
August 29: Council to make final decision about the future shelter site at their regular meeting using the site selection matrix as one element of the decision.
Additionally, during Phase 3, administration will put out a call for privately owned sites, through The City's website. This call is to see if there are any privately owned sites out there that are not yet on the market, but that property owners might be interested in selling for the purposes of an integrated shelter. More information about this will be released in the coming days.
———-
Call for privately owned properties for consideration during shelter site selection process
Private property owners who are interested in selling their site for the purposes of an integrated shelter are invited to submit their information until Wednesday, July 27.
Currently, a commercial realtor is developing a high-level property listing for technical review, but if there are any properties that are not currently on the market, they can be submitted by the property owner through an online form on The City's website.
On June 24, 27 and July 4, Council developed and approved the Shelter Site Selection Matrix that will guide the site selection process for the future shelter in Red Deer. Below is the full matrix and definitions approved by Council:
SITE CRITERIA SUB-CRITERIA POINTS PERCENTAGES
Ability to acquire site: 20 points
Acquiring the optimum site can be done in a timely manner. Acquisition options and costs are important considerations.
Cost 40%
Zoning 15%
Timing 40%
General 5%
Adequate size: 20 points
The size of the site considers the potential need to adjust service delivery at any given time. It will accommodate proposed integrated amenities and services. It considers the land size needed to accommodate outdoor gathering spaces and activities. The site already has a building or can accommodate a building that meets the Province's minimum requirement of 10,000 square feet.
Adequate land size (outside/inside) 30%
Can accommodate purpose built/dignified spaces 20%
Can accommodate on-site/integrated services 30%
Future flexible/expansion opportunity 10%
General 10%
Broad community impact: 24 points
The site aligns with The City's vision for the community. Community impact includes considerations such as, impacts on economic and business development, and municipal operations. It includes potential reputational impacts and financial impacts (both capital and operating). It also includes impacts to those accessing shelter services in our community. The site considers impacts to our community as a whole, including health, and safety for all in our valued places and spaces that are enjoyed by our citizens.
Operational and Budgetary Impacts 17%
Alignment with Community Vision (Strategic Plan/Downtown Vision/Vision
2040) 25%
Impact to City Reputation 13%
Economic Impact 25%
Safety Impacts 17%
General 4%
Impacts to surrounding area: 26 points
Impacts to businesses, residences, parks, trails, and schools are a priority consideration in selecting site. The city's reputation is considered. A preferred site can accommodate and foster development of a safe, secure shelter.
Impacts to businesses 23%
Impacts to downtown 19%
Impacts to Parks, Trails and Greenspaces 19%
Proximity to Schools 12%
Impacts to Residential Neighbourhoods 23%
General 4%
Access to services & supports: 10 points
Safety and basic needs for all is a priority. Regularly utilized services and supports that would not be co-located are taken into consideration. Sites where co-located services can operationalize are preferred.
Access to transit and transportation 10%
Distance/proximity to supports/services 20%
Foot Traffic Patterns 20%
Enables delivery of 24/7 integrated service 20%
Enables delivery of basic amenities/services 20%
General 10%
If you are a property owner and would like to submit a site for consideration, please fill out and submit the online form here.
For information on the future shelter site selection process, please visit www.reddeer.ca/shelter.