Four shot and two in custody on Central Alberta O'Chiese First Nation
From Alberta RCMP 
Police responding to active threat on O'Chiese First Nation 
At 5:08 p.m. on April 5, 2021, Rocky Mountain House RCMP received a complaint of a male shot at residence on the Sunchild First Nation. A second report of a shooting was received at 5:34 p.m. at the Marketplace on the O'Chiese First Nation and reports of second male had also been shot. At 5:55 p.m. a third report of a shooting at a residence was received with two males being reported as having been shot.
RCMP officers from neighboring detachments along with the RCMP Emergency Response Team, Air Services and Police Dog Services PDS) were called in to assist.
With the assistance of the O'Chiese Fire Department, residents were advised to shelter in place.
One suspect was tracked by Air Services and arrested by RCMP members on the ground.
PDS located a track near one of the scenes and as a result a second suspect was located and arrested.
The investigation indicates that the suspects were both travelling on an ATV and then after the initial shooting, the suspects stole the victim's ATV.
The four adult male victims aged 18, 19, 20 and 34 were evacuated from the scene and transported to a local area hospital.  Two of the victims, the 34 year-old and 19-year-old were then transported by STARS to Calgary and Edmonton hospitals. Three of the victims are reported to be in stable condition. The 34-year-old male was reported to be in serious but stable condition.
Keith Beaverbones (28) and Zachary Yellowface (19) both from the O'Chiese First Nation, have each been charged with four counts of attempted murder.
In addition, Zachary Yellowface has also been charged with:
Unauthorized possession of a firearm
Possession of a firearm knowing the possession is unauthorized
Possession of a prohibited firearm
Theft of a motor vehicle
Flight from peace officer
Resist arrest
After a Judicial hearing both Beaverbones and Yellowface have been remanded and will be next appearing in Rocky Mountain House Provincial Court on April 7, 2021.
"This is a nightmarish situation for everyone involved, including the police, but most importantly for the members of the community" said S/Sgt. Carl Dinsdale of the Rocky Mountain House Detachment. "I'm thankful that there was no loss of life during this event, and grateful for the quick response by members from Rocky Mountain House and surrounding Detachments, as well as local EMS, RCMP Air Services, Police Dog Services and the Emergency Response Team. It was the timely response by all these members, units and partner emergency services that was the key to the quick apprehension of these two suspects without further injury or loss of life."
As these matters are now before the courts, no further information will be provided.
Ann's story: having someone to talk to and guide me to be healthier really helped!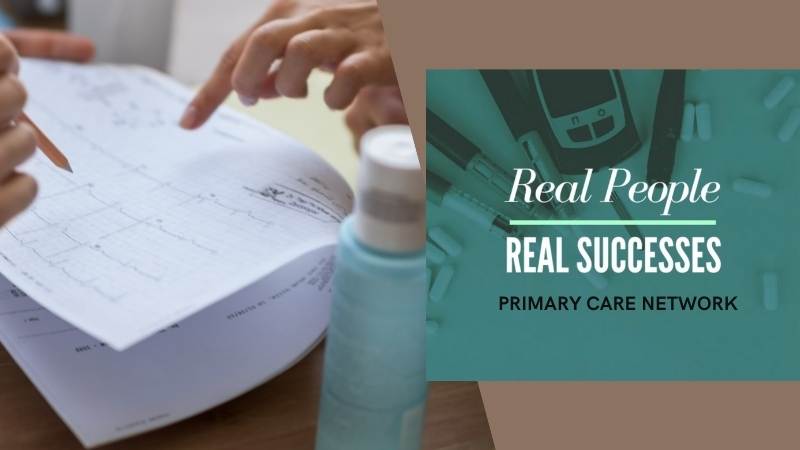 Ann shared her story of working with the PCN nurse towards better health. "I was diagnosed in November 2019 with diabetes and our doctor suggested that if I could lose about 10-15 lbs then I probably would not need to go on medication. He suggested a time frame around end of February and that he would contact a nurse for me to consult with. This was a bit of a shock and I wasn't sure I would be able to lose so much in such a short time.
We had recently moved from BC to Alberta to be closer to our grandchildren after we both retired. Within 4 months of arriving and lucky enough to get registered with a new doctor my husband found out that he had prostate cancer and a blood cancer called Polycythemia Vera. This just blew us both away. He had no symptoms of any of these diseases. So, for almost all of 2019 we were constantly in at the Cancer Clinic at Red Deer or the Imaging Clinic. This took a huge toll on both of us. I developed high blood pressure, my anxiety level was through the roof, wasn't sleeping, had ocular migraines and I was also trying to get my weight loss going. I felt I was falling apart.  I didn't realise at the time that all this was contributing to my being overweight.
I have been a weight watcher member for around 25 years. Had some success then every few years I would go back again but in 2014 after I retired, I decided to try again and along with a friend I lost 22lbs and got down to 130lbs for (5ft) person, I felt good. I kept this off until late 2018. Right now, I am back at 150lbs.
Just being able to talk to the PCN nurse was such a good help for me mentally as I felt I had no one to talk to who understood what I was going through. She helped me understand a lot about diabetes and every month that we met my blood level was decreasing and I was losing a few pounds. However, when my husband was told that his potassium was a bit high, I had to restructure our meals. So, everything he had to avoid was what I was supposed to eat.  The nurse connected me with a dietitian who immediately told me to stop "dieting" as this was stressing me out even more than before. Just to make sure that I still ate sensibly, did some exercise and to put the scale away and only weigh myself once a month. This has really helped, and I am starting to sleep better, I don't feel nearly as anxious and I have a more positive outlook. I realise that I will eventually lose a few pounds, I might not get back to my 130lbs, but it will take time and I'm fine with that.
I think if I had been back in BC, I would have been able to talk to my friends about what I was going through and I might have got some help quicker. Sharing your feelings is not easy but it sure helps. I appreciated the PCN nurse listening and helping me make a plan to improve my mental as well as my physical health." 
To learn more about the RDPCN programs, visit www.reddeerpcn.com
Red Deer teacher representing Canada for Most Valuable Teacher title – Just 2 more days to vote!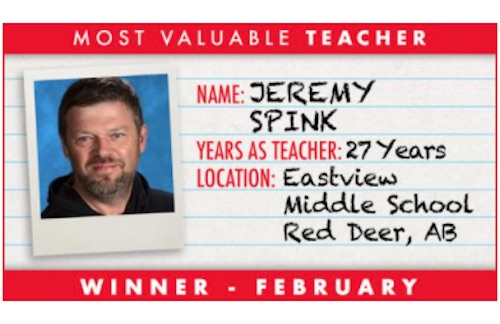 Local teacher in the running for $20,000 technology grant
Eastview's Jeremy Spink the only Canadian vying for the prize
A Red Deer teacher is the only Canadian in the running for a huge prize of $20,000 and the title of 2020/21 NHL/NHLPA Most Valuable Teacher, presented by SAP (Systems, Applications, and Products in Data Processing) and he needs your votes to win!
Jeremy Spink, Teacher at Eastview Middle School, is one of three teachers across North America vying for the technology grant and bragging rights of being named Most Valuable Teacher. If he is successful, Red Deer Public Schools will use the money to support students with technology to help bring Science, Technology, Engineering and Mathematics concepts to life at Eastview Middle School.
The community can help Spink win by voting daily on the Future Goals™ Teacher of the Year website from May 3-7.
Spink won the title for the month of February after competing against dozens of other teachers across North America. Red Deer Public received a $10,000 grant in which Eastview purchased technology for classrooms.
"I didn't really realize the magnitude of the whole program when I was nominated for February. The amount of support I received from our community was amazing – everyone really rallied around this cause. It was amazing on my part and I was touched by the support. It was such a great feeling," said Spink. "To take this to the next level will really be putting Red Deer, Red Deer Public and Eastview Middle School on the map across Canada. To bring our community into the spotlight and show what great things we do in our schools and in our Division would be amazing."
Spink, who has been a teacher at Eastview for more than 20 years, has incorporated the Future Goals™ – Hockey Scholar program into his classroom, which is designed to leverage STEM in hockey to create a fun and memorable learning experience.
"It is a great program and it all ties right into our curricular goals," he said. "I am dedicated to teaching applications for STEM because I know that it not only impacts how healthy and productive students are during this time, but also their well-being and success far beyond the K-12 years."
Eastview Middle School Principal Kevin Robertson said Spink has been a leader in the school's hockey program and worked with other teachers in delivering programming to Grades 6-8.
"In his hockey class, and in all of his classes, he instills a love of learning and particularly a love for the game for all of his hockey class students, through positive interactions and his infectious enthusiasm," said Robertson. "If he were to win the MVT for 2020/2021, we would look at how we could further support technology in our classrooms, whether through more devices, or through other specific technologies for our hockey program and other areas to supplement instruction."
How can the Red Deer community help? By voting for Spink once a day from May 3-7. To vote, visit the Future Goals™ Teacher of the Year website.
"I encourage people to vote because it will help put our community on the map. The other two teachers are from Pittsburgh and Philadelphia, so to have our community of 100,000 people go up against these two huge communities and show our Alberta and Canada pride would be so great!" said Spink.