Update: Virtual concert raises more than $40K for Cancer Research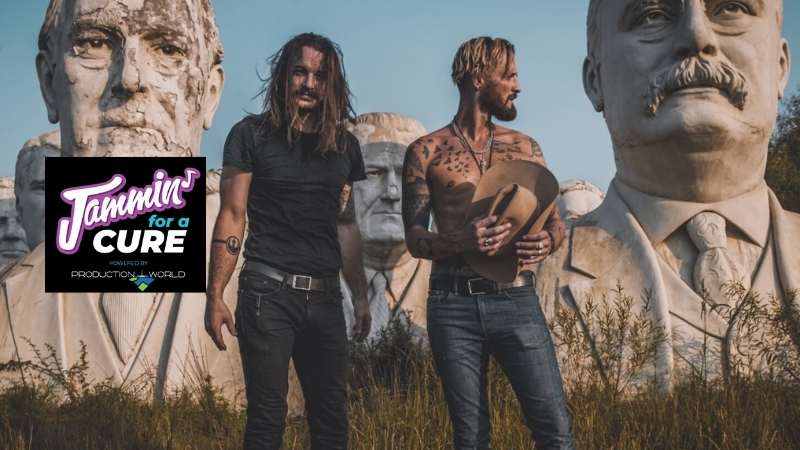 This weekend's Jammin' For a Cure concert raised more the $40,000 for Cancer Research, with funds raised being earmarked for the work of Dr. Michael Chu, a clinician scientist at the Cross Cancer Institute. His research is for a new treatment known as Chimeric antigen receptor (CAR) T-cell therapy.
The 18 hour live performance was a great event. If you missed it, we have the links right here for you.
Friday: Click here
Saturday: Click here.
If you missed the show on the weekend, check it whenever you wish, and share it. The concert featured some really good performance from local, regional, national, and international artists. A highlight for me was El Niven and the Alibi. After doing some crazy tours, one from Tijuana to La Paz, performing fully amplified street concerts, and another from Edmonton to New York, across to L.A. and back to Edmonton. More than 400 shows over 3 years hones your skill, and this trio has a ton of skill.
Here's a video they recently released called Likker. If you like the thoughts of a mash up between a 6'5″ Freddie Mercury, Frank Zappa, Commander Cody, and then you put an old worn telecaster in this volatile combination of a man's hands, and say to him, go out and do something magical, and maybe just a bit crazy, then El Niven should appeal to you. Click here to learn more about El Niven and the Alibi.
Original story from March 26, 2021
I think we can all agree that few of us have been touched more by cancer than any other disease. One of the organizations trying to make a difference is the Cure Cancer Foundation, founded by a group of volunteers with a desire to more directly fund research and treatment programs.
And, what better way to raise money than with live music. Let's face, it's been an awful year without clubs and bars open, and no concerts and festivals. So maybe take a break from Netflix this weekend and take some time and catch some amazing talent, many of whom you've listened to in your favourite venue over the years. Many have been very busy creating new work during this last year and I'm sure you'll hear some excellent new music throughout the weekend. In fact, here's something recent from Brett Kissell.
Jammin' For a Cure is a live concert event taking place over 18 hours, starting tonight at 6 PM when Alberta's own Brett Kissel kicks off a night of great music with artists that include Clayton Bellamy, Martin Kerr, and Jesse Roads. (The full list of talent and the schedule is below).
Saturday, the music begins at noon with Confounded Dials. Some excellent solo artists and bands will perform throughout the day, including Josh Sahunta, Dahlia and the Villains, Stephanie Harpe Experience, Maria Dunn, Stevon Kayla, and John Hewitt.
Alfie Zappacosta kicks of the evening slate of acts Saturday night at 6 PM followed by artists like Hailey Benedict, Bardic Form, Amy Metcalfe, Kesara Kimo and guest Evrlove, and runs right through to 11:40 PM with Canadian Coldwater Revival closing the show.
I have been invited to appear on this bill as well and I'm pretty pumped to strap on a guitar and perform on Saturday at 3:40 PM for a 20 minute set. Having lost my mom to ovarian cancer in 1994, I do what I can to help.
And a big shout out to Jon Beckett and his talented, experienced team at Edmonton's Production World for making all of this possible.
Remember these are free concerts.
Here's the link for Friday (tonight).
Here is the link for Saturday.
Friday Line up
6-6:40 PM Brett Kissel
7-7:40 PM FKB
7:40-8 PM Olivia Rose
8-8:40 PM Clayton Bellamy
8:40-9 PM Stevon and Kayla Artis
9-9:40 PM Martin Kerr
10-10:40 PM Jesse Roads
11-11:40 PM Guitarface
Saturday starting at noon
12-12:40 PM Confounded Dials
12:40-1 PM Tracy Lynn Byrne
1-1:40 PM Josh Sahunta
1:40-2 PM Brenda Dirk
2-2:40 PM Dahlia and the Villains
2:40-3 PM Kaylee Caura-Lee
3-3:40 PM Kane Incognito
3:40-4 PM Lloyd Lewis
4-4:40 PM Stephanie Harpe Experience
4:40-5 PM Maria Dunn
5-5:40 PM Stevon Kayla and the Heavenly Band
5:40-6 PM John Hewitt
6-6:40 PM Alfie Zappacosta
6:40-7 PM Hailey Benedict
7-7:40 PM Bardic Form
7:40-8 PM Amy Metcalfe
8-8:40 PM El Niven and the Alibi
8:40-9 PM Darrell Barr
9-9:40 PM Kesaro and Guest Artist Evrlove
9:40-10 PM Danny Floyd Cole
10-10:40 PM Jusjrdn and DJ Kwake
10:40-11 PM Mightberea
11-11:40 PM Canadian Coldwater Revival
The whole purpose is to raise money. Here's the link to make a donation right now.
As well, there's a host of great silent auction items you can bid on, from autographed jerseys to signed guitars. Click here to get started.
About Cure Cancer Foundation
Cancer doesn't stop. No matter what's going on in the world, Cancer is always there, hurting those we love. Jammin' For A Cure will be raising money for Dr. Michael Chu, a clinician scientist at the Cross Cancer Institute, who is leading the charge with a new treatment known as Chimeric antigen receptor (CAR) T-cell therapy.
This therapy turbocharges the immune system to create killer immune cells that can wipe out cancers. This alters the patient's own cells to be a new "barcode reader" and find the hiding cancer cells. This treatment is predicted to make the most significant difference in blood cancers such as multiple myeloma, leukemia, and lymphoma patients, even those with multiply relapsed cancers.
We want to help fund great research like this to help Albertans, and people everywhere, receive the treatment they need. Your support will provide hope to people who would otherwise die of their cancer – despite all the best-known treatments. You are giving people a better chance of a cancer-free outcome and more time with their families, friends, and loved ones.
Todayville is very happy to support this event. Click here to read more stories on Todayville.
Alberta Premier Danielle Smith says conservatives must learn to win in 'big cities'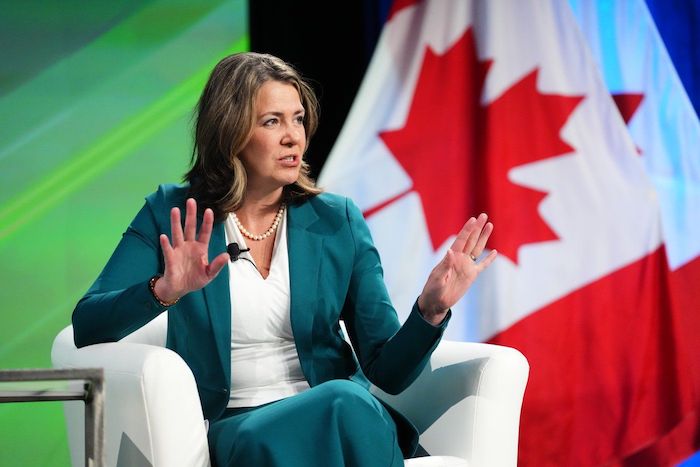 Alberta Premier Danielle Smith speaks at the Canada Strong and Free Network in Ottawa on Thursday, March 23, 2023. THE CANADIAN PRESS/Sean Kilpatrick
Ottawa (CP) – Alberta Premier Danielle Smith says conservatives must learn how to win in "big cities."
Smith made the comment to a room of conservatives gathered in Ottawa for the annual conference of the Canada Strong and Free Network, formerly called the Manning Centre.
With Albertans set to go the polls in a provincial election this year, Smith says the United Conservative Party has more ground to gain in the province's two largest cities: Calgary and Edmonton.
Smith replaced Jason Kenney as party leader and premier last fall, after he resigned following a leadership review where he received only 51 per cent support.
Kenney faced considerable backlash leading up to that vote for his handling of the COVID-19 pandemic, and Smith told today's crowd that the party had lost "a lot" of its base.
Smith's belief that conservatives must make inroads in large cities is shared by the federal Conservatives, with Leader Pierre Poilievre spending many of his weekends in Metro Vancouver and the Greater Toronto Area — areas where his party has struggled to gain ground in the past several elections.
This report by The Canadian Press was first published March 23, 2023.
Roy scores OT winner as Golden Knights tip Oilers 4-3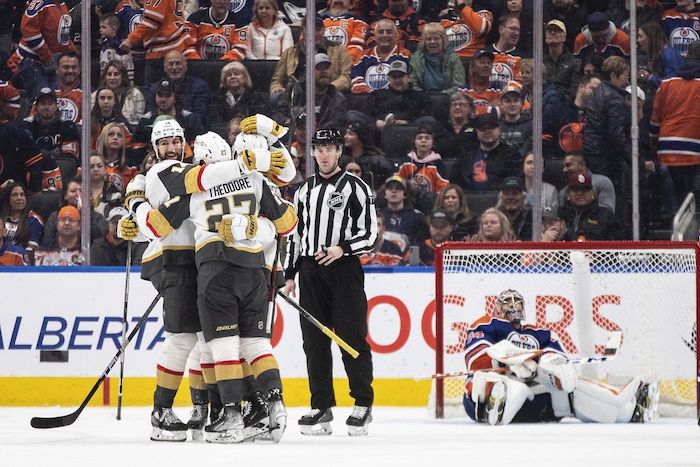 Vegas Golden Knights celebrate the winning goal on Edmonton Oilers goalie Stuart Skinner (74) during overtime NHL action in Edmonton on Saturday March 25, 2023.THE CANADIAN PRESS/Jason Franson
By Shane Jones in Edmonton
The Vegas Golden Knights made sure to keep the Edmonton Oilers at arm's length in the Pacific Division race.
Nicolas Roy scored the overtime winner and Jack Eichel had a goal and two assists as the Golden Knights won their fourth consecutive game, knocking off the Oilers 4-3 on Saturday night to give themselves a seven-point cushion atop the Pacific Division standings over third-place Edmonton with nine games to play.
Roy was left alone in front of the Edmonton net and deposited his own rebound past Oilers goalie Stuart Skinner 2:26 into OT.
"It's a big win, big road trip," said Knights defenceman Brayden McNabb. "They were sneaking up on us and we were able to get an extra point out of this game.
"We have that next-man-up mentality, it's been that way all year. We've had injuries throughout the year, the guys are prepared, we have great depth, we have great goaltending and it showed tonight. It felt a little bit like a playoff game, for sure."
Pavel Dorofeyev and Jonathan Marchessault also scored for the Knights (46-21-6) who have won eight of their last nine and sport a league-best 17-3-2 record since the NHL All-Star break.
"Gutsy win for us, it's a divisional game and I thought we played well," Eichel said. "It's a really good team over there, they generate a lot of offence and I thought we did a really good job limiting them."
Zach Hyman, Leon Draisaitl and Warren Foegele replied for the Oilers (41-23-9) who had a five-game winning streak snapped.
"It was a tight game. It was what you expect in the playoffs," Draisaitl said. "It is obviously a team that we could face. I think we know how to handle these types of games. Obviously tonight didn't go our way, but we will take the point."
Vegas scored on the first shot of the game 61 seconds in as Eichel took a feed on a two-on-one from Ivan Barbashev and beat the Oilers' starter stick-side for his 27th goal of the season.
Not to be outdone, the Oilers also scored on their first shot on Knights goalie Laurent Brossoit 3:28 into the opening frame, as Draisaitl put it right on the tape of Zach Hyman's stick in front of the net and he redirected in his 31st. Draisaitl set a new career high for points on the play, hitting 111 after capping out at 110 points two previous seasons.
The Golden Knights regained the lead on the power play with 3:33 to play in the first period when the puck came to Dorofeyev on a broken play and he wired home his fifth of the campaign to the top right corner.
Edmonton's lethal power play allowed them to knot the game up midway through the middle period as Connor McDavid sent it to Draisaitl in the slot and he took it on the backhand before spinning around and scoring his 45th goal of the season. It was also Draisaitl's 28th power-play goal, the most by any player in a season since Mario Lemieux in 1995-1996.
Vegas found another gear to start the third and went ahead 3-2 almost seven minutes into the final frame as Eichel dropped a pass back in the lane to Marchessault, who beat Skinner with a one-timer.
Brossoit followed that up with a massive save on Mattias Ekholm.
Edmonton tied the game once again with 8:41 to play in the third as Foegele tied his career high by scoring his 13th on a long wrist shot to eventually send the game to extra time.
"It's disappointing we didn't get the two points," said Oilers head coach Jay Woodcroft. "Some of the goals we gave up were preventable. We're going to take the lessons from tonight and learn from it."
NOTES
Edmonton won both previous meetings between the two teams this season, both by 4-3 scores. … Vegas was missing a bunch of bodies in Mark Stone (back), William Carrier (lower body), Adin Hill (lower body), Logan Thompson (undisclosed), Reilly Smith (lower body) and Alec Martinez (personal). As a result, defenceman Ben Hutton returned to the lineup after being a healthy scratch the past 21 games. Forward Keegan Kolesar also returned after missing six games with an upper-body injury. In net, Brossoit made his first start since Feb. 25. … Edmonton was without the services of Ryan Murray (back) and Ryan McLeod (upper body). … The Golden Knights and Oilers both boast 11 skaters with 10-plus goals — tied for second in the NHL in that category. … Oilers defender Cody Ceci played in his 700th career NHL game.
UP NEXT
The Knights are off until Tuesday, when they will play the Oilers in a rematch in Vegas.
The Oilers make a quick trip to Arizona to face the Coyotes on Monday before playing the Knights on Tuesday in the final regular-season matchup between the two teams.
This report by The Canadian Press was first published March 25, 2023.