Update: Virtual concert raises more than $40K for Cancer Research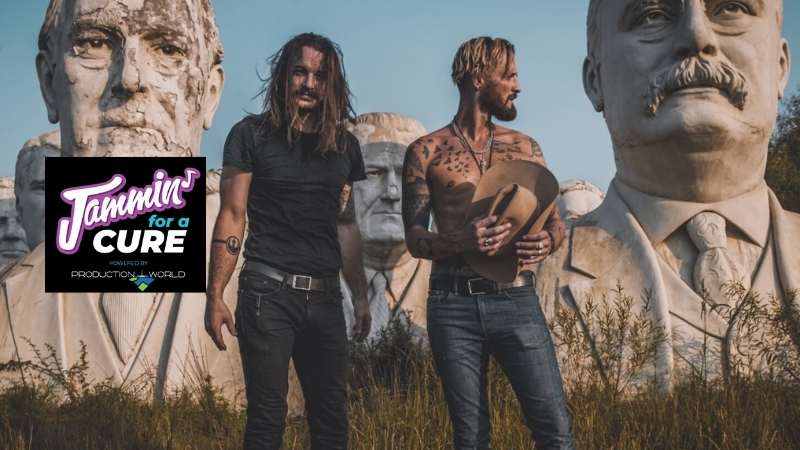 This weekend's Jammin' For a Cure concert raised more the $40,000 for Cancer Research, with funds raised being earmarked for the work of Dr. Michael Chu, a clinician scientist at the Cross Cancer Institute. His research is for a new treatment known as Chimeric antigen receptor (CAR) T-cell therapy.
The 18 hour live performance was a great event. If you missed it, we have the links right here for you.
Friday: Click here
Saturday: Click here.
If you missed the show on the weekend, check it whenever you wish, and share it. The concert featured some really good performance from local, regional, national, and international artists. A highlight for me was El Niven and the Alibi. After doing some crazy tours, one from Tijuana to La Paz, performing fully amplified street concerts, and another from Edmonton to New York, across to L.A. and back to Edmonton. More than 400 shows over 3 years hones your skill, and this trio has a ton of skill.
Here's a video they recently released called Likker. If you like the thoughts of a mash up between a 6'5″ Freddie Mercury, Frank Zappa, Commander Cody, and then you put an old worn telecaster in this volatile combination of a man's hands, and say to him, go out and do something magical, and maybe just a bit crazy, then El Niven should appeal to you. Click here to learn more about El Niven and the Alibi.
Original story from March 26, 2021
I think we can all agree that few of us have been touched more by cancer than any other disease. One of the organizations trying to make a difference is the Cure Cancer Foundation, founded by a group of volunteers with a desire to more directly fund research and treatment programs.
And, what better way to raise money than with live music. Let's face, it's been an awful year without clubs and bars open, and no concerts and festivals. So maybe take a break from Netflix this weekend and take some time and catch some amazing talent, many of whom you've listened to in your favourite venue over the years. Many have been very busy creating new work during this last year and I'm sure you'll hear some excellent new music throughout the weekend. In fact, here's something recent from Brett Kissell.
Jammin' For a Cure is a live concert event taking place over 18 hours, starting tonight at 6 PM when Alberta's own Brett Kissel kicks off a night of great music with artists that include Clayton Bellamy, Martin Kerr, and Jesse Roads. (The full list of talent and the schedule is below).
Saturday, the music begins at noon with Confounded Dials. Some excellent solo artists and bands will perform throughout the day, including Josh Sahunta, Dahlia and the Villains, Stephanie Harpe Experience, Maria Dunn, Stevon Kayla, and John Hewitt.
Alfie Zappacosta kicks of the evening slate of acts Saturday night at 6 PM followed by artists like Hailey Benedict, Bardic Form, Amy Metcalfe, Kesara Kimo and guest Evrlove, and runs right through to 11:40 PM with Canadian Coldwater Revival closing the show.
I have been invited to appear on this bill as well and I'm pretty pumped to strap on a guitar and perform on Saturday at 3:40 PM for a 20 minute set. Having lost my mom to ovarian cancer in 1994, I do what I can to help.
And a big shout out to Jon Beckett and his talented, experienced team at Edmonton's Production World for making all of this possible.
Remember these are free concerts.
Here's the link for Friday (tonight).
Here is the link for Saturday.
Friday Line up
6-6:40 PM Brett Kissel
7-7:40 PM FKB
7:40-8 PM Olivia Rose
8-8:40 PM Clayton Bellamy
8:40-9 PM Stevon and Kayla Artis
9-9:40 PM Martin Kerr
10-10:40 PM Jesse Roads
11-11:40 PM Guitarface
Saturday starting at noon
12-12:40 PM Confounded Dials
12:40-1 PM Tracy Lynn Byrne
1-1:40 PM Josh Sahunta
1:40-2 PM Brenda Dirk
2-2:40 PM Dahlia and the Villains
2:40-3 PM Kaylee Caura-Lee
3-3:40 PM Kane Incognito
3:40-4 PM Lloyd Lewis
4-4:40 PM Stephanie Harpe Experience
4:40-5 PM Maria Dunn
5-5:40 PM Stevon Kayla and the Heavenly Band
5:40-6 PM John Hewitt
6-6:40 PM Alfie Zappacosta
6:40-7 PM Hailey Benedict
7-7:40 PM Bardic Form
7:40-8 PM Amy Metcalfe
8-8:40 PM El Niven and the Alibi
8:40-9 PM Darrell Barr
9-9:40 PM Kesaro and Guest Artist Evrlove
9:40-10 PM Danny Floyd Cole
10-10:40 PM Jusjrdn and DJ Kwake
10:40-11 PM Mightberea
11-11:40 PM Canadian Coldwater Revival
The whole purpose is to raise money. Here's the link to make a donation right now.
As well, there's a host of great silent auction items you can bid on, from autographed jerseys to signed guitars. Click here to get started.
About Cure Cancer Foundation
Cancer doesn't stop. No matter what's going on in the world, Cancer is always there, hurting those we love. Jammin' For A Cure will be raising money for Dr. Michael Chu, a clinician scientist at the Cross Cancer Institute, who is leading the charge with a new treatment known as Chimeric antigen receptor (CAR) T-cell therapy.
This therapy turbocharges the immune system to create killer immune cells that can wipe out cancers. This alters the patient's own cells to be a new "barcode reader" and find the hiding cancer cells. This treatment is predicted to make the most significant difference in blood cancers such as multiple myeloma, leukemia, and lymphoma patients, even those with multiply relapsed cancers.
We want to help fund great research like this to help Albertans, and people everywhere, receive the treatment they need. Your support will provide hope to people who would otherwise die of their cancer – despite all the best-known treatments. You are giving people a better chance of a cancer-free outcome and more time with their families, friends, and loved ones.
Todayville is very happy to support this event. Click here to read more stories on Todayville.
Sergei Bobrovsky has 40-save shutout as Florida Panthers rout Edmonton Oilers 6-0
EDMONTON — Sergei Bobrovsky made 40 saves for his first shutout of the season as the Florida Panthers defeated the ice-cold Edmonton Oilers 6-0 on Thursday.
Aleksander Barkov scored two goals and added an assist for the Panthers (27-8-5), who improved to 9-1-1 in their last 11 games.
Carter Verhaeghe, Anthony Duclair, Sam Bennett and Owen Tippett also scored for Florida.
Mikko Koskinen stopped 22 shots as the Oilers (18-16-2) lost their seventh straight.
Edmonton has a 2-11-2 record in its last 15 games.
There was no scoring in the first period despite Edmonton peppering Bobrovsky with 17 shots.
Koskinen made seven saves in the Edmonton net in the opening frame.
Florida got on the board first, scoring a power-play goal about five-and-a-half minutes into the second period. Sam Reinhart chipped a puck over splayed Oilers defender Darnell Nurse to Barkov, who fired home his 16th of the season. The Oilers have now allowed the first goal of the game in 23 of their last 27 games.
Verhaeghe was left alone in front of the net and unleashed a bullet to the top corner for his 14th goal of the season near the midway point of the game to give the Panthers a 2-0 lead.
Edmonton outshot Florida 29-13 through 40 minutes.
Barkov added to Florida's lead seven minutes into the third when his long shot found its way through a screen.
The Panthers made it 4-0 with a power-play goal with four minutes left in the final period as Duclair swatted a loose puck into a wide open net for his 17th of the campaign.
Just over a minute later the Panthers got another power-play goal as Bennett sent a backhand shot off the post and in for his 17th as well.
Edmonton's end-of-game collapse saw the Panthers score their third goal in 2:36 as Tippett notched his fifth.
Florida plays the third game of a five-stop road trip in Vancouver on Friday, while the Oilers remain home to welcome the Calgary Flames on Saturday.
Notes: Florida is now 20-0 when leading after the second period… The Oilers have scored two goals or less in 10 of their last 15 games… Missing from the Florida lineup were Patric Hornqvist (upper body) and Gustav Forsling (COVID)… Out for the Oilers were Mike Smith (thumb) and Ryan Nugent-Hopkins (lower body), as well as Zach Hyman, Kyle Turris and Stuart Skinner (COVID)… With two goalies out for Edmonton, Ilya Konovalov was brought up from the taxi squad to serve as backup to Koskinen.
This report by The Canadian Press was first published Jan. 20, 2022.
Shane Jones, The Canadian Press
Kenney says he was unaware until this week of justice minister's call to police chief
EDMONTON — Alberta Premier Jason Kenney says he didn't know until this week that his justice minister had called Edmonton's police chief 10 months earlier about a traffic ticket.
"I do recall at some point last year hearing that minister (Kaycee) Madu had gotten a ticket (and) had paid for it," Kenney told a news conference Thursday.
"I got fully briefed on all of this, including about the call and the details, on Monday afternoon following media inquiries.
"Shortly thereafter, I called minister Madu to ask what happened from his perspective and why he made this call. I expressed my serious disappointment that he would have done this."
These were Kenney's first public comments on the matter since tweeting out late Monday that Madu was being relieved of his justice responsibilities pending an investigation.
Kenney said he plans to hire a third party to determine if there was interference in the administration of justice.
He said the government is drafting terms of reference for the review and has contacted former judges to oversee it.
Critics, including the Opposition NDP, have said the investigation is unnecessary given that all the principals involved, including Madu, agree he made the call to Chief Dale McFee last March.
They said that even though Madu did not try to have McFee cancel the ticket, making such a call violates parliamentary tradition that cabinet ministers don't intervene directly in the judicial system in matters in which they have a personal stake.
NDP justice critic Irfan Sabir said Kenney has no choice but to fire Madu from his justice post.
Madu has not spoken publicly on the issue, but put out a series of statements this week on social media.
In them, he stressed he did not call the chief to cancel the ticket — a point McFee corroborates — but said he wanted, and received, assurances from McFee that he wasn't being targeted for the ticket because he is Black or because he was in a high-profile government job.
Kenney, asked by reporters why he hasn't fired Madu, said the issue is not clear cut. He noted that Madu did not ask for his ticket to be rescinded but did raise concerns about issues such as racial profiling.
"I was not on this call," said Kenney.
"I think given the issues that have been raised, it is appropriate to allow for a little bit of time for an investigation from somebody with legal training who is impartial to provide me with advice on whether this constituted an effort to interfere with the independent administration of justice."
Madu, the United Conservatives' only legislature member in Edmonton, had been justice minister since August 2020. He is serving his first term in the legislature.
On the morning of March 10, he was ticketed for distracted driving for being on a cellphone while behind the wheel in a school zone. He paid the $300 ticket soon after but not before reaching out to McFee.
This issue did not become public until media reports Monday.
Madu, in his statements, has also disagreed with the ticket. He said his phone was in his pocket at the time.
That prompted an angry response Wednesday from Staff Sgt. Mike Elliott, head of the Edmonton Police Association, which represents rank and file officers.
Elliott, on Twitter, questioned Madu's fitness for the justice job.
"I personally know the member who issued the ticket, and to make an erroneous assumption he was surveilling you is shameful and preposterous," wrote Elliott.
He said that even if Madu believed he was being unfairly treated, there is a complaint process that should be followed that doesn't include a direct line to the chief of police.
"The audacity and arrogance is very clear and you are not deserving to be the minister of justice, who is supposed to represent all citizens in a fair and impartial manner."
Madu's case is the latest in a string of changes to Kenney's cabinet in just over a year.
In November, Devin Dreeshen quit as agriculture minister amid concerns over his conduct and drinking.
In September, Tyler Shandro left the health portfolio. Kenney said Shandro asked for the change, citing the gruelling fight against COVID-19 as a factor.
Leela Aheer, the minister for culture, multiculturalism and the status of women, was turfed in July from cabinet after she publicly criticized Kenney for breaking COVID-19 health rules by having a patio dinner outside his temporary penthouse office.
Aheer's portfolio was carved up and distributed to others. Kenney denied the decision was political payback.
And just over a year ago, in January 2021, Tracy Allard resigned as municipal affairs minister after public outrage over a Christmas holiday trip she took to Hawaii. The trip happened at the same time the government was urging Albertans to stay home and isolate to prevent further spread of COVID-19.
This report by The Canadian Press was first published Jan. 20, 2022.
Dean Bennett, The Canadian Press