"Toast of the Town" honours former Oiler Barrie Stafford and helps to raise more than $600 thousand for Colon Cancer and Multiple Myeloma research
Scroll down for photo galleries of this year's event.
"I'm a lucky sonofabitch!" – Barrie Stafford
This year's 31st Annual Day of Golf, held over the past 2 days at the Derrick Golf and Winter Club raised in excess of $600,000 for the Cure Cancer Foundation, with funds this year going to support research and patients at the Cross Cancer Institute and research into multiple myeloma and colon cancer. In its now 31 years, the tournament has raised more than $16 million dollars.
Grant Fuhr co-hosted this year's tournament along with Oiler royalty Glenn Anderson who has been involved since day 1.
This year, a companion event was added. The Toast of the Town, held at Polar Park, honoured long time Oilers trainer and equipment manager Barrie Stafford. Barrie was diagnosed with Multiple Myeloma in 2011.
"My whole life I've been a very health conscious person. I was struggling with pain, couldn't sleep, and just wasn't feeling right. I came face to face with my mortality and didn't know if I was going to live or die."
Research into multiple myeloma has extended his life dramatically.
The night had some real high points for fans of the great Oiler's dynasty of the '80's. Greeting came from Jari Kurri and Paul Coffey. Ryan Smith sent a video with some really kind words. It was a hug from Smith that broke Stafford's collar bone and led to him being hospitalized and diagnosed with the disease back in 2011.
Mark Messier sent a video that started simply with "Hey Staff – it's Mess.". He went on to talk about the incredible influence Stafford had on him as a young player in Edmonton.
Marty McSorley entertained everyone, and drew a big laugh as he recalled getting Stafford to sharpen his skates for him when he was playing against the Oilers with LA. Stafford said at the time "If Sather ever finds out, I'm going to get fired!"
The Great One himself, Wayne Gretzky said in note that was read out that "Barrie is not just a trainer. He's a fan. He's a player."
Speaking of his playing days, two of Stafford's teammates from the Amarillo Wranglers where he played as a 20 year old and where he was known as a "tough guy", were in the crowd to honour him as well.
In Alberta, there are 300 people suffering from Multiple Myeloma. The Cure Cancer Foundation is a new organization. Their goal is to cut as much cost from their fundraising efforts as possible, relying almost exclusively on volunteers to organize and manage the event. It's a grassroots movement to generate funding for initiatives at the Cross Cancer Institute—including research, diagnosis, treatment and patient care
This year's inaugural Toast of the Town generated $110,000 of the $600,000 2-day total.
Now, onto more fun!
Once again this year, the golf tournament was a great success – held at the Derrick Golf and Winter Club in terrific weather, with great volunteers, and a whole lot of fun reconnecting with some of our hockey heroes of the past.
This year's winners turned in an impressive -13 in the best ball format. Congratulations to Al Sim, Craig Simpson, Terry Loewen, Duane Sokalski, and Gary Ziehr.
If you were at either the Toast of the Town or the 31st Annual Day of Golf, there is a good chance that your photo is included in the galleries below. Please share this story and spread the word about the amazing people of our city who put so much into helping others.
These photo galleries were sponsored by The Creative Hive, a new co-working space on Edmonton's west end featuring a large natural light studio and plenty of quirky things to make your workday special. These photos are from yesterday's golf tournament and were shot by Walter Tychnowicz.
CLICK ANY PHOTO TO OPEN A SLIDE SHOW.
Thanks again to the Creative Hive and photographer Chad Kruger for supplying this gallery of photos from Wednesday night's Toast of the Town event.
Click any photo to open a slide show.
Click to learn more about the Cure Cancer Foundation.
Tour "The Abigail" by Sorento Custom Homes – Grand Prize in the 2022 Red Deer Hospital Lottery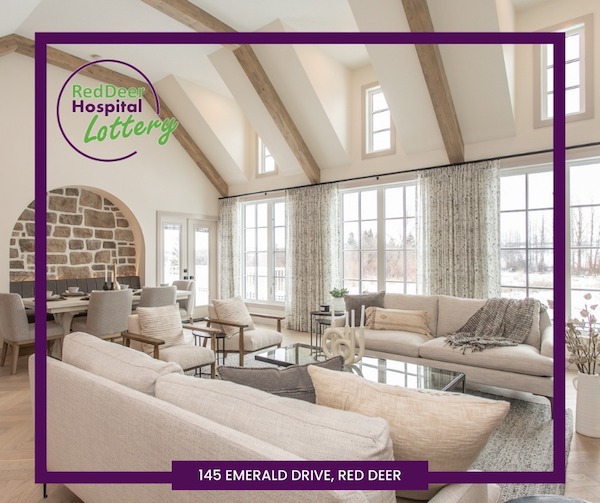 Have you seen it yet? Take a nice long look at the beautiful grand prize dream home!
NEW
TICKET GIFTING
OPTION
Step 1 – Click the GIFT TICKETS NOW! button
Step 2 – Enter the order for tickets and your personal information under buyers details
Step 3 – Click Send as Gift button and enter the giftee name and information
Print off this order form and mail in to the address listed on order form.
You can choose to get your tickets by mail, you will receive them in 3 to 4 week once processed by the lottery office.
You can also choose e-ticket and you will receive your tickets by email the day your order is processed. A valid email address is mandatory for e-ticket.
Mail to:
Red Deer Hospitals Lottery
PO Box 1098 Red Deer AB T4N 6S5
Call 1-877-808-9005 and a representative would be happy to help with your order, our agents are taking calls 7 days a week from 8am to 11pm
MAIN TICKETS
1 for $25 | 5 for $75 | 10 for $125 | 25 FOR $250
ORDER BY PHONE
Call Toll Free: 1.877.808.9005
MEGA BUCKS 50
1 for $10 | 10 for $25 | 25 for $50 | 50 FOR $75
5 winners already in Red Deer Hospital Lottery – Previous Supporters Draw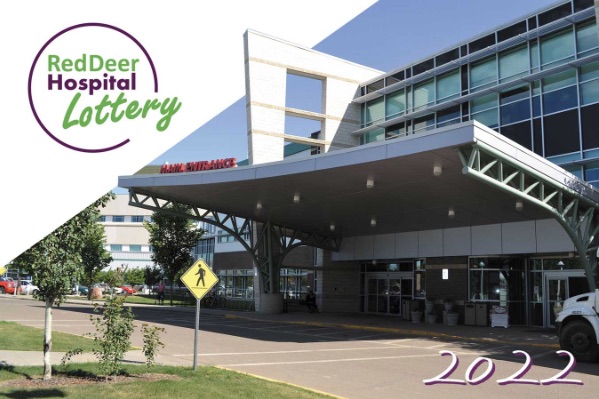 Five lucky people are already glad they purchased a Red Deer Hospital Lottery ticket – and the winning has just begun!
Thank you to Cecile A of Red Deer, Lynda H of Lacombe, Dan & Wendy K of Sylvan Lake, Bobbi & John W of Millet, and Jack W of Stettler who supported our hospital. They each won $1,000 in our Previous Supporter draws.
There are still 115 prizes totaling over $1.1 million to be won!
Our Grand Prize Dream Home package is valued $940,332.00 including furnishings from Urban Barn and $10,000 Dream Home CASH!
Maybe you'll win a 2022 GMC Yukon SLT worth over $81,000.00! Tickets are only $25 each.
There's still more. Buy before May 25th and you could win our EARLY BIRD CASH PRIZE OF $25,000
CHECK OUT OUR GREAT TICKET PACKAGES
$25 EACH | 5 FOR $75 | 10 FOR $125 | 25 FOR $250
Win half of an increasing jackpot of up to $1,000,000.
The jackpot grows with every ticket sold!
1 for $10 • 10 for $25
25 for $50 • 50 for $75
Win half of the current jackpot of:
17 of 83 pieces of equipment have already been funded!
Every ticket purchased will support the Red Deer Regional Hospital Centre with proceeds used to purchase eighty-three pieces of medical equipment for several units.
Since opening a few weeks ago, we've already secured funding for 17 stretchers benefiting 8 different units at our hospital!
CALL RED DEER & AREA OR TOLL FREE
403.340.1878 1.877.808.9005
Red Deer Hospital Lottery
PO Box 1098
Red Deer AB T4N 6S5Lottery Licence 590314 | Mega Bucks 50 Licence 590315
© RED DEER HOSPITAL LOTTERY 2022