"Toast of the Town" honours former Oiler Barrie Stafford and helps to raise more than $600 thousand for Colon Cancer and Multiple Myeloma research
Scroll down for photo galleries of this year's event.
"I'm a lucky sonofabitch!" – Barrie Stafford
This year's 31st Annual Day of Golf, held over the past 2 days at the Derrick Golf and Winter Club raised in excess of $600,000 for the Cure Cancer Foundation, with funds this year going to support research and patients at the Cross Cancer Institute and research into multiple myeloma and colon cancer. In its now 31 years, the tournament has raised more than $16 million dollars.
Grant Fuhr co-hosted this year's tournament along with Oiler royalty Glenn Anderson who has been involved since day 1.
This year, a companion event was added. The Toast of the Town, held at Polar Park, honoured long time Oilers trainer and equipment manager Barrie Stafford. Barrie was diagnosed with Multiple Myeloma in 2011.
"My whole life I've been a very health conscious person. I was struggling with pain, couldn't sleep, and just wasn't feeling right. I came face to face with my mortality and didn't know if I was going to live or die."
Research into multiple myeloma has extended his life dramatically.
The night had some real high points for fans of the great Oiler's dynasty of the '80's. Greeting came from Jari Kurri and Paul Coffey. Ryan Smith sent a video with some really kind words. It was a hug from Smith that broke Stafford's collar bone and led to him being hospitalized and diagnosed with the disease back in 2011.
Mark Messier sent a video that started simply with "Hey Staff – it's Mess.". He went on to talk about the incredible influence Stafford had on him as a young player in Edmonton.
Marty McSorley entertained everyone, and drew a big laugh as he recalled getting Stafford to sharpen his skates for him when he was playing against the Oilers with LA. Stafford said at the time "If Sather ever finds out, I'm going to get fired!"
The Great One himself, Wayne Gretzky said in note that was read out that "Barrie is not just a trainer. He's a fan. He's a player."
Speaking of his playing days, two of Stafford's teammates from the Amarillo Wranglers where he played as a 20 year old and where he was known as a "tough guy", were in the crowd to honour him as well.
In Alberta, there are 300 people suffering from Multiple Myeloma. The Cure Cancer Foundation is a new organization. Their goal is to cut as much cost from their fundraising efforts as possible, relying almost exclusively on volunteers to organize and manage the event. It's a grassroots movement to generate funding for initiatives at the Cross Cancer Institute—including research, diagnosis, treatment and patient care
This year's inaugural Toast of the Town generated $110,000 of the $600,000 2-day total.
Now, onto more fun!
Once again this year, the golf tournament was a great success – held at the Derrick Golf and Winter Club in terrific weather, with great volunteers, and a whole lot of fun reconnecting with some of our hockey heroes of the past.
This year's winners turned in an impressive -13 in the best ball format. Congratulations to Al Sim, Craig Simpson, Terry Loewen, Duane Sokalski, and Gary Ziehr.
If you were at either the Toast of the Town or the 31st Annual Day of Golf, there is a good chance that your photo is included in the galleries below. Please share this story and spread the word about the amazing people of our city who put so much into helping others.
These photo galleries were sponsored by The Creative Hive, a new co-working space on Edmonton's west end featuring a large natural light studio and plenty of quirky things to make your workday special. These photos are from yesterday's golf tournament and were shot by Walter Tychnowicz.
CLICK ANY PHOTO TO OPEN A SLIDE SHOW.
Thanks again to the Creative Hive and photographer Chad Kruger for supplying this gallery of photos from Wednesday night's Toast of the Town event.
Click any photo to open a slide show.
Click to learn more about the Cure Cancer Foundation.
Central Alberta Child Advocacy Centre 50/50 Cash Lottery is Back!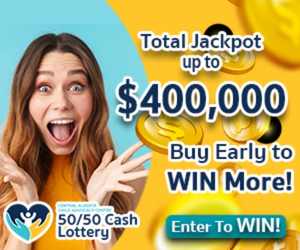 The highly anticipated Central Alberta Child Advocacy Centre 50/50 Cash Lottery is back with even more chances to win!
This year, the jackpot is set to $400,000, with the winner taking home half! Plus, the Central Alberta CAC has added an additional early bird drawing, bringing the early bird prize total to four all-cash prizes of $1,000, drawn weekly in December. All in if purchased before the first Early Bird deadline, entrants have 4 chances at $1,000 dollars, PLUS a chance at the Grand Prize Draw with a sell-out take-home winnings of $200,000!. Tickets start at just $10.
Early Bird Deadlines: December 2, 9, 16, 23.
The Central Alberta Child Advocacy Centre's 50/50 Cash Lottery raises much-needed funds to support their services and programs; supporting our community's most vulnerable. Each year, the Centre supports hundreds of children from across Central Alberta who have experienced abuse. The Central Alberta CAC provides a safe space for these children, a place with the goal for a child to only have to share their story once – eliminating the chance of revictimization and helping them through their journey of healing one step at a time.
Mark Jones, the CEO of the Central Alberta Child Advocacy Centre, is once again thanking Albertans for their generosity, and for facilitating strong partnerships over the years.
"Through the Loyalty campaign, we've been able to raise over $100,000 already! The success of last years' lottery allowed us to help more children and families from across Central Alberta. To date, we've helped nearly 1800 children, and our advocacy team has worked tirelessly to protect and support the youths that come forward. From disclosure to triage and court appearances, our advocacy team has been working around the clock. This year has been especially difficult, with October and November being some of the busiest months with the most extreme and complex cases we have yet to see. So, we hope people will consider buying a ticket to help us help these kids." – Mark Jones, CEO
Tickets are available online at www.cacac5050.ca and will be emailed to the purchaser. You can also call the Centre directly to purchase tickets at 587-272-2233. Lottery license number: 578482.
The CACAC 50/50 Cash Lottery final deadline is February 4th, 2022 at 11:00pm and the draw will take place on February 10th, 2021 at 11:00am.
Together, we can end child abuse. Purchase your ticket today to support the CACAC and the children of our community.
The Central Alberta Child Advocacy Centre is also looking for opportunities to sell their 50/50 Cash Lottery Tickets on location. If you have an event or location you would like to host the CACAC at, please contact Jodie at [email protected] or call 587-272-2233.
About CACAC: The Central Alberta Child Advocacy Centre is a not-for-profit organization rooted in the protection and recovery of today's most innocent and vulnerable – our children. The Centre is comprised of a collective that is driven by the courage to support children, youth, and their families affected by abuse, enabling them to build enduring strength and overcome adversity.
We work in a collaborative partnership with the Central Region Children's Services, Alberta Health Services, Alberta Justice, Alberta Education, the Central Alberta Sexual Assault Support Centre and the RCMP. Together we harness our collective courage to provide children with supported recovery.
For more information on CACAC, please visit: centralalbertacac.ca
NDP calls for social media watchdog as scrutiny of Facebook heats up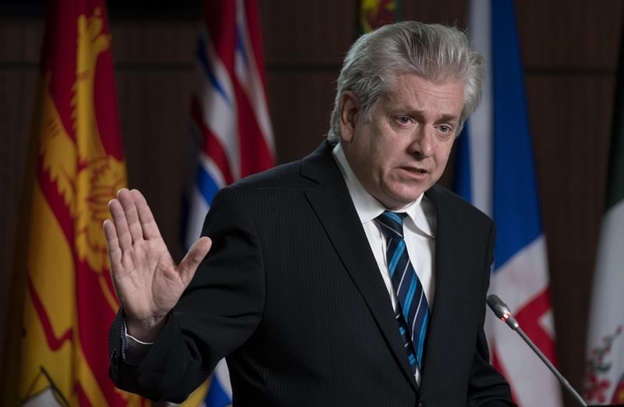 OTTAWA — New Democrats are demanding the federal government crack down on social media giants following recent revelations by a Facebook executive that have rekindled questions around how to regulate big tech.
NDP MP Charlie Angus called on Ottawa to establish an independent watchdog to address disinformation, hateful posts and algorithm transparency on digital platforms.
Facebook whistleblower Frances Haugen testified before a U.S. Senate committee earlier this month that the company's products harm children and fuel polarization in the U.S., a claim supported by internal company research leaked to the Wall Street Journal.
"Ms. Haugen reveals that Facebook knew that its algorithms are driving hate content and leading to breakdown in civic engagement," Angus said.
"Facebook made the decision to incentivize profits through its use of its algorithms over the well-being of its users."
As the company confronts intense public scrutiny over how its coding fans inflammatory rhetoric and affects users' self-esteem, Angus is proposing to create an independent ombudsman accountable to the House of Commons, akin to Canada's ethics and privacy commissioners.
"Rather than relying on outdated institutions like the Competition Bureau or the CRTC, it's time for the federal government to establish a regulator that actually understands this file," he said.
Prime Minister Justin Trudeau made several pledges to overhaul internet rules in last month's federal election.
One promised to introduce legislation within 100 days of forming government that combats harmful online materials, following the failure of a Liberal bill aiming to regulate Facebook and other platforms.
The plan would create a digital safety commissioner to enforce a new regime that targets child pornography, terrorist content, hate speech and other harmful posts on social media platforms. The regulator's teeth would be sharp enough to order social media companies to take down posts within 24 hours.
Many large platforms already have policies that claim to meet or exceed these requirements, with some seeking to highlight or remove misleading information — about COVID-19 vaccines, for example.
New Democrats and Conservatives have also questioned why a new regulator is needed to crack down on exploitive material when the Criminal Code already bars child pornography, hate speech and the knowing distribution of illicit images.
Trudeau has further said he would reintroduce provisions of Bill C-10, which died in the Senate in August after the election was triggered. The legislation sought to bring global online streaming giants such as Netflix and YouTube under the auspices of the Broadcasting Act, requiring them to promote Canadian content and financially support Canadian cultural industries. The regime is overseen by the Canadian Radio-television and Telecommunications Commission.
Angus said Monday that the bill amounted to a "political dumpster fire" and that having Canada's telecommunications regulator address Facebook algorithms would bring "a 1980s solution to a 21st-century problem."
The legislation provoked months of debate over whether its regulation of online videos amounted to government overreach, with free speech advocates criticizing the bill and the arts community supporting it.
"I think it's probably better for us to establish a stand-alone officer of Parliament — who reports to Parliament, who understands tech, who understands algorithms — than to turn it over to the schlimazel that is the CRTC," Angus said, adding that Bill C-10 included "good ideas" around applying broadcast rules for funding to big tech.
Facebook was not immediately available for comment on Monday.
In an emailed statement last week, Facebook Canada said it continues make investments that target misinformation and harmful content.
"Canadians come to Facebook to connect with their loved ones, grow their businesses and share what matters to them," the company wrote.
This report by The Canadian Press was first published Oct. 18, 2021.
Christopher Reynolds, The Canadian Press